Customs

I must apologize for the shortness of this page. But, although I only have a couple of model-1975 and later caps to show, I feel they did deserve their own page - rather than lumping them in with the "leftovers" of my Other USSR Ministries page.

For most of the Cold War period, Customs officials belonged to the Ministry of Foreign Trade. However, they were resubordinated directly to the Council of Ministers of the USSR in 1986, gaining new uniforms and insignia as a consequence. Customs worked hand-in-hand with Border Guards to ensure goods were not imported without tariffs and that illegal materials were not smuggled into (or out of) the USSR. They also of course controlled the movement of personnel across international boundries - at airports, ports, train stations and road crossing points. Most tourists to the former-Soviet Union had their passports checked by Customs' officials at the airport and their baggage searched by them on the way back out.

In the immediate post-War period, Customs officials wore a black uniform with matching visor cap. In 1951, both black and gray uniforms were authorized, for dress and service wear respectively. Green remained the official distinction color of Customs - used for both cap bands and piping. In 1954, following the death of Stalin, Customs lost their dress uniforms, retaining only the gray every-day uniform. Smaller uniform changes also took place in 1964 and 1972. Finally, in 1987, new comprehensive uniform regulations came into force, changing gray uniforms to a blue-gray shade and introducing new insignia. These remained in use until the collapse of the USSR.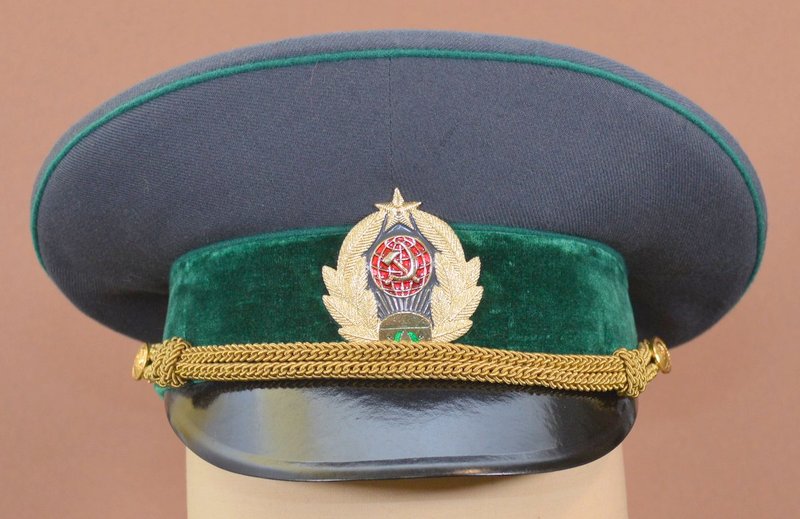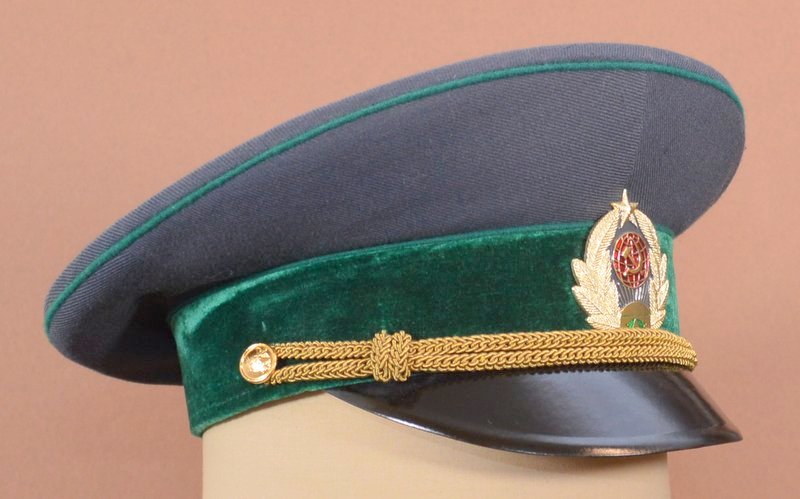 Ministry of Foreign Trade
Customs Official
1975-1986
A 1985 dated example of the cap worn by all customs personnel except for general-equivalent officials. In accordance with 1975 regulations, the crown is dark gray, the band is dark green velvet and the piping is dark green wool. The visor is black-painted fiberboard - making this one of the last caps with such a visor before the general switch to plastic. The gilt filigree cords were standard for all Customs officials during this period and these were held in place by two gilt plastic buttons cast with crossed "snake & winged staff" Customs' symbols. The cockade is the 1975 model, stamped from aluminum with painted with green, red and gray enamels. A variant of this cockade with black vice dark gray background also exists. Scarce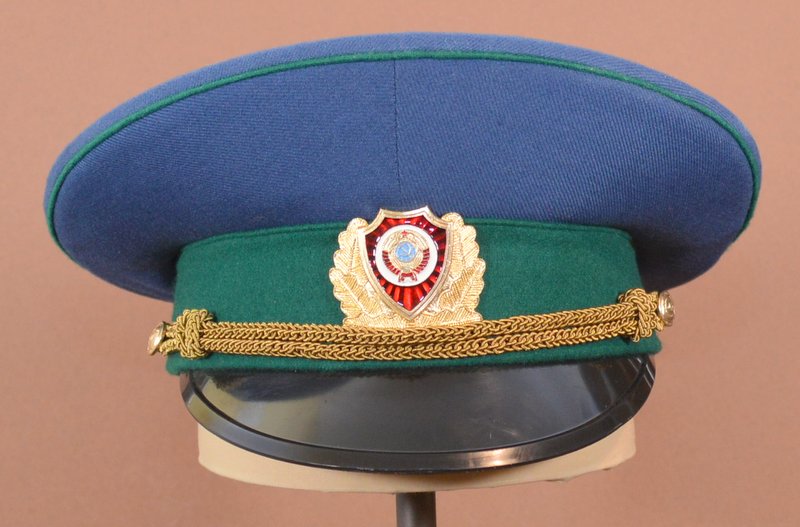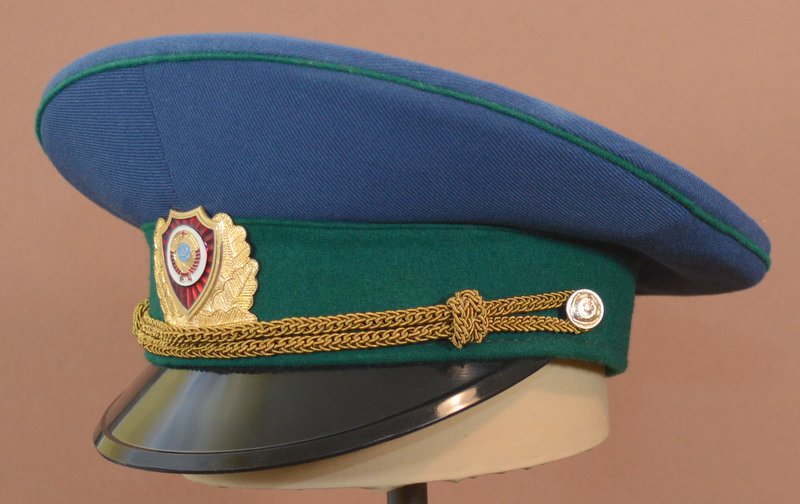 Ministry of Foreign Trade
Customs Official
1987-1991
This undated cap is the last Soviet Customs model, reflecting changes authorized in 1986 and implemented in 1987. The crown color was changed to a distinct blue-gray shade to match new uniforms. You can see the color difference between pre and post 1987 caps here to the lower right. Green remained the distinguishing color - although the shade was lightened a bit, closer to "grass green." Notice the band on this cap is wool - vice velvet. Collectors are unclear as to the reason for this - with some suggesting a manufacturing change in 1991. Unfortunately, no regulations describe this change nor are there sufficient pre-1991 dated caps available for comparison. I personally believe that this replacement of velvet by plain wool occurred soon after 1987. Gilt cords are held in position above the plastic visor by two gilt plastic buttons cast with the new "shield and USSR seal" symbol adopted in 1986. This symbol also serves as the centerpiece of the new M-1987 cockade - in anodized aluminum and red, light blue and white enamels. Once again, all Customs personnel with the probable exception of the "Highest Staff" wore this model. Alas, no information exists on how the caps of these general-officer equivalents differed.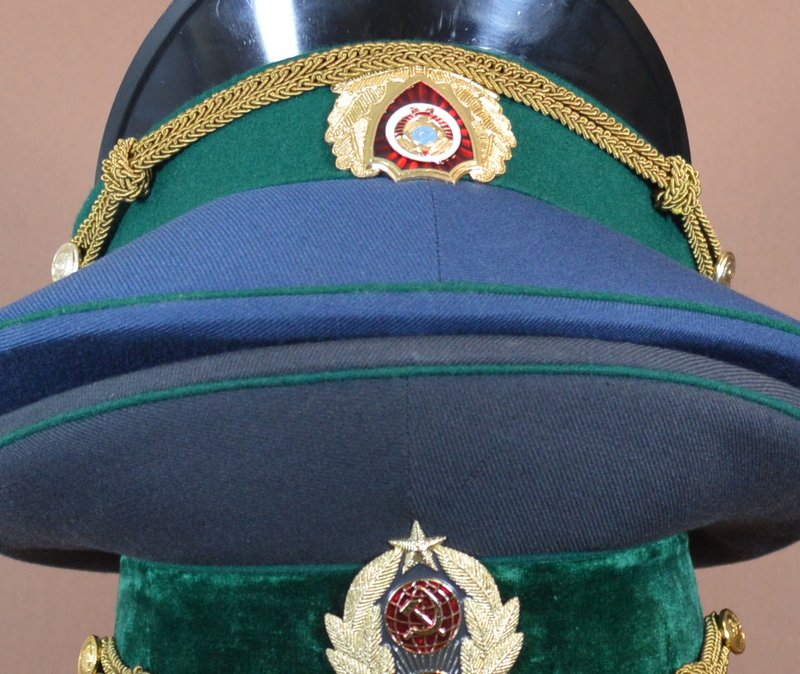 Available

| | |
| --- | --- |
| Although I am inordinately proud of this late 40s/early 50s era cap, Russian collectors maintain it is a "fantasy" item - incorporating colors never used by Customs. However, the embroidered 1952 cockade is unambiguously authentic, which you can compare with the aluminum 1975 cockade above. I retain hope that the cap itself will also be found to be a as-yet unknown Customs or Ministry of Agriculture variant - perhaps for Veterinary Border Control, a subordinate Customs organization that may have worn a different uniform. | |