Civilian Student Caps
The USSR always placed a great emphasis on education; in large part as a means of indoctrinating its young people in the beliefs and tenants of communism. However, the Soviet leadership also knew from its beginnings that the USSR of the 1920's was a backward country and desperately needed to modernize all elements of society to catch up with and surpass its "capitalist" neighbors. As such, universal education for the "masses" and specialized training for the leaders and experts of tomorrow became a key goal. Remnants of the Imperial Russian military and civilian professional education system served as the basis of this expanded Soviet one. It is generally accepted that in this area (if in few others) the USSR was one of the most successful in the world.
To provide free and universal education to all citizens, the government operated a vast network of learning institutions, including preschools, general and specialized secondary schools, vocational-technical schools, and special education schools, as well as universities and other institutions of higher learning.
There were three levels to the general secondary program of study. Prior to 1984, the "primary" grades were one (starting at age 7) through three; "secondary" was four through eight; and "upper secondary" was grades nine and ten. The reforms of 1984 added a year at the beginning of the program for students age 6; modifying these grade groups as follows: one through four, five through nine, and ten through eleven. Not until 1986-1987 did this increased term become standard, however. Prior to 1970, only eight grades of primary and secondary schooling was mandatory. After completing this "incomplete" secondary program of study at around age 15, students would enter the work pool or continue their education along one of two tracks. Some would finish two more years of "upper secondary" schooling to prepare for entrance into universities or technicums while the rest (for those less academically minded) attended professional-technical schools/education - abbreviated PTU or PTO (in Russian: Профессионально-технические Училища (ПТУ) or Профессионально-Техническое Образование (ПТО)) - to learn trades such as mining, plumbing, machining, carpentry, construction, agriculture, etc.
Universities differed from technicums in that universities offered a variety of 4-5 year degree programs similar to those offered by Western colleges and universities while technicums offered more focused technical and managerial training usually lasting 2-3 years which were often associated with particular Government ministries such as Railways and Civil Aviation.
Professional-technical (aka: Vocational-technical) schools had their origin in the vast array of factory-sponsored schools that were created in Russia in the early 1900s. By 1940 these disparate factory schools were designated as either vocational schools (Ремесленных Училищ) or railway schools. These schools in turn later evolved into the even more structured PTO/PTU format. A few 10-11 year long mining schools also existed that provided a complete secondary education along with specialized mining training. These catered to children of miners, the way the Suvorov Schools gave preference to sons of military personnel.
With that introduction, lets return to the primary purpose of my site - to illustrate uniform caps. For most of the Soviet period, pupils of primary and secondary schools wore uniforms of a sort. In 1948, the USSR Ministry of Education introduced a dark gray paramilitary uniform with silver emblems and buttons for boys. Not much has been published or photographed about this uniform and it does not appear to have been widely worn. However, in 1954 a medium gray uniform featuring a "gymnasterka"-style shirt was introduced that has been extensively documented in period photographs and postcards. Not only was it lighter in color than the earlier uniform, but the cockade shape was altered and its color became gilt vice silver, the belt had an embossed gilt buckle and the visor cap had yellow piping instead of the earlier white. In 1962, this uniform was superseded by an open-collar gray wool suit without a cap. Nevertheless, the old uniform with cap continued to be worn into the mid-60s, especially by younger children. In 1975, yet another uniform was introduced for boys; an open collar blue suit - again with no cap. Dark blue shirt-jackets were also worn. Some former Ukrainian school students reported wearing a brown uniform in the early 1980s, but there is insufficient information (and no regulatory documents) to determine if those replaced or merely augmented the ones previously discussed.
Students attending vocational schools were also authorized uniforms, including caps with specialized cockades, although not all wore them. The Russian on-line magazine "Мундир" has described those worn in the 1940s and much has been published on uniforms of the 1970s and 80s. For some reason, however, information on uniforms of the 1950s and 60s is unavailable.
Please note that this page only covers civilian school uniforms. For information on military school uniforms, please go to my Military Cadets page.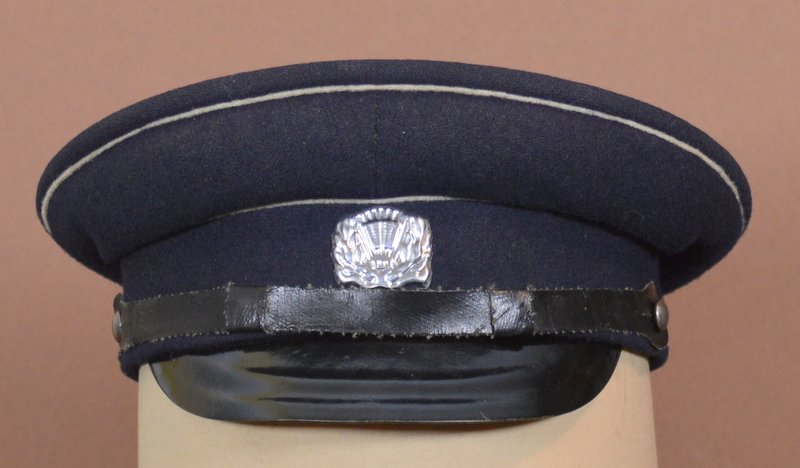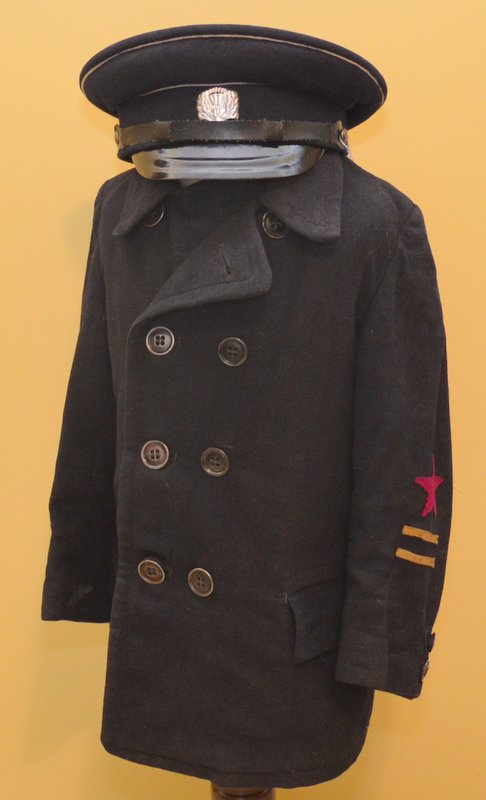 Primary School
Student
1948-1953
Paramilitary uniforms were introduced for school boys in 1948, even as military style uniforms were being introduced for many civilian occupations throughout the USSR. These first schoolboy uniforms were very dark gray, almost black. Shown here is a cap belonging to this uniform - supposedly worn by an 8 year old - as evidenced by the accompanying coat which I've shown to the right. This coat has two yellow stripes probably signifying 2nd grade.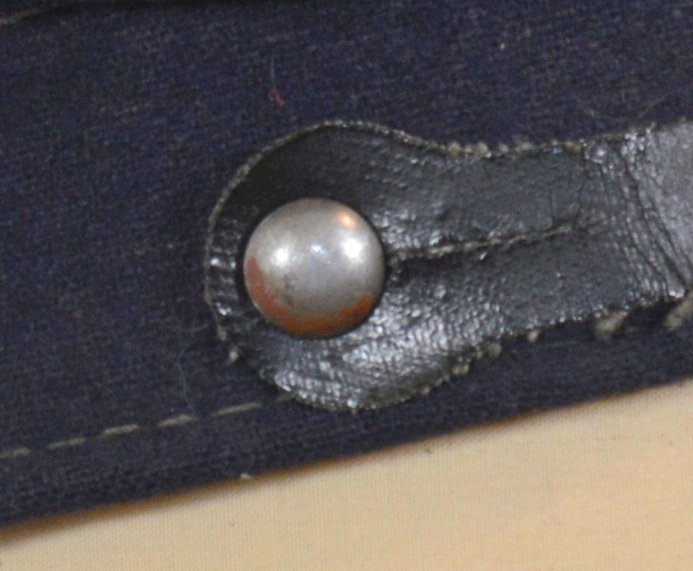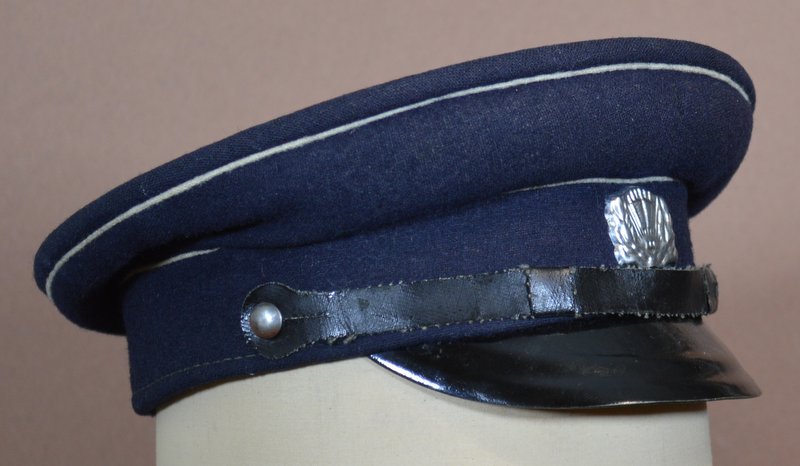 The cap generally follows the standard found in military caps of the time period. Crown and band are in dark gray wool and are piped in white. A black oilcloth chinstrap is held in position over the black lacquered fiberboard visor by two very small, plain silver metal buttons. A thin stamped silvered metal cockade - depicting a stylized open book and leaves - is pinned to the crown. The stamping of this cockade has rather poor definition in comparison to later ones. Rare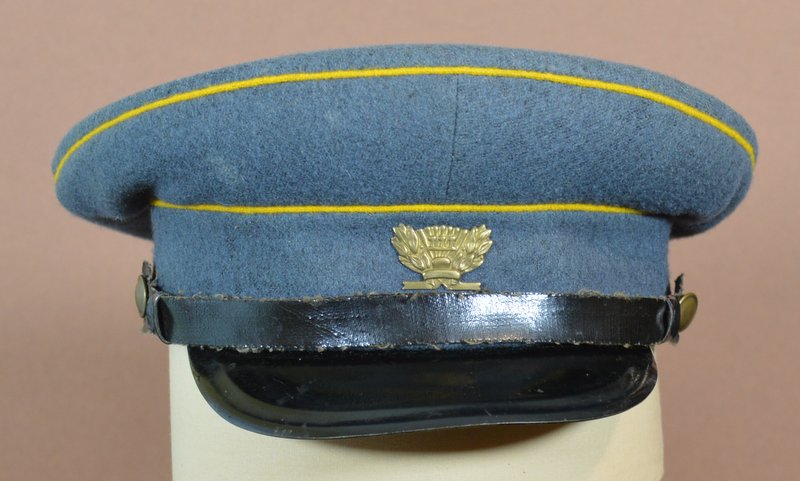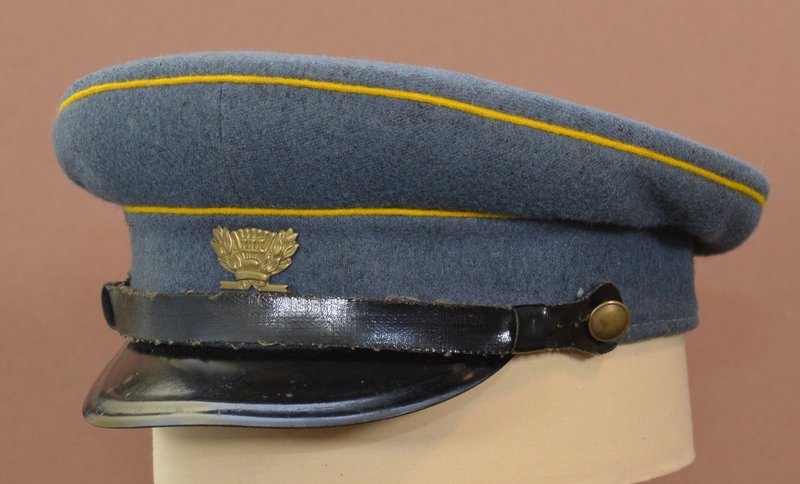 Primary/Secondary School
Student
1954-1961
This cap reflects the next version of the primary/secondary school uniform - introduced in 1954. Examples of this cap are more available than the previous one, indicating wider use. This cap is medium gray, matching the new school shirt and trousers introduced at the same time. The crown and band are napped wool and the piping is now a golden yellow.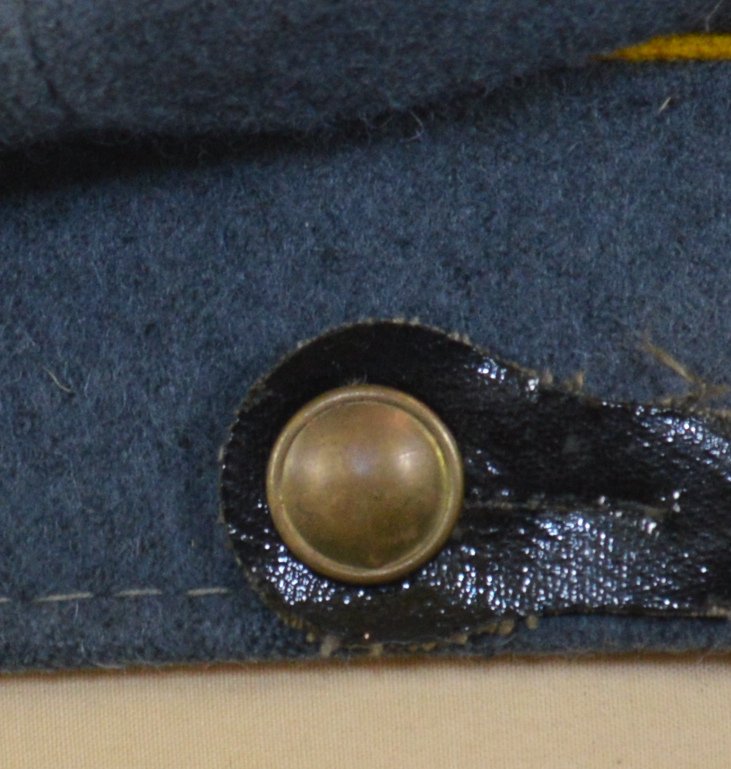 The fiberboard visor and oilcloth chinstrap remained the same, but all fittings (buttons and cockade) are now in gilt. The shape of the cockade was changed, becoming more elegant and much better defined. The buttons are also somewhat larger with a rim. Below you can see a photograph from the early 1960s and a postcard dated 1954 showing this uniform and cap in wear. Scarce

| | |
| --- | --- |
| | |
| | |
| --- | --- |
| | While the above cap has plain gilt buttons, you may also encounter the buttons shown here on gray student caps. These particular buttons are stamped 1961 - among the last that would have been used on caps, although they were also used as shirt/coat sleeve buttons. These are embossed with the same symbol used for the M1954 cockade and belt buckle. |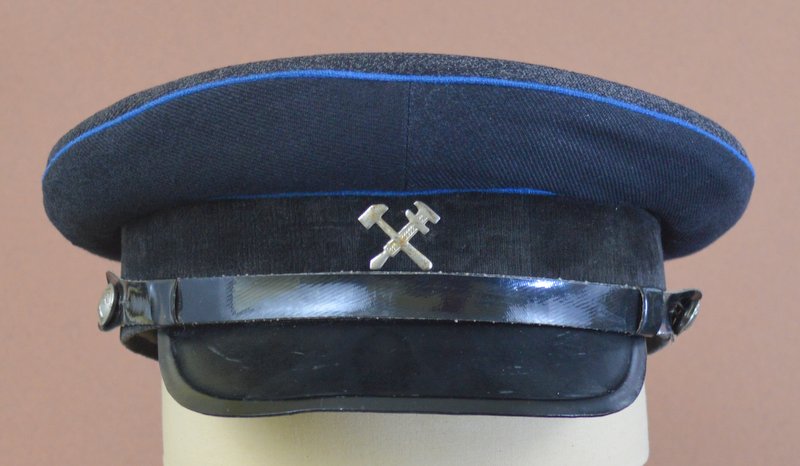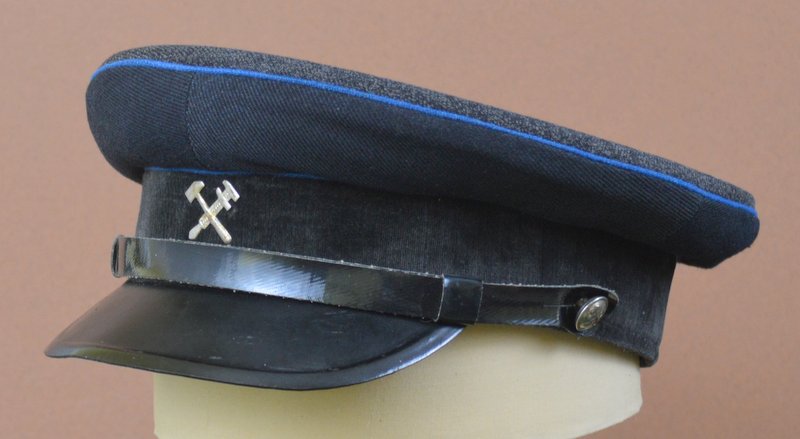 Vocational School
Student
1940-50s?
This cap was worn by vocational school students (the successor system to factory schools) at least from 1940 into the 1950s. The crown of this cap is sewn from a heavy dark blue/black wool blend, now faded by the sun. Piping is blue and the band is black velvet. The visor is black fiberboard in the squared-off spade shape. Both spade and semi-circular visors could be found on these student caps. A black oilcloth chinstrap is held in place by nickel-plated buttons embossed with the crossed wrench and hammer emblem also used by the Railways after 1943. The same emblem is pinned through the band as a cockade. A crimson-piped version of this cap was authorized for Railways' school students during this same period.
You should also be aware that a similar dark blue/black cap with blue piping was worn by certain Railways personnel from 1955-1963. Since the cockade and buttons were also identical, only the date of manufacture (if present) and the shape of the visor (spade shaped visors were being phased out from the mid-1950s) can help differentiate the two wearer groups. Rare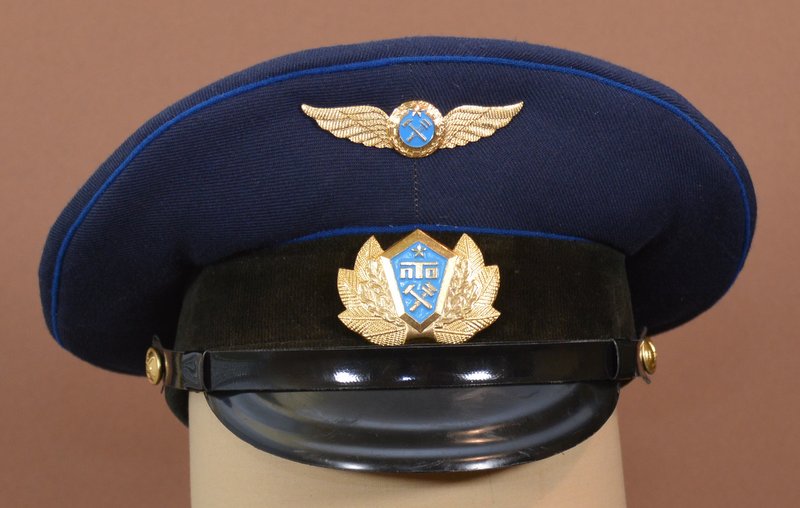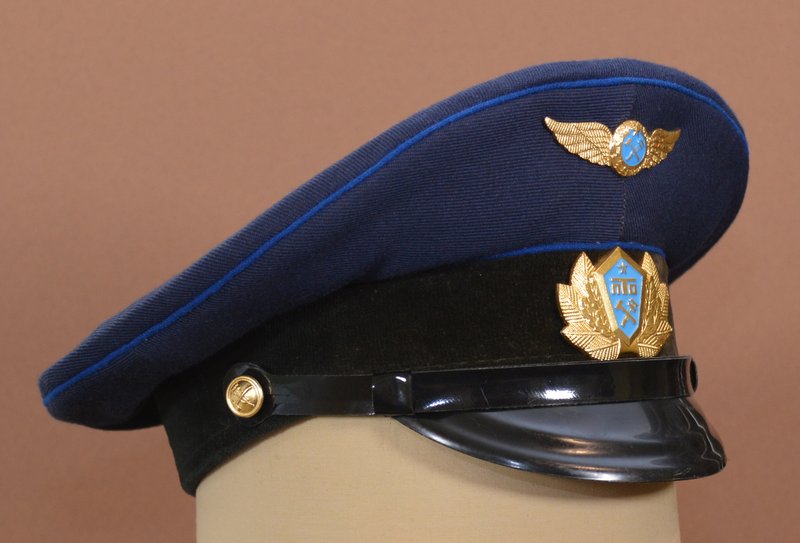 Professional Technical School
Student
1970s-1991
This was the most commonly worn PTU/PTO cap during the later USSR period - at least outside Ukraine. Often misidentified as Railways Vocational School (because of the crossed hammer and wrench symbol), it was actually worn by students in the vast majority of PTU (Mining schools were one exception). This 1984-dated cap has the larger post-1968 crown, sewn in a dark blue blended wool fabric. It is piped in blue (very close to the cornflower blue used in KGB caps). The band is covered in black velvet. It has a small black plastic visor and a black oilcloth chinstrap held in place by two gilt Railways-style buttons. The cockade and crown wing emblem are both gilt aluminum with a light-to-medium blue painted center. While both these emblems were "regulation," you will see some pictures of students wearing caps without them. While in use in the 1970s, the exact date when PTUs adopted this cap and emblem combination is unfortunately still unknown. Available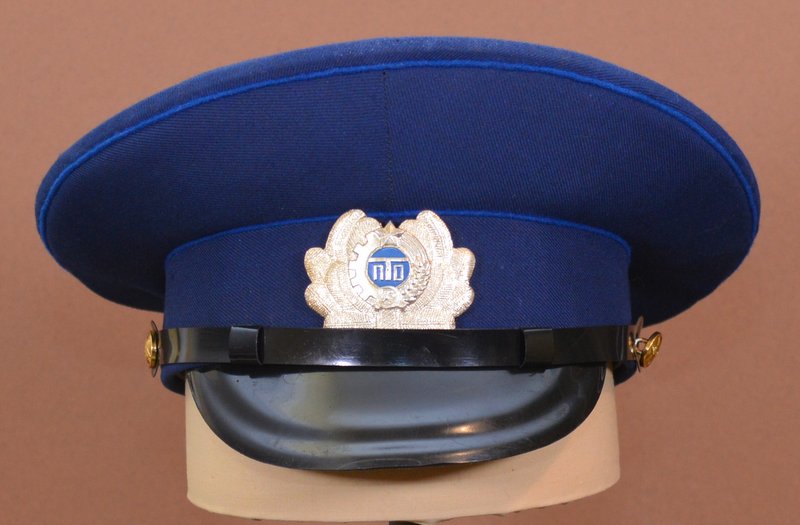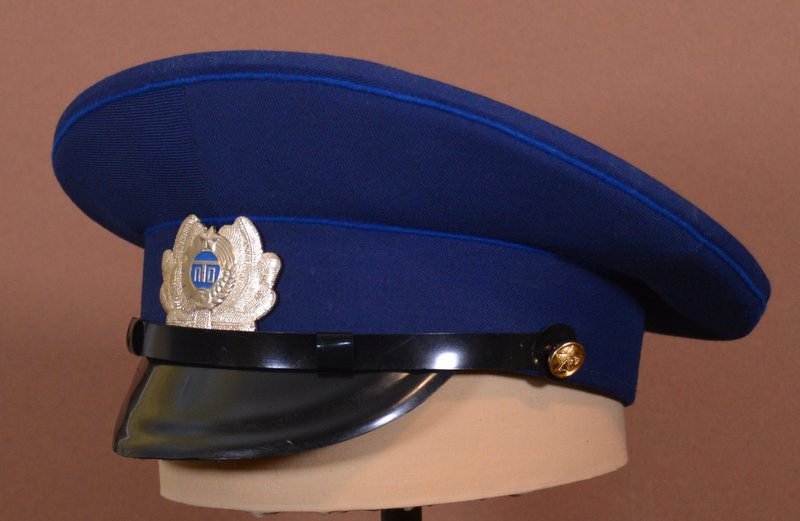 Professional Technical School (Ukraine)
Student
1970s-1991
While the cap and emblems shown above were most commonly used by Soviet PTO/PTUs, those in the Ukraine adopted their own cap/emblem combination shown here. This cap is dated 1986. In contrast to the cap above, the crown and band are both in dark blue fabric although piping is a similar lighter blue. The visor is plastic, as is the chinstrap (all plastic chinstraps - vice the earlier plastic coated oilcloth - became common at the very end of the Soviet period). The strap buttons are gilt plastic Soviet Army buttons instead of the Railways style. Both types of buttons were used interchangeably on PTO caps. Common

Professional Technical School (Ukraine)
Student
Early 1990s
Dated 1992, this is a transitional PTO cap from Ukraine. It retains the Soviet Ukraine PTO emblem and Soviet Army buttons but the gray fabric used for the crown and band was a post-USSR substitution. The piping remains the same color blue as on its USSR era counterparts and the black plastic visor and oilcloth strap are standard. Available

As mentioned above, mining schools used different cockades on their student caps. At least two different ones existed in the 1970s and 80s - one authorized in 1976 for students at mining technical colleges (shown below left) and another for mining PTU (below right). The technical college cap had a dark blue crown, black velvet band and light blue piping. I assume the mining PTU cap was the same, but have never seen one actually displayed or illustrated.