Caps of the Mining Ministries

As with many of Soviet-era non-military caps, regulations and even photographs of Mining Industry uniforms are difficult to find and are always rather "spotty," making it difficult to trace the evolution of colors and emblems. However, using original Soviet regulations and findings of expert Russian sources, I believe I have gained a fairly comprehensive understanding of these uniforms and their associated caps. I shall try to trace their evolution below - even if I do not have all the pieces in my personal collection.

Uniforms were first authorized within Soviet mining ministries in 1934, when existing mining rescue personnel were "militarized" in an effort to improve their responsiveness to mining disasters and improve discipline. Over the next few years, these units were formed in virtually all Ministries responsible for mining/drilling - to include Coal, Geology, Metallurgy, Chemical, Gas and Oil and Transport Construction. Designated военизированных горноспасательных частей – abbreviated ВГСЧ - these Militarized Mine Rescue Units (VGSCh) responded not just to underground mine accidents, but also to oil/gas "blow-outs," facility collapses, fires and other related emergencies. Unfortunately, there is no authoritative information on these early uniforms. I expect cast-off Red Army uniforms served in most units.

In 1947, as part of the general "militarization" of USSR Government workers, all members of mining industries were assigned ranks and authorized military-style uniforms. However, it appears that outside the VGSCh only senior ministry officials wore uniforms on a regular basis. Most junior workers probably never had the finances or the opportunity to purchase them. These ministry uniforms and military-style ranks were abolished in 1954 following the death of Stalin and the subsequent "de-militarization" of the civilian government. But the VGSCh retained their uniforms.

During the period 1954-1976, VGSCh uniforms remained remarkably consistent, with only slight variation in materials and emblems between the various Ministries. Consequently, it is usually impossible to differentiate ministry affiliation. The basic uniform for all personnel was dark blue (sometimes black), with blue piping and black banding (velvet or cloth depending on rank) on their caps. However, significant changes occurred in 1976/1977. The basic uniform now became black for winter and gray for summer (and for senior personnel year round); piping was standardized as "cornflower blue" (the bright blue tone used also by the KGB); while cap bands remained in black cloth or velvet. Other changes included new uniforms for students at mining institutes and schools and the re-introduction of similar black or gray uniforms for senior staff of the Ministry of Coal Industries. No other ministry was extended that same privilege (outside VGSCh units of course). This likely was due to a desire by Coal Ministry officials to match the ceremonial uniforms worn by European Coal miners. Uniforms of VGSCh personnel were also modified at this time to enable them to be more clearly distinguished.


Shown here are some examples of M-1947 mining industries' uniforms (thanks to Russfront.ru for the tunic picture). Although unconfirmed, it appears VGSCh wore the same uniform during the 1947-1954 period as the rest of the mining community.




In order to avoid confusion as I describe who wore these caps, allow me to explain the "rank" system used by most non-military Soviet organizations up to 1991.

Essentially, all supervisory/management staff fell into four categories: highest, senior, middle and junior. A fifth category: privates (or rank and file) held the most junior positions. The highest staff were general-equivalents; for example directors and ministers. Senior staff were field-grade officer equivalents and Middle staff were company grade equivalents (similar to lieutenants and captains). Junior supervisors equated to non-commissioned officers. Each of these categories were further broken down into levels or positions - but thankfully for our purposes, these subdivisions typically had no impact on what was worn on their caps.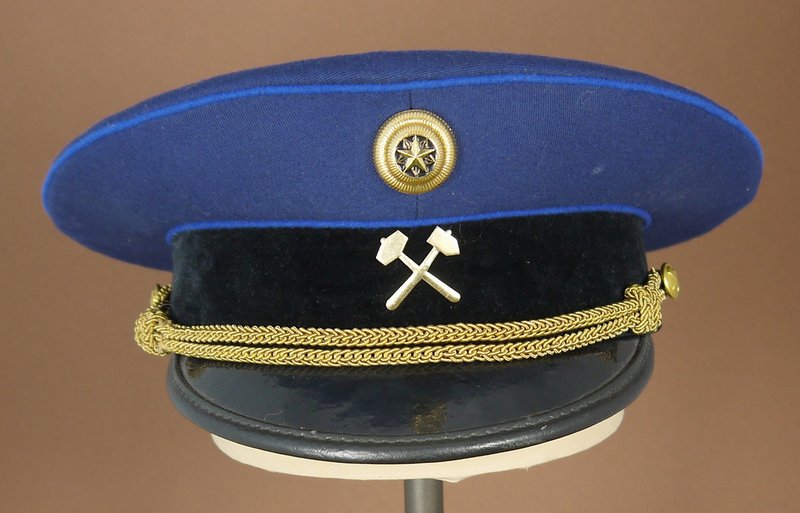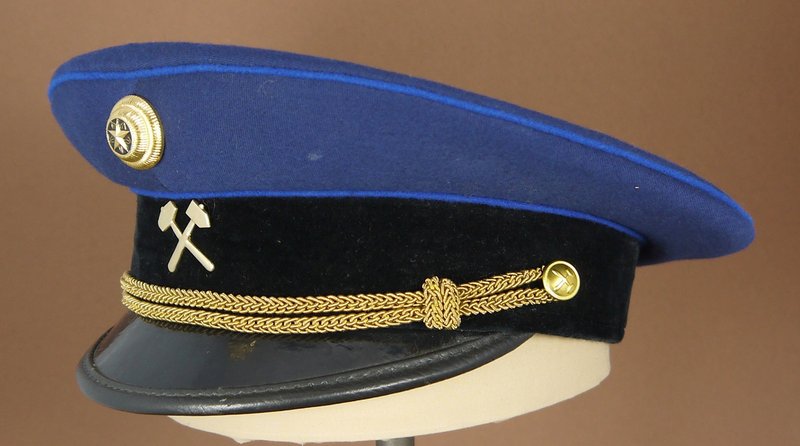 Mining Ministries VGSCh
Highest/Senior Supervisory Staff
1954-1976
The few regulations describing VGSCh uniforms indicate that - regardless of ministry - all caps during this period had a dark blue crown with cornflower blue piping. The band was covered in black cloth for rank and file and for junior commanders or in black velvet for more senior staff. The highest and senior leadership categories wore gilt filigree cords (after 1972 at least) and had a black and gilt rosette pinned onto the crown. The gilt crossed hammers worn on the band was standard for all leadership and worker categories until 1976. A middle staff official would have worn the same emblems but with a black strap.
This custom-made cap has a heavy leather visor instead of the standard black fiberboard visor. Senior officials of many Soviet ministries opted for this type of visor as a mark of their status. The filigree cords are held in place by two gilt buttons stamped with the mining industries' crossed hammers. As you will see on following caps, use of these specific buttons was certainly not standard, with both Soviet Army and Railways buttons often being substituted (depending on availability at the clothing factories). The close-up of the rosette to the right shows the black background to the central star. Although other agencies also used rosettes to designate their highest staff, the black background was apparently reserved for mining-associated ministries.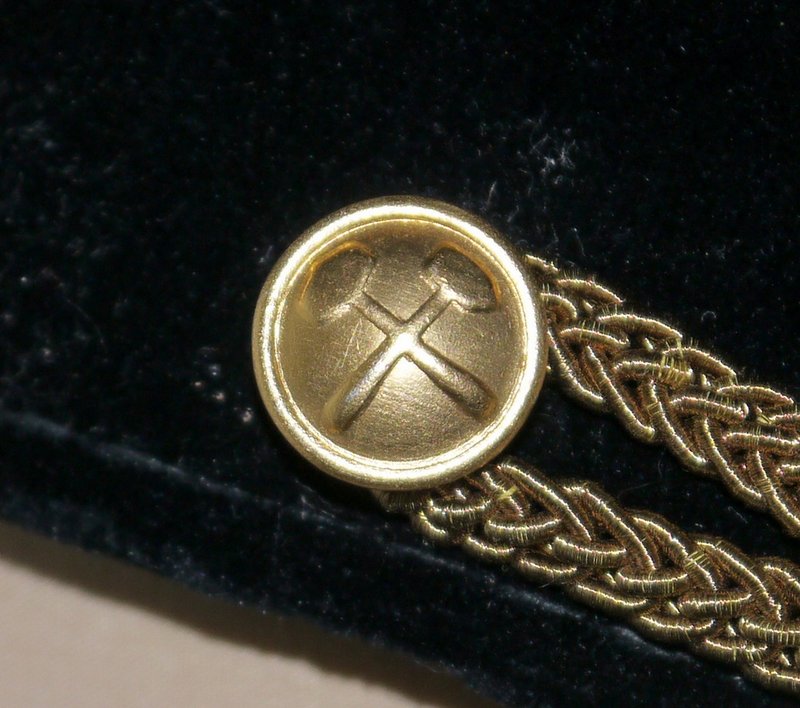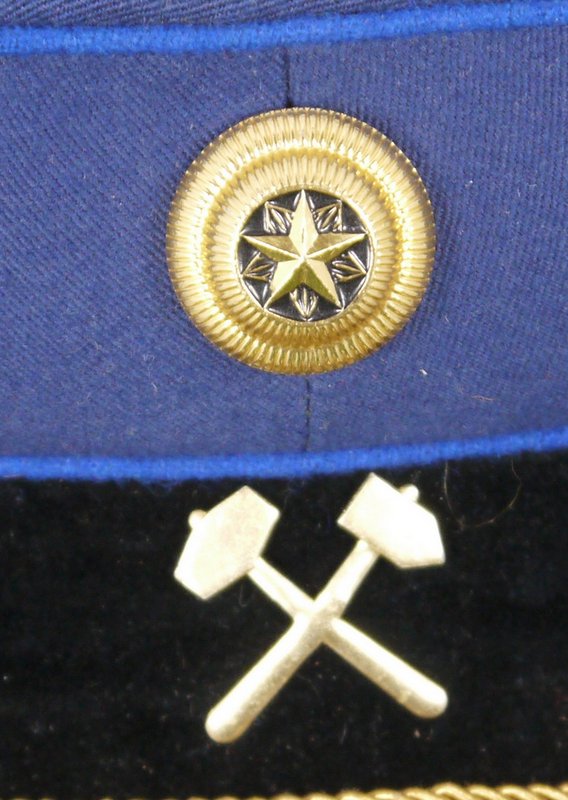 Scarce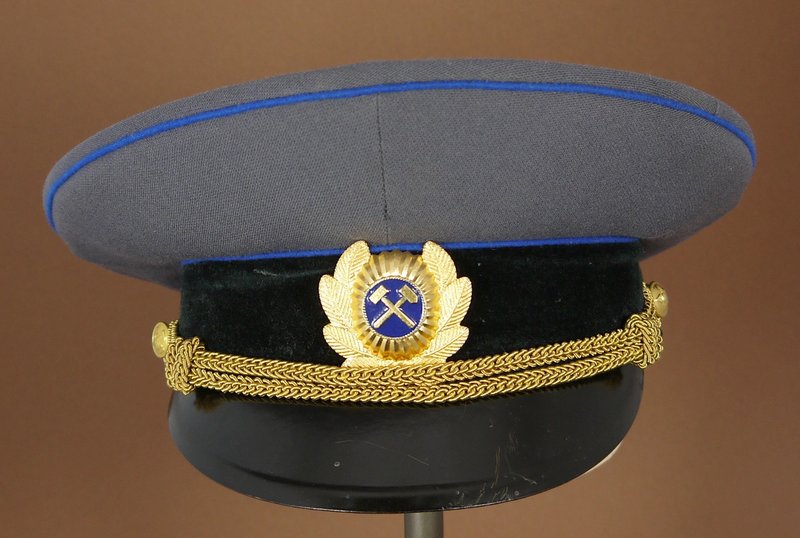 Ministry of Coal Industries
Senior/Middle Supervisory Staff (Summer)
1976-1991
This 1977-dated cap would have been among the first to use the new blue-backed gilt cockade designed for middle, senior and highest staff of the Coal Industries Ministry. As previously mentioned, although VGSCh personnel of all mining ministries continued to wear uniforms after 1954, only the Coal Ministry after 1976 authorized its "normal" staff to wear them. Both gray (for summer) and black (for winter) uniforms with matching caps were introduced. It appears that the many senior (highest and senior staff) wore gray uniforms exclusively.
This is a standard factory-produced cap with an Odessa makers label and black fiberboard visor. The combination of a black velvet band and gold cords indicate it was worn by a senior or middle level manager. Highest staff added metal leaves to the visor - as you can see on the light gray cap further down this page. Cornflower blue piping remained standard for all personnel. The buttons holding the cords in place are actually gilt Army buttons rather than the authorized ones with crossed mining hammers. This presence of non-mining buttons on mining caps is common, especially among factory-produced caps - reportedly due to the factory using whatever buttons were available and the shortage of specialist buttons. Railways buttons are also commonly found on these caps. Available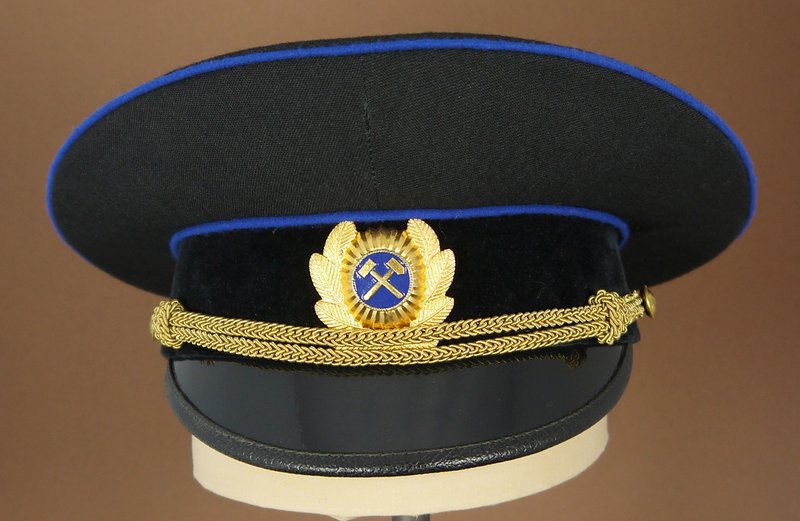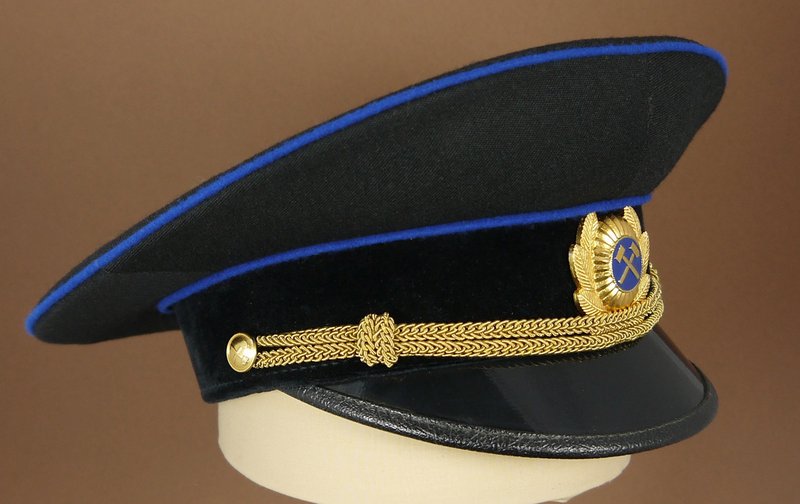 Ministry of Coal Industries
Senior/Middle Supervisory Staff (Winter)
1976-1991
With a black fabric crown, this is the winter version of the cap just described above. Unlike the gray cap however, this one is custom made - with a thick imitation leather visor and a non-standard crown shape. It has a black velvet band, cornflower blue piping and gilt filigree cords held in place by two gilt buttons embossed with crossed mining hammers. A standard one-piece M1976 mining supervisors' cockade is pinned through the band. Available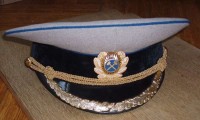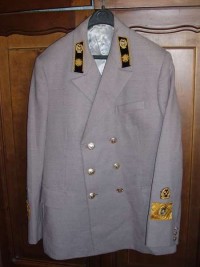 Ministry of Coal Industries
Highest Staff - Deputy Minister
1976-1991
This cap and uniform from a friend's collection in Russia reportedly belonged to a deputy minister of the Coal Ministry. Both items are in a light-weight summer gray cloth. The cap is essentially the same as that worn by the other officials discussed above but with the addition of gilt metal leaves pinned through the leather visor. Interestingly enough, although gilt wire embroidery commonly decorated this grade of official's cap in other ministries, the Coal Ministry only specified metal leaves. The blue piping and black velvet band are standard. The gold filigree cords are held in place by generals' buttons embossed with the Great Seal of the USSR rather than the normal crossed-hammers. The cockade is the same as that worn by all mining industry officials during this period. Minister rank is indicated on the uniform on the collar tabs and on the sleeves. Rare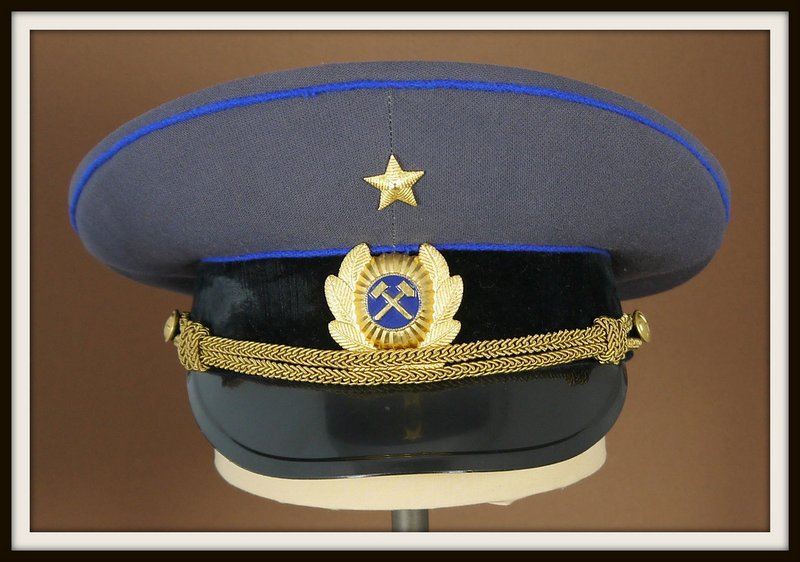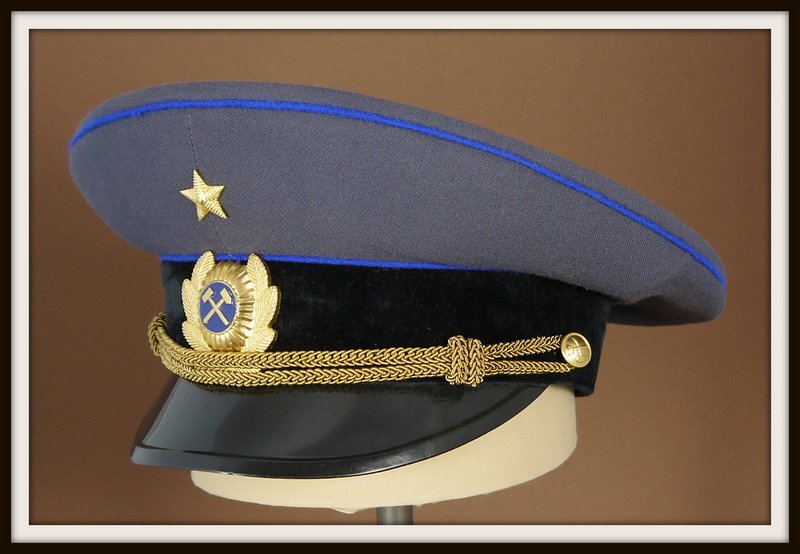 Mining Ministries VGSCh
Senior/Middle Supervisory Staff (Summer)
1976-1991
This 1983-dated cap would have been worn by a senior or middle grade supervisor of VGSCh of any of the mining-associated ministries after 1976. It differed from the 1976 Coal Ministry uniform only in the addition of a gilt star pinned to the crown above the normal mining supervisor's cockade. The star most often used was the same 18mm rank star worn on the shoulderboards of Soviet field grade officers. Its position by regulation was to be immediately above the cockade, but was more commonly positioned towards the middle of the crown. This particular cap also has a plastic visor which began replacing fiberboard versions in the 1980s. In all other respects, it mirrors its gray counterpart discussed three caps previously. Available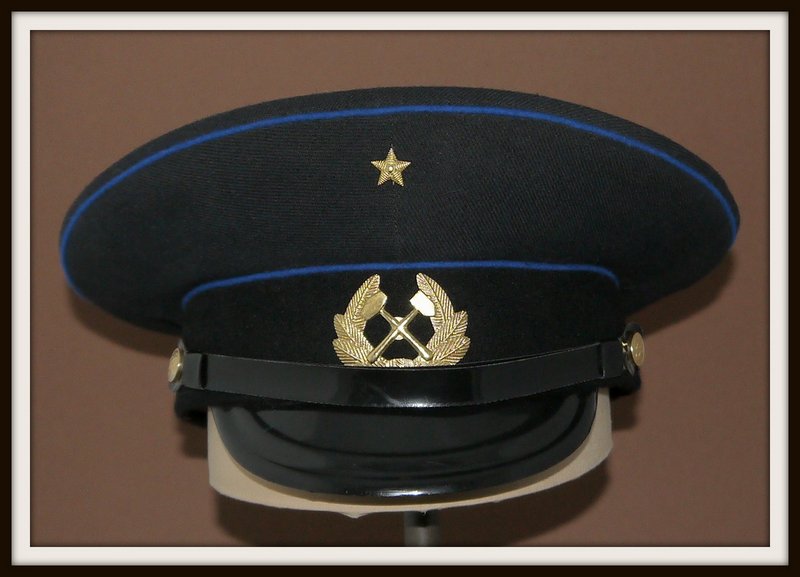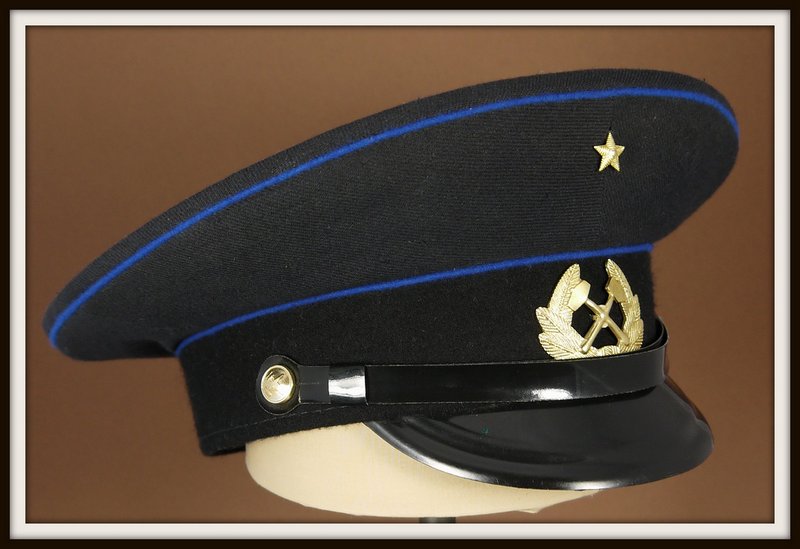 Mining Ministries VGSCh
Junior Supervisory Staff and Rank and File
1976-1980s
This is the first form of cap authorized for junior supervisors and privates of VGSCh units in the 1976/77 regulations. As with its more senior counterparts, the crown is black, piped in cornflower blue. However, as a junior worker/supervisor's cap, it has a black wool band instead of velvet. The band emblem is the M1976 model for junior personnel - consisting of crossed mining hammers surrounded by a wreath. Its affiliation with the VGSCh is indicated by the small 12mm star pinned to the crown. This size star matches that wore by Soviet junior officers on their shoulderboards. As with the senior staff's cap discussed above, regulations called for this star to be pinned immediately above the band emblem, but was more often attached near the middle of the crown. The last indication of the owner's grade is provided by the black plasticized chinstrap supported by two Railways buttons. As previously discussed, factory-made mining industries' caps often had their regulation mining buttons replaced by more available Railways or Army buttons. Available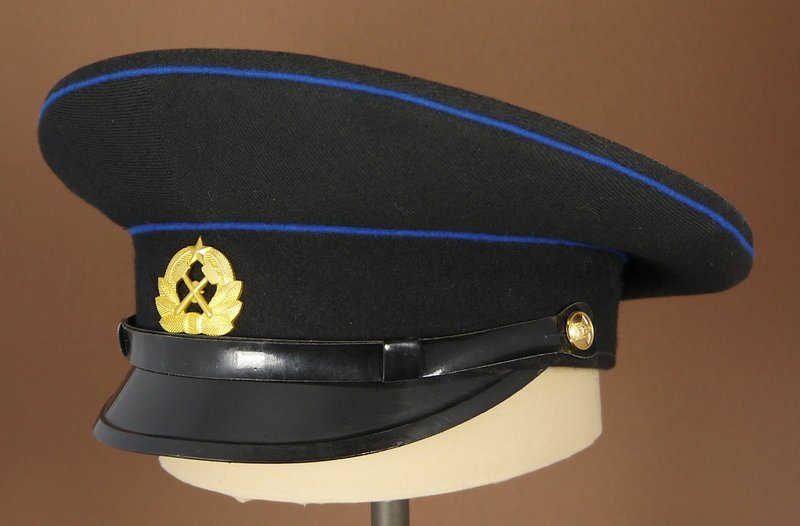 Mining Ministries VGSCh
Junior Supervisory Staff and Rank and File
1980s-1991
Very similar to the previous cap, this one differs only in the use of the later, smaller junior supervisor/private's emblem which now incorporated the small star of the VGSCh into a single piece. I have been unable to determine the exact date this new emblem was introduced, but it was sometime in the 1980s. This cap too, has a black blended wool crown, black cloth band, cornflower blue piping and black chinstrap. The plastic visor is also a later version than the one seen on the previous cap - with one rim vice two. The last component of note are the buttons - which in this case are standard Soviet Army type. Available

In 1967, special cockades were introduced for VGSCh personnel of the Oil Ministry: that for middle/senior/highest management is shown on the left, with the emblem for junior personnel on the right. Although the creation of these cockades has been confirmed in Soviet sources (photographs from Graf1971, Russian language "Uniformistika" Forum) I have seen no photographic evidence that they were worn on service.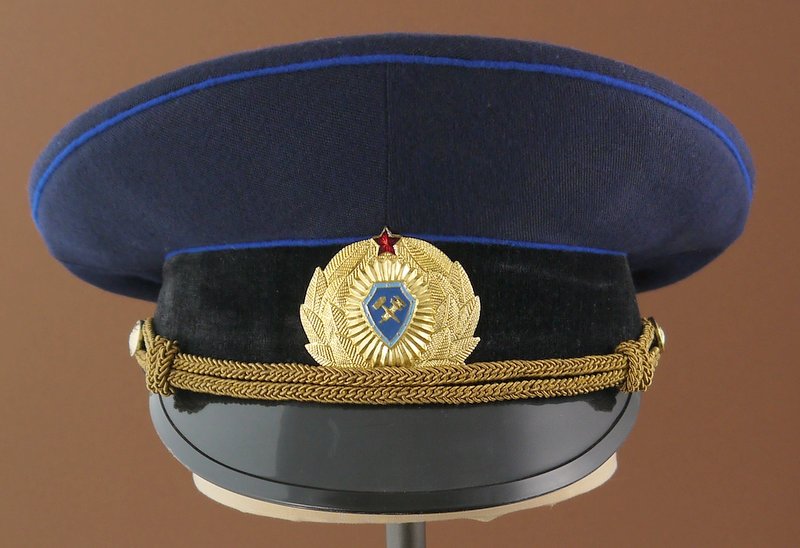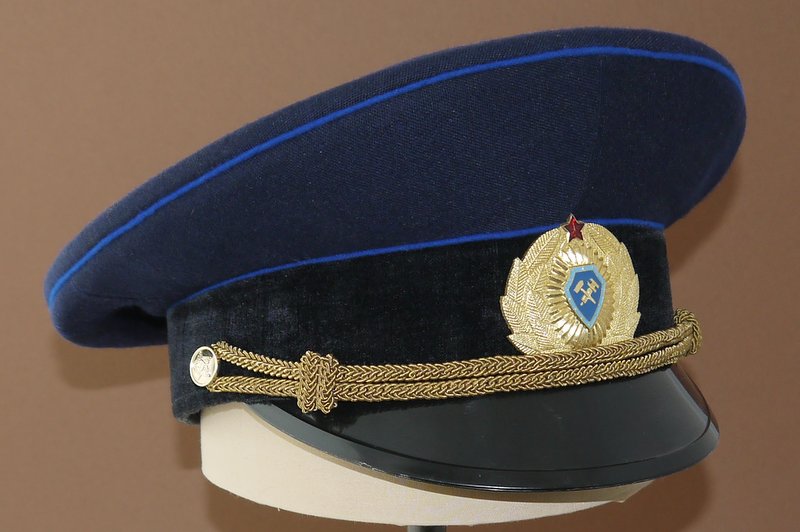 Office of Industrial Safety
Officials
1986-1991
Shown here is a 1990-dated cap worn by inspectors of the State Committee for the Council of Ministers for Supervision of Industrial Safety and Mining. Since 1981, this committee was an independent agency responsible for reporting to the Council of Ministers on its inspection findings. The single available set of uniform regulations for this agency date from 1986 and describe this cap. It has a dark blue crown, black velvet band and blue piping. Gold cords are held by two gilt buttons of unspecified type. My cap has Soviet Army buttons. The cockade is unique to this organization - formed of aluminum in a single piece with lacquered red star and two-toned blue shield with superimposed crossed mining hammer and wrench - signifying both mining and industry. The visor is plastic - reflecting its year of production. It appears that all inspectors wore this same cap - with no difference for grade category identified in the uniform regulations. Scarce