Caps of Soviet Civilian Maritime Fleets
Shown here are caps worn by sailors and officers of the civilian maritime and river fleets. These include the Merchant Marine (Морского Флота - ММФ or MORFLOT), the Fishing Fleet (Флот рыбной промышленности); the Riverine Fleet (Речной Флот), and the Navy's Auxiliary Fleet (Вспомогательного Флот). While personnel assigned to these different fleets wore very similar uniforms, as you will see below, they could usually be differentiated by subtle differences in the cockades worn on their caps. While I can't show you every possible cap/cockade combination, I will try to show you examples of any cockades I don't have, utilizing posts from Russian websites. That should allow you to identify 99 percent of civilian maritime caps/cockades you will see in your own collecting. But before I start describing caps, allow me to briefly describe each of these organizations so that you can see where they fit into the Soviet architecture.
MORFLOT was subordinate to the Ministry of Merchant Marine and was responsible for all international shipping operations as well as an extensive network of ports, research institutes, ship repair yards and schools. In 1984 it was the world's 6th largest Merchant Marine (ahead of the USA). While civilian, the majority of MORFLOT officers held reserve Navy commissions and both officers and their ships regularly supported Navy operations around the globe.
The Soviet Fishing Fleet was a separate organization for most of its existence and fell under supervision of the Ministry of Fisheries. During the 1960s it was the largest national fishing fleet in the world reflecting the importance of fish both in the Soviet diet and as an export commodity. As in the Merchant Marine, Fisheries' officers typically held reserve Navy commissions and Fishing Fleet ships supported Naval operations where they could - especially in intelligence collection.
The Riverine Fleet was responsible for moving material and personnel over the Soviet inland waterway system and contiguous waters. Until the mid-1950's, river transport was second only to rail transport in volume of freight turnover and throughout the Soviet era the Riverine Fleet moved more bulk-cargo and passengers than MORFLOT. From 1945 to 1956, the Fleet was subordinate to a Ministry of River Fleet; thereafter reverting to republic-level organizations. Like the other civilian fleets, the Riverine Fleet supported the Soviet military by moving cargo, troops, equipment and even submarines from coast to coast and to inland garrisons.
The Soviet Auxiliary Fleet was created specifically to support the Navy and included replenishment ships, tankers, missile and submarine tenders, repair ships, oceanic tugs and lighthouses. While subordinate to the Navy, the majority of officers manning these ships were civilian (it appears the rank and file were a mixture of civilians and Naval conscripts). Although civilian Auxiliary Fleet uniforms largely mirrored that of MORFLOT, they did use slightly different cockades on their visor caps prior to 1980. Examples of these cockades are shown below (lighthouse personnel used a different cockade with a blue and white center "flag").
| | |
| --- | --- |
| | An Auxiliary Fleet commander's cockade is shown to the left; rank and file to the right. Note the lack of stars in comparison to MORFLOT cockades shown below. This difference was eliminated as per Auxiliary Fleet uniform regulations of 1980, where cockades (and caps) became identical to that of MORFLOT. |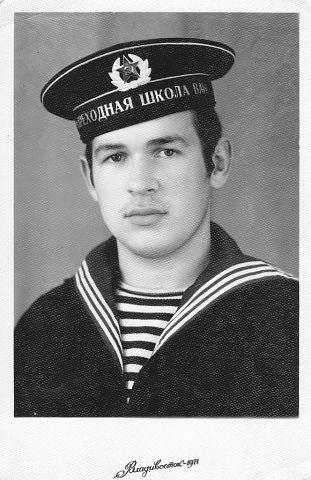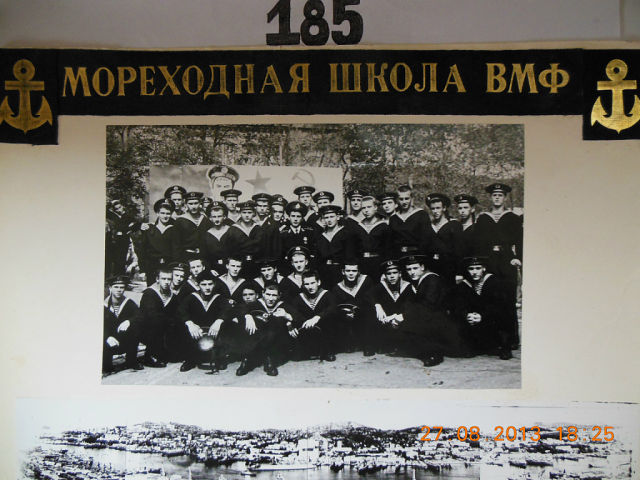 Auxiliary Fleet
Cadet
1969-1991
Although I don't have one in my collection - I wanted to show the beskozirka (cap without visor) worn by cadets at the one-year schools run by the Navy for Auxiliary Fleet seamen. At the end of the USSR - there were just two of these schools - the 42nd and 185th - both of which wore the same cap tally, which is shown here. The rest of the beskozirka was identical to that worn by other Naval sailors and cadets. Available


Turning now to the caps in my collection: although somewhat better documented than other non-military ministries, uniforms and insignia of these various civilian fleets are still incompletely described in period Soviet or modern Russian press. This "spotty" documentation and the similarity between the uniforms worn by their personnel and those of the Soviet Navy can cause a great deal of confusion for those new to this area. To make matters a little worse for the uniform collector, a great deal of latitude was also granted fleet personnel in their uniform wear, reflecting no doubt the difficulty in obtaining regulation uniform items on world-wide deployments and the natural independence of ship captains. Examples of this variance included the replacement of black chinstraps or gilt cords on caps of senior officers with black cords woven from silk or polyester and the use of patterned silk ribbons around the bands of such caps instead of the standard plain navy-type ribbons. So, although I will try to describe the authorized variations - please be aware that in "real-life," many unauthorized combinations of emblem, chinstrap/cords, ribbon and visor ornamentation could be found.
A thumbnail image accompanies each cap description. Clicking on that thumbnail will bring up a larger, higher resolution image.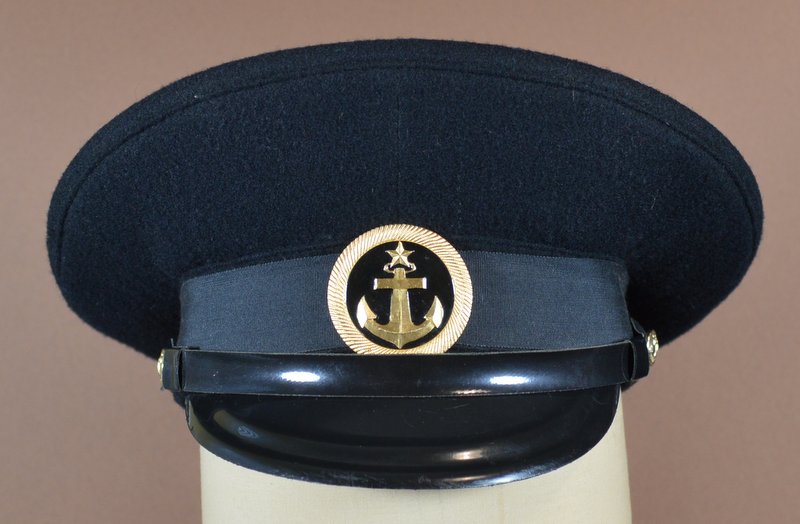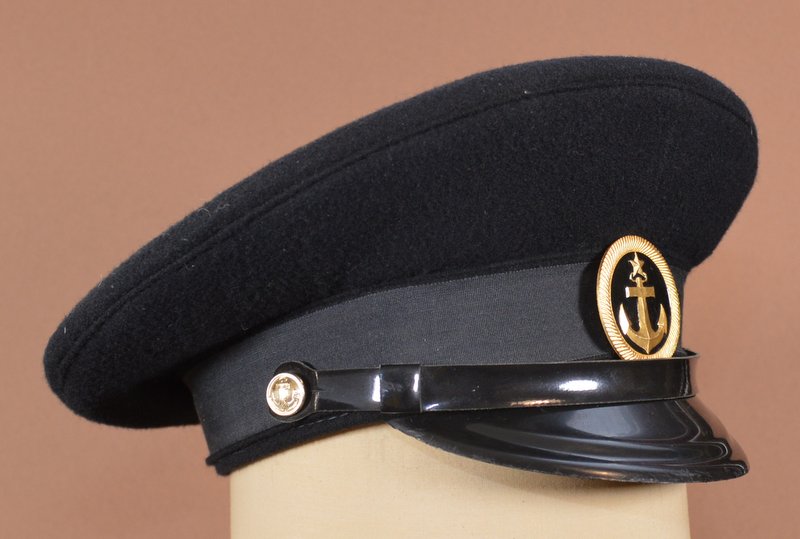 MORFLOT
Junior Command Staff/Rank and File/Cadet
1966-1991
The cap shown here would have been worn by the most junior command staff (equivalent to petty officers), rank and file (seamen) and cadets at MORFLOT "commissioning" schools from 1966 to 1976; or just by seamen and cadets from 1977-on (junior officers adopted a different cockade in 1977). As with the other organizations discussed on this page, the appearance of MORFLOT caps did not vary much over the years. This is a winter cap - as evidenced by the black wool top. The band is also black wool, covered with a ribbed ribbon - similar to that worn by Navy officers on their caps. The piping is black - which is the key identification feature between civilian marine caps and Naval caps (which have white piping). According to 1977 regulations, the visor for rank and file personnel was to be plastic - as is the case here. The black plastic chinstrap is held in place by two gilt buttons embossed with an anchor - the same buttons used by the Navy. Along with the plastic visor, the black and gilt aluminum cockade identified this as worn by a junior MORFLOT sailor or cadet. Common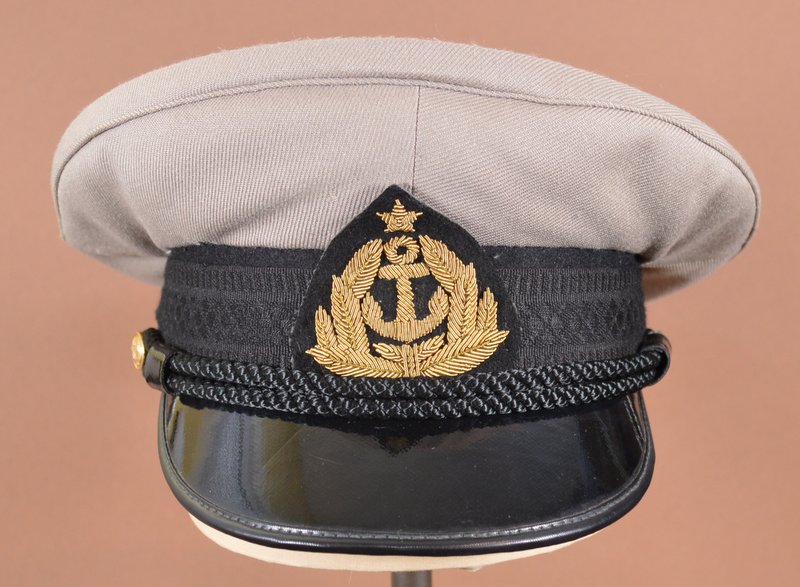 MORFLOT
Junior/Middle Command Staff
1949-1991
The combination of this emblem and black chinstrap/cords was worn by both MORFLOT Junior and Middle Command Staff from 1949 to 1979, but only by Junior Command Staff thereafter (middle staff adopted gold cords in 1980). The tan top and white lining of this 1989-dated cap are lightweight wool blend and linen respectively - as expected for a cap designed for summer wear. The band is covered with a wool ribbon with an embroidered decorative pattern. Senior and middle command staff commonly wore elaborate band ribbons - as opposed to junior personnel who typically wore plain Navy-style ribbons. I have seen at least a dozen different embroidered designs on various MORFLOT caps. The cords are twisted black polyester with nonfunctioning black oilcloth/plastic slides looped over gilt Navy-style plastic buttons. Twisted black cords were commonly substituted for oilcloth straps by middle and senior command staff - probably for their unique appearance (no other Soviet uniformed service used such cords except for honorary miners). The cockade is gilt wire embroidered in the prescribed pattern for these grades of personnel. The visor is made from layers of synthetic leather with a distinct plastic rim. This visor style was unique (with few exceptions) to the civilian marine agencies and was "standard" for all command staff grades.
While the Soviet Navy only had two color variations of caps (black or white), civilian maritime agencies had three (black, white and tan). Both tan and white were for summer wear but were associated with the body of water on which the owner sailed. White caps were traditionally worn while serving on the Black, Azov and Caspian Seas, with tan being worn elsewhere. Scarce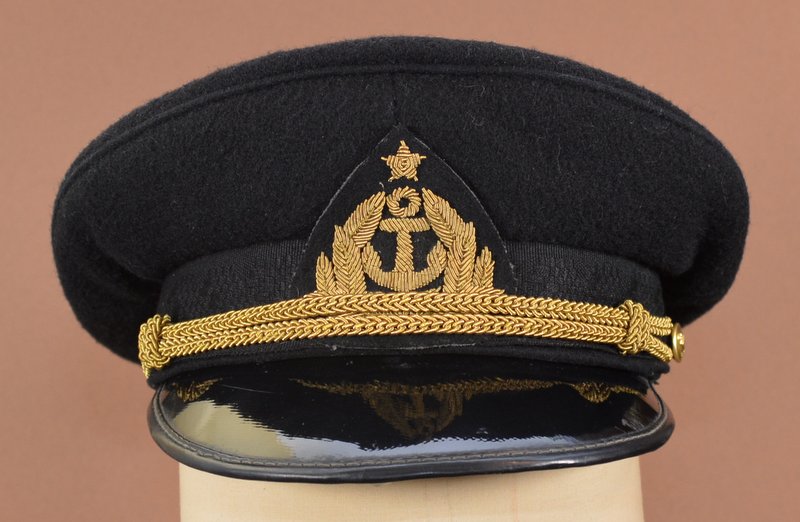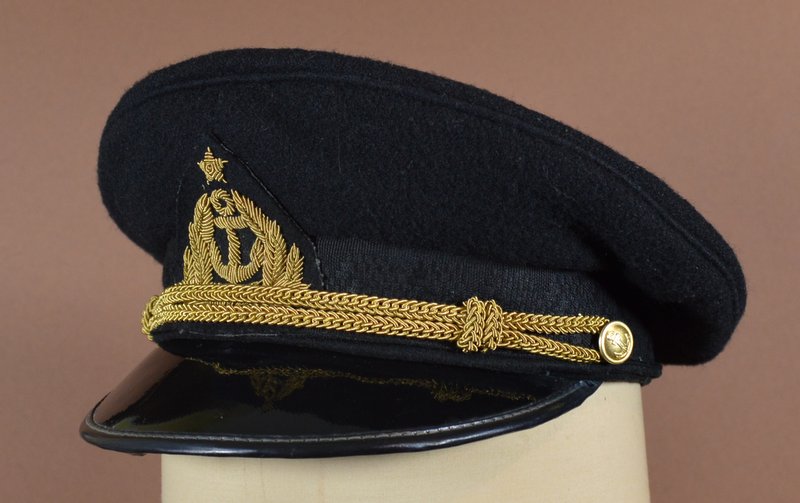 MORFLOT
Middle Command Staff
1980-1991
Use of gold filigree cords on this Middle Command Staff cap indicates it was worn after 1980. Prior to that time, Middle Staff wore black chinstraps unless they were ship captains. This is a winter cap - as evidenced by the black napped wool top. The band is embroidered - but in a different style from the cap discussed above. However, the emblem is the same. Naval-style buttons hold the cords in place above the heavy laminated synthetic leather visor. Available

| | |
| --- | --- |
| The ribbons on these civilian marine caps (and on naval ones) were held in position by a raised welt along the bottom of the band - with the ribbon positioned above it. You can see this feature in the picture to the right, with the ribbon removed from the band. This is the primary recognition feature allowing you to distinguish between these caps and other all-black caps; such as mortuary service and some firemen's. These latter caps did not have any raised welt since their bands were never covered by ribbons. | |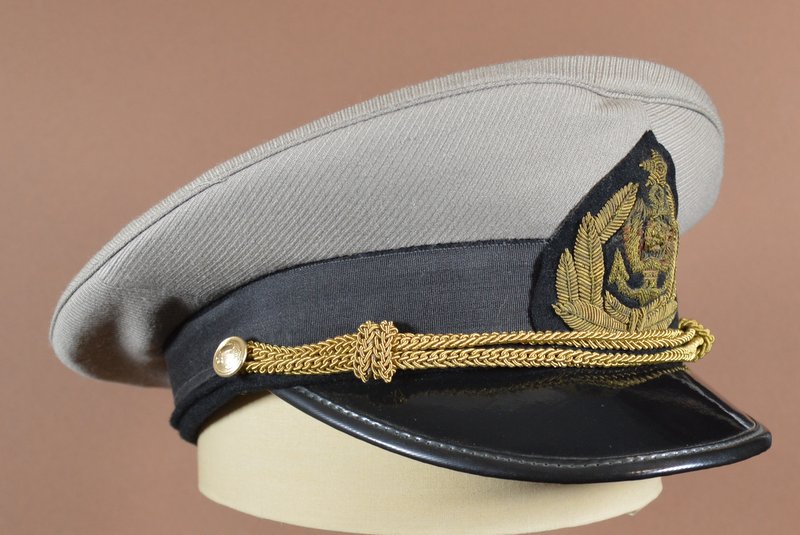 MORFLOT
Senior Command Staff
1980-1991
This 1982-dated cap has the tan crown and the white linen interior of a summer weight cap worn outside the Black, Azov and Caspian Seas. The cockade is unique to Senior Grade MORFLOT personnel. The visor is standard for these command staff caps - made of plastic (synthetic leather) layers sewn together in a thick "sandwich." The underside of these visors came in a variety of colors, including gray (as here), black and green. The buttons are standard gilt Navy-style rather than the more ornamental buttons authorized for MORFLOT command staff - which you can see on the captain's cap below. Scarce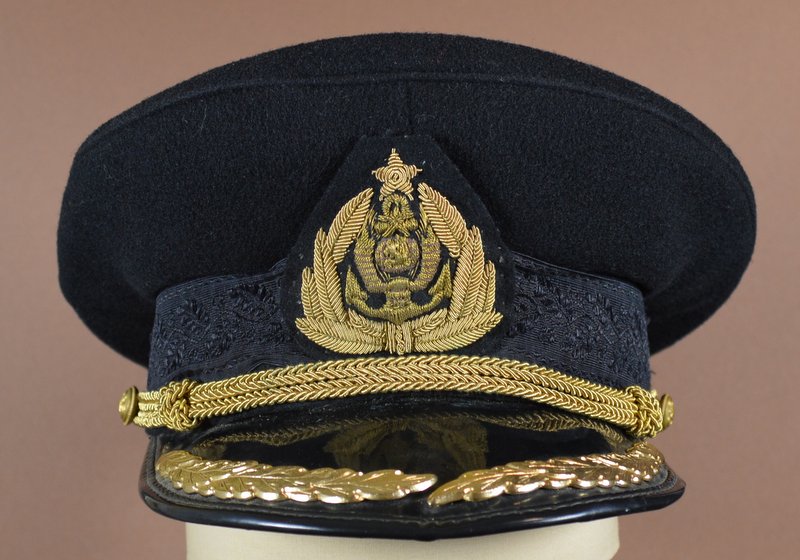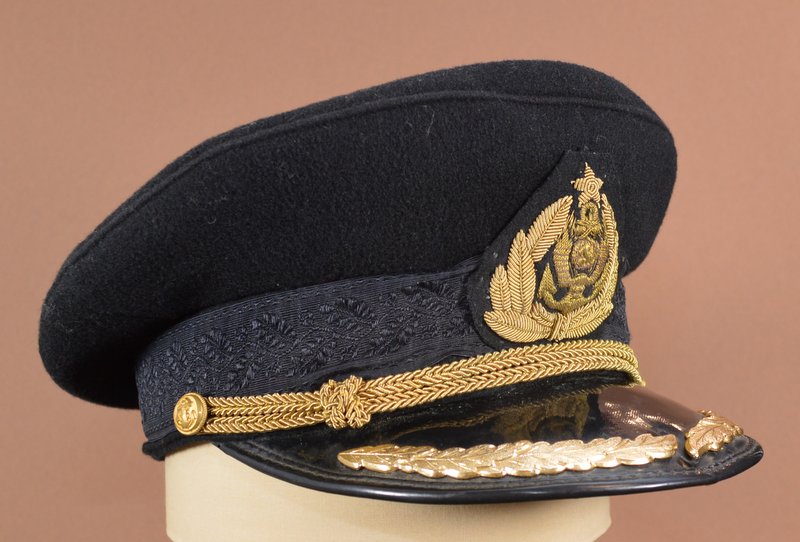 MORFLOT
Captain - Senior Command Staff
1977-1991
The use of both gold filigree cords and metal visor ornaments during this period identify the owner of this black winter cap as a ship's captain, while the cockade design identified him as Senior Command grade. As a captain's cap, this has a number of features not seen on the cap shown above; even though their grade level was the same. First - this 1980-dated cap has metal visor leaves pinned through the thick plastic visor. Different styles of leaves can be seen on these caps - although the style shown here was most commonly used in the later years of the USSR. And, while the gilt embroidered emblem is the same design as that on the cap above, the band ribbon on this cap is heavily embroidered in oak leaves, contrasting with the plain ribbon on the previous cap.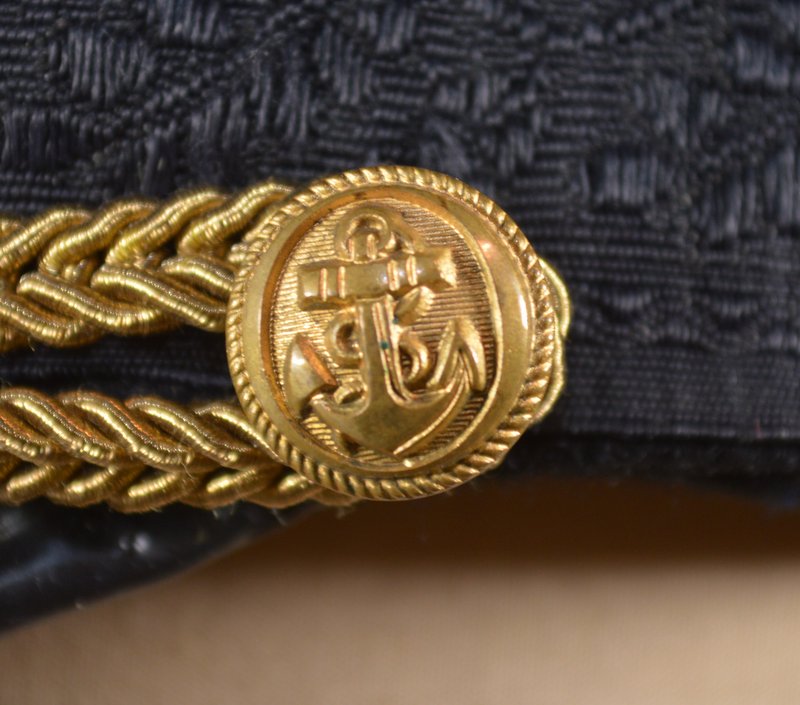 Finally, as you can see here, the buttons holding the gold cords on this cap are also more elaborate - as authorized for command staffs in the 1977 regulations. Scarce

| | |
| --- | --- |
| Shown here is a cap belonging to a Russian collector that was authorized for the Highest Command Staff of MORFLOT. Note the gilt visor embroidery and the larger cockade - with 16 leaves in the wreath vice the 10 leaves in that worn by Senior Staff personnel. | |
For comparison purposes, here are the four cockades in use by MORFLOT according to 1977 uniform regulations. From left to right you see: Highest Command Staff, Senior Command Staff, Command Staff (middle and junior), and rank and file/cadets.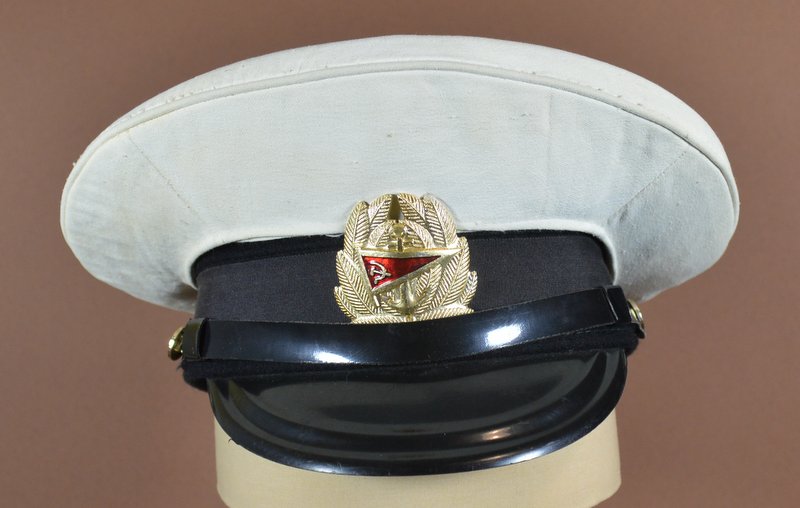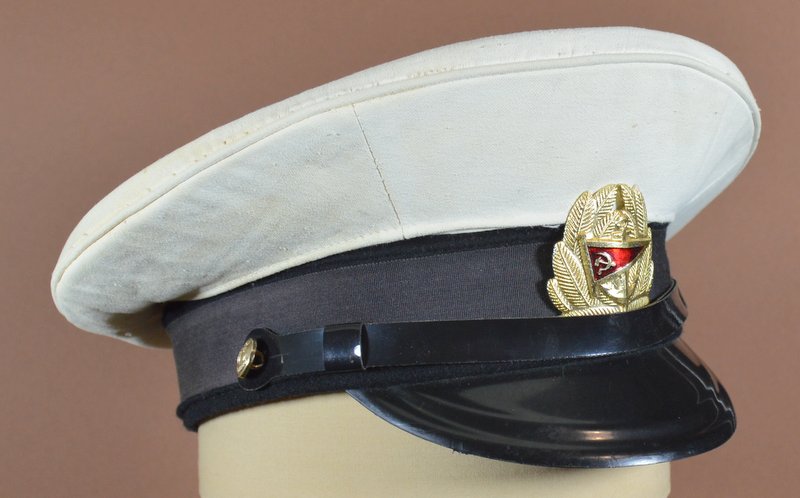 Fisheries
Junior Command Staff/Rank and File/Cadet
1974-1991
The cap and emblem combination shown here was authorized for Fisheries' junior command staff, rank and file, and cadets at Fisheries institutes from 1974 to 1991. This cockade was introduced in 1974 and depicts an anchor with superimposed flag of the Fisheries Fleet surrounded by a wreath - all in gilt anodized aluminum. Mirroring MORFLOT policies, white-topped caps were traditionally worn in the summer on the Black, Azov and Caspian Seas. While the cap shown here is a black winter cap with a removable white cover, lighter weight summer versions also existed consisting of a padded band and visor shell utilizing the same white cover. These had linen interiors better suited for hot weather (you can see Navy versions of this same type cap here).
The rest of this cap is standard for junior personnel in the late 1980s: black plastic visor and a plastic chinstrap held by two one-piece plastic buttons embossed with the Navy anchor. The band is covered with a plain Navy-style ribbon. Available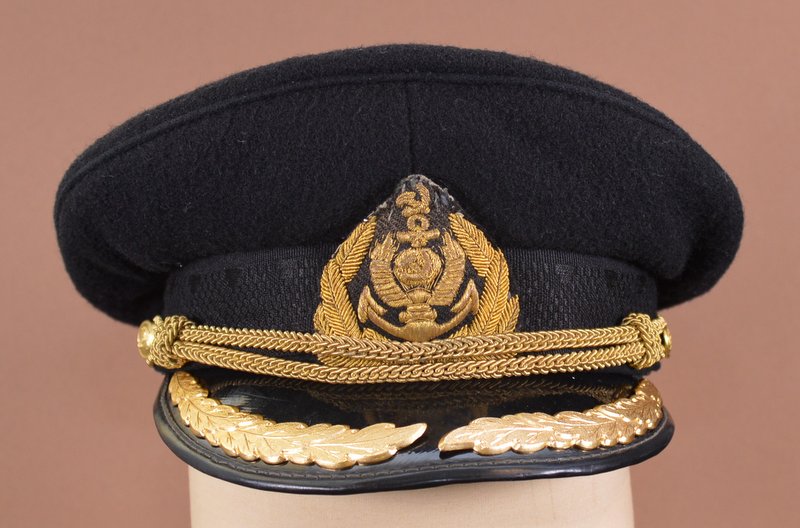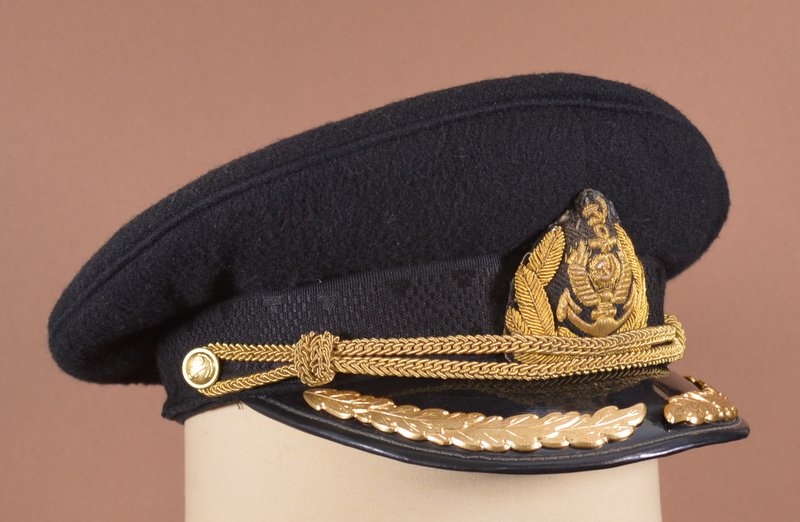 Fisheries
Senior Command Staff
1964-1991
The basic features of this 1988-dated cap reflect ownership by a senior-grade marine officer. The top is heavy napped black wool while the band is embroidered with a geometric design. The visor is laminated simulated leather with a later-style set of aluminum visor leaves pinned through them. Along with the unique embroidered wire cockade, the combination of these metal leaves and gold filigree cords was unique to this grade of Fisheries' officer. Unlike MORFLOT uniform regulations which alternated over time as to the wear of visor leaves and gold cords, senior grade Fisheries' officers (and not just captains) wore both for the entire 1964-1991 period. Also note the gilt wire hammer and sickle above the anchor - this is the key identifying feature of Fisheries' command staff cockades. MORFLOT and River Fleet officer emblems had a star in this position. Scarce

| | | |
| --- | --- | --- |
| Since I don't have caps showing every grade of Fisheries' personnel, I've provided you an extract (to the immediate right) from the 1976 Fishing Fleet uniform regulations showing the different cockades in use at that time. That of the Highest Command Staff is at the top with Senior and Middle Staff at the bottom. The picture on the far right is from a Russian collector and shows (from left to right) actual Senior staff, Middle staff, and junior staff/rank and file/cadet cockades. | | |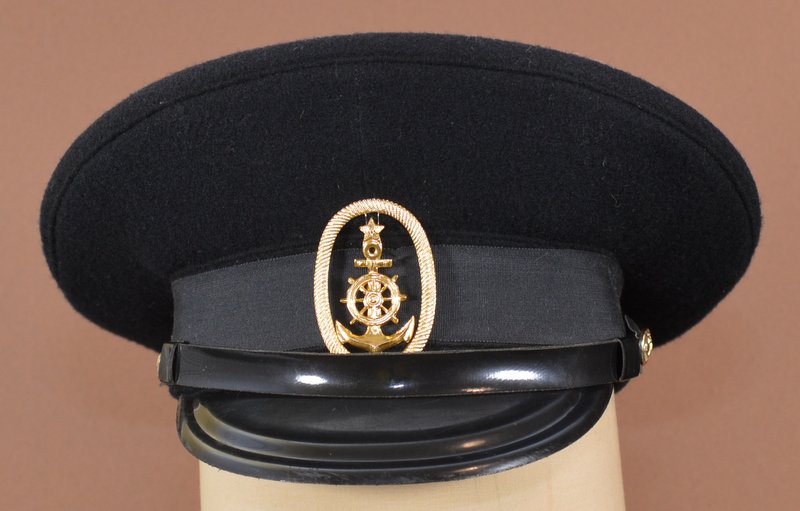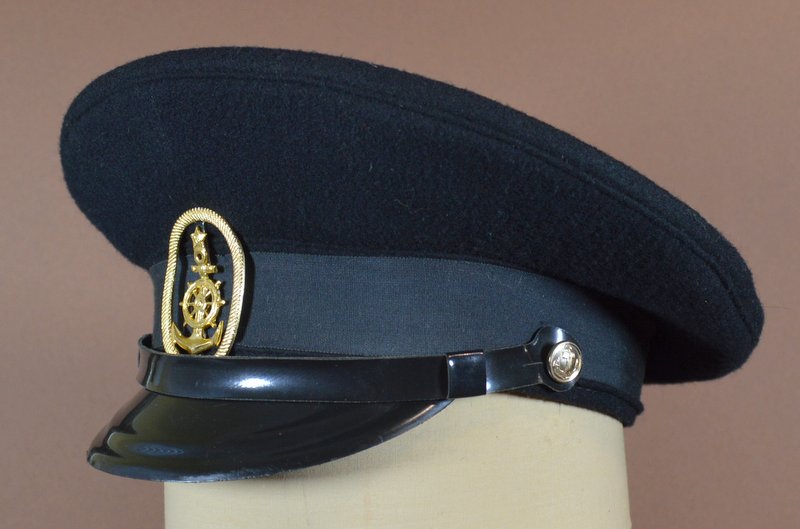 River Fleet
Junior Command Staff/rank and file/Cadet
1969-1991
River Fleet personnel wore the same caps as their sea-going cousins - in this case made of black wool for winter wear. Again, piping is black and the band is covered with a plain Navy-style ribbon. The visor is black plastic, as is the chinstrap. Two Navy-style buttons hold it above the visor.
The cockade shows that this cap would have been worn by junior command staff (petty officers) from 1969 to 1991. Rank and file were authorized to wear this same cockade in 1986 - at which time their caps became identical to that of junior command staff (from 1969-1985 rank and file wore a similar emblem but without the rope border and only on berets and pile-caps). This cockade is a "skeleton" varient made of two pieces riveted together in a rather delicate arrangement. A solid, single piece version with a black-painted background also existed and can be seen in the row of cockades shown below. Available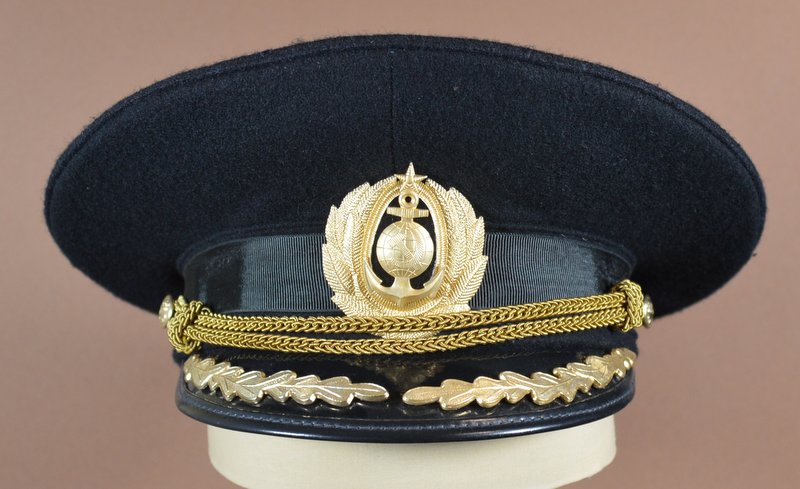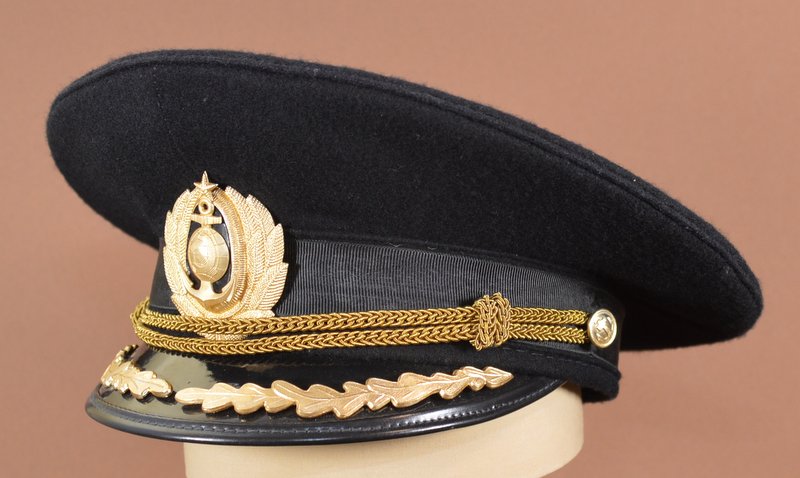 River Fleet
Senior Command Staff
1969-1991
The winter cap shown here belonged to a River Fleet senior-grade commander. Identical to the caps worn by MORFLOT and Fisheries officers, only the Model 1969 cockade identifies it as River Fleet. While embroidered versions of this cockade existed (see the cap below), this is a two-piece aluminum version with a black painted center. The crown is made from very fine napped wool and the band is covered by a standard Navy-type ribbon without embroidery. The sewn simulated-leather visor has older-style aluminum leaves pinned to it (compare the shape with the later style on the cap below) and gilt filigree cords are held in place by standard anchor-stamped gilt buttons. Scarce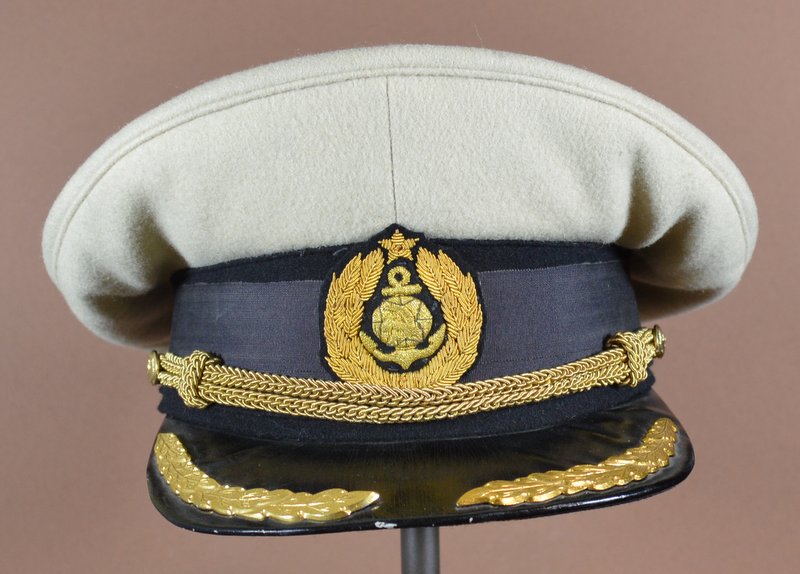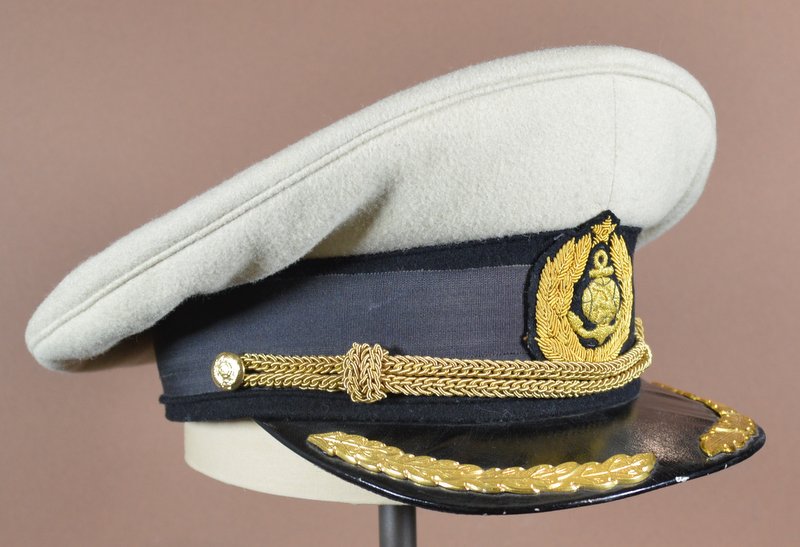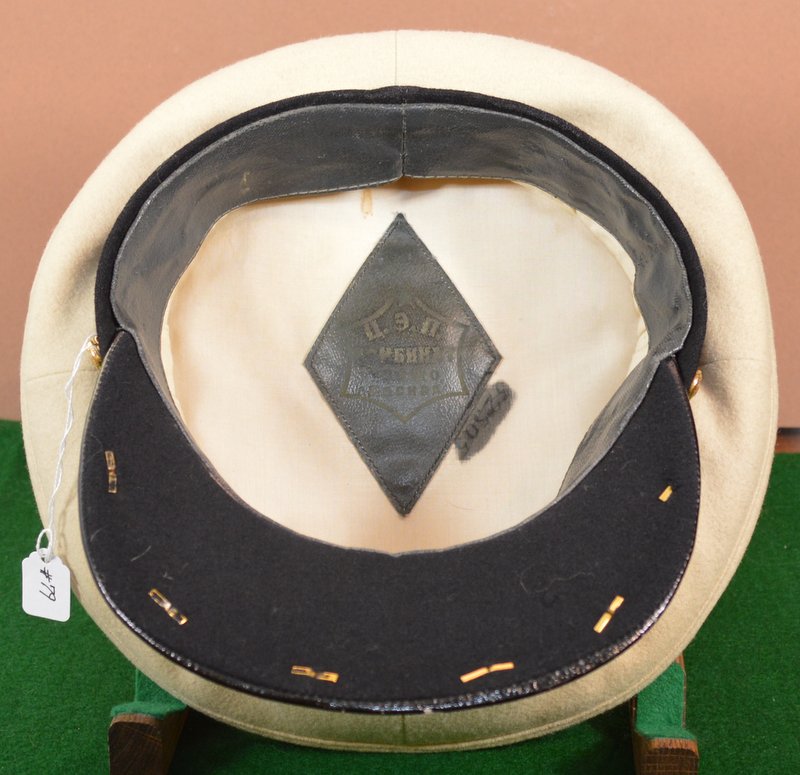 River Fleet
Senior Command Staff
1969-1991
This is a summer cap worn by senior command staff. Unlike the "standard-production" cap just discussed above, this one was custom made at the Central Experimental Manufacturing Combine in Moscow (a rather unusual source for civilian marine caps!), and has some "general-officer" features not normally found on this grade of cap. The crown is made of light tan wool felt with matching piping - indicating service outside the Black, Azov and Caspian Seas. Rather surprising for such a high-end cap, it does not have a special embroidered band ribbon - instead mounting a standard Navy ribbon. It is possible River Fleet commanders did not routinely wear the fancier ribbons popular with Merchant Marine officers. A gilt wire-embroidered cockade of the senior staff design is sewn to the band. The visor is covered in patent leather (not laminated simulated leather) with a black wool underlining - as commonly seen only on general-officer caps. Later-style gilt aluminum leaves are professionally attached to this visor. Gilt cords and buttons complete the accessories. Scarce-Rare

| | |
| --- | --- |
| This picture (source: ФОРУМ Униформистика; the collection of S. Koroleva) shows the cap authorized for the Highest Command Staff of the River Fleet - equivalent to Navy admirals. Note the larger wreath as compared to that worn by the Senior Staff just described. The cap also had embroidered leaves on a patent leather visor and the gold cords are held in place by admiral buttons. | |
Shown below are the five cockades in use by the River Fleet according to 1969 regulations (source: Mundir No.3/2011 article by S. Kondratev). All these were manufactured in gilt embroidery or anodized aluminum. From left to right you see: Highest Command Staff, Senior Command Staff, Middle Command Staff, Junior Command Staff/cadets, and rank and file. The rank and file emblem on the far right was reportedly not worn on visor caps - just on berets and winter pile hats. This emblem was abolished in 1986 when the rank and file were authorized to wear caps with the Junior Staff cockade.
This cap belonged to a civilian marine pilot responsible for guiding ships into and out of harbors and ports. The special insignia identifying these skilled personnel was the same regardless of the supported fleet (MORFLOT, River or Fishing) and consisted of an enameled banner of the USSR surrounded by a white border pinned to an embroidered emblem of a MORFLOT middle range commander. This insignia was authorized in regulations published in 1964. The cap itself is standard winter marine style - black top with black piping, black band ribbon, a heavy simulated leather visor, and gilt stamped-anchor buttons. While the gilt cords came on this cap, I suspect pilots may have worn a black chinstrap or black cords prior to 1980 - just as middle-range MORFLOT officers did. Scarce

| | |
| --- | --- |
| | While I've discussed the most important civilian marine/waterways organizations above, please note that some other organizations also had elements that operated on the water and sometimes even had their own uniforms and insignia. One of these is shown here - which reportedly belonged to Soviet Forestry officials involved in rafting lumber down interior waterways in the 1960s and 70s. No other information (or pictures) of their uniforms have been published. |
As perhaps you could expect, the vast majority of civilian marine caps were manufactured adjacent to large bodies of water on which the owners were based. Shown below are cap labels from the two most common manufacturers of such caps - the first from the Morflot Industrial Plant of the Black Sea Shipping Company, Odessa (ММФ СССР ПРОМЫШЛЕННЫЙ ЧЕРНОМОРСКОГО МОРСКОГО ПАРОХОДСТВА ОДЕССА) and the second (Л-Д УРС АПРАКСИН ДВОР КОРПУС N8 СЗРП) - Workers Supply Office of the Northwest River Shipping Line at the Apraksin Yard building #8 in Leningrad.
Finally, I've included pictures copied from various Russian websites showing some of the many variations of accessories worn by civilian mariners. Notice particularly the varying styles of embroidered band ribbons and black cords used.