Civil Aviation (Aeroflot) Caps
Shown here are caps worn by workers and supervisors of the USSR Civil Aviation fleet - or Aeroflot, the Soviet Union's national airline. Although of course its main peacetime mission is moving civilian passengers and freight throughout the USSR and overseas, Aeroflot has also always had a close relationship to the Soviet Air Force (VVS) - flying many transport missions in direct support of the Air Force (like delivering arms to overseas customers) and with many former Air Force personnel on staff. In fact, during its early days, Aeroflot was a militarized organization, with military style ranks. For example, senior officers would be identified as "Generals of Civil Aviation", with lesser ones identified as "Colonels of Civil Aviation" or "Lieutenants of Civil Aviation" and the like. Following Stalin's death, as part of a USSR-wide drive to "civilianize" government ministries, Aeroflot lost its military sounding ranks and all personnel were identified merely by position and "category". Although some changes were made over the years to this categorization system, over most of the later years Aeroflot "ranks" broke out like this: the highest categories #12-16 (general officer equivalent), senior #9-11 (field grade officer equivalent), middle #5-8 (company grade officer equivalent) and junior #1-4 (private to sergeant equivalent).
Aeroflot's aviation mission is signified in its uniform colors, which can easily be confused with those of the Air Force. Aeroflot caps particularly resemble Air Force officers' parade caps - but can be differentiated by their dark blue bands (where the Air Force used light blue bands). While its insignia changed over time, the overall look of Soviet Civil Aviation caps remained markedly consistent over the entire post-war period.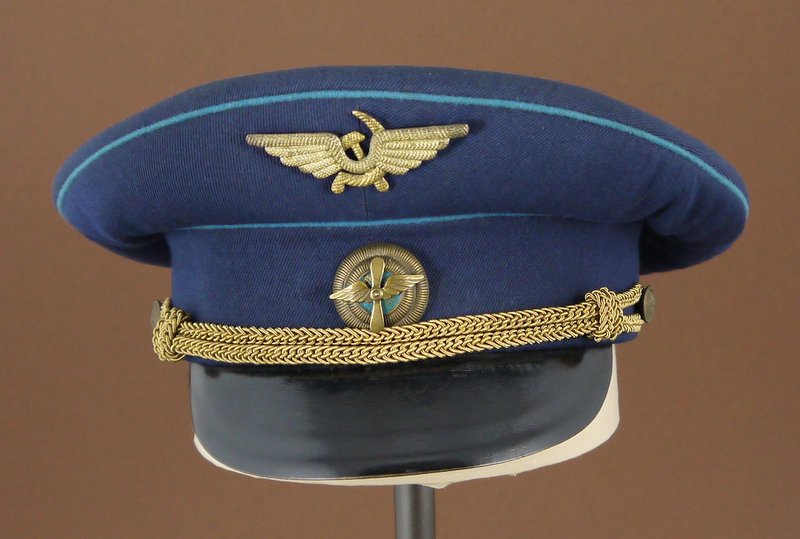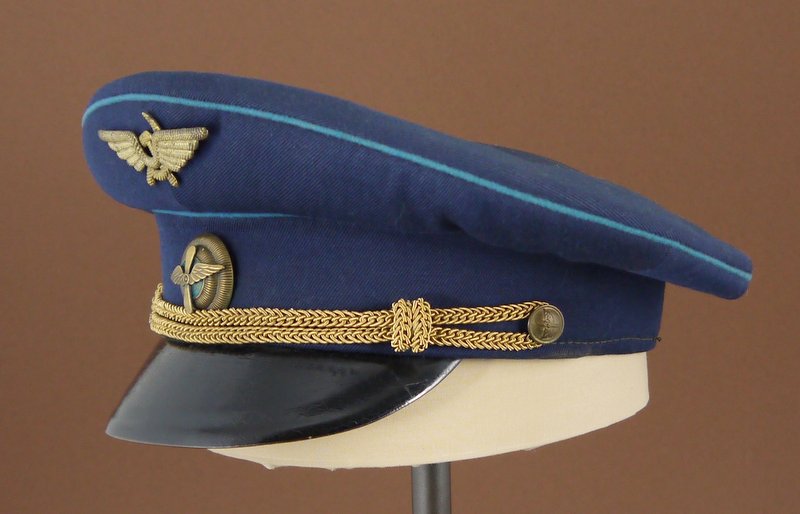 Civil Aviation
Senior Staff/Flight Officer
1956-1964
This is the oldest cap in my Aeroflot collection and reflects 1956 uniform regulations. The crown and band are both sewn from dark blue cloth and all piping is light blue (or azure). These colors remained consistent within Civil Aviation for the entire Cold War period. The size of the crown reflects its date of manufacture, and is smaller in height and circumference than caps produced from the late 1960s. The semi-circular visor is black lacquered fiberboard. The round M1947 style cockade is two-piece with a separate propeller pinned through the azure enameled center. This is an early, heavy metal cockade - aluminum versions of this cockade came out in the early 1960s. The cockade is gilt - as are the filigree cords and buttons, reflecting the owner's flight or operational status. Technical and administrative personnel wore silver cockades, cords and buttons. The "wings" pinned to the crown are the two-piece model authorized until 1965. The feathered wing portion is in silver (mostly worn off) and the center hammer and sickle is in gilt.
The use of gilt cords on this cap instead of a black chinstrap identify the owner as either a senior-grade supervisor or a member of a flight crew. While the dark blue cap was standard, an optional white cover was authorized for summer wear. Although I don't have one to display, 1947 model uniform caps were virtually identical to this one, differing only in the shape of the visor (the 1947 visor was spade-shaped). Scarce

Shown here are two photographs from a Russian collector showing the fronts and backs of the M1947/M1956 cap emblems. They clearly show the rather complex attachments necessary to assemble these multi-piece emblems.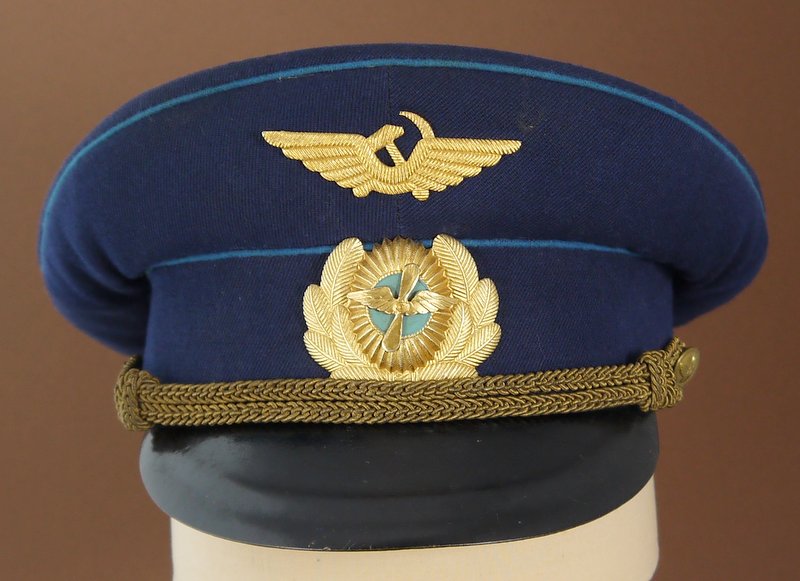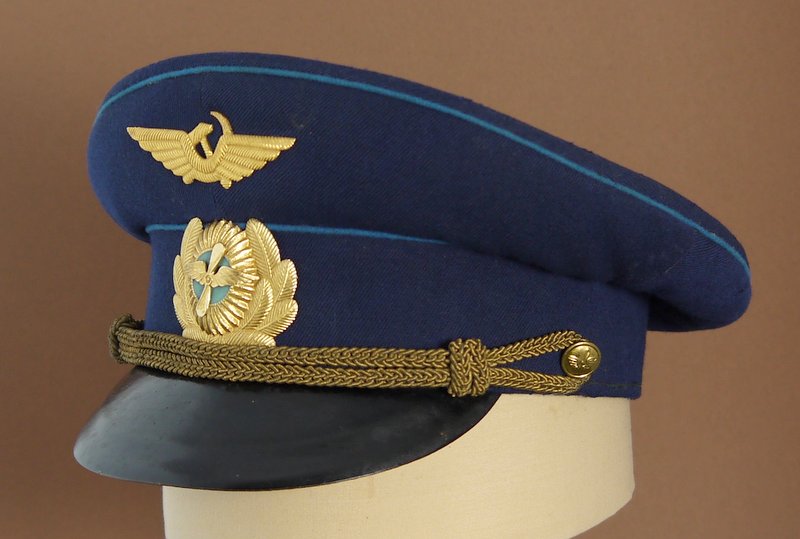 Civil Aviation
Senior Staff/Flight Officer
1965-1972
In 1965, regulations changed the emblems worn on Aeroflot caps. The cockade now became oval and surrounded by sprays of laurel leaves. The oval cockade still had an azure center - but this was now cold enameled (essentially painted) vice the earlier hot enamel. Early versions of this cockade - like the one shown here - were still two-piece, with a separate winged propeller riveted through the cockade. Around 1973 this cockade became one piece. The wings were also simplified; stamped in one piece. Both emblems were now made from anodized aluminum, in gilt for flight/operational personnel and silver for technical/administration.
Other than the emblems, this cap is very similar to the one described above from 1956. It still has the smaller crown of the period, with a rounded black fiberboard visor. Gilt cords and buttons complete the ornaments. Like for the previous cap, the use of gilt cords on this cap instead of a black chinstrap identify the owner as either a senior-grade supervisor or a member of a flight crew. Scarce

Although not complete and thus not described in my normal sequence, a gray Aeroflot uniform and cap were also authorized from 1956 to 1964. This was considered summer wear and was apparently only worn by senior staff and flight crew. Crown and band are from a lightweight gray fabric while piping was in standard azure blue. My cap is missing its two-tone, two-piece "winged hammer and sickle" on the crown and the two-piece brass cockade lacks its light blue enamel background. Otherwise the cap is complete. Gilt cords during this period were only worn by flight crew and Senior Staff and are supported by matching two-piece gilt buttons. The visor is black lacquered fiberboard. I've also included a picture of the interior showing its manufacture at the САМОЙЛОВОЙ factory in Leningrad.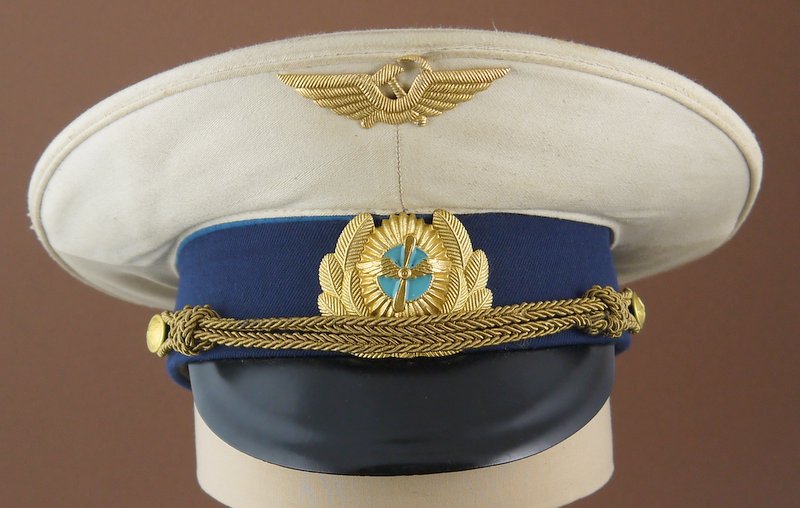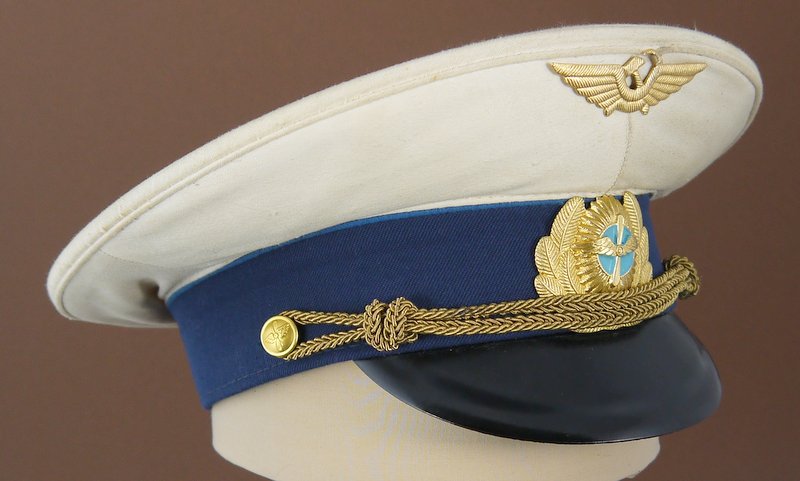 Civil Aviation
Senior Staff/Flight Officer Summer
1973-1976?
This 1973-dated cap is similar to ones worn by Navy officers in the summer or in hot climates - with a removable white cover stretched over a framework consisting of a visored band and a crown of linen padding. As is normal for removable covers, it does not have colored piping around the top of the crown. To see in detail how such caps were constructed - go to my Navy page. By this date, cap crowns were larger in height and circumference - matching Soviet military caps produced after 1969. The dark blue band and azure band piping are standard for Aeroflot caps. The wreathed M1973 emblem is now one-piece, with the winged propeller molded into the oval cockade; both it and the one-piece stamped aluminum wings are gilt. Gilt filigree cords without visor ornamentation identify the wearer as a member of Senior Staff or flight crew. The visor remains black fiberboard and buttons are two-piece brass and steel composition.
Unfortunately, I cannot confirm the assessed 1976 "end-date" for this cap. Since pre-1977 Aeroflot uniform regulations were rather inconsistent and poorly published, I cannot state for sure when unpiped white covers were replaced with white topped caps with azure piping. Although some experts think this occurred in 1973, based on observations of actual caps, I believe this transition occurred in 1975 or 1977. Available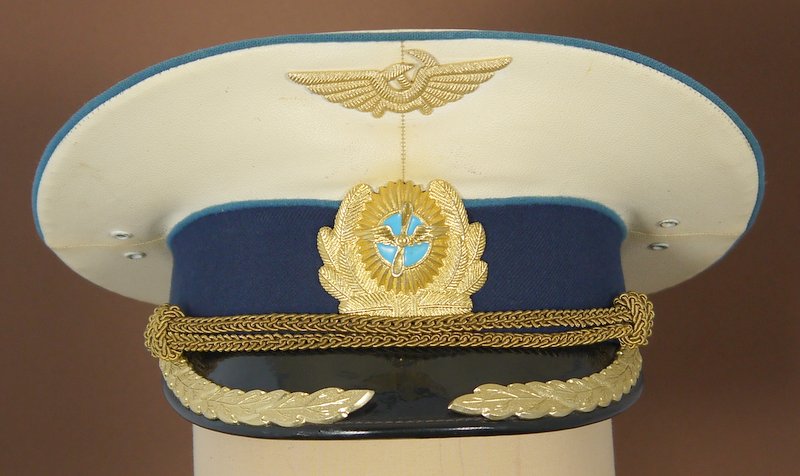 Civil Aviation
Aircraft Commander Summer
1977-1991
This is a very unique cap - reflecting local manufacture and a couple of unusual (and unauthorized) elements. Most noticeably, the material used for the crown is not cloth - it is in fact - artificial leather. This choice no doubt made the white top more durable and easier to clean. In order to improve ventilation, three sets of dual eyelets were installed: along both sides and the back of the crown. This crown is not removable. The rest of the cap is regulation: band is dark blue, the two rows of piping are in azure wool, and the cockade and wings are standard gilt 1965 models. The 1981-marked buttons and gilt cords are also standard.
The visor is heavy sewn plastic - commonly found on locally made Aeroflot and Merchant Marine visor caps. In 1977, wear of aluminum visor ornamentation was extended to aircraft commanders (regardless of grade); previously such wear was authorized only for members of the "highest" staff (general-equivalent). This same combination of cap ornamentation (visor leaves and gold cords) was also worn by grades 12-13 of the Highest Command Staff, but they would have had embroidered leaves around the band cockade and buttons marked with the Great Seal of the USSR - instead of the stamped cockade and "flying propeller" stamped buttons found on this cap.
There is some question whether or not white-topped caps were officially authorized after 1977 - since they were not addressed in the 1977 regulations. It would appear from anecdotal and some physical evidence (like this cap) that although not-authorized, the continued wear of such caps by flight crews was tolerated (probably as an honorific). Rare varient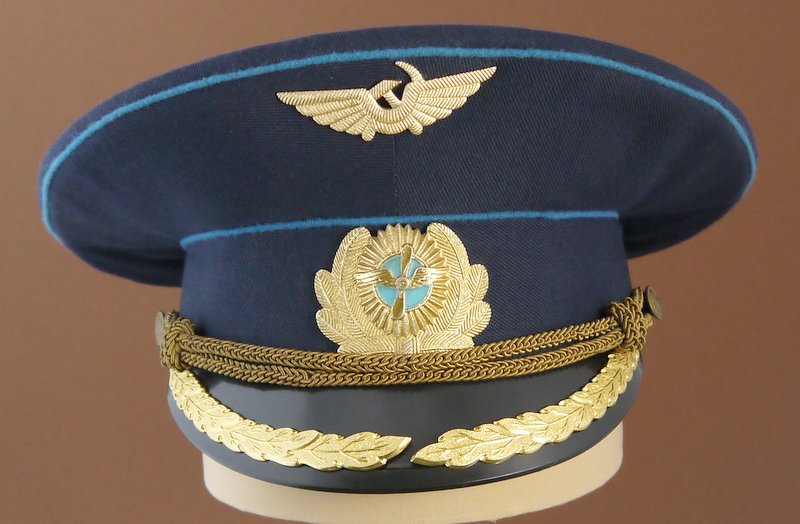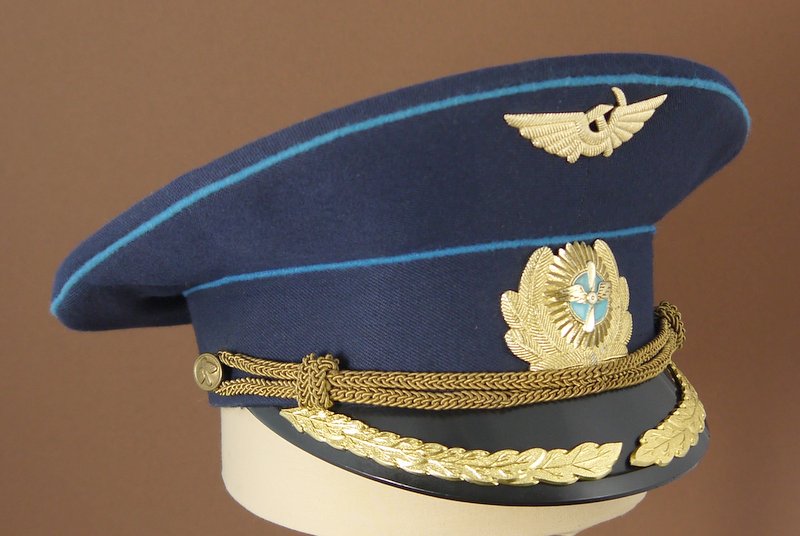 Civil Aviation
Aircraft Commander
1977-1991
While also worn by a pilot aircraft commander, this 1989-dated cap (unlike the previous one) fully meets 1977 uniform regulations and typifies those produced at Government garment factories. Crown and band are made of dark blue blended wool cloth, piping is azure wool and the visor is plastic (as became common in the 1980s). The crown is the larger size introduced since the 1970s. Emblems are also standard, one piece stamped aluminum versions. Although both Senior and Middle-grade staff wore similar caps during this period, the presence of gilt aluminum leaves pinned through the visor marked this cap as belonging to an aircraft commander. No other Aeroflot employee could wear this exact combination of ornaments. Available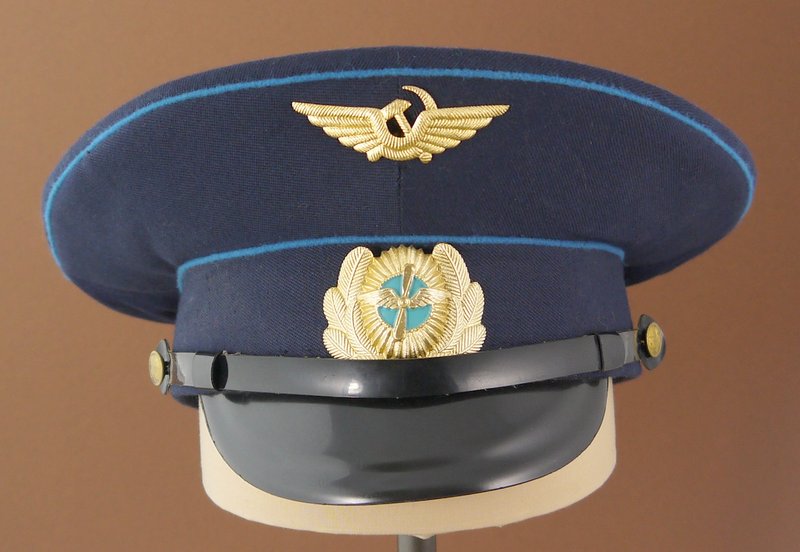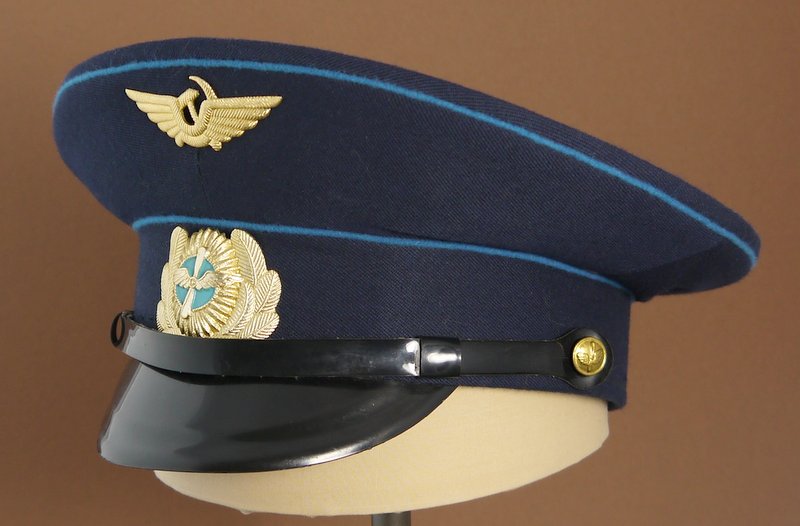 Civil Aviation
Junior Staff/Private/Cadet
1977-1991
Worn by the lowest ranking members of Aeroflot and those attending Civil Aviation schools, this 1985-dated cap only differs from that worn by officer-equivalent Middle and Senior staff in that it mounts a black plastic chinstrap vice the gilt filigree cords worn by the higher ranks. The gilt cockade and emblem (wings) are the same. This cap has an early style plastic visor (with two rims) but otherwise is unremarkable. Common