Caps of the Soviet KGB
Included here are caps worn by officers and men of the uniformed elements of the KGB (Committee for State Security) from 1954-1991. Prior to 1954, personnel of the MGB (Ministry of State Security) - wore the same blue-topped caps as the NKVD/MVD (see my MVD/NKVD/NKGB/MGB page for a discussion of these caps). Only after the KGB was formed in 1954 did the cornflower blue banded caps displayed on this page come into service. This shade of blue had been associated with the Soviet secret police since the 1920s. Most KGB personnel connected with intelligence or counter-intelligence did not wear them on a daily basis, but those with military rank did wear uniforms on special occasions. Of those KGB personnel that regularly wore uniforms, the most visible provided security for the Kremlin and guarded Lenin's tomb. Other uniformed units included Special Objective Guards (for sites of national importance) and a large number of signal troops supporting national-level military and political leadership (I saw KGB troops wearing signal collor insignia on multiple occasions in Moscow). These uniformed formations predominantly belonged to the KGB's Eighth, Ninth and Fifteenth Directorates and the Kremlin Guard Force. The current Russian Prime Minister - Vladimir Vladimirovich Putin - served from 1975 to 1991 as a KGB officer; attaining the rank of Lieutenant Colonel.
While the Border Guards did belong to the KGB for certain periods of time, I discuss them separately on my Border Guard page.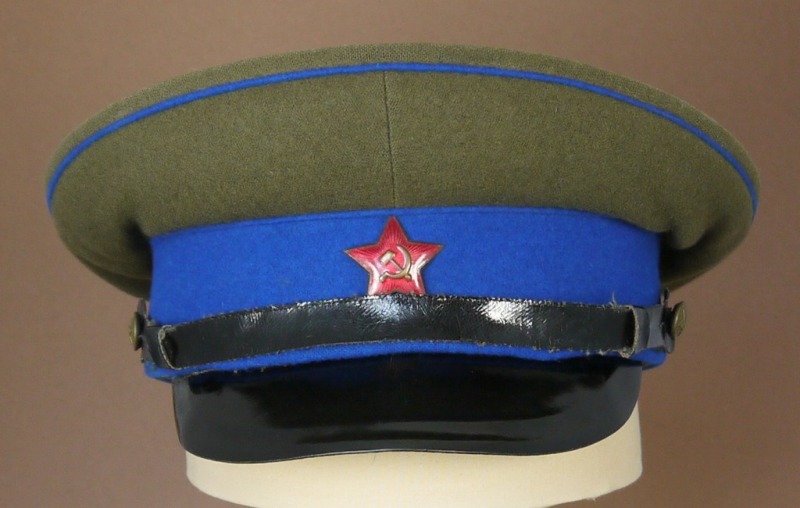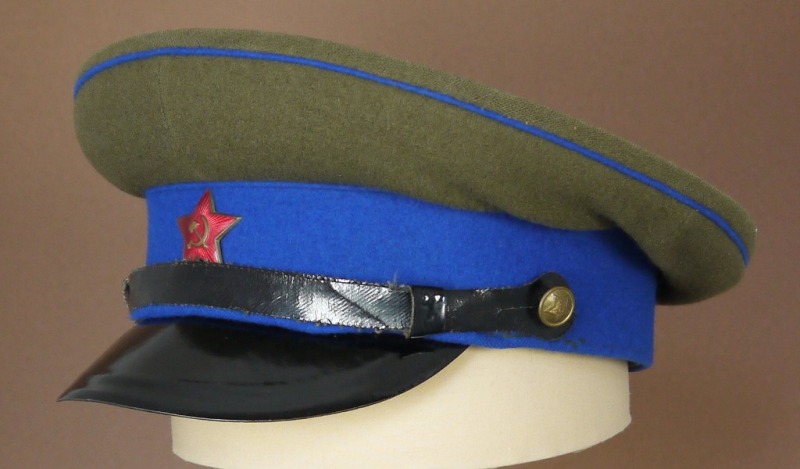 KGB
Soldier/Sergeant Parade-Walking Out
1954-1968
This cap reflects those manufactured immediately after squared-off visors fell out of use. Dated 1957, it retains the relatively small crown size in use since 1935 until 1969 and mounts a one-piece Model 1947 enameled red star badge. This red star identifies the wearer as a soldier/sergeant of the KGB, since officers wore new oval cockade introduced in 1955. Cornflower blue band and piping identifies it as KGB. As is standard for the time, it has a black oilcloth chinstrap held in place by stamped Army-style buttons. The rounded black fiberboard visor was also standard for this date, with the earlier square (or spade-shaped) visors being phased out in 1954. Scarce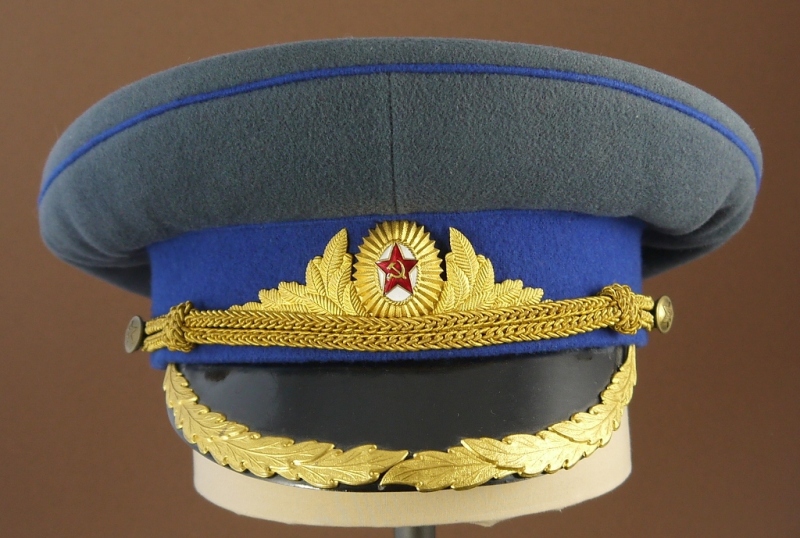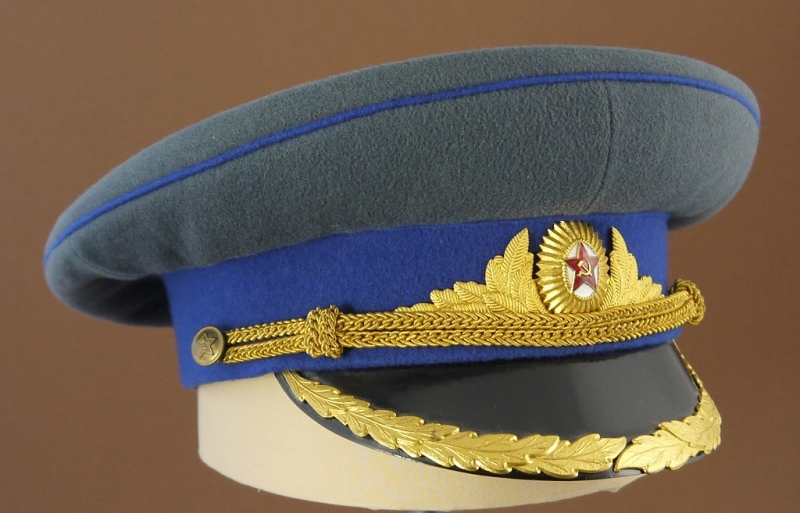 KGB
Officer Parade-Walking Out
1955-1957
When the Ministry of Defense introduced the "Zhukov" style officer parade uniforms, the KGB (as well as other militarized organs like the MVD and Border Guard) adopted its own version of this uniform. The cap shown here is identical in all respects to the Army ones except for the cornflower blue band and piping. The crown is dark gray napped wool and the band mounts the two-piece M55 officer's parade cockade and emblem. The early models of this cockade were made of tombac - aka "red copper" - a copper-heavy brass alloy. The metal band leaves were stamped from thin brass sheet. This style cap also had stamped brass leaves (later aluminum) pinned through the visor and gilt filigree cords above the fiberboard visor. Scarce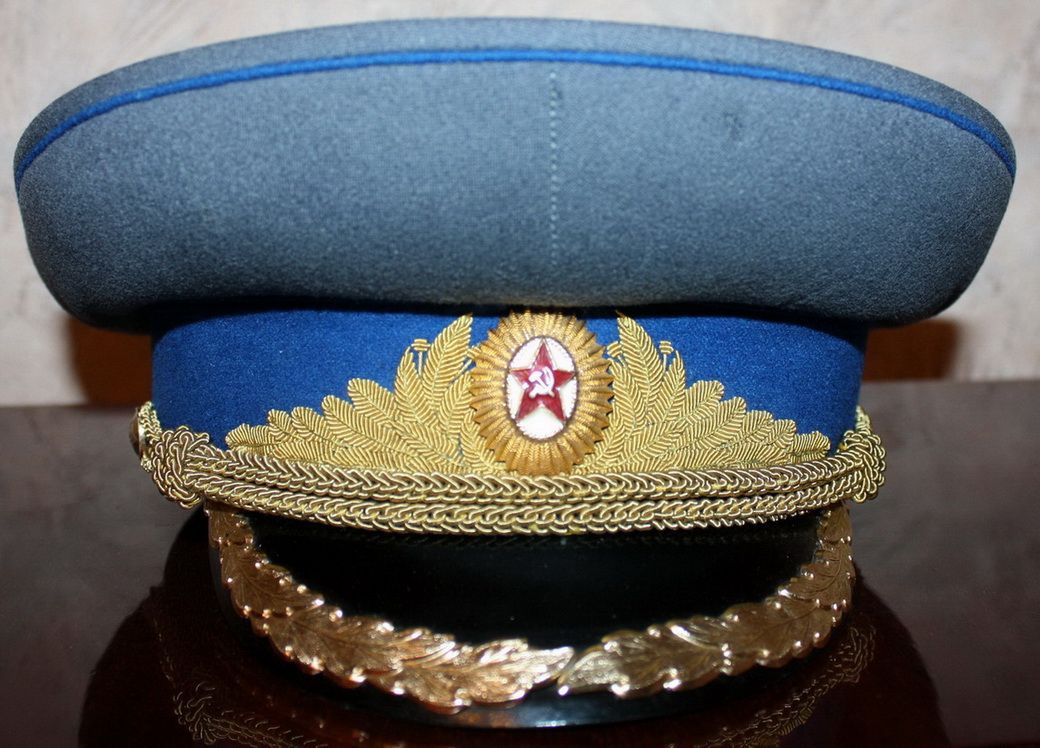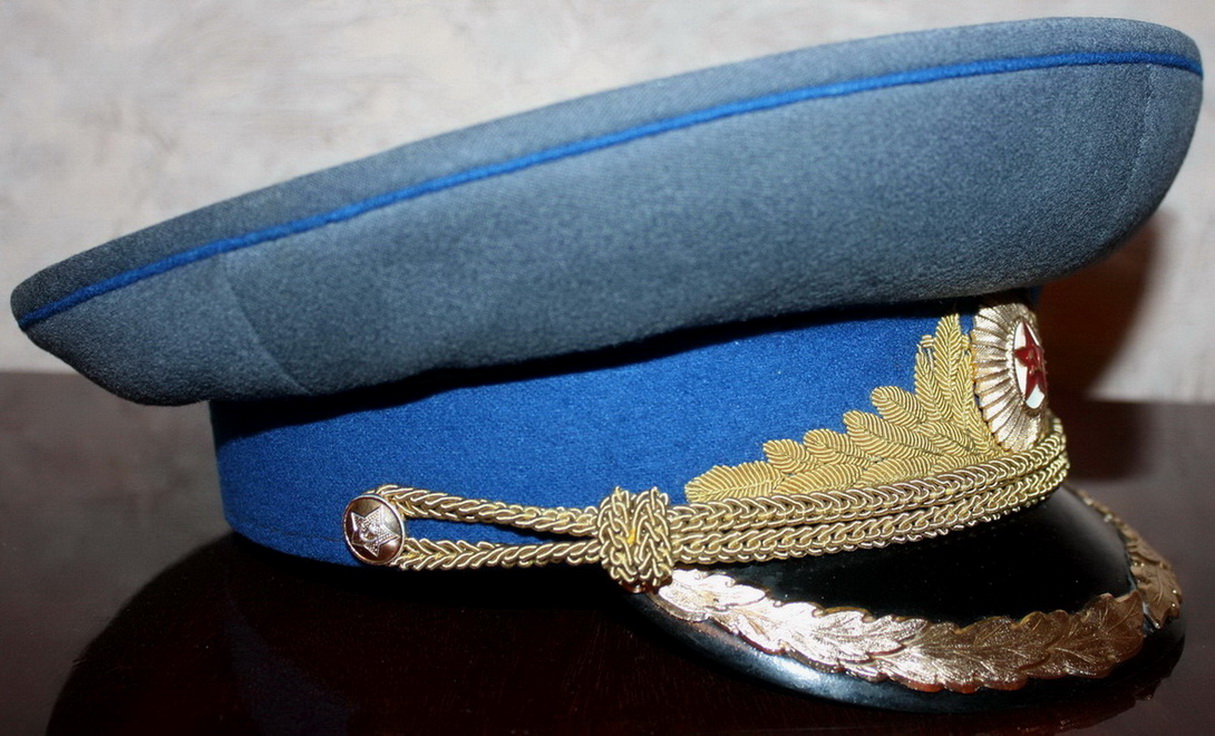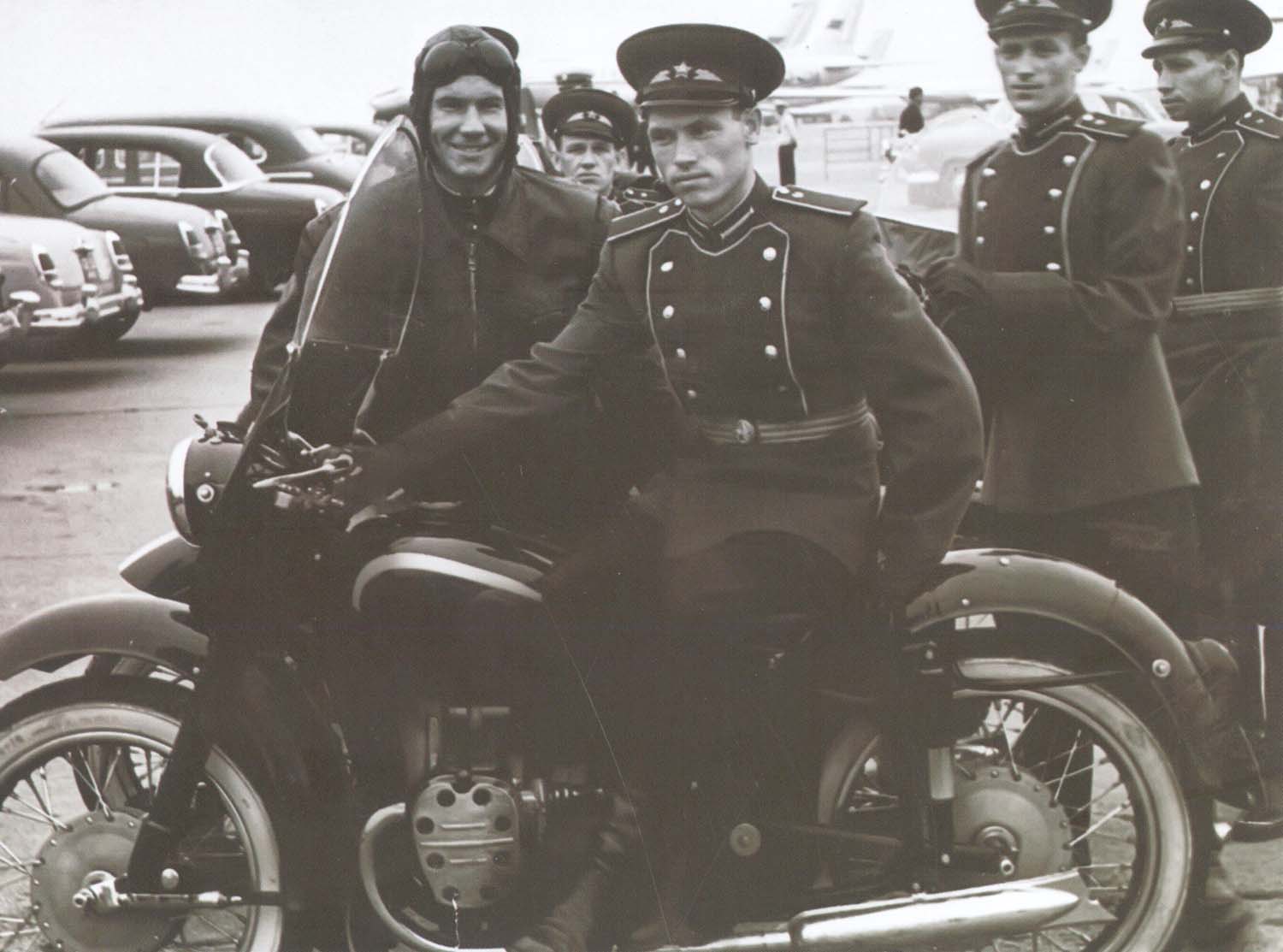 KGB
Honorary Escort Platoon
1956-1969
In order to provide a mobile honor escort for visiting dignitaries, the Commandant of the Moscow Kremlin formed a motorcycle platoon in 1956. This unit most commonly escorted foreign delegations to and from the International Airport and diplomatic venues in Moscow. As part of the Kremlin Regiment, they were subordinate to the KGB 9th Directorate. When first formed, personnel wore a variant of the gray and cornflower blue KGB "Zhukov" uniform described earlier. An officer's (Lieutenant or extended service NCO) cap from this unit is shown here (from a Russian website). Very similar to the KGB M55 parade cap, this version differs only in the use of embroidered vice stamped metal leaves on the band. Rank and file caps had the same color combination, but without the visor leaves, reduced embroidery on the band and with a black chinstrap vice the officer's gilt filigree cords. The black and white photo shows that well. In 1970, the escort adopted new wave green parade uniforms, to include wave green and cornflower blue caps. Very Rare

The KGB was also responsible for providing guards for the Moscow Kremlin and Lenin's Tomb (also known as Post Number 1) on Red Square. These troops were garrisoned in and near the Kremlin and belonged to what was variously referred to as the Separate Special Forces Regiment or later - as the Kremlin Regiment. From 1954 to 1969, troops of this unit - even at Lenin's Tomb - wore the rather plain khaki parade uniforms authorized for other KGB personnel of the period. In late 1967, the dress uniform of the Escort Platoon (gray tunic with blue plastron/cuffs and cap with cornflower blue band/piping) was provided to other members of this regiment for the 50th Anniversary celebrations and other subsequent special occasions. However, this uniform was quickly phased out (by 1970) and was not worn by guards at Post Number 1; consequently its wear was not well documented beyond a couple of photographs. In 1970, soldiers/sergeants of the Guard were authorized to wear the new officers' wave-green parade uniforms with cornflower blue distinctions, with shoulderboards appropriate to their actual rank. In 1987, a special cap ornament was added to Guards' caps - as shown on the left below. This emblem was pinned to the front of the crown and incorporated the Red Star from the top of the Spasskaya Tower on a dark blue/green field as its centerpiece. This cap emblem is one of the rarest of post-WWII Soviet uniform elements and should not be confused with the very similar post-1991 Russian Presidential Regiment's cap badge shown to the right, which has a pebbled/veined finish vice smooth as on the Soviet era emblem. This later Russian emblem is readily available.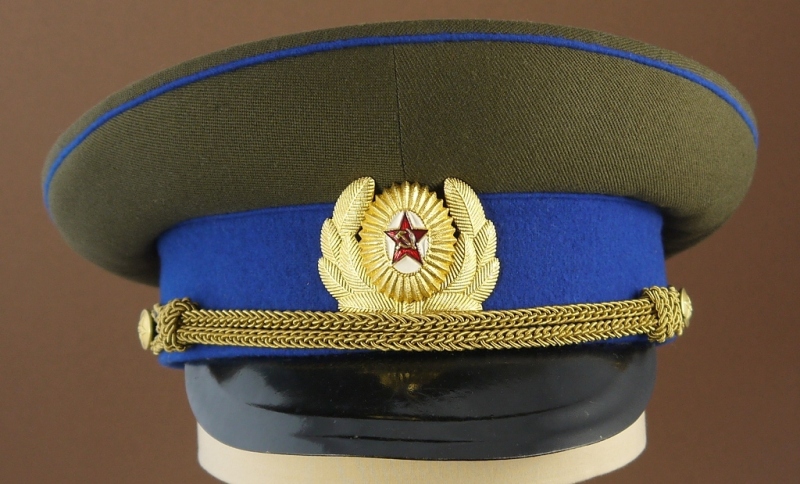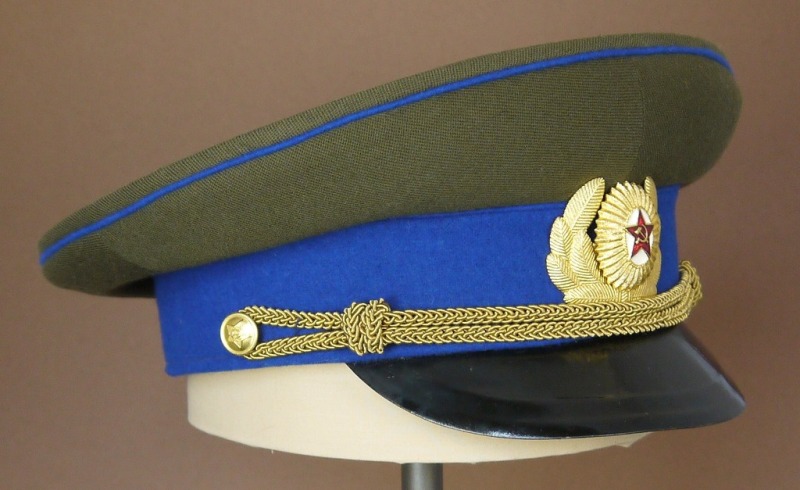 KGB
Officer Parade-Walking Out
1958-1968
After declaring the 1955 "Zhukov" parade uniforms a failure in 1957, the Ministry of Defense (followed by the other power ministries) introduced a new officer parade uniform more in keeping with historical Soviet uniform norms. The cap for this uniform was essentially a "badged-up" version of the service cap. This 1961-dated cap has the smaller size crown of the 50s and 60s with the standard black fiberboard visor. The "parade" elements of the cap are the gilt filigree cords - inherited from the Zhukov-style caps - and the new two-piece M58 officer's parade cockade. Scarce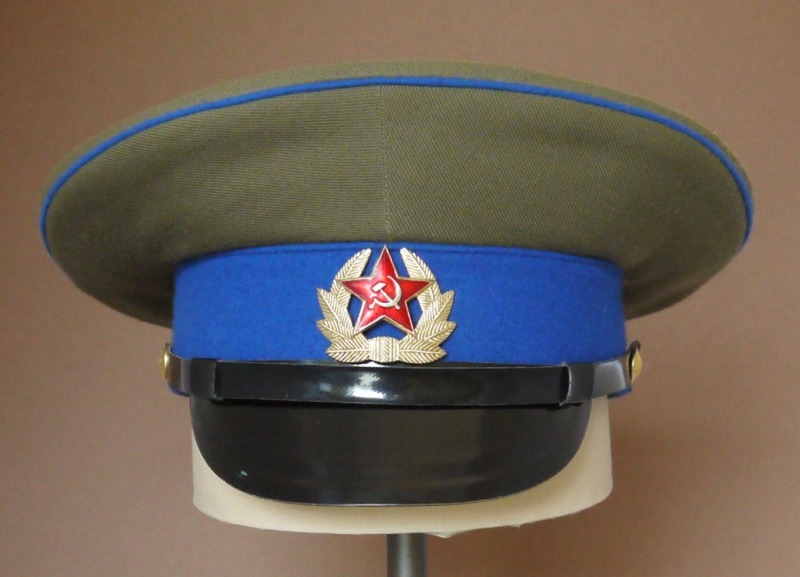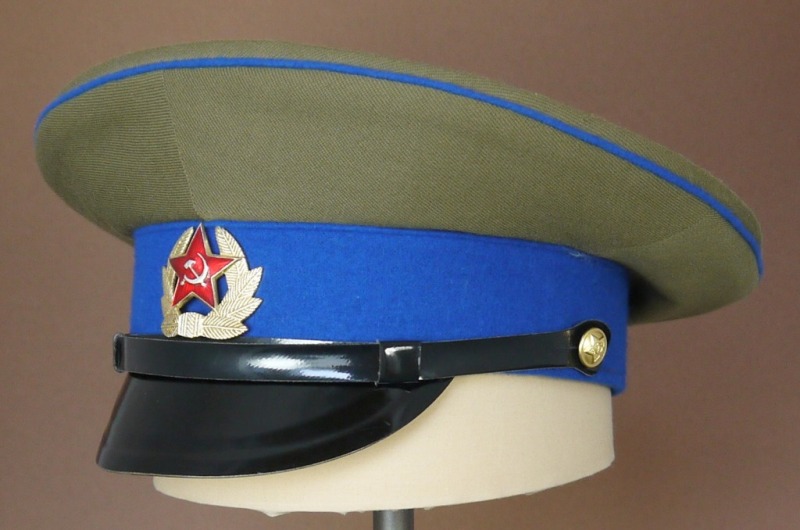 KGB
Soldier/Sergeant Parade-Walking Out
1969-1991
Part of the comprehensive modernization of Army (and their security counterparts) uniforms introduced in 1969, this 1976-dated cap was worn with soldiers' and sergeants' open collar parade and walking out uniforms. Although colors remained the same, this model cap had a larger crown of khaki cloth (both circumference and height) and a new parade star-and-wreath emblem. This aluminum emblem initially was produced in two pieces, but transitioned to the one-piece version shown here after a couple years. The visor remains black-lacquered fiberboard, the strap is black plasticized oilcloth and the buttons are standard two-piece metal versions. Available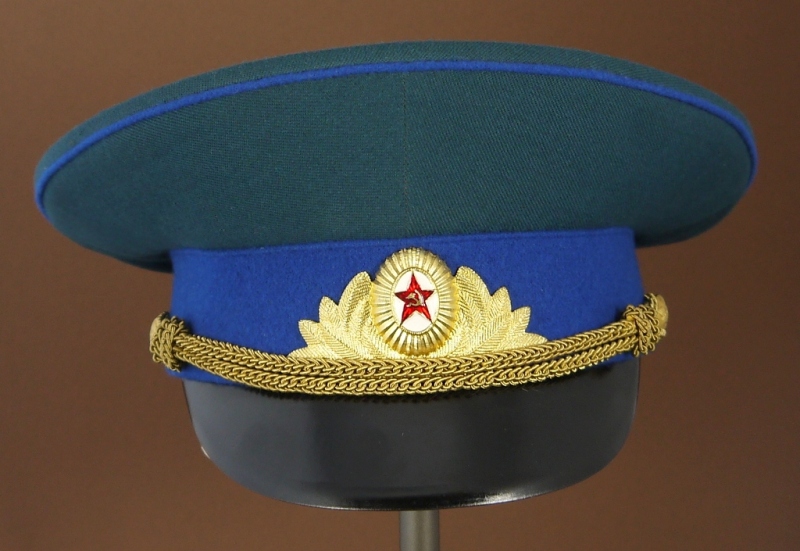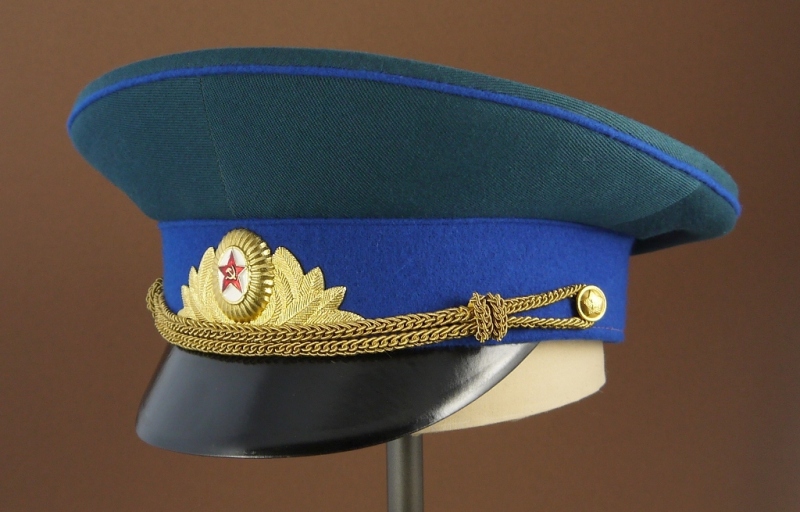 KGB
Officer Parade-Walking Out
1969-1991
Along with the Army, Border Guards and the MVD, uniformed elements of the KGB adopted the new wave green officer parade uniform in 1969/70. The 1981-dated cap here displays the larger M69 crown - in wave green wool blend fabric - and both band and piping are in cornflower blue wool. The emblem is the one-piece aluminum M69 officers' parade cockade - with 18 laurel leaves surrounding an oval cockade center. The red and white areas of the cockade are done in "cold enamel" - or paint! This was standard after the wide-spread switch from tombac emblems to aluminum in the early 1960s. The visor is still the older black-lacquered fiberboard version, although newer plastic visors were also in use during this period. Golden filigree cords and stamped two-piece metal buttons complete the cap. Available

This 1990-dated everyday service cap represents the final style of KGB officer headgear. As you would expect, it has a khaki crown with cornflower blue band and piping. But notice the crown is higher than that of the Soldier's Parade-Walking Out cap above. Even though the M69 caps had larger crowns than their predecessors, so too did caps produced from 1989 on. Other characteristics of late-model caps include a plastic visor and gilded plastic buttons. The oval M55 cockade continues to be standard, although its quality of manufacture has fallen too. When first regulated in 1969, officers' service caps had black chinstraps instead of the gold cords shown here. These cords were only authorized for service cap wear in 1975. Available

The identification of a red-banded cap as belonging to a KGB general is a bit of shock the first time you see it. However, it is a little-known fact that as per a decree of the Presidium of the USSR Supreme of 06/07/1945, generals of the NKVD and NKGB lost their unique uniforms; thereafter to wear uniforms of Red Army generals (with red distinctions) or Navy admirals (for appropriate Border Guard officers). This uniform guidance was reaffirmed in 1954 for KGB generals when that service was formed. This photograph of course, only shows one such cap and serves merely to introduce you to the fact of their wear by KGB generals. To see the full range of red-banded generals' caps, please see my Army pages. Border Guard admirals wore the same uniforms and caps as their Navy counterparts.


Immediately following the collapse of the USSR, former Soviet headgear factories found themselves without their traditional military customers and started producing caps for the Western collector market, including some that were never officially authorized. As well as providing a valuable source of hard currency during the period where even small amounts translated into fortunes of rubles, this activity served to keep hatters employed and enabled factories to clear out Soviet-era cloth and insignia that the new Russian military no longer used. Included in this list of fantasy caps were ones utilizing traditional Border Guard and KGB colors but with general-officer ornaments. Shown here are three such "KGB" caps from left to right; service (khaki), parade (wave green), and walking out (gray). Unfortunately, although beautifully made utilizing authentic fabrics and expensive gilt wire embroidery, they only serve as curiosities and examples of the hat-makers' art.