Caps of Military Cadets
On this page I will discuss and display caps belonging to the two major categories of Soviet military cadets - those attending Suvorov and Nakhimov secondary boarding schools and those attending "Higher Military Schools" where graduates were commissioned as lieutenants in the Armed Forces.
SUVOROV and NAKHIMOV Military Boarding Schools
Although Russia had a long history of cadet boarding schools - some of which were even retained under different names by the USSR - 1943 was a watershed year in their development. In that year, in accordance with Resolution of the Council of People's Commissars of the USSR № 901, the first Suvorov military boarding schools (quickly followed by Nakhimov Naval Boarding Schools) were established. These schools were intended to provide free care and education to war orphans and children of military personnel and to train future officers of the armed forces. Originally, children as young as 10 years old were enrolled, spending up to 7 years in this semi-military environment. This fact explains why many of the older Suvorov caps and uniforms are quite small!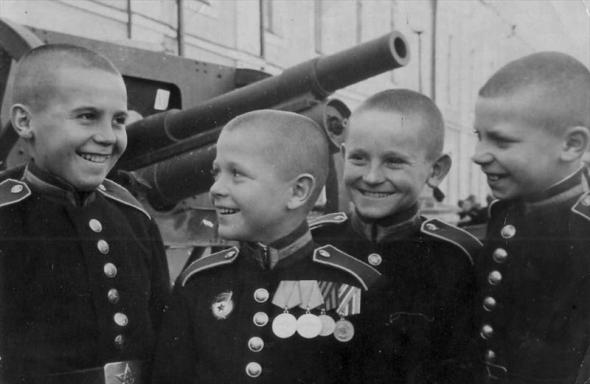 In 1963, standards were changed and only students 15-16 years old were enrolled, who completed the last 2 years of secondary education within the school. Period of enrollment subsequently fluctuated between 2 and 3 years. At their high point, there were 19 Suvorov schools and 3 Nakhimov schools; these fell to 8 Suvorov in 1975; and the Nakhimov schools were reduced to one by 1956. To quote from the schools' charter, the purpose of the schools was: "to prepare boys for military service in the officer ranks and provide them a general secondary education." Consequently, these schools provided a general school curriculum supplemented by a heavy load of mathematics, political and military training, and physical education. Most graduates of these schools entered Higher Military Schools upon graduation, and subsequently were commissioned. Cadets from the Moscow Suvorov School participated in every Victory Day parade from 1957 until the collapse of the USSR - a fact of great pride to the cadet corps.
Suvorov school uniforms remained markedly consistent from 1943 to 1991, although they were somewhat simplified in 1969. Black was the predominant color of these unique uniforms, with red and white distinctions. Nakhimov cadets, on the other hand, wore uniforms very similar to that of Navy seamen - but with Nakhimov cap tallies and special insignia. Another Suvorov school variant came along in 1988, when the USSR Council of Ministers' decree No. 679 established "Special Boarding Schools with Initial Flight Training" to better prepare cadets to enter Air Force Higher Military Schools. These schools received a modified Suvorov uniform - with azure blue distinctions replacing the traditional red. Like the regular Suvorov schools, attendance was for 15-16 year olds and lasted for 2 years.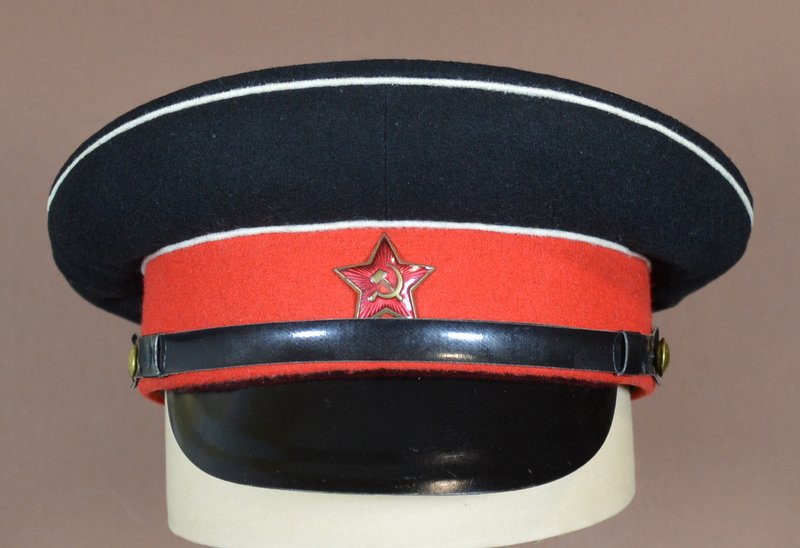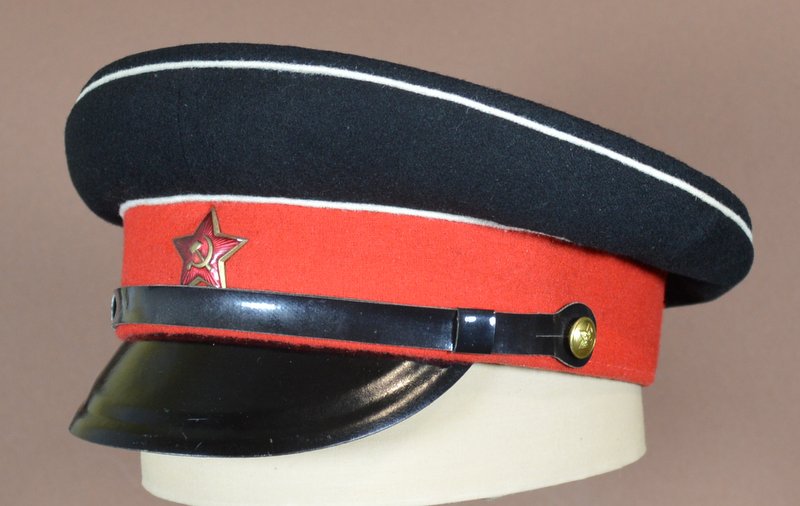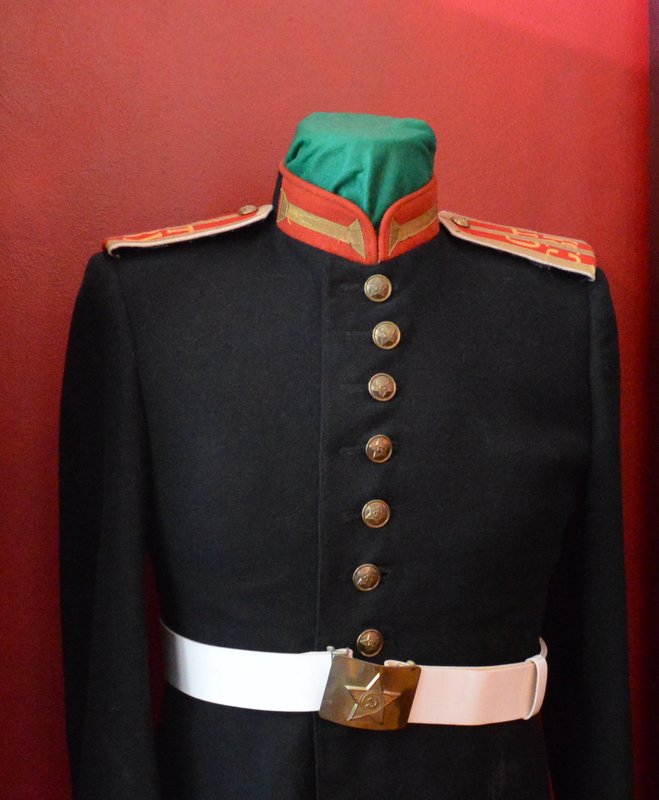 Suvorov School
Winter Service/Parade
1946-1968
This 1964-dated cap remained unchanged from when it was first introduced in 1943. The crown is the smaller pre-69 shape, sewn from black napped wool. The band is red and piping is white. The visor is black lacquered fiberboard and the chinstrap is black oilcloth. Two-piece Soviet Army buttons hold the strap in place. A red enameled, brass-plated steel star is pinned to the band.
Also shown on the right is the matching parade-walking out uniform which Suvorov cadets wore before 1969. Gilt lace on both the collar and shoulderstraps give it an Imperial Russian look - which was a feature of the 1943 Red Army uniform changes. Scarce

| | |
| --- | --- |
| | Members of Suvorov bands could also be seen with a musician's lyre pinned to the crowns of their caps. This photograph from LIFE shows a band marching in the 1958 Victory Day parade in Moscow. Also note the plastrons and modified collar insignia of these special parade uniforms. |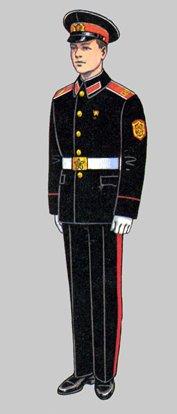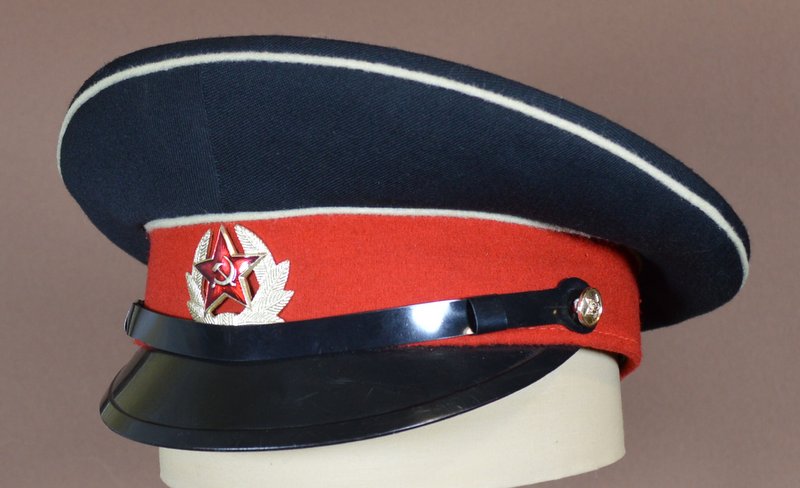 Suvorov School
Winter Service/Parade
1969-1991
This cap represents the next (and last Soviet era) model of Suvorov uniform. While the colors remain the same (black crown, red band, white piping), the crown material is now a more modern diagonal wool blend and is larger in both circumference and height than the pre-69 caps. Dated 1983, the cap has the later model black plastic visor, chinstrap and one-piece gilded plastic buttons. Instead of the simple red star, it mounts the M-1969 rank and file parade cockade - with a red lacquered star surrounded by a gilt wreath. When first introduced, these aluminum cockades were two piece - but later ones were single-piece as shown here.
This cap accompanied the M-1969 Suvorov parade/walking out uniform, illustrated here from Ministry of Defense uniform regulations. The new uniforms were designed to be cheaper while being more modern in appearance and in materials used. Available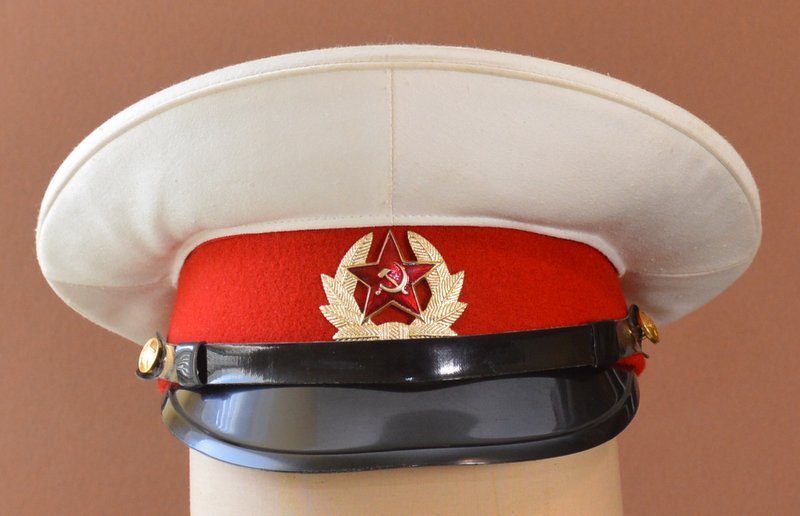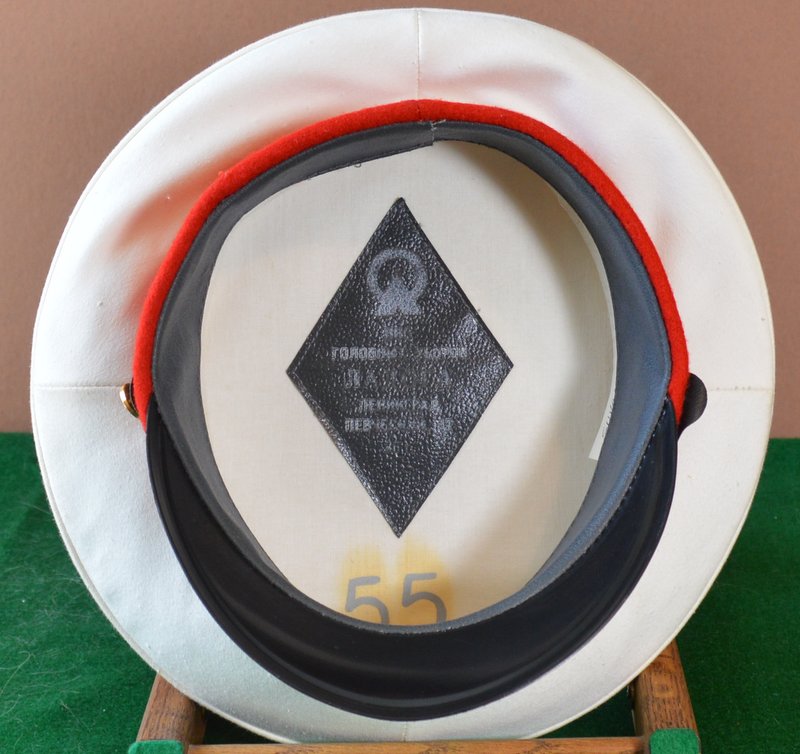 Suvorov School
Summer Service
1969-1988
This 1986-dated cap would have been worn with the white summer everyday/service jacket out to 1989. A true summer-weight cap, it consists of a removable (for washing) white cover over a red-banded shell - the same construction used in making summer-weight Naval caps. You can see the light linen lining characteristic of this construction in the picture to the right. As you would expect in later caps, it has a black plastic visor and plastic buttons. Even though this was a service cap, it still mounts the M-1969 parade cockade - a feature of ALL Suvorov caps regardless of type.
This cap is sometimes mistaken for the white summer Militia cap - which it resembles. However, the added combination of black chinstrap and wreathed star as shown here was ONLY worn by Suvorov cadets. Available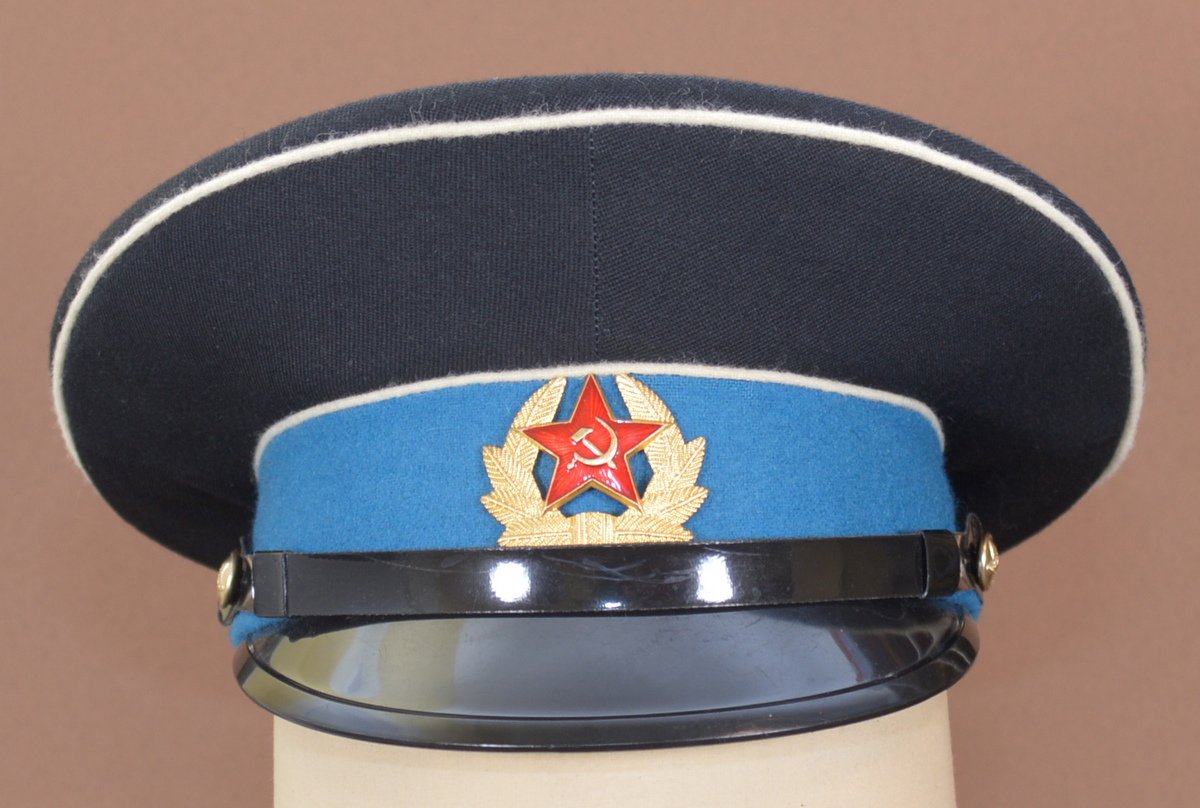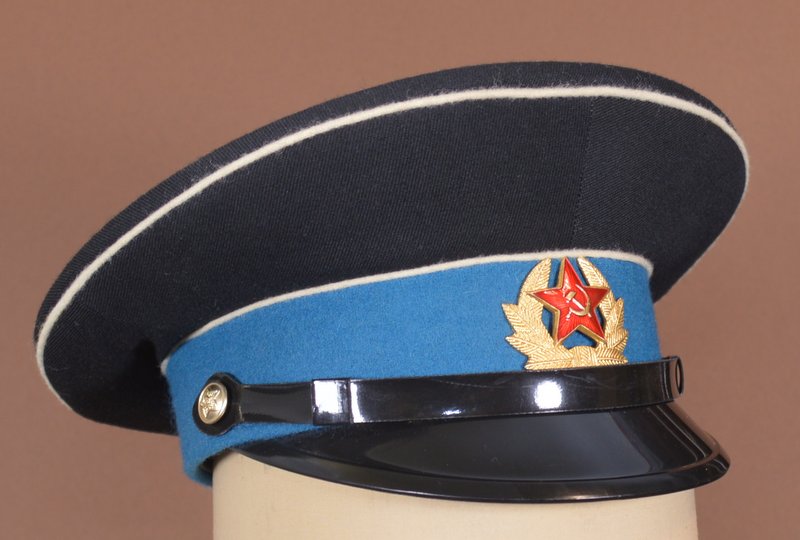 Primary Flight School
Winter Service/Parade
1989-1991
The USSR Council of Ministers' decree No. 679 in 1988 established special boarding schools providing preliminary flight training. These were essentially Air Force counterparts to the Army-orientated Suvorov schools. As with the later Suvorov schools, they provided a two-year course of study for 15 and 16 year old students. The first classes did not start until 1990.
Cadets at these schools wore uniforms virtually identical with those of Suvorov schools - only with azure (the traditional Air Force color) substituted for the Suvorov red. A 1990-dated black service/parade cap is shown here. The crown is black, the band is azure, and piping is white. The visor is plastic and a black oilcloth chinstrap is secured by two Soviet Army gilt buttons. This particular cap is size 52 - the smallest size normally produced by cap manufacturers. Photographs also show these caps being worn with Air Force-style wings on the crown. Unfortunately it is not possible to tell if these date from pre or post 1991. Scarce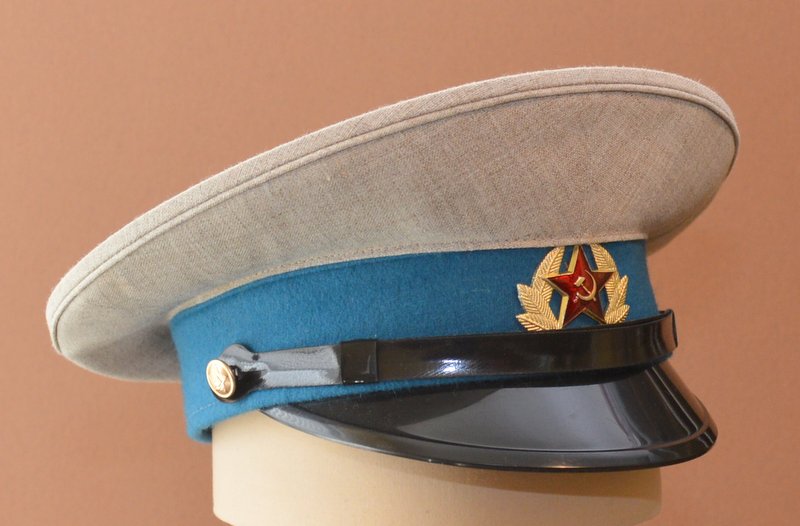 Primary Flight School
Cadet Summer Service/Parade
1988-1991
A new summer uniform for both Primary Flight and Suvorov Schools was also introduced in 1988, a cap of which is shown here. Although still referred to as "white" - in actuality both the lightweight shirt and cap cover are beige, but with a very open weave including multi-colored brown/beige threads. In some light it appears gray - leading to some misidentification of the color. This beige cover is removable - stretched over a 1990-dated cap shell just like the earlier white summer cap worn by Suvorov cadets.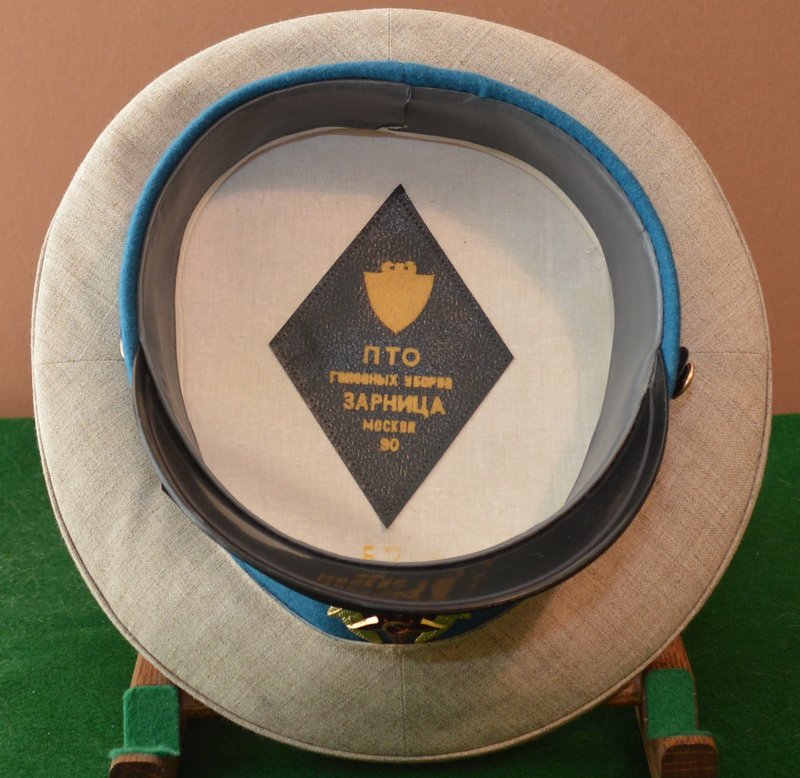 Like those other summer caps, the lining is white linen. The cover has no colored piping - which is also normal for all removable covers. The other elements are standard: plastic visor, black chinstrap, gilt buttons and M1969 parade cockade. Available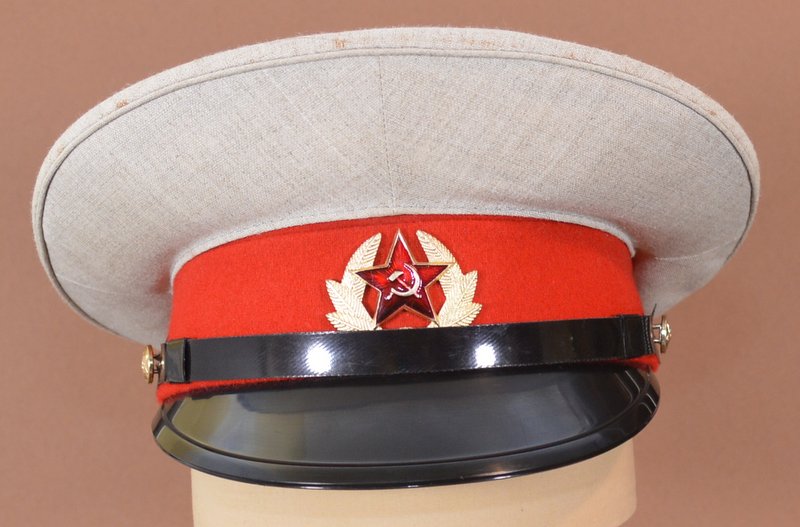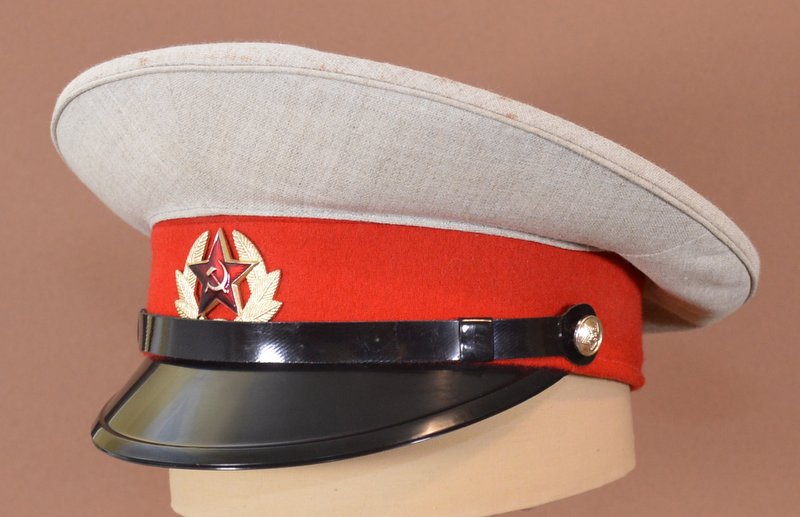 Suvorov School
Cadet Summer Service
1988-1991
This is the Suvorov counterpart to the summer cap described above and is identical in all respects except for the red band. This particular cap was produced in 1991 but again, this model cap was manufactured from 1988. Available

| | | |
| --- | --- | --- |
| | Taken in a Russian museum, this picture shows the uniform of a cadet at the Leningrad NKVD/MVD Suvorov school. Created in 1946, this school was disbanded in 1960 and was the only one that trained students specifically for the MVD. Although most graduates went on to serve in the Border Guards, the uniform and cap show a distinct NKVD influence - including cornflower blue distinctions. This cap is another "holy grail" of Soviet uniform collectors - with no known examples in private collections. Although the crown is cornflower blue, the band and piping (red and white) are Suvorov standards. This uniform was also referenced in MVD uniform regulations for 1957 and 1959, an extract of which is shown to the right. | |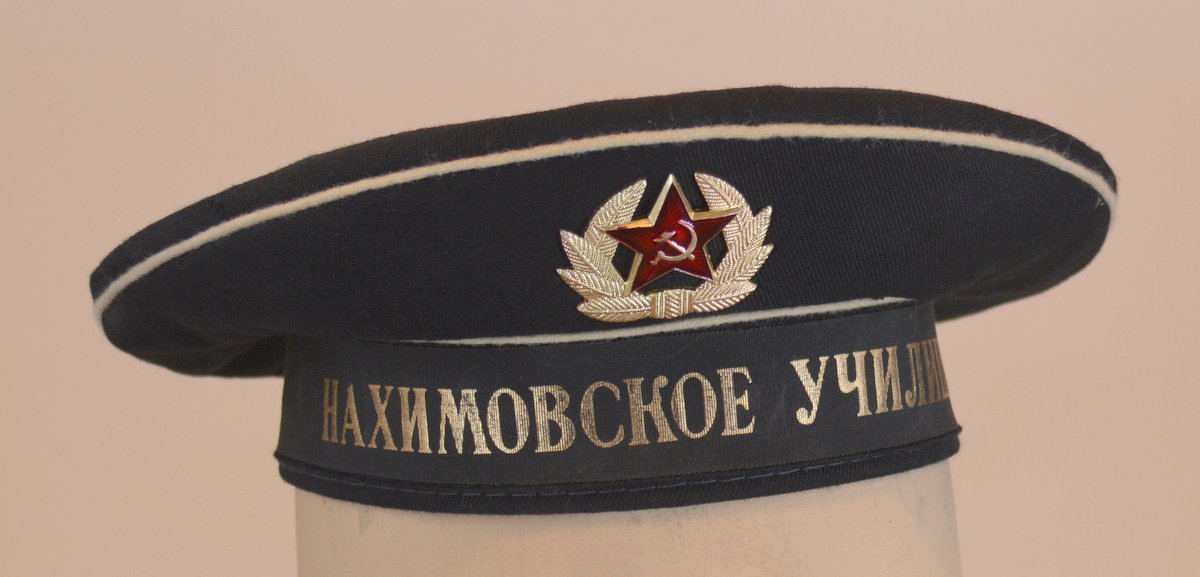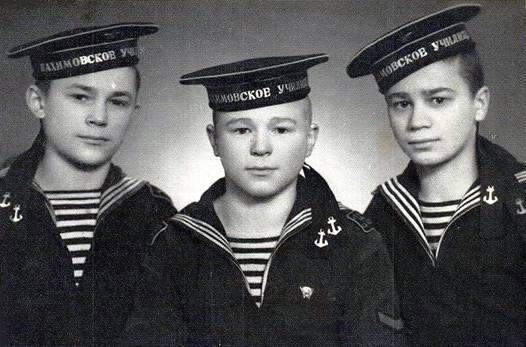 Nakhimov School
Service/Parade Winter
1969-1991
Nakhimov Naval School cadets wore beskozirkas like Naval seamen and their older counterparts in Higher Naval Schools. Both black winter and white summer versions existed; the summer usually consisting of a removable white cover worn over the winter cap, although in later years dedicated summer caps were issued. The tally on this 1990-dated cap reads: НАХИМОВСКОЕ УЧИЛИЩЕ (Nakhimov School). Don't confuse this with the more common cap tally that reads ВВМУ им. НАХИМОВА. That was worn by cadets at the "Higher Military School named after Nakhimov," a true military academy commissioning Naval lieutenants. The photograph shows caps from the early 1960s, before the plain star cockade was replaced by one within a wreath. Additional information on Naval beskozirkas can be found on my Navy - Beskozirka page. Scarce


HIGHER MILITARY SCHOOLS
Cadets at Higher Military Schools (those which commissioned lieutenants for the Armed Forces and Security Services) wore the same caps that rank and file soldiers wore on parade. Those caps are covered in detail on their respective pages to the left. However, for ease of discussion, the chart below illustrates all the cap color combinations authorized in the 1969 uniform regulations. Starting on the left, these were: Motorized Rifle, Tank/Artillery/Special Troops (black band, red piping), Intendance/Medical/Justice, Air Force, KGB, MVD and Border Guard. Prior to 1969, there were even more color combinations since there were more individual branch colors. But again, cadets would have worn the same caps as rank and file of those branches.
In the same vein, cadets of Higher Naval Schools (ВВМУ - Высшее военно-морское училище) wore the same visorless cap - the beskozirka - as Navy rank and file but with the name of the school on the cap band. The picture on the far right shows the Frunze ВВМУ located in Leningrad.