For Sale - Caps
As much as it pains me...
Updated 5 September 2016
The following Soviet-era items caps for sale. Clicking on each picture will open up a larger, higher resolution image. If you have any questions or want additional information before purchasing, let me know. I accept checks or money orders in US dollars, Goggle Wallet or PAYPAL. I do provide mailing costs for each item or set of items, but I will of course combine shipping further if you buy more. For example; standard postage within the US for 1 visor cap is $12, but only $15 for two. I will entertain offers of trade for caps I don't have. If interested, please contact me at: randallstewart@comcast.net
For militaria other than caps, please check out my For Sale - Militaria page.
Prototype Air Force General Parade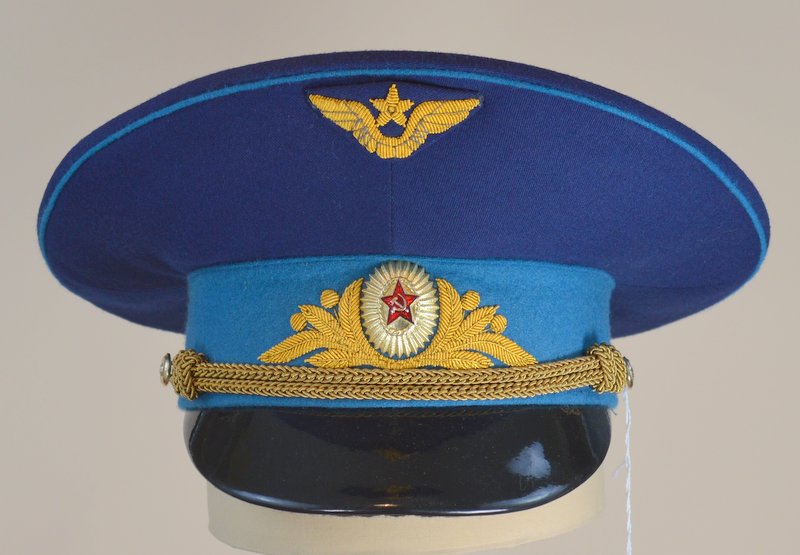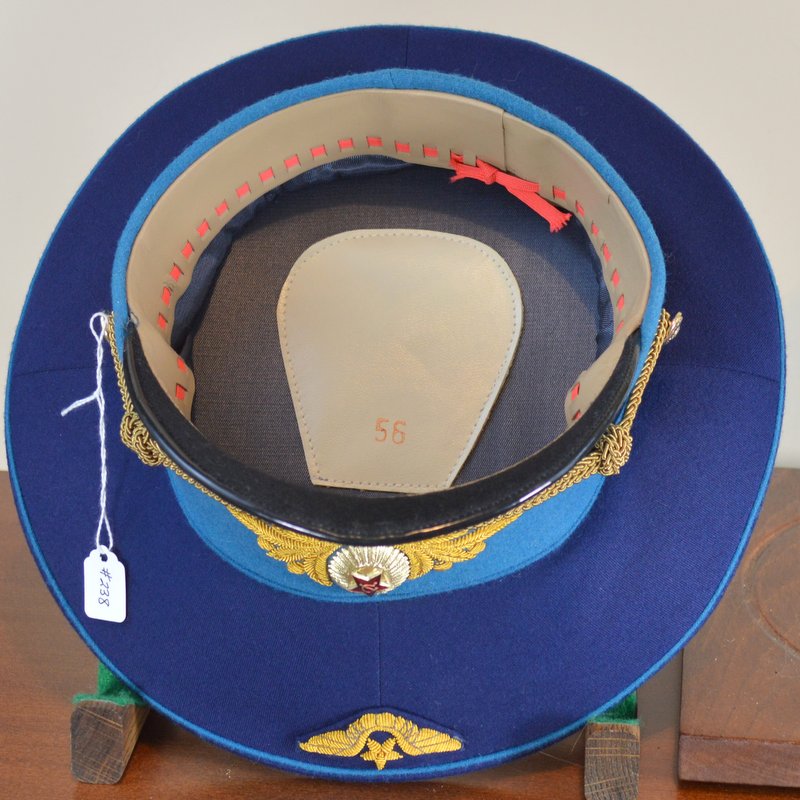 Very good - near mint condition
Undated (acquired in 1993); complies with uniform standards developed in Soviet era as part of planned force-wide changes to military uniforms scheduled for 1992; not widely implemented before the first true Russian uniforms were adopted in 1994 (as per Uniforms of the Russian VVF, Tom II, Chast 2 (1955-2004)).
Patent leather visor, dark blue top, azure band and piping, gilt embroidered wreath and wings; two-piece gilt general's cockade; general-grade buttons and lining; correct filigree cords (embroidered leather strap was to be abolished in 1992).

Marked size 56

Price: $150
Prototype Air Force General Parade/Walking Out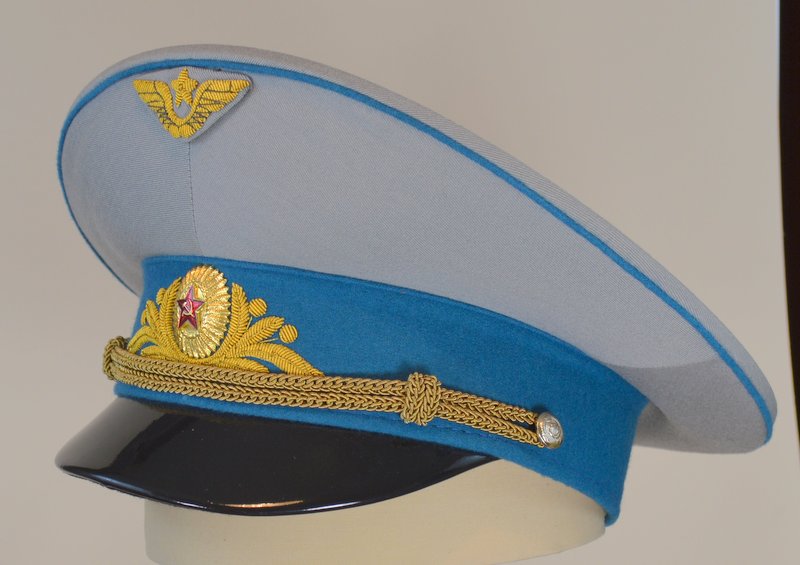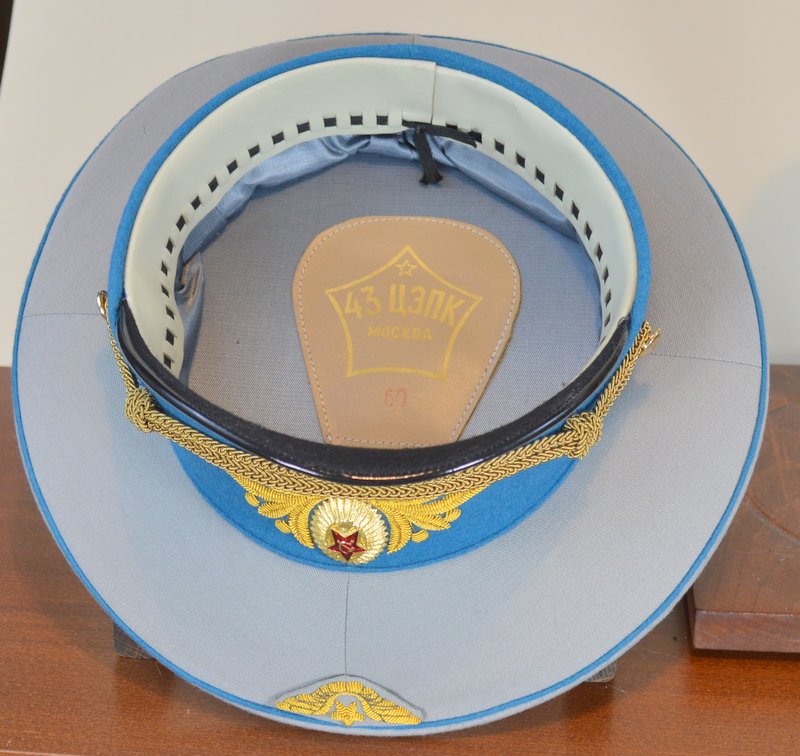 Very good - near mint condition
Undated (acquired in 1993 along with the above cap); complies with uniform standards developed in Soviet era as part of planned force-wide changes to military uniforms scheduled for 1992; not widely implemented before the first true Russian uniforms were adopted in 1994 (as per Uniforms of the Russian VVF, Tom II, Chast 2 (1955-2004)).
Patent leather visor, light gray top, azure band and piping, gilt embroidered wreath and wings; two-piece gilt general's cockade; general-grade buttons and lining; correct filigree cords.

Marked size 60

Price: $150
Air Force Officer Parade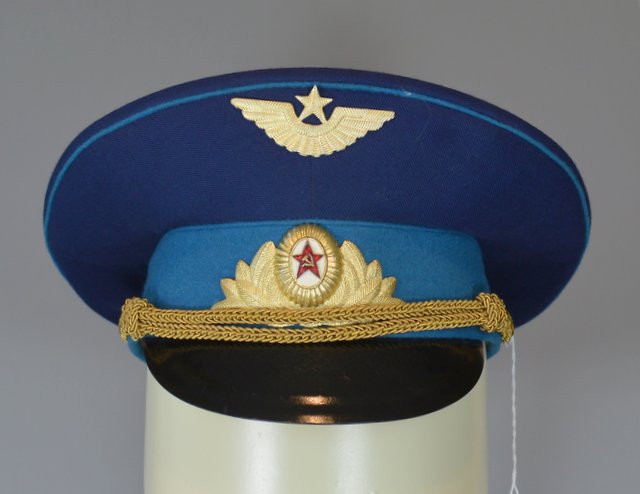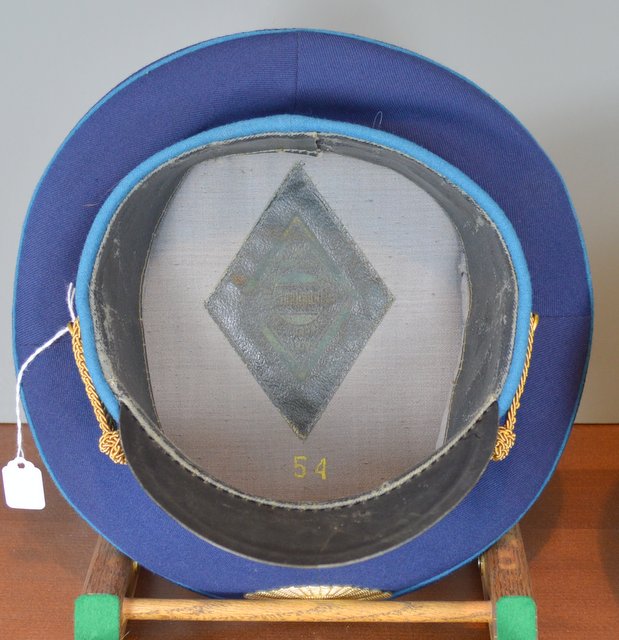 Excellent condition
1972 marked - Zarnitsa; black fiberboard visor, correct parade emblems, filigree cords and Soviet Army buttons.

Marked size 54

Price: $65
Border Guard Conscript Parade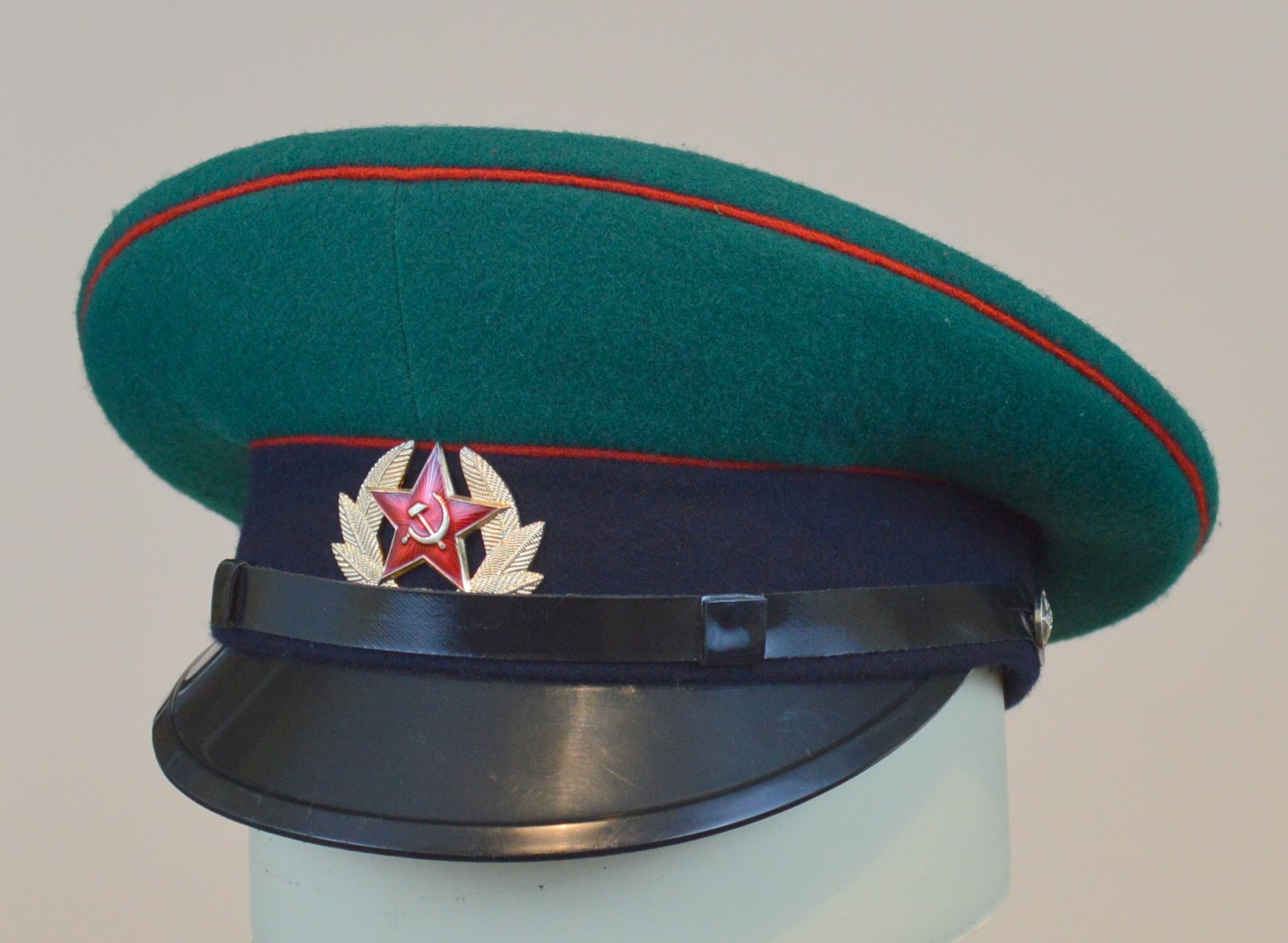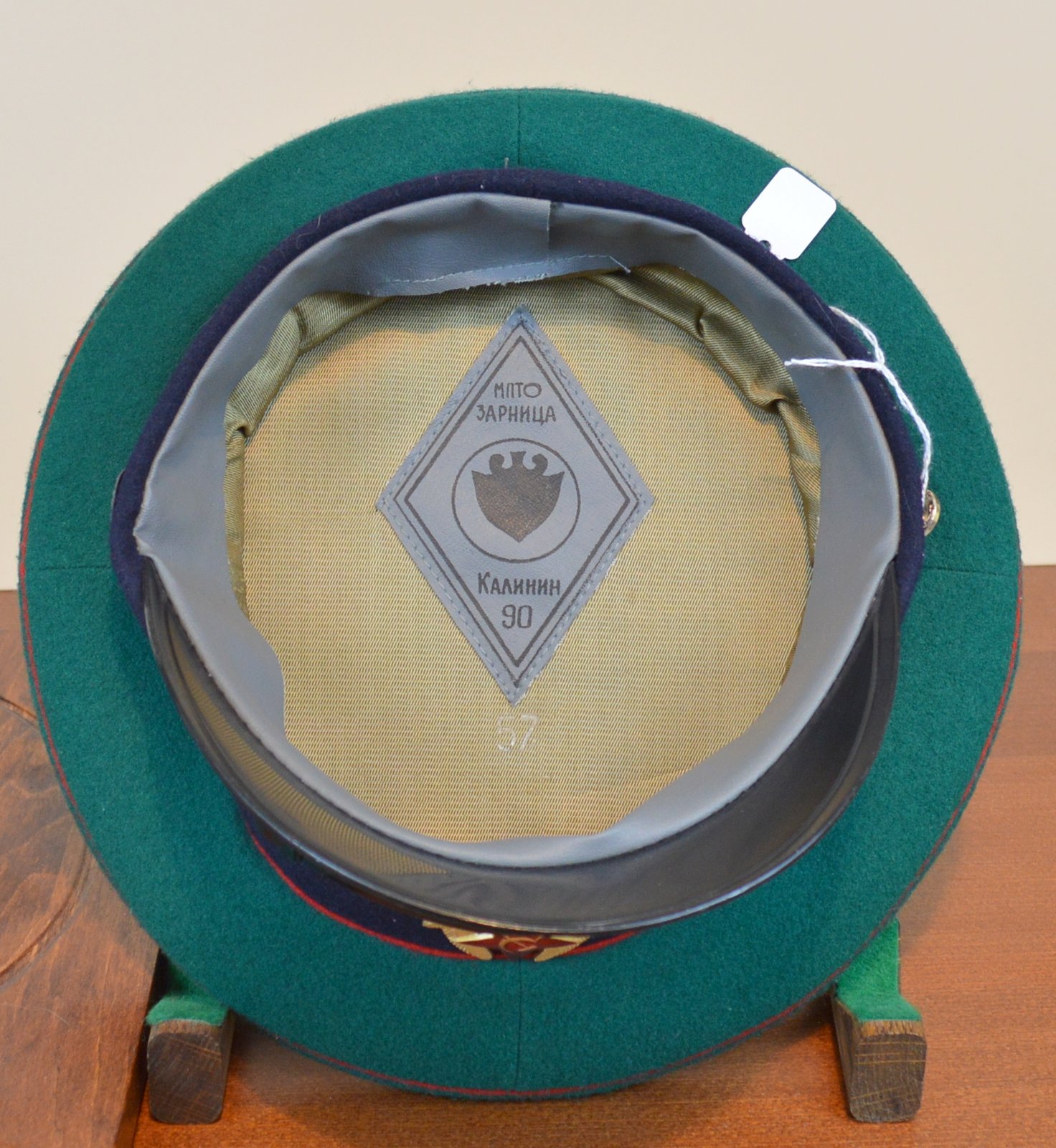 Excellent condition
1990 marked - Kalinin; black plastic visor, conscript parade cockade, black chinstrap and Soviet Army buttons.

Marked size 57 but actually 58

Price: $65
Navy Officer Service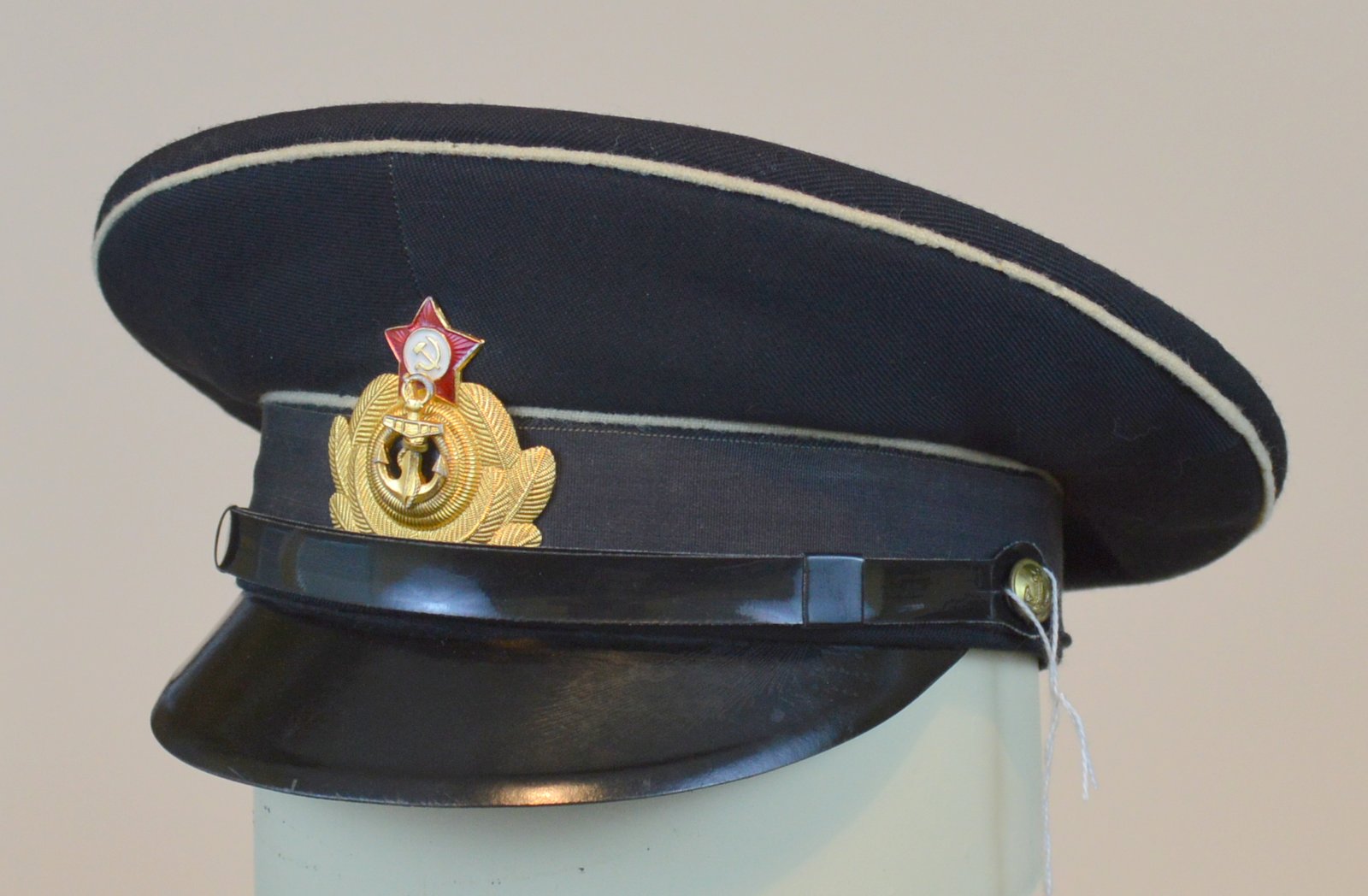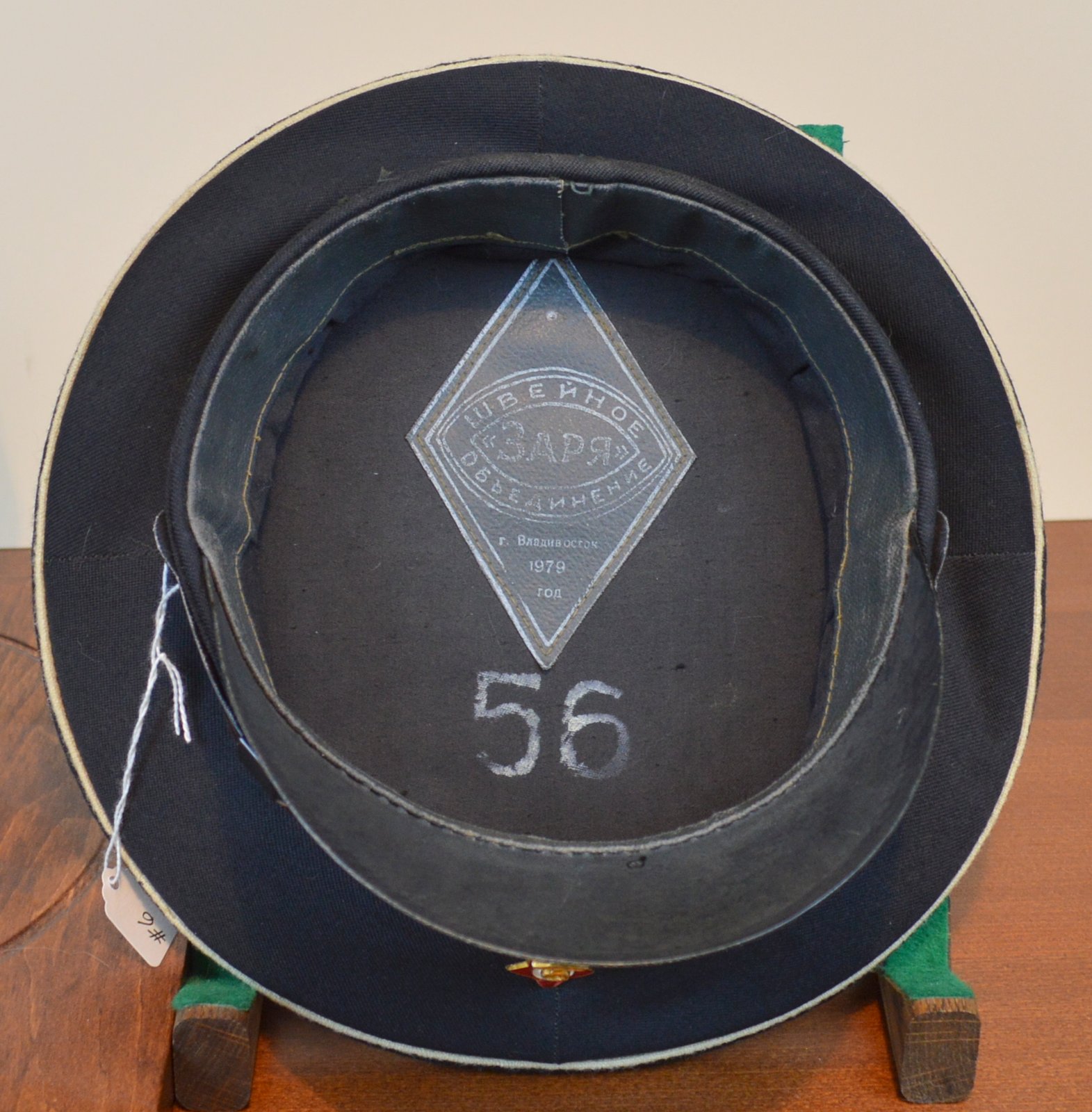 Very good condition, couple minor moth nips to piping
1979 marked - Zarya; black fiberboard visor, two-piece officer's aluminum cockade, black chinstrap and Soviet Navy buttons.

Marked size 56

Price: $70
Professional Technical School (PTO) Student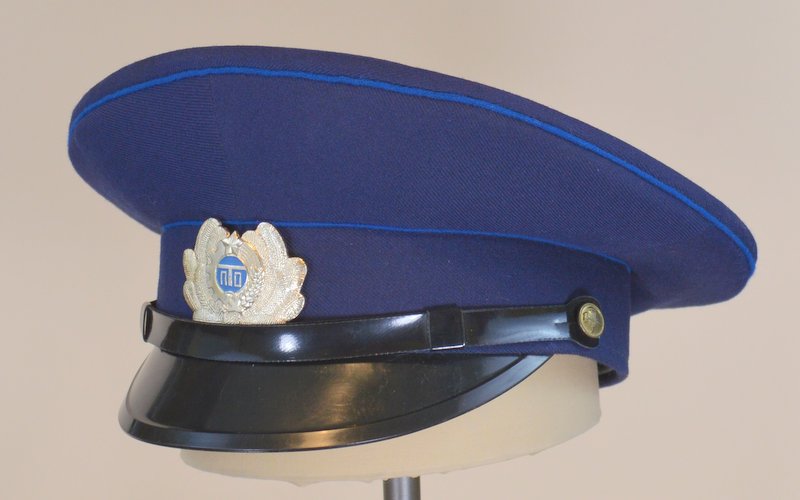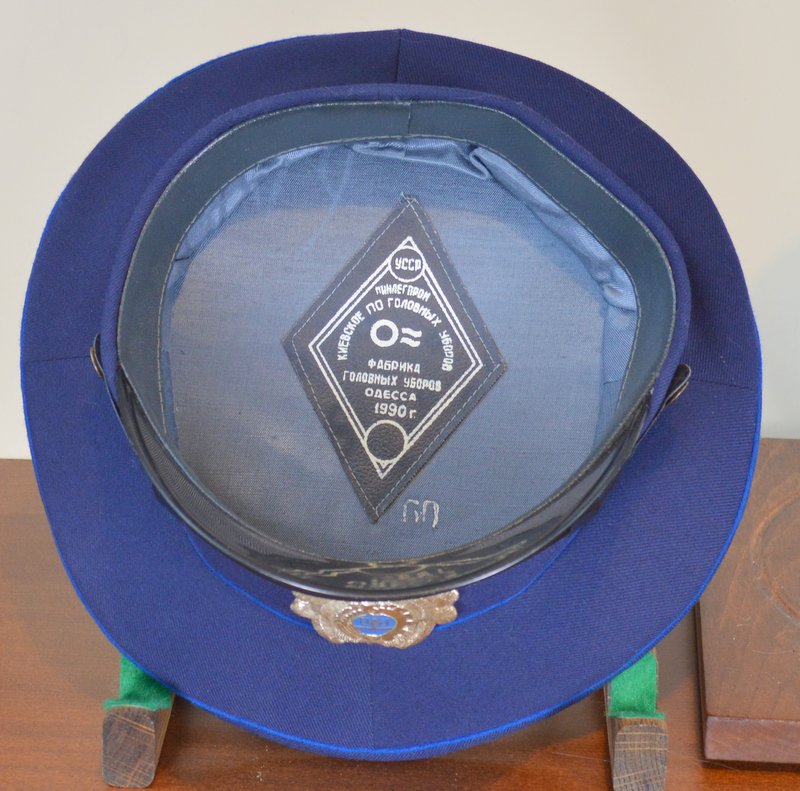 Excellent condition
1990 marked - Odessa; black plastic visor, dark blue top and band; cornflower blue piping; Ukrainian PTO student cockade, black plastic chinstrap and correct Railways' buttons.

Marked size 60

Price: $40