Military Communications (VOSO) Caps
The Military Communications service or VOSO (in Russian: Военных Cообщений; acronym: BOCO) was unique to the USSR; being an elite organization somewhat akin to the German General Staff, although with much more focused responsibilities. The title of this service is a bit misleading, since it was not signals-related. Instead it refers to what the US military considers "lines of communications;" those air, water, and land routes used to supply military forces in time of war. The VOSO was an all-officer entity, with railroad troops' privates and sergeants serving as support personnel. In fact, while the VOSO managed military road and (to a lesser extent) - air and marine transportation, it is most closely associated with Railroad troops. It was this close association (extending even to the use of the same insignia and uniform colors) that has blurred the very real distinctions between the two groups of military personnel.
Over most of the Cold War period, VOSO officers - the like Railroad Troops' - used a combination of black and light blue (azure) color distinctions on their uniforms. Consequently, depending on the class of uniform and the date, caps worn by these two groups could be identical - which I will discuss in the individual descriptions below. From 1943 to 1955, however, VOSO officers could be differentiated by a unique "winged wheel" cap emblem which only they were authorized to wear. This emblem could be either embroidered or be stamped from aluminum as shown here.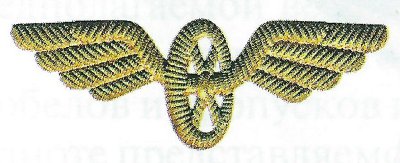 While a gilt (anodized) finish was standard for these wings, the Russian language pamphlet "Cockades" shows a picture of a silver-colored emblem reportedly belonging to a VOSO engineer-technician. Unfortunately, no other information exists to confirm such a claim and it may just be an manufacturing mistake. The VOSO also used special red-topped caps to identify military commandants and their deputies at railway stations and ports. Those caps have been a subject of MUCH controversy among Russian and Western uniform experts; stemming primarily from the fact that 1958 Ministry of Defense regulations were the last to specifically mention these caps, even though cap markings confirm they continued to be manufactured into the 1980s. Similar red-topped caps worn by civilian railway station duty personnel add a further layer of confusion to correct identification. See my Railways page for more information on their caps.
A thumbnail image accompanies each cap description. Clicking on that thumbnail will bring up a larger, higher resolution image.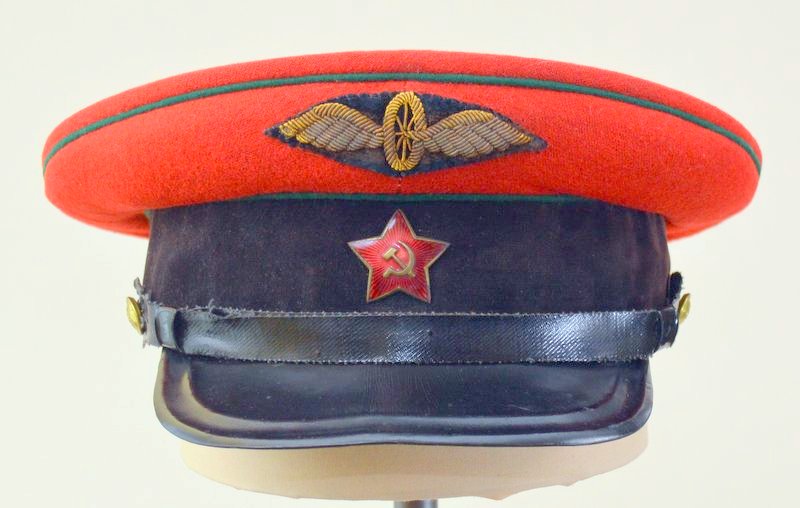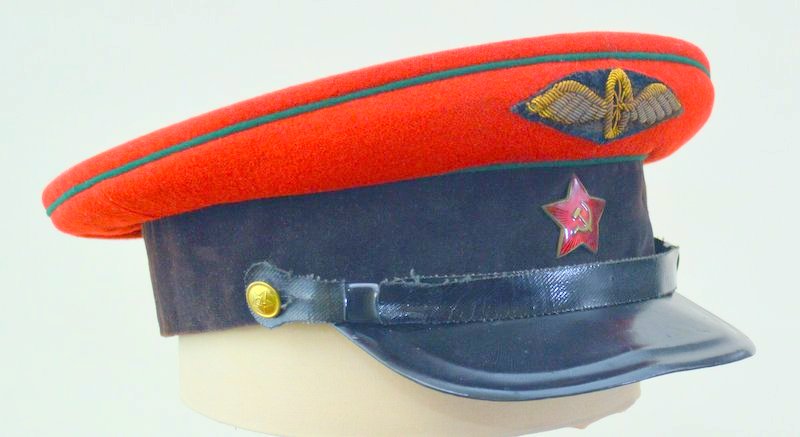 VOSO
Station/Port Commandant/Deputy Commandant
1943-1951
This beautiful cap was worn by a VOSO station or port commandant/deputy commandant. Like its Railway's counterpart, the bright red crown was designed for instant identification - proclaiming the wearer as the duty supervisor for station/port transportation operations. While red-topped caps were also used before and after this particular period, only during 1943-1951 did such caps have the combination of the VOSO wings and green piping.
The fabric used for the red top is napped wool, a soft material very susceptible to moth damage. The band is black velvet, which was the standard for all VOSO caps regardless of the period or class of wear. The black painted fiberboard visor is spade-shaped (squared off), which was the most common shape used for caps made from 1935 to 1954. The chinstrap is black oilcloth and is held in place by two brass buttons embossed with the symbol of the Red/Soviet Army (star with superimposed hammer and sickle). The two cap emblems include a red-enameled star made of brass-coated steel pinned to the band and an embroidered VOSO winged wheel. The winged wheel symbol was a traditional sign of transportation going back to the Russian Empire. The emblem in this case is embroidered from gilt wire onto a black velvet backing which is in turn hand sewn to the crown.
Although not in my collection, khaki-crowned VOSO caps were also worn for service and parade/walking out during this period. They too had green piping and the special crown emblem. Very Rare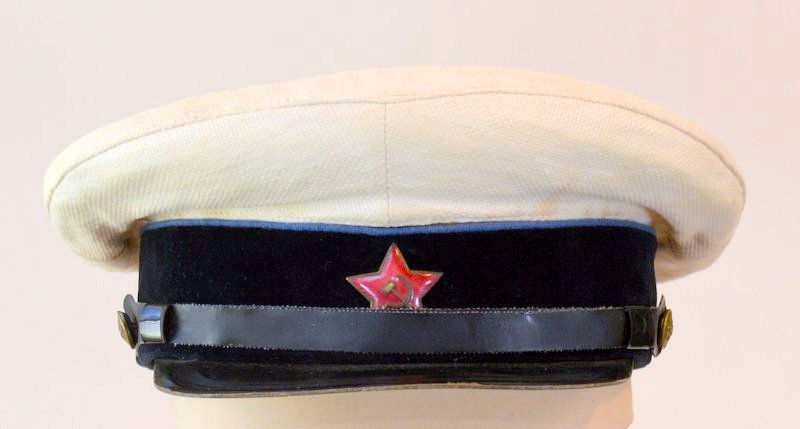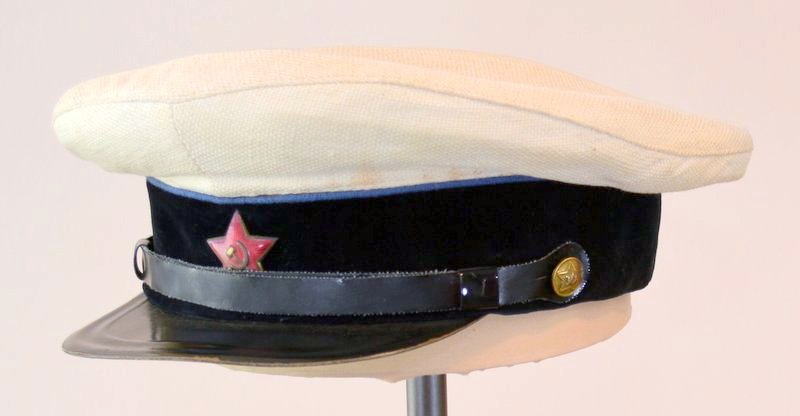 VOSO
Officer Summer Walking Out
1951-1954
All Army and Air Force officers were authorized to wear white-topped visor caps with high-collar white summer tunics during the 1943-1958 period. In many cases these white tops were simply light cotton covers worn over standard khaki caps. However, officers often had white topped caps specially made just for summer wear, as in this case. It has a crown made using a very open weave white cotton fabric which is permanently attached to the band.
Like all VOSO and Railroad officer caps, the band is black velvet. In 1951, the green piping previously used by VOSO officers was changed to light blue/azure; matching that of the Railroad Troops. However, in this case piping is confined to the top of the band; as was regulation for white summer caps, the crown does not have colored piping. VOSO wings are also not attached; insignia not being authorized on the crown of white-topped caps due to the necessity of removing and washing the top often to keep it clean. This rule carried over even in the case of non-detachable tops. The spade-shaped visor is black painted fiberboard. The chinstrap is black oilcloth, attached to the band by Soviet Army brass buttons. Rare

| | |
| --- | --- |
| Very similar to the first cap discussed on this page, this one differs only in the color of the piping and in the shape of the fiberboard visor. Instead of the green authorized during 1943-1951, light blue piping was regulated for VOSO caps between 1951 and 1969. This officer's cap still uses a red enameled star instead of the M-1955 oval cockade, which, along with the VOSO wings, date it to the 1951-1954 period. While the semi-circular visor shown here did not become standard until 1954, such visors were produced in small numbers before that date, even during WWII. Unfortunately, this cap is not mine but belongs to EVERANDEVER, a well-known Russian militaria dealer. | |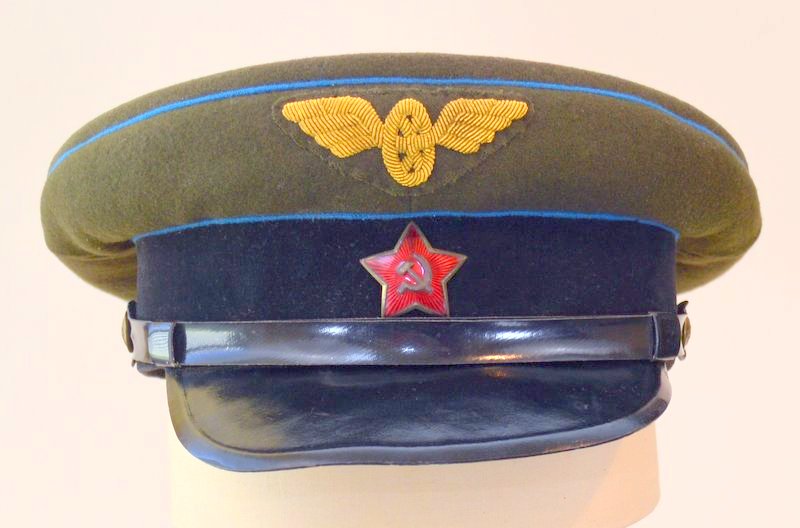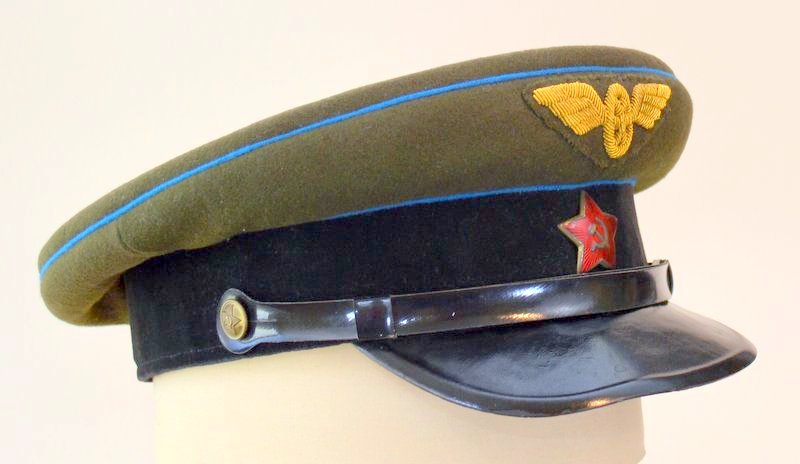 VOSO
Officer Service/Dress
1951-1954
This was the everyday service and dress/walking out version of the cap shown just above. The top is sewn from dark khaki napped wool - the fabric most often associated with officer caps of the late 40s and 50s. The band is black velvet and piping is azure. Both the red-enameled brass-coated steel star and the spade-shaped visor are characteristic of officers' caps prior to 1955. The chinstrap is the normal black oilcloth and buttons are two-piece brass/steel. Notice again the VOSO wings; embroidered in wire onto a matching piece of khaki wool and then hand-sewn to the crown. Rare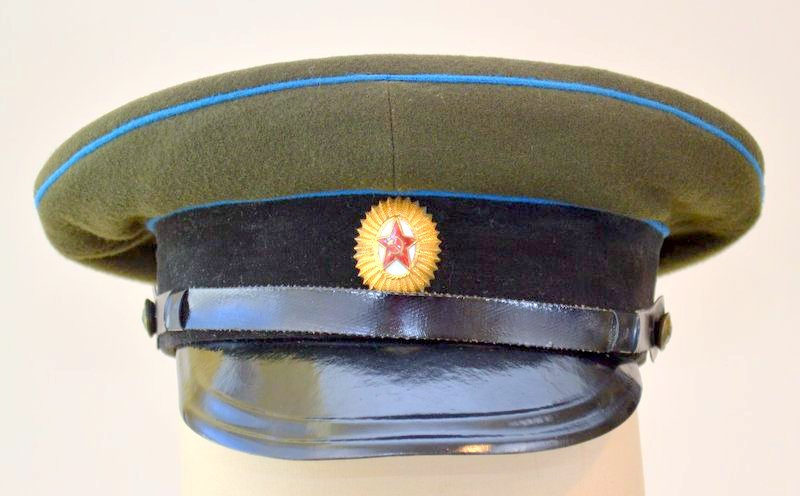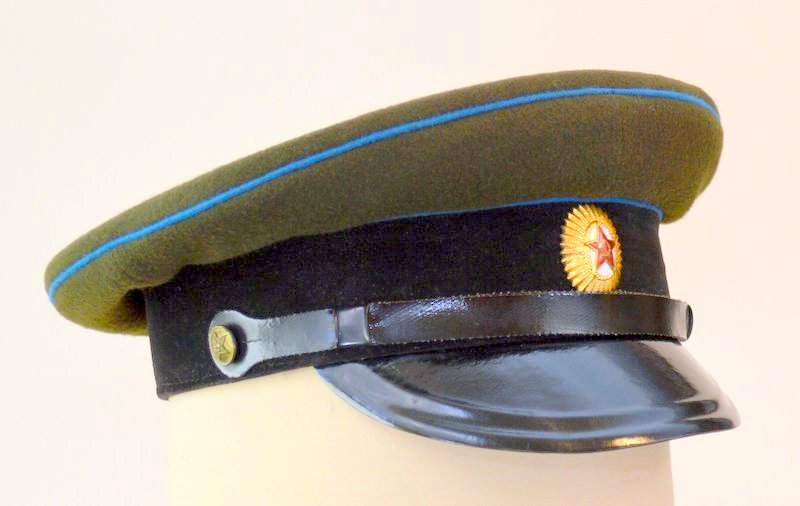 VOSO/Railroad
Officer Service
1955-1968
While the material used in its construction is the same as in the previous one, this 1957-dated cap appears quite different due to visor and insignia changes introduced in 1954/55. The crown is still sewn from dark khaki napped wool, the band is black velvet and piping is light blue. However, the black fiberboard visor is now rounded (semi-circular), in according with 1954 Ministry of Defense regulations standardizing on that form. The oilcloth chinstrap is also now limited to the officer service (everyday) uniform; with dress caps authorized gold cords as you can see below. The famous red-enameled Soviet Army star was now also replaced on officer caps by the new M-1955 cockade; a gilded one piece tombac (aka: red brass) oval with a hot-enameled white background and superimposed red enamel star. This cockade would remain on officer's caps until the collapse of the USSR, although a cheaper, aluminum and paint version would supersede the tombac. There are no VOSO wings on the crown; these no longer being authorized except on red-topped station commandant/deputy commandant caps. Consequently, from 1955-on, VOSO and Railroad officers wore identical service and dress caps. Scarce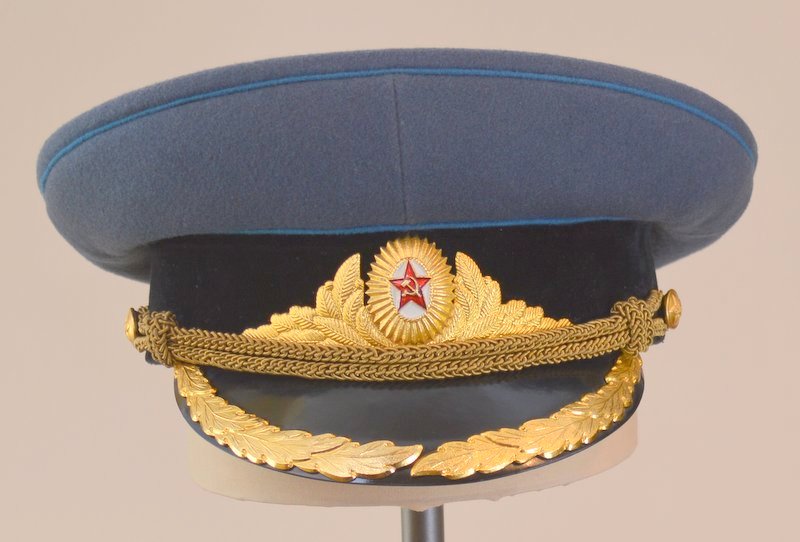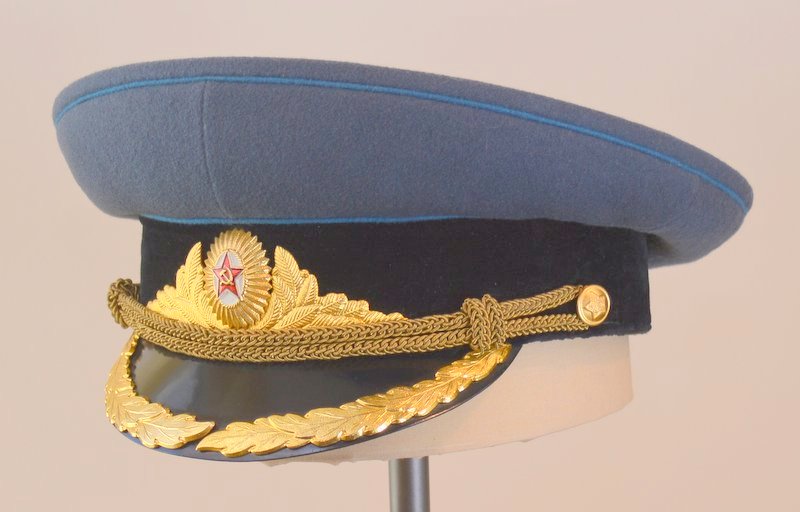 VOSO/Railroad
Officer Parade-Walking Out
1955-1957
As part of an effort to modernize officer uniforms, new dark-gray dress tunics with a distinct Germanic influence were introduced in 1955 for all Army arms and services. This uniform - often called the "Zhukov" - was very short-lived, being abolished in 1958 in favor of a more traditional Soviet pattern. For more information on the development and the features of this striking uniform, see my Army 1955-1957 page.
This was the matching cap for the Army officer's "Zhukov" dress/walking out uniform. The crown is sewn from napped wool in a dark gray or "steel" hue. As prescribed for both VOSO and Railroad officers, the band is black velvet and the piping is light blue. Gilt filigree cords were now authorized for wear on all officers' dress caps; a privilege once only given generals. Gilt Soviet Army buttons remained standard. The visor is black fiberboard but now has two half-wreaths of stylized leaves pinned along its perimeter. A unique two-piece emblem is pinned to the band consisting of the M-1955 officers' cockade attached to a separate elongated brass or aluminum wreath. Rare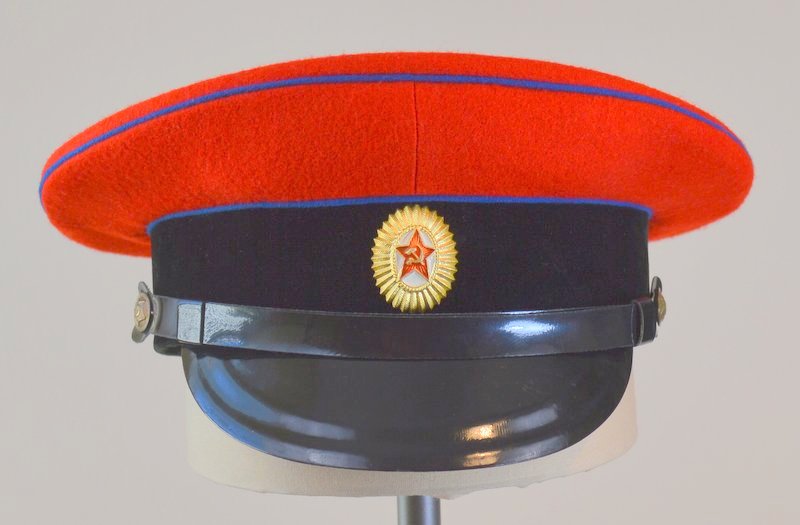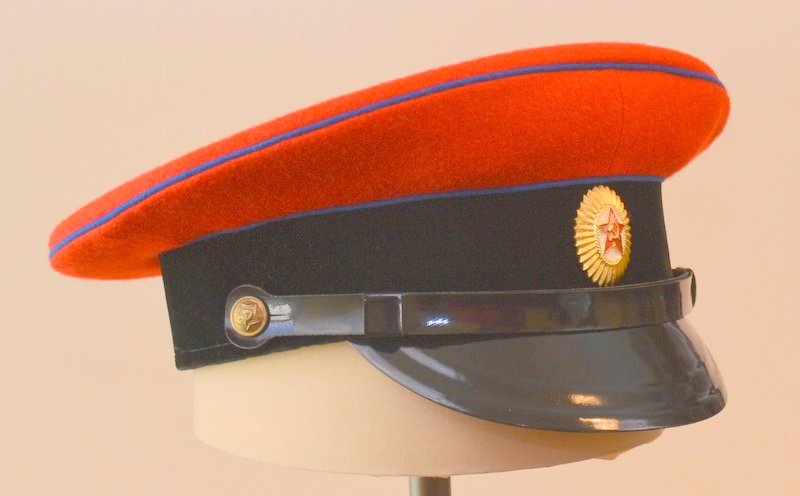 VOSO
Station/Port Commandant/Deputy Commandant
1958-1968
Shown here is the next version of red-topped cap authorized for wear by VOSO officers with duty as military commandants of railway stations and water piers and their deputies. The crown remains red napped wool and the band is black velvet. Piping remained light blue, although the hue used on this particular 196x-dated cap is closer to medium blue. This likely reflects material availability at the factory rather than an unknown regulation change. The visor is black fiberboard and a black chinstrap is secured with small Soviet Army buttons. Use of a chinstrap instead of gilt cords reflects this cap's role as duty wear - not dress. A M-55 officer's cockade (in the later anodized aluminum) is pinned to the band.
1958 regulations also called for the VOSO "winged wheel" emblem to be attached to the crown of commandant/deputy commandant's caps. However, to my knowledge there is NO authentic example showing such wings being worn in conjunction with the M-55 cockade, either in photos, museums or private collections. Consequently, it seems likely that this prescription was rescinded soon after these regulations were published and VOSO wings were not actually worn on service after 1958 at least, and possibly even as early as 1955. Rare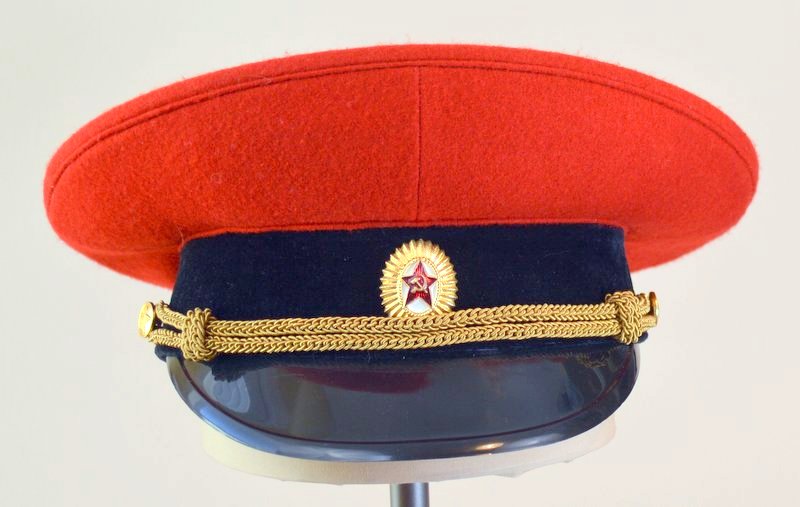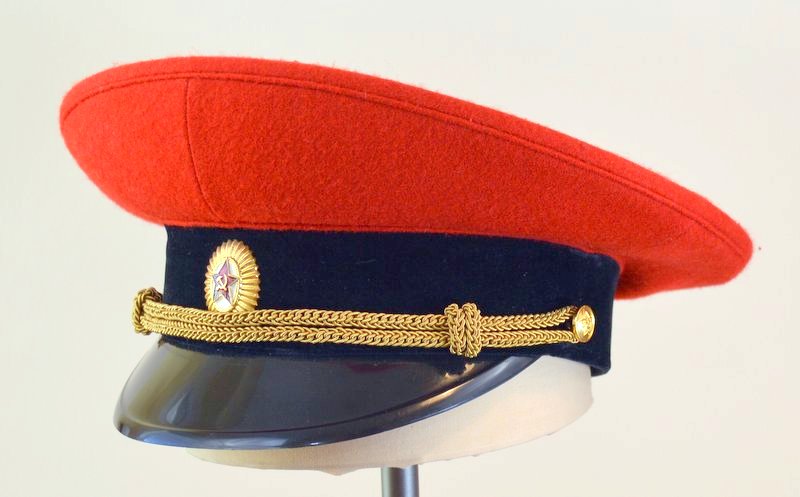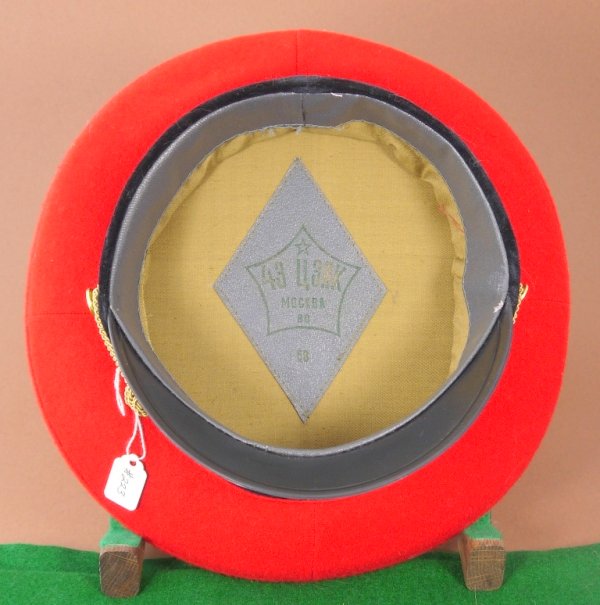 VOSO
Station/Port Commandant/Deputy Commandant
1969-1980s
This 1980-dated cap was probably one of the last red-topped caps made for the VOSO, although the actual end-date for such commandant caps is not known. The crown is still made of red napped wool; long after napped wool had been dropped in other military cap manufacture. However, the crown is now larger in both height and circumference, reflecting force-wide changes to cap design decreed in 1969. The band stays black velvet. Piping is now in red, matching the crown color, in accordance with 1969 regulations which changed VOSO piping color from its previous light blue. A M-55 officers' cockade is pinned to the band and gilt filigree cords are secured with one-piece plastic buttons. In 1975, authorization to wear gilt cords was extended from dress-only to all Army officer caps. This cap also has the later one-rim plastic visor which was first produced in the late 1970s but became standard by the mid-1980s.
This cap can be confused with the red-topped duty-officer cap worn by civilian Railways officials. However, red Railways' caps had a plain black wool band vice the black velvet one used by VOSO commandants. And of course, the emblems on the band and crown would be different. Scarce

As I've mentioned above, 1969/1970 uniform regulations replaced the light blue piping worn by VOSO and Railroad officers since 1951 with red. This change made it impossible to distinguish those officers from many other branches (including artillery, tank, engineer and signal) by their caps alone. Consequently, my coverage of VOSO caps ends at this point. Please see my Army 1969-1991 page for more information on these later red-piped caps.