Caps of the Soviet Border Guard
Included here are caps worn by officers and men of the Soviet Border Guard. These troops were responsible for protection of the frontiers of the USSR. Their duties ranged from the prevention of illegal personnel and material movement across Soviet borders, to enforcing poaching laws and managing refugee/immigration, to full blown counterinsurgency and positional defense against invading armies. Border Guard troops were the first to resist the German invasion in 1941 and fought the Red Chinese in a series of violent battles along the Amur-Assuri Rivers in the late 1960's. They were also engaged in many smaller battles with Afghan guerrillas and Islamic militants during the last years of the Soviet Union. All branches of service were represented within their ranks; from infantry, armor, artillery, aviation, administration and logistics, to maritime forces. Except for the maritime border elements which wore naval uniforms with green piping, Border Guard troops were instantly recognizable by their distinctive "kelly" green topped visor caps. This unique mark of distinction has remained unchanged since 1923 (and continues in Russia to this day). Another unique feature of Soviet Border Guard caps was their continued use of napped wool as the crown fabric for the entire post-WWII Soviet era. All other services transitioned to non-napped wool blends for their crown fabric by 1969.
Although officially part of the KGB for most of its post-war existence, Border Guards were distinct from the other uniformed elements of the KGB and hence rate their own page.
A thumbnail image accompanies each cap description. Clicking on that thumbnail will bring up a larger, higher resolution image.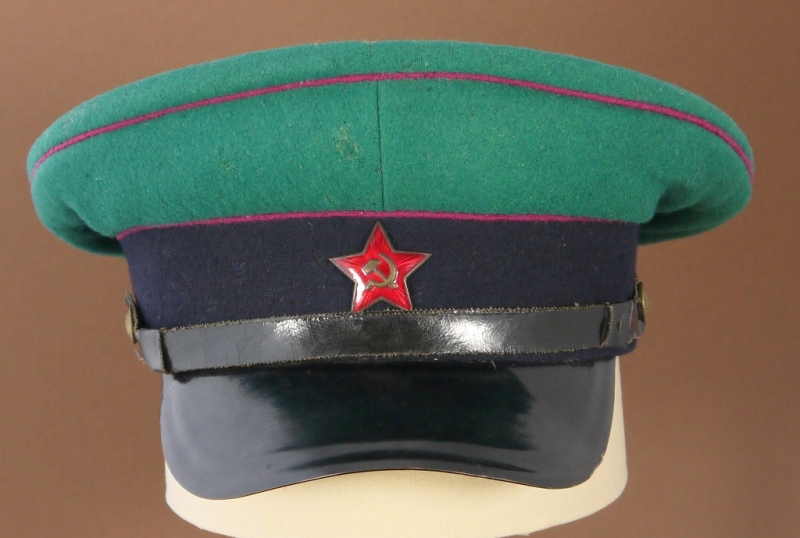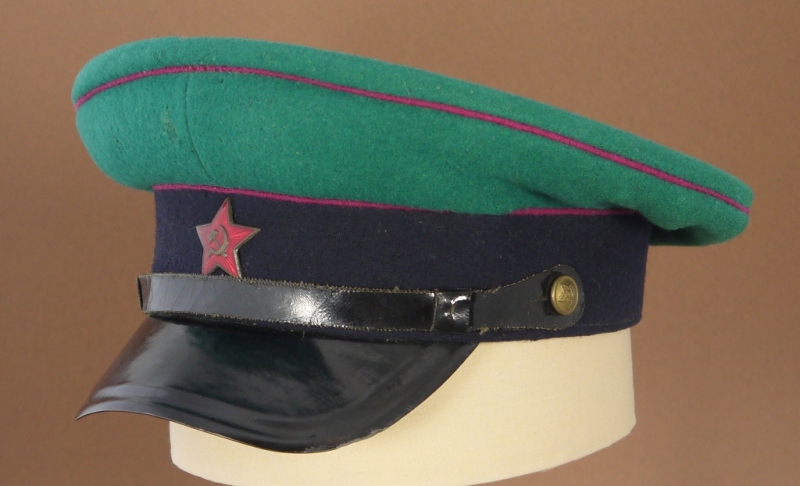 Border Guard
Officer/Sergeant/Soldier Parade/Service
1935-1954
Up until 1955, all Border Guard personnel below the rank of general wore the same style cap - as shown here. This 1954-dated cap represents one of the last produced with a spade-shaped visor (rounded, semi-circular visors became standard within the military that same year). This cap served for all occasions; field duty, everyday service and parade. Border Guards were the exception to the rule in that conscripts did not wear the visorless "pilotka" cap as their everyday headdress. Even in combat, Border Guards usually would forego helmets in favor of this distinctive cap.
The cap incorporates traditional Border Guard colors dating back to the 1920's - bright green crown, dark blue (not black - even though it sometimes looks like it) band, and magenta (a purplish-pink color also known as crimson) piping. The crown is the small, M-35 style, and the visor is the squared-off fiberboard form used before 1955. As was standard for caps at the time, it mounts a black oilcloth chinstrap held in place by two-piece stamped metal Army-style buttons. The nicely hot-enameled, one-piece brass coated steel red star is also standard for this period. Scarce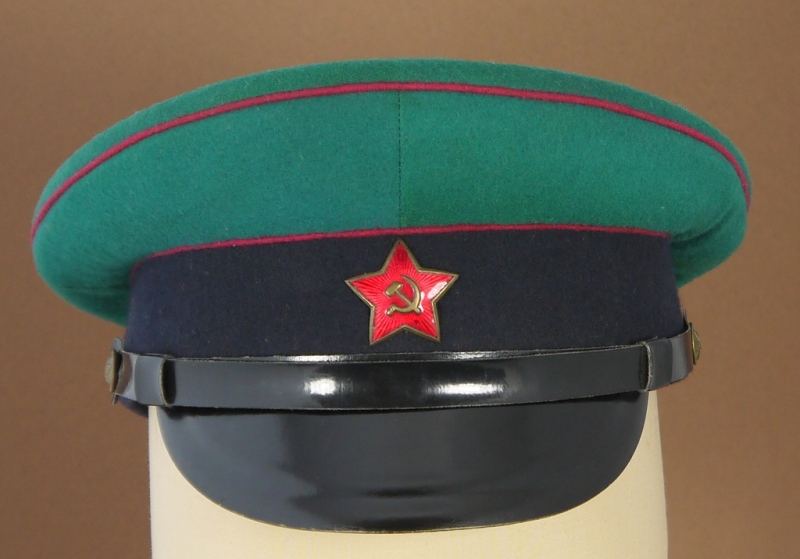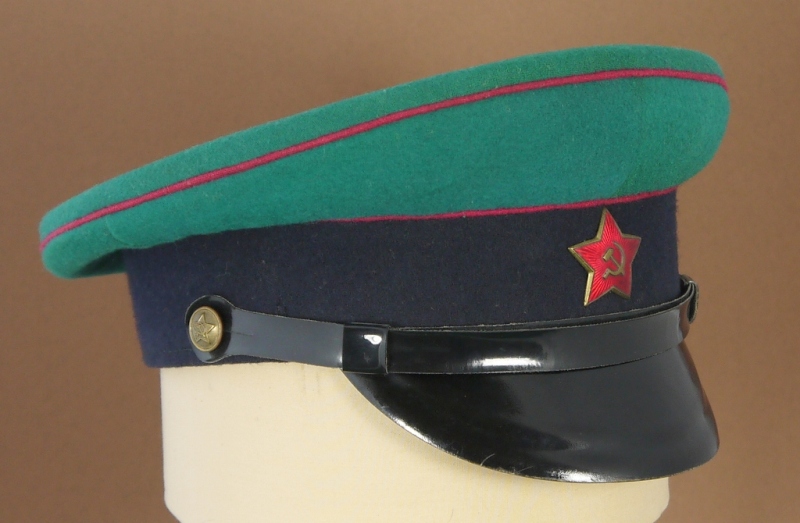 Border Guard
Sergeant/Soldier Parade/Service
1955-1968
The cap is almost identical to the one described above, but has the rounded visor that came into service in 1954 and remained standard thereafter. This visor is made as usual of black-lacquered fiberboard and has the two embossed rims along the outside edge that was standard until the mid-late 1970s (when one rim became the norm). Colors remain the same - including the magenta piping - as do the black chinstrap and gilt Army-style buttons. The red star is also the older style one-piece enamel and brass/steel version. Aluminum versions of this star did not start to appear until around 1963. Scarce

Although not a Cold War item, the 1928-dated Border Guard cap shown below is a fine study in how the earliest Soviet visor caps were made. Note the very small crown without a wire support - allowing the top to collapse in front giving it a "jaunty" appearance. Most photos of Soviet troops in the 1920s show this same style of wear. Even during this period, all the elements of a traditional Border Guard cap are present - bright green wool top, dark blue band and magenta piping. All ranks - officer and soldier - wore this same combination of cap elements. The black chinstrap is heavily weathered and is thinner than later models. The visor is brownish fiberboard, painted black on the top and left natural color underneath. This visor material probably dated back to WW1, since black/dark gray fiberboard quickly became standard visor material in the USSR. Note also the black-painted Army-style buttons. These early ones were made of steel and were very prone to rust - as seen here. Two ventilation holes on either side of the crown were another characteristic of caps made in the 1920s. While all other elements appear original, the enameled red star is magnetic, which indicates it is a replacement.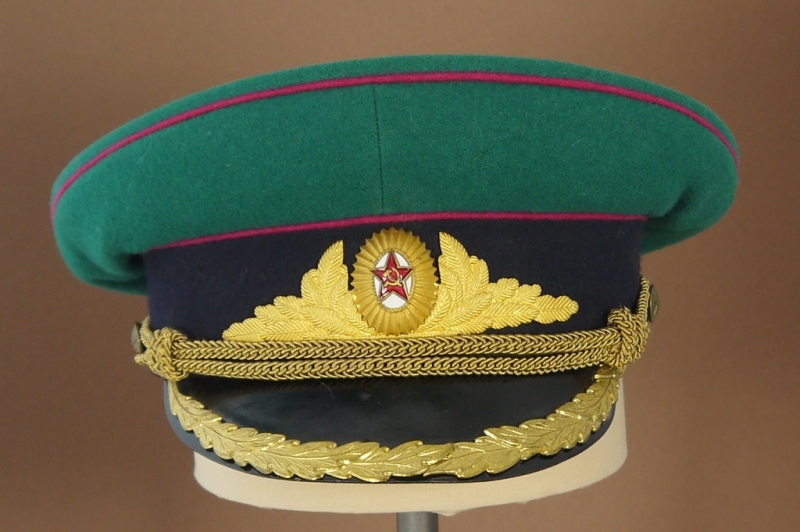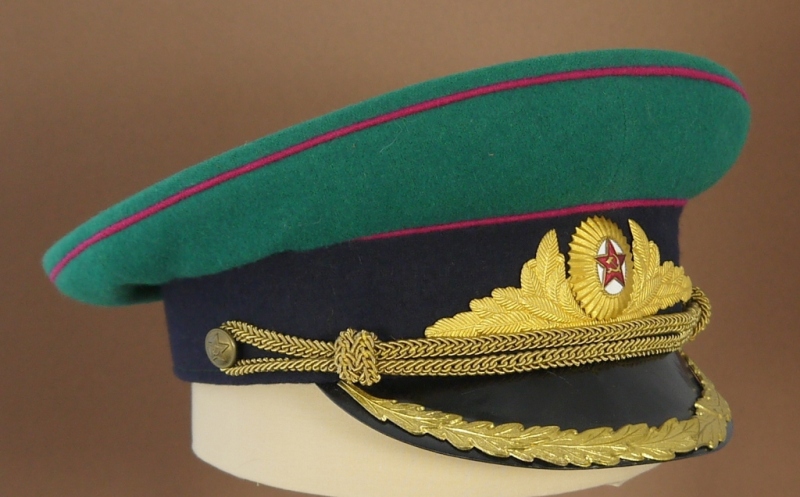 Border Guard
Officer Parade-Walking Out
1955-1957
Like the other uniformed security services, after the Ministry of Defense adopted new so-called "Zhukov" officer parade uniforms in 1955, the Border Guards quickly issued their own regulations for such a uniform. While the jacket was gray - like all other services except the Air Force - the Border Guards were unique in that they did not adopt a matching gray-crowned cap. Instead, they modified their existing green-crowned cap. These changes included the new two-piece parade emblem (M55 officers' cockade with a separate stamped brass wreath of "laurel leaves"). Gold filigree cords were now authorized - which were previously only worn by General Officers. And stamped brass (later aluminum) leaves of a new pattern were pinned through the black fiberboard visor. This cap was unfortunately short-lived, for when Marshal Zhukov was replaced as Defense Minister, so too, did the "Zhukov" uniform "fade away."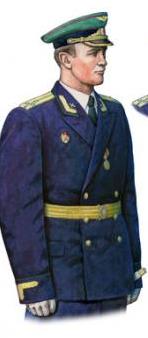 A variant of this cap was worn by Border Guard aviators. All elements remained the same except for the addition of Air Force-style "wings" to the crown. Even more interesting was the fact that these officers wore a modified dark blue Zhukov Air Force jacket (instead of the gray) but with green piping. Scarce-Rare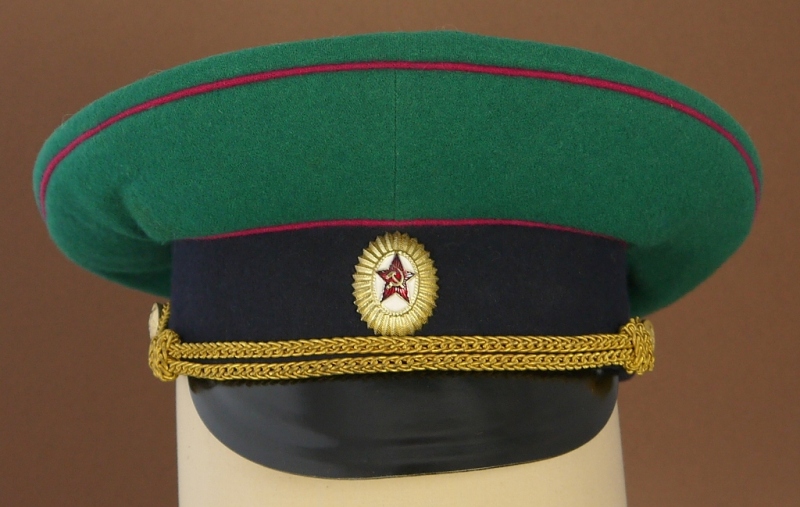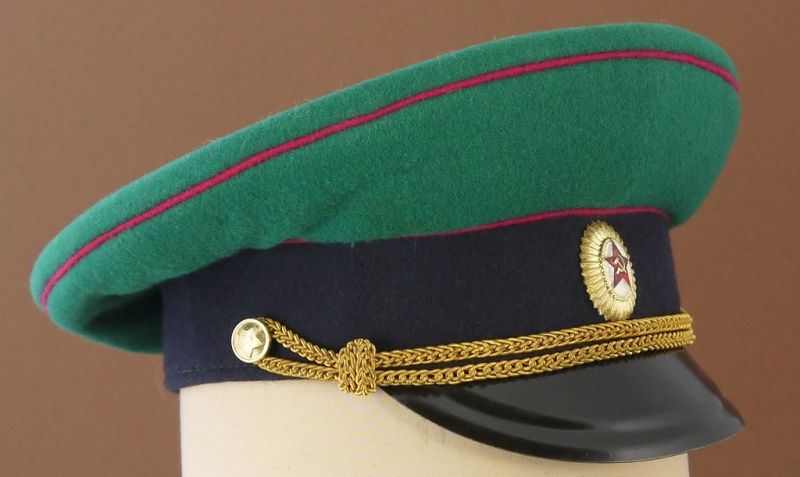 Border Guard
Officer Service
1975-1980
Manufactured in 1979, this cap has the larger M69-model crown; .5cm taller in front and larger in circumference. Colors remain as already discussed: bright green top, dark blue band and crimson piping. In fact, this was one of the last caps sewn with crimson piping; in that 1980 saw all piping changed to red. An officer's M55 cockade identifies this as a service cap; caps worn for parade/walking out would have the larger M69 parade emblem seen below. When first introduced in 1969, officers' service caps still used the black chinstrap; gold filigree cords were only authorized on service caps after 1975. The fiberboard visor was still standard in 1979, although this was one of the last years visors were made with two embossed rims along the outside edge. Soon thereafter a single-rimmed visor became standard. Scarce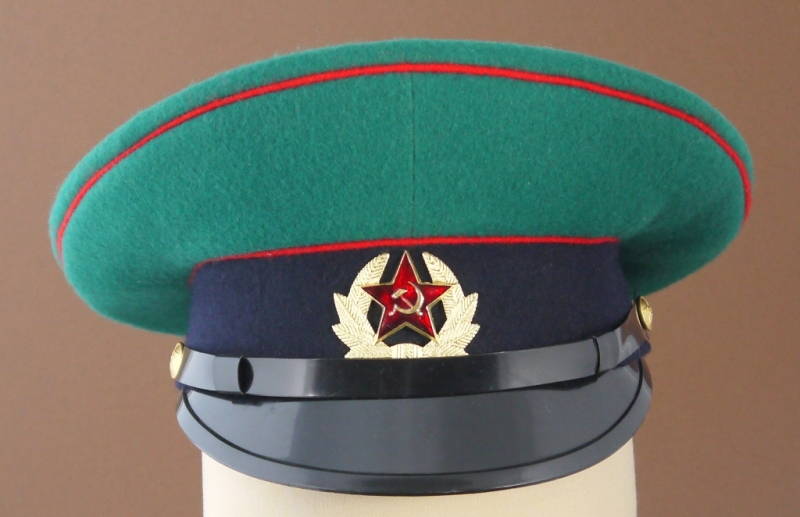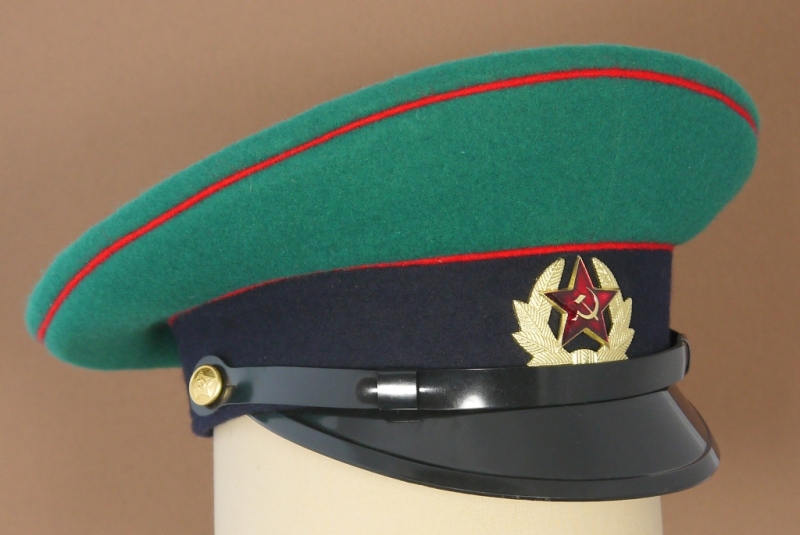 Border Guard
Sergeant/Soldier Parade/Service
1980-1991
This is a later variant of the Model-1969 cap for conscript privates and sergeants (extended service NCOs wore officer-style caps). Manufactured in 1988, it now has red piping, vice the magenta piping used before 1980. However, the green napped wool crown and dark blue wool band remain as before. The cap also mounts a black plastic chinstrap above a plastic visor - both features of caps made in the late 1980s. The emblem is that introduced for conscripts in 1969 - for the parade/walking out uniform. Only Border Guard troops routinely wore this same cap for everyday service. Although this emblem is made in one piece, when first introduced the aluminum star and wreath were separate pieces pinned together. Available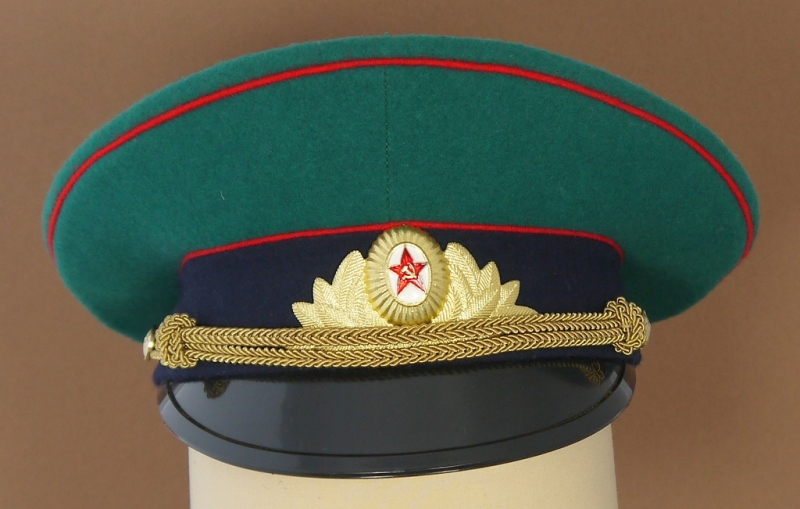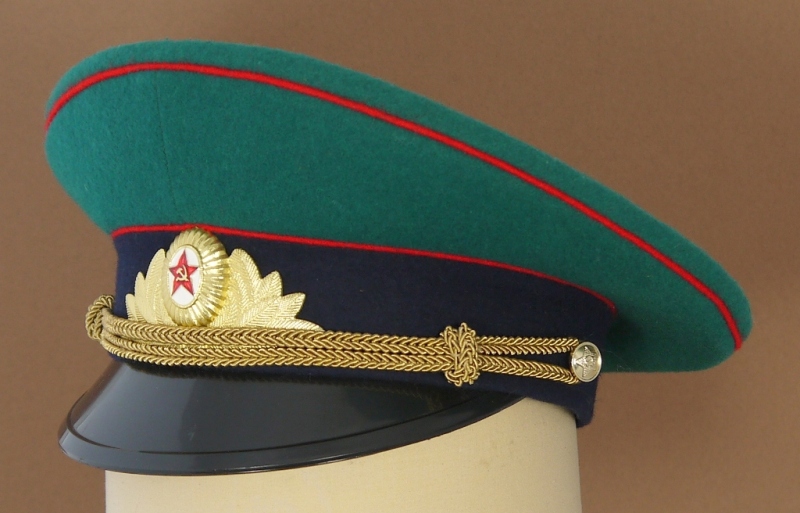 Border Guard
Officer Parade-Walking Out
1980-1991
Manufactured in 1989, this cap is nearly identical to the one just described, but with an officer's M69 parade emblem and gold cords. Since it dates after 1980, it too has red piping. The cords are held in place by two gilt plastic buttons cast with a raised Army star. Plastic buttons became standard on new production in the late 1980s. The visor too is plastic. While presumably cheaper to produce than fiberboard, these visors are unfortunately very susceptible to scratching. Available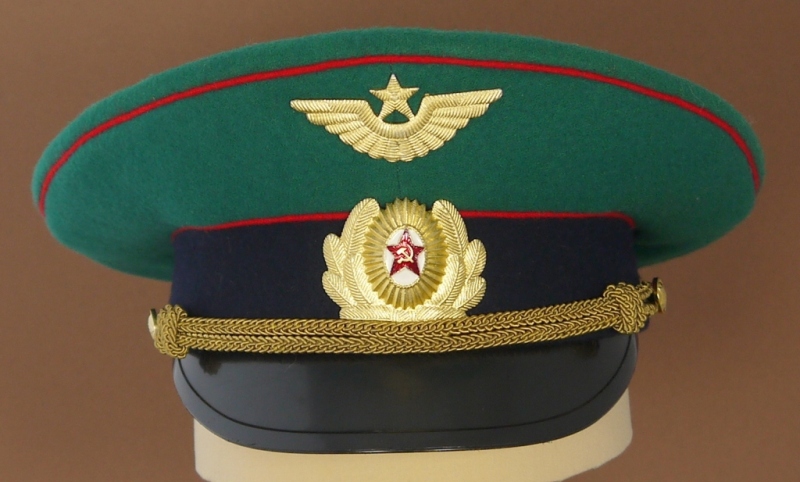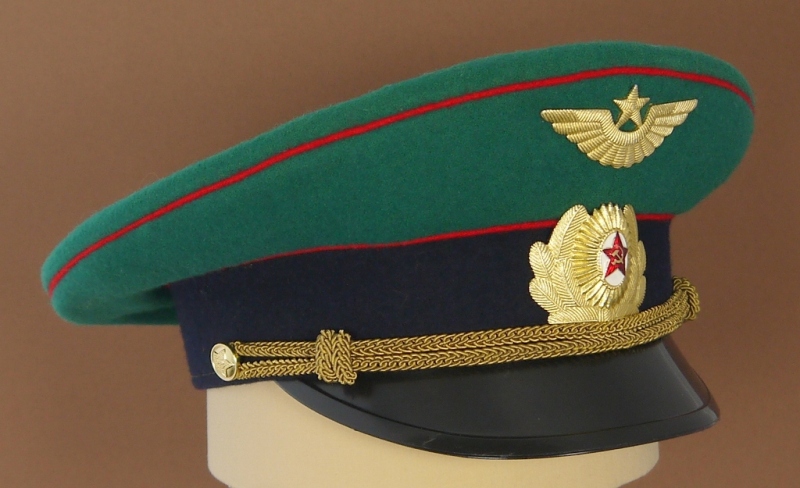 Border Guard Aviation
Officer Service
1980-1991
Yet another later Border Guard cap - dated 1986 - virtually identical to the cap just described except in the emblems worn. The one-piece emblem pinned through the crown is the standard one worn by Air Force officers on their service caps. The wings on the crown were also standard Air Force. This combination was authorized for flying Border Guard officers; both helicopters and fixed wing. Although I'm only showing one such cap on this page, please note that such aviation emblems could be and were worn on Border Guard caps dating back to the 1940s. Available (if assembled from components)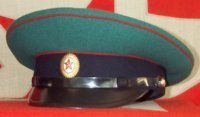 Border Guard
Warrant Officer Service/Parade
1980-1991
TBD Available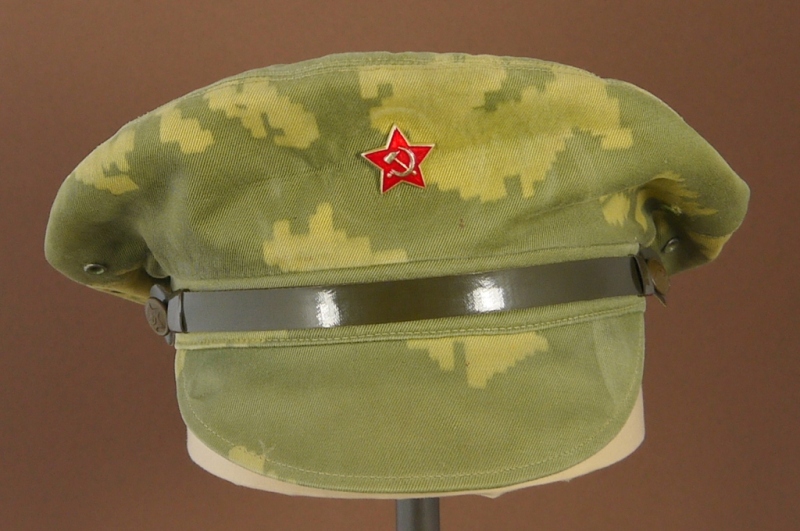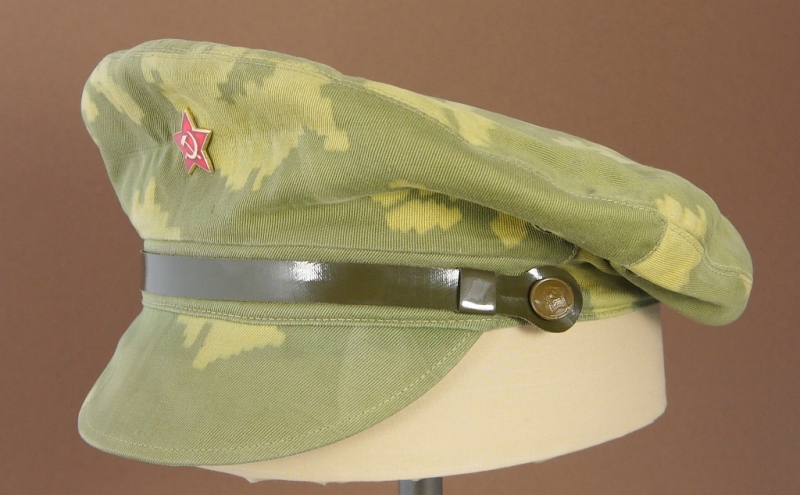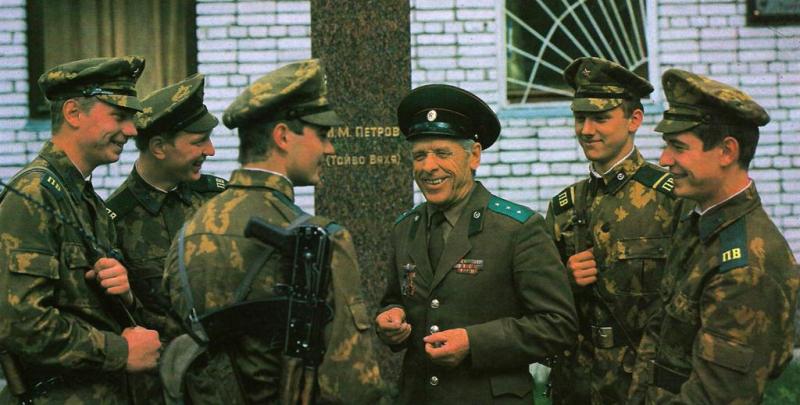 Border Guard
Soldier/Sergeant Field
1981-1989
One of the favorite caps in my collection! In 1981, the Border Guards adopted their "spetsodezhda" camouflage uniform, with a tan and green so-called "computer" pattern. At the same time they introduced two types of headgear with matching camouflage: a lightweight beret and the visored field cap shown here. These caps remained in use until replaced in the late 1980s with a "spetsodezhda" pattern field cap with earflaps matching the style of caps worn by the other Soviet military services. This cap is dated 1987, putting it towards the end of the period it was in use. Although Desmond's "Camouflage Uniforms of the Soviet Union and Russia" shows one of these caps with a subdued officer's cockade, the only pictures I have seen of border guards wearing them in action are of soldiers/sergeants wearing the small red star also used on winter pile caps. Officers typically wore normal green-topped service caps while on duty even if their troops wore camouflage. The cap is made from the same heavy cotton material as the matching uniform, and is unlined - making it very "crushable" and comfortable to wear. An additional layer of waterproof cloth is sewn in as a sweatband and a small tab is sewn inside the crown to protect the wearer's forehead from the red star mounting prongs. With those exceptions, the cap is assembled like a normal visor cap, although the band is very narrow. The visor is double-sided cloth without any stiffening. A green oilcloth/plastic chinstrap is held in place by two green painted buttons sewn to the band. Green grommets under the crown enhance circulation. It has no piping of any type. Rare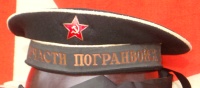 Border Guard (Maritime)
Seaman Parade/Service
Pre WWII - 1968
As mentioned in the introduction to this page, personnel assigned to the maritime (or naval) units of the Border Guard wore regular Navy uniforms with only small distinctions (such as green piping on shoulderboards). This meant that conscripts would wear the same "beskozirka" as their navy counterparts - as shown here. But instead of displaying the fleet to which the conscript was assigned, the tally (ribbon) on all maritime border guards declared "МОРЧАСТИ ПОГРАНВОЙСК" lettered in gold. This cap dates from the mid-1960's, with a wool top and an aluminum red star without the surrounding wreath introduced in 1969. Again note the piping is white as for the Navy - not green as you might expect for Border Guards. Scarce

Finally, it is time to discuss the controversial subject of Border Guard generals. Shown below to the right are two caps purportedly belonging to Border Guard generals; for parade and service. Unfortunately, while exceptionally well made, using authentic Soviet materials of general officer quality, they are also fantasy, produced in 1992 and 1993. Although general caps in Border Guard colors did exist in WWII and immediately thereafter (see picture below on the left), when the Border Guard was removed from the MGB in 1953, the decision was apparently made to eliminate this special generals' uniform. Thereafter, until the collapse of the Soviet Union, Border Guard generals wore the red-blazoned uniforms of Motorized Rifle Generals.

However, immediately following the collapse of the USSR, former Soviet headgear factories found themselves without as many military customers and started producing caps for the Western collector market as a sidelight. As well as providing a valuable source of hard currency during the period where even small amounts translated into fortunes of rubles, this activity served to keep hatters employed and enabled factories to clear out Soviet-era cloth and insignia that the new Russian military no longer used. Recognizing how much collectors would pay - especially for general quality caps - factories produced a wide variety of senior-grade caps, including some which never really existed (KGB and Border Guard general caps for example). It is a shame, really, since these caps are, I believe, among the most beautiful ever made in the USSR.