Caps of the Soviet Army
Introduction
Due to the large number of caps in this category, I have subdivided the Army cap section into the four uniform periods described on my Uniform Periods page to the left. All caps on this page were worn during this period. However, certain uniform elements (including caps) often extended into succeeding uniform regulations. In most cases, I have placed these caps according to the uniform period in which they were first introduced. A thumbnail image accompanies each cap description. Clicking on that thumbnail will bring up a larger, higher resolution image.
1955-1957: Two Steps Forward, One Step Back
The centerpiece of uniform development during this period was the new officer dress uniform introduced in 1955 for all Army arms and services. This took the shape of steel-gray open-collar jackets with blue trousers and matching, gray-crowned visor caps. Highly decorative, these uniforms were a significant departure from previous styles and were distinctly "naval" (or, in the minds of some opponents, "German") looking in all but color (a tank officer's version is seen to the left). Since they were introduced during Marshal of the Soviet Union Georgy Zhukov's tenure as Minister of Defense, they are often referred to as "Zhukov-style" uniforms. This is ironic, since Zhukov reportedly hated the design and almost immediately commissioned plans to replace them with a more Western style uniform (one version - for the Air Force - of which is seen to the right).
This planned and approved uniform was itself doomed before actual issue when Zhukov was replaced as Minister of Defense in 1957. But not even that could save the unpopular M55 uniforms and a more simplified set of dress uniforms replaced them in 1958. The short service life of the M55 uniform actually explains why they are relatively common in collections and why they are almost always in good shape - they simply were not worn out in use. The other interesting aspect of their availability is that most known M55 jackets belong to field-grade officers (major, lieutenant colonel and colonels). This is explained by the fact that these more career-minded officers were expected to purchase new dress uniforms while more junior officers took their time in acquiring new sets.
While the gray dress uniforms dominated the 1955-1957 uniform scene, some other significant and longer lasting changes impacted uniform caps during this period. These included changes in officer cockades, general/marshal cap ornamentation, and arm/service colors. However, since they were the defining element of this period, I will start off discussing the M55 officer dress caps.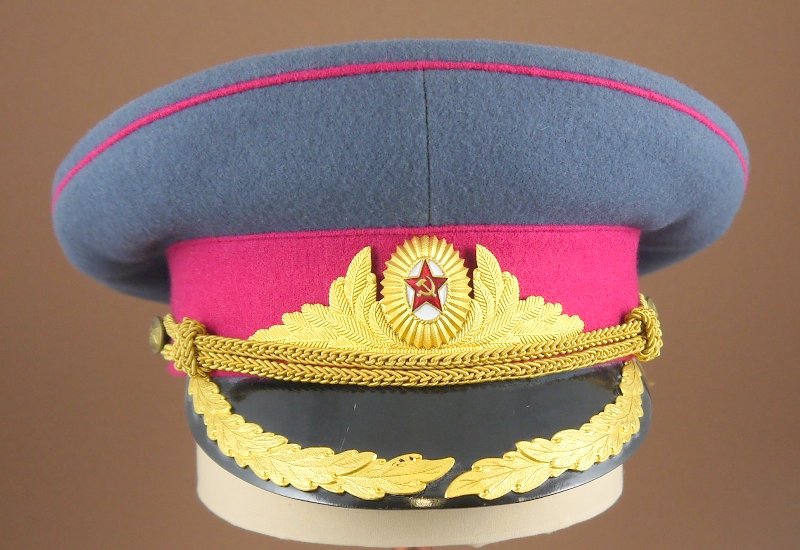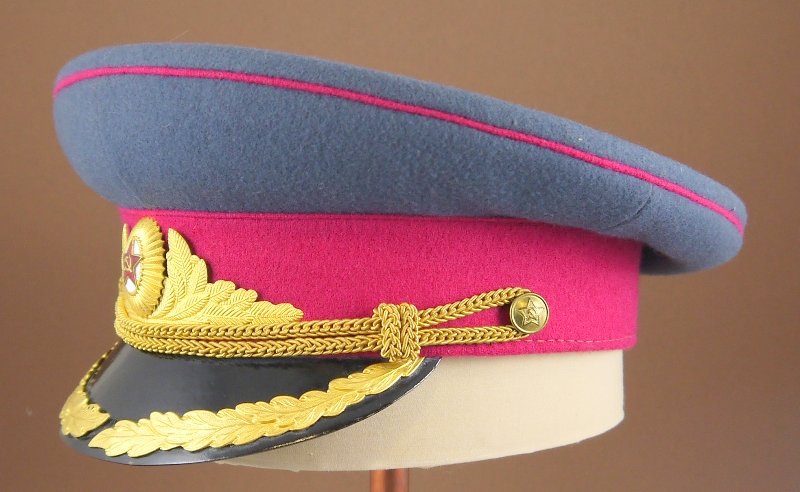 Rifles/Justice
Officer Parade-Walking Out
1955-1957
Under the 1955 regulations, gray (or steel colored) dress uniform tunics and caps became standard for all Army officers. This cap belongs to either a Rifles (infantry) or Justice officer; distinguished by the crimson (also referred to as raspberry or magenta) band and piping. Metal visor leaves which had been selectively introduced into the Army in 1949 on dress caps became standard for all officers - although the M55 style leaves were more streamlined and elegant than their predecessors. M55 leaves were produced both in brass (initial manufacture) and later, in aluminum.
A new national cockade was also introduced for all officers and general officers (oval in shape with a superimposed red star), which was further surrounded by a spray of metal leaves on dress caps. Shown here is a disassembled cockade and wreath emblem - front and back. As you can see, the wreath has pins for holding it to the band and a hole for the clasps on the back of the cockade. During this period, these cockades were very nicely made of tombac (a heavy brass and copper alloy - also called red brass) and hot enamel. The wreath was stamped from brass. These early brass alloys were subject to green tarnish - a sure sign of an original one!
The visor on this cap also reflects a 1954 change to regulations eliminating the older spade shaped visor and establishing the semi-circular form as standard for all military caps. However, the visor remains made from fiberboard, black painted on the top. You can see from the picture below of the underside of the visor how the metal leaves are pinned in place and how a spot of black paint typically covers the folded pins. Gold filigree cords previously only used by generals were also now mandated for officer dress caps.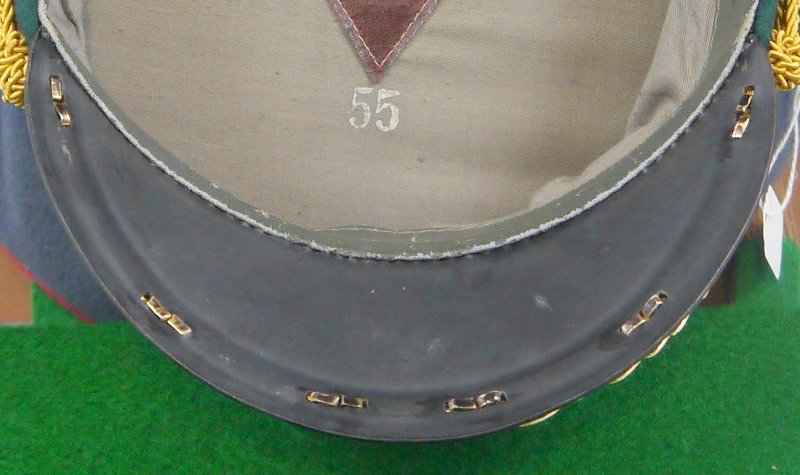 Scarce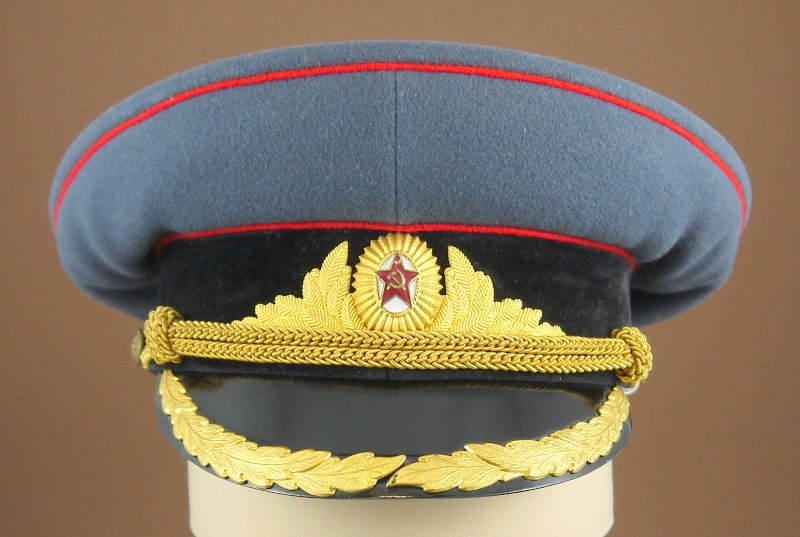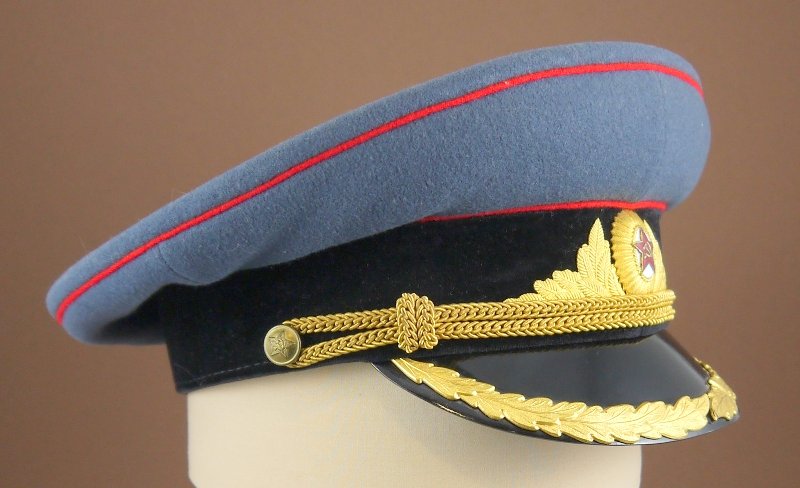 Tank/Artillery/Motor Transport
Officer Parade-Walking Out
1955-1957
This cap varies from the previous in its black velvet band and red piping - marking it as one worn by officers of tank, artillery or automotive transport. While tank and automotive transport officers had been authorized black velvet bands since before WW II - that right was first given to the artillery in the 1955 regulations.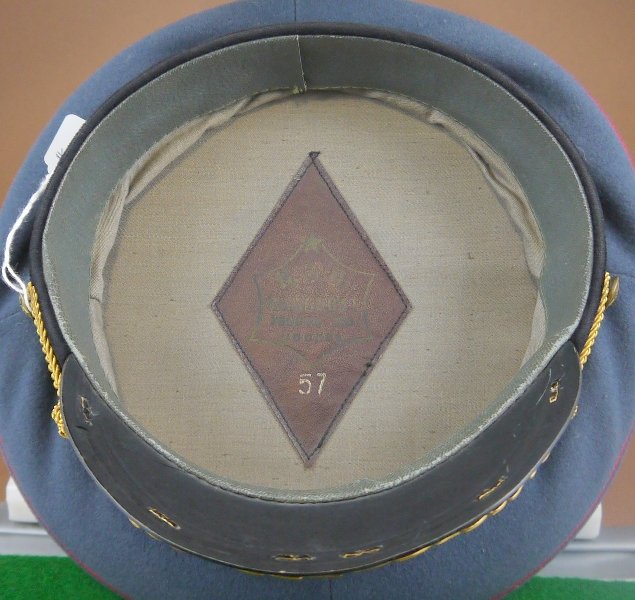 As with the other M55 dress caps, the crown is assembled from gray napped wool, the band mounts the new two-piece cockade, and leaves are pinned through the visor. I show the inside of the cap to illustrate the markings of a "normal" USSR-produced cap in order to contrast it with the German-made cap discussed next. The maker of this cap - the "CENTRAL EXPERIMENTAL MANUFACTURING COMBINE" in Moscow was one of the major Soviet-era cap producers and, along with the "RED WARRIOR" factory, is most commonly associated with M55 dress caps. Scarce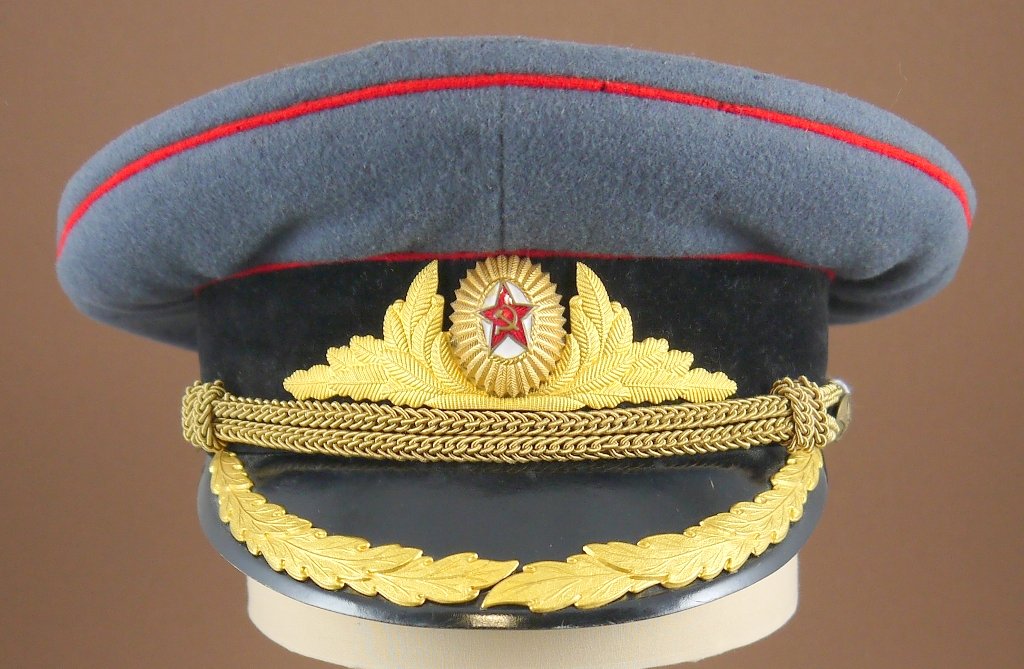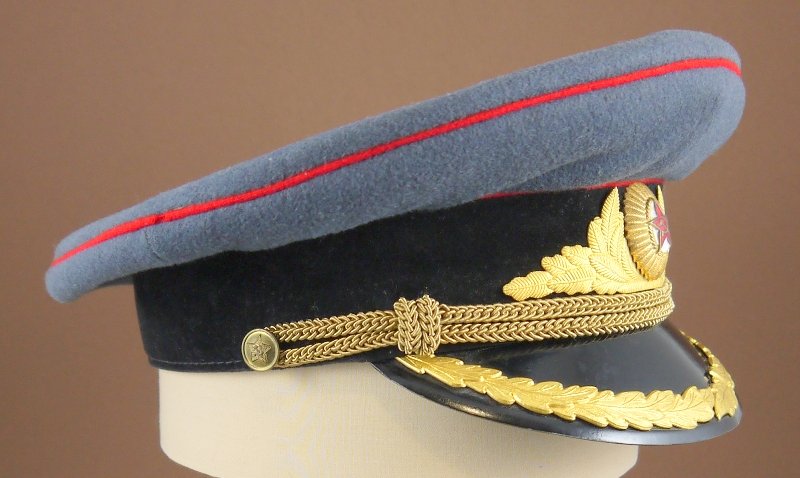 Tank/Artillery/Motor Transport
Officer Parade-Walking Out
1955-1957
What sets this cap apart from the one above is that it was made by an East German uniform factory. Although not widely known, many Soviet officers stationed in Eastern Europe took advantage of high quality local tailors and clothing factories to have uniforms, shoulderboards and caps made in accordance to Soviet military standards. Of course there was some variation in just how much those standards were followed, depending on the availability of actual Soviet-produced fabric and accessories. However, often these caps were externally difficult to distinguish from USSR-made caps. Inside markings are the best means, with sweatband materials perhaps the next best.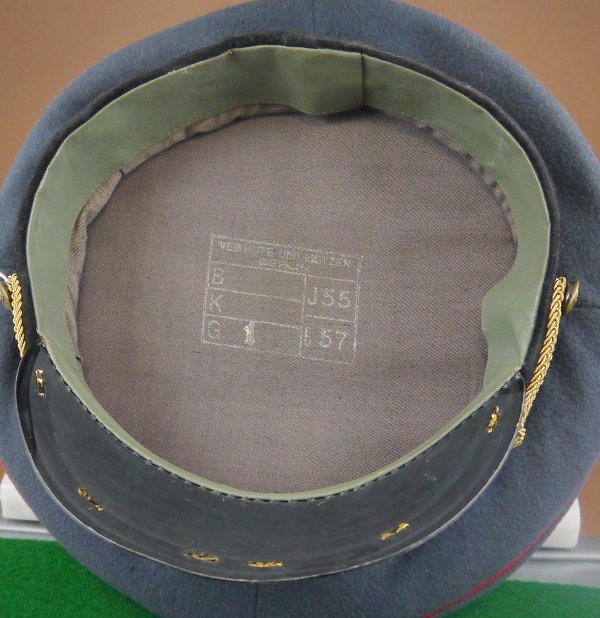 In this case, it appears the exterior materials are the same as that used in USSR-made caps. However, a look inside at the factory stamp clarifies the cap's 1955 origin as the "VEB HUTE UND MUTZEN" (People's Factory for Hats and Caps) in Berlin. The only other indication of its non-Soviet origin is the use of a German-style gray sweatband. Since the Group of Soviet Forces Germany was by far the largest externally-stationed (or occupying!) Soviet force, German-made caps are by far the most commonly observed of these foreign caps. Rare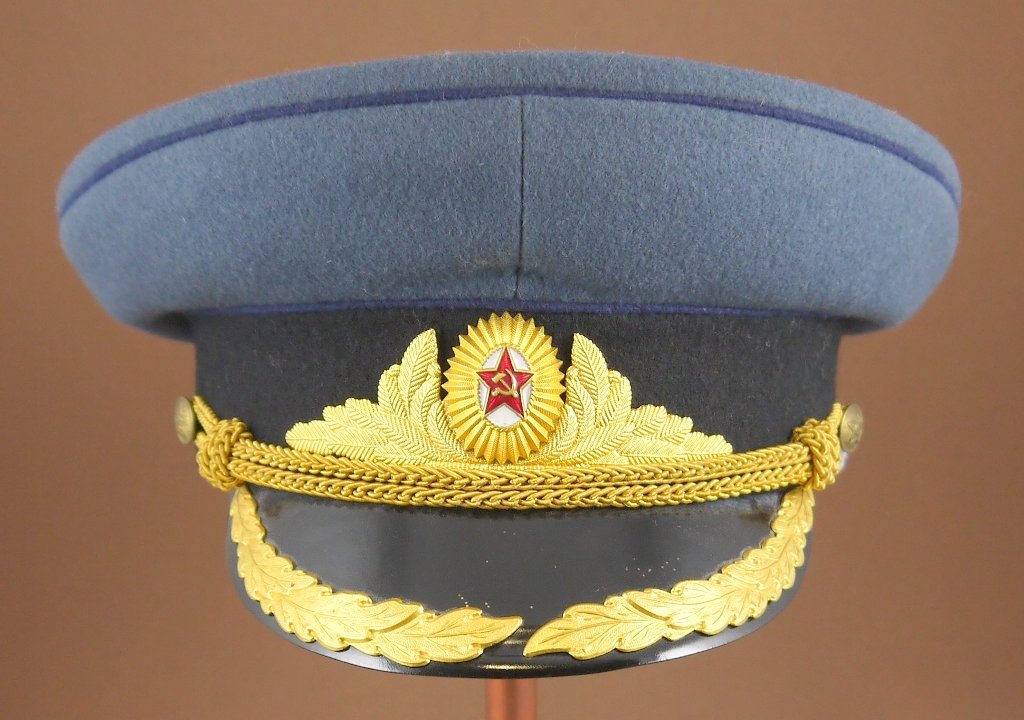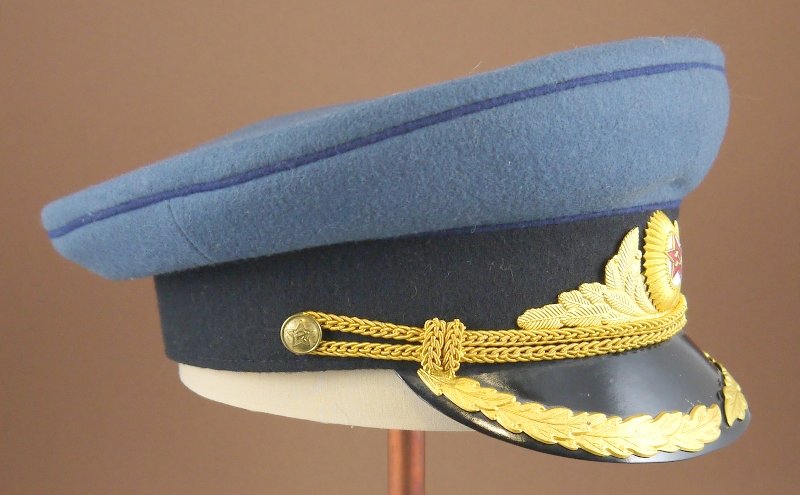 Special Troops
Officer Parade-Walking Out
1955-1957
Officers of the so-called "Special Troops" would have worn the cap shown here as part of their dress or parade uniform during this period. Special Troops officers included those assigned to engineers, signals, radio-technical, road building, engineer-aerodrome and air-defense searchlight troops. These officers worn different service insignia on shoulderboards and collar tabs, but shared the same band and piping colors on their caps: black wool (not velvet!) with dark blue piping. This dark blue is so dark it is sometimes mistaken for the less common black piping used by chemical officers. Taking it out into the sunlight usually lets the blue show through!
As with all these type caps, the crown is medium gray wool and the band mounts the new M55 two-part emblem. Later stamped aluminum leaves are attached to the fiberboard visor and gilt cords are mounted above it. Along with the tank/artillery version, special troops' caps are the most common M55 dress caps but are still scarce. Scarce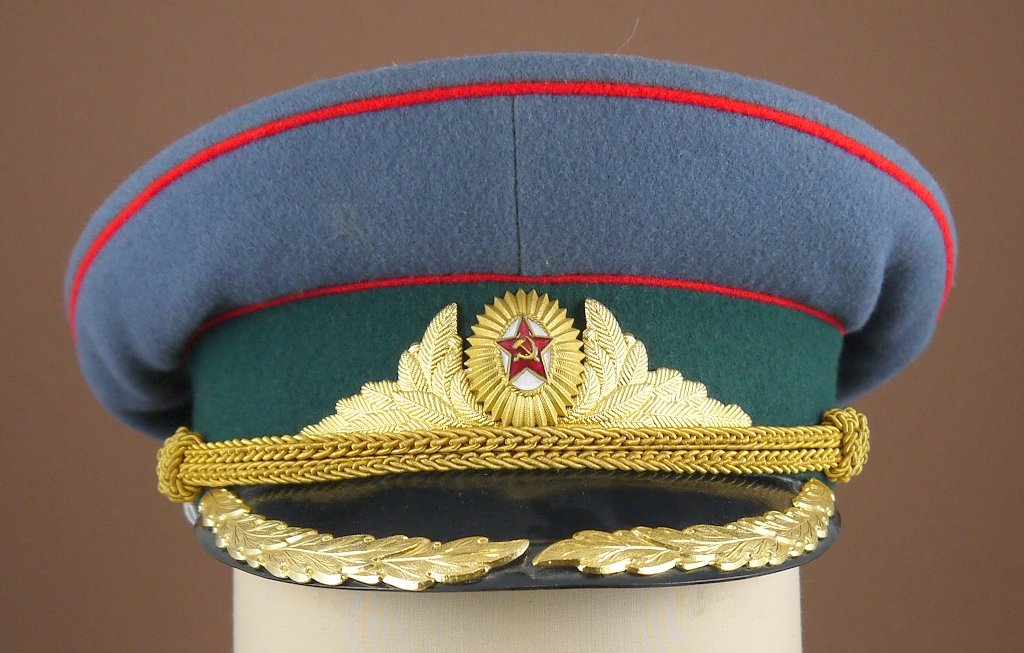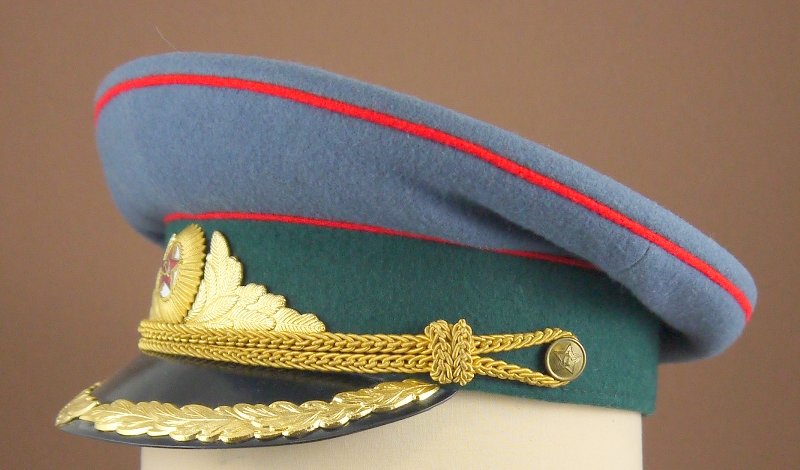 Medical/Veterinary/Administration
Officer Parade-Walking Out
1955-1957
Officers of the Soviet medical, veterinary and administrative services shared the band and piping color combination shown here: dark green and red. The other components of the cap remain the same as for the caps discussed above. This cap (and other medical/veterinary ones) are often misidentified as Border Guards because of their green band. But as you can see on my Border Guard page, in actuality all Border Guard visor caps - even the model 1955 - have a bright green top (not band). Rare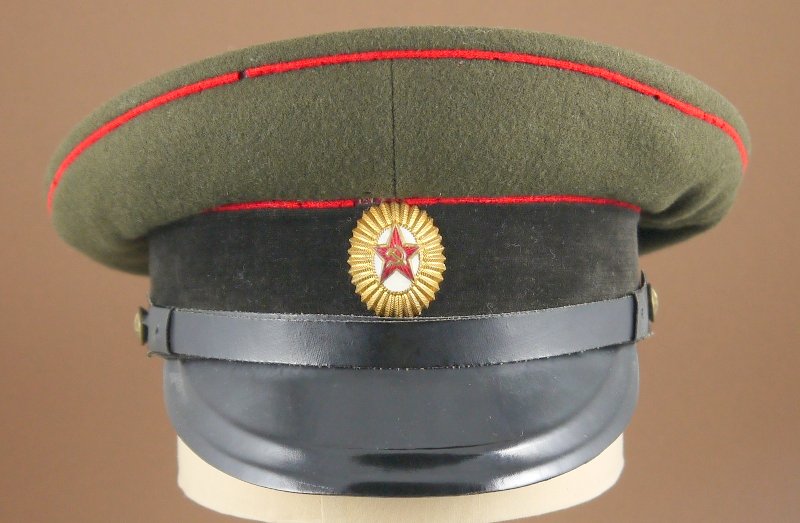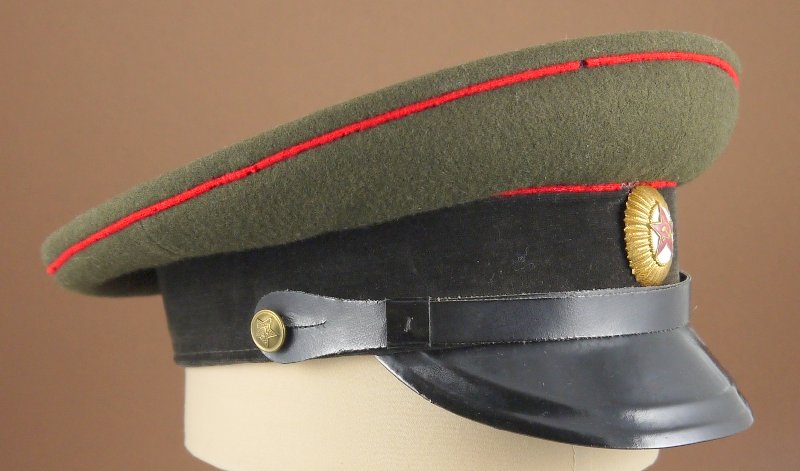 Tank/Artillery/Motor Transport
Officer Service
1955-1968
Soviet officer service caps did not change in style over the period 1955-1968 except in the transition from napped wool crowns to a mixed wool blend with a distinct "diagonal" thread weave. It appears this occurred over a several-year period in the late 50s and early 60s. Consequently, although I list the following service caps on this 1955-57 uniform page, they could have continued to be produced and certainly worn well into the next 1958-1968 period. In fact, this cap was actually manufactured in 1953 but was upgraded with an early M55 officer's cockade - thereby complying with 1955 uniform regulations. The crown is made from dark greenish-khaki napped wool often associated with officer parade uniforms (which it may have been used for prior to 1955!). The black velvet band and red piping identified the arm and service (remember: "arm" characterized a combat unit type - like tank, artillery and rifle; while "service" referred to support unit types - like engineers, medical, railroad, etc). A first-model brass and hot enamel cockade is pinned through the band and a black oilskin strap is used instead of the gold cords worn with parade caps. The semi-circular visor is made of pressed fiber (AKA fiberboard). Scarce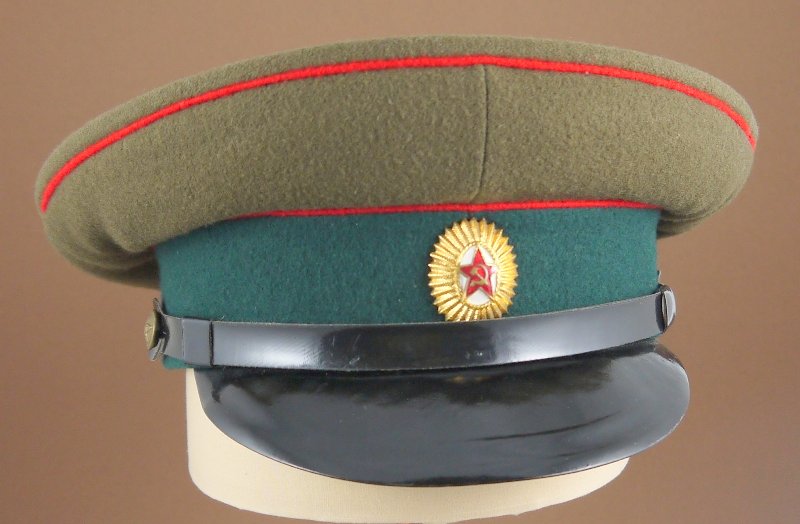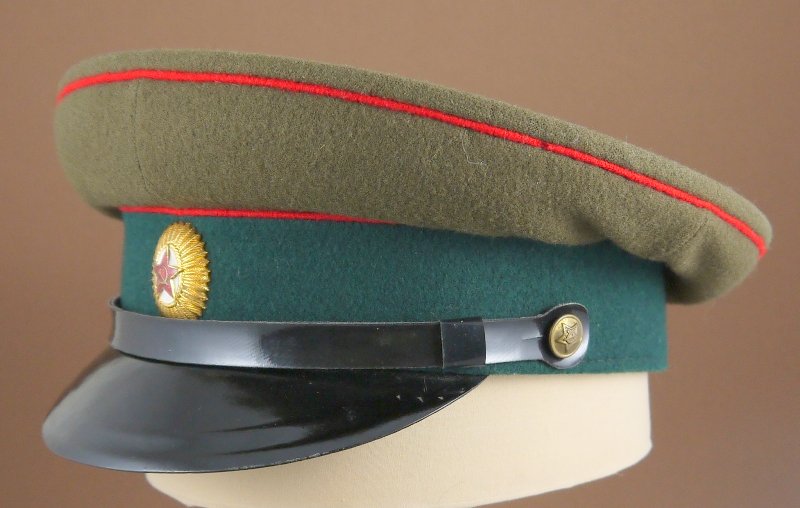 Medical/Veterinary/Administration
Officer Service
1955-1968
This is the counterpart to the previous cap - but for a medical, veterinary or administration officer; as shown by the dark green wool band with red piping. The crown is again from napped wool - although of a relatively light khaki color and a lesser quality. All other elements of this cap remain as previously described for this period. Scarce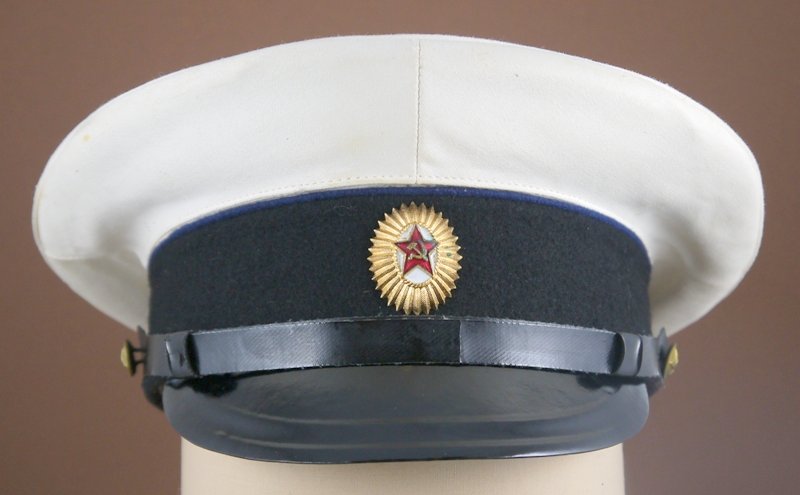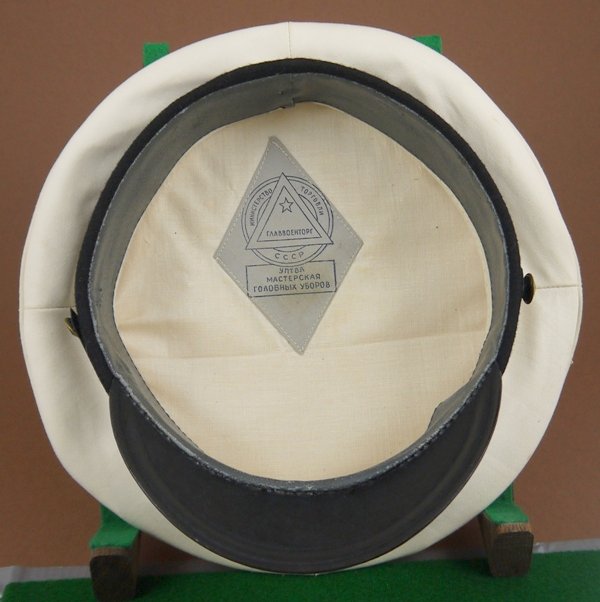 Special Troops
Officer Summer Service
1955-1958
This cap was authorized as optional summer service wear until the associated white tunic was phased out for Army and Air Force officers in 1958. It has the black wool band and dark blue piping of a Special Troops' officer. Notice the white cotton top does not have any colored piping. While regulations specifically authorized a white cover to be worn over an existing service cap - this one has a specially made shell without a colored crown on which the white cover is supported. This allows for a much lighter and breathable combination providing for increased summer comfort. The cover is removable of course, to enable washing. The need to frequently wash these white covers is the main reason they did not have colored piping - which would bleed in the wash. The rest of the cap reflects a standard officer service cap - with the same visor, cockade and strap as described earlier. Rare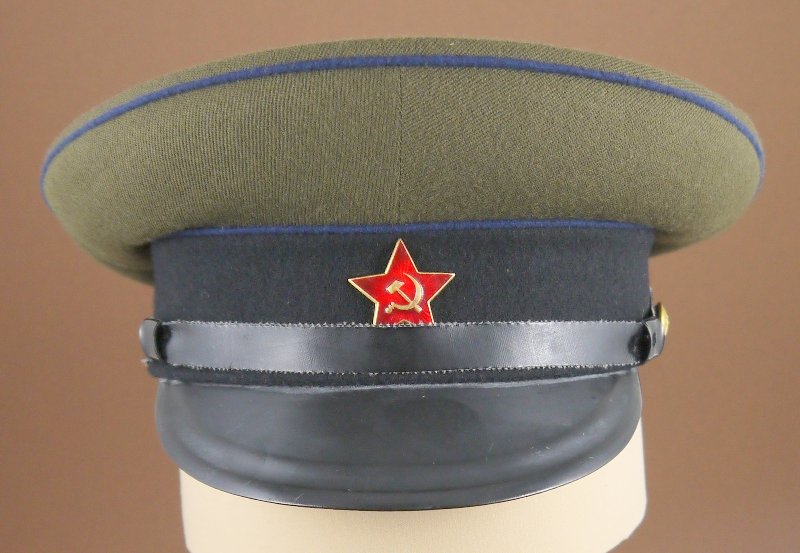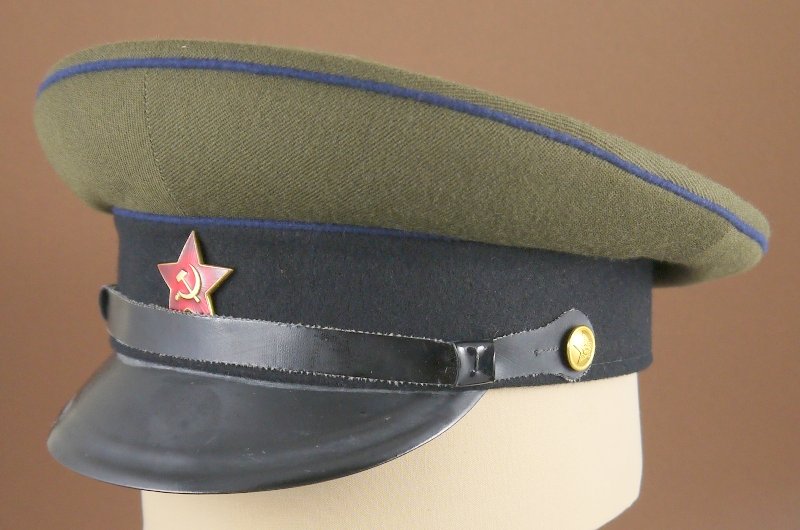 Special Troops
Conscript Private/Sergeant Parade-Walking Out
1955-1968
Prior to 1955, most Soviet conscripts were not issued visor caps; wearing their pilotkas even when on parade. This changed in the 1950s, with regulations published in 1956 repeatedly referring to soldier/sergeants' wear of visor caps for parade and walking out service. These caps were cut in the same style as comparable officer caps, but were usually made using cheaper, yet more durable, crown fabric; cheaper cotton linings; and used red stars vice officer M55 or M58 cockades. The black oilcloth chinstrap and the star-embossed brass buttons were the same as used on officer service caps.
The black wool band and the dark blue piping marked the owner of this particular cap as a member of one of the Special Troops' services. Although dated 1964, it could have, with the exception of the red star, been issued at any time from 1955 to 1968. This aluminum star was first authorized in 1963 and became standard thereafter. Using the photographs below, you can contrast it (the left-most star) with the earlier brass-coated steel and red enamel M-1947 star on the right. The M63 is not nearly as attractive, but was much cheaper to produce!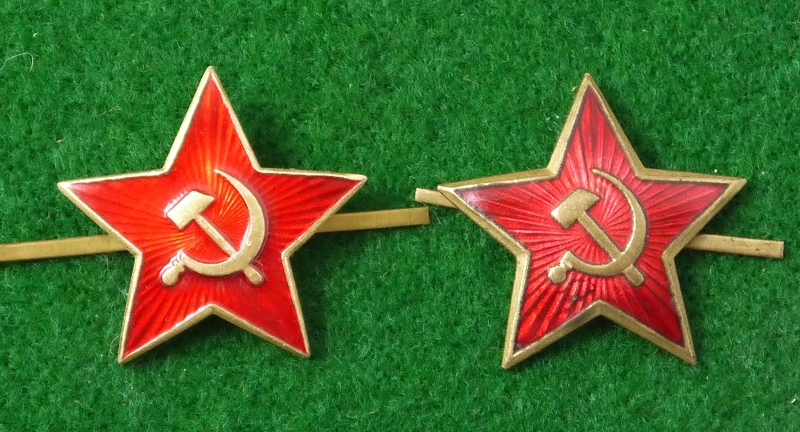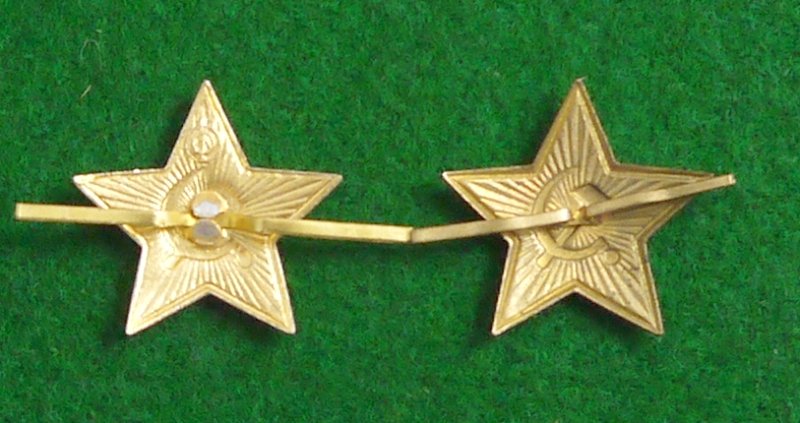 Available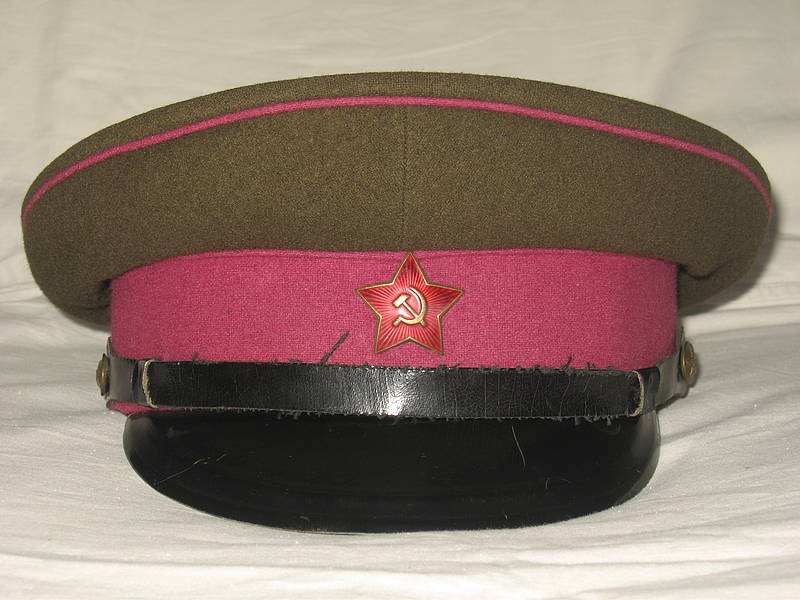 Rifles
Conscript Private/Sergeant Parade-Walking Out
1955-1968
Shown here is a Rifle (Motorized Rifle from 1958) conscript's cap from this period. The arm colors of crimson are displayed on the band and piping. The visor has the standard post-1954 rounded shape; the chinstrap and buttons are also standard. The star emblem in this case appears to be East German-made; one of those produced in 1946-47 from brass and cold enamels for the Soviet Army. Scarce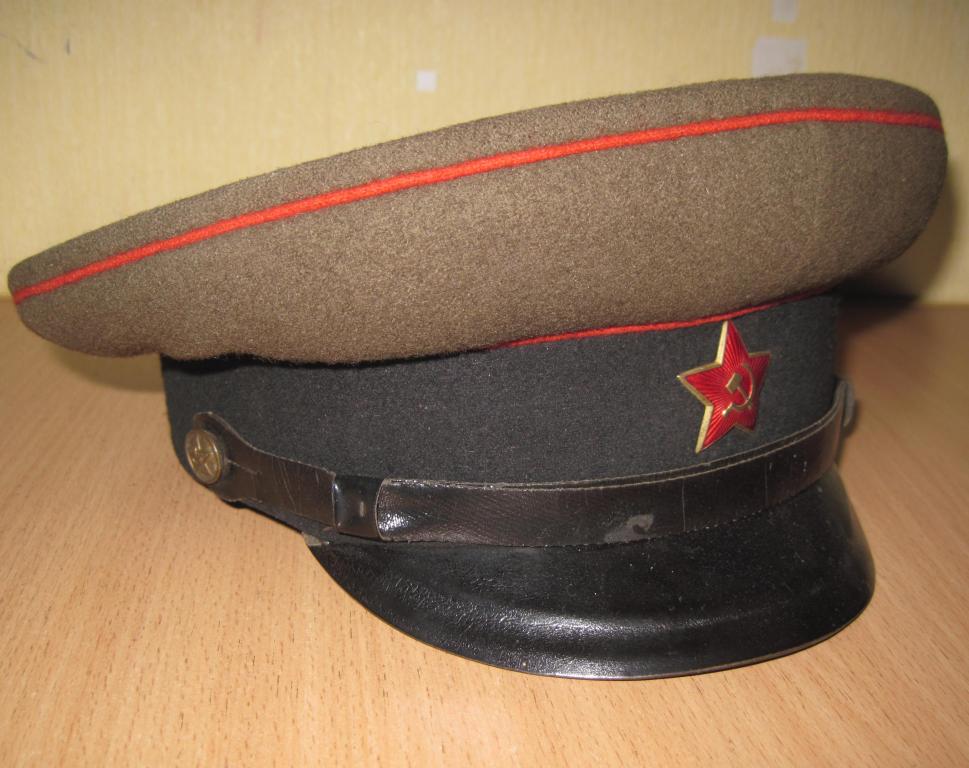 Tank/Artillery/Motor Transport
Conscript Private/Sergeant Parade-Walking Out
1955-1968
Caps worn by soldiers assigned to tank, artillery and motor transport units differed from officer service caps both in the use of a star vice a cockade and in the material used for the band. By regulation, conscripts were to wear plain black wool bands, while their officers were authorized black velvet bands. You can see this clearly in this photograph of another collector's cap. The star is of the M47 style; with hot enamel vice the cheaper finish on the previous cap. Scarce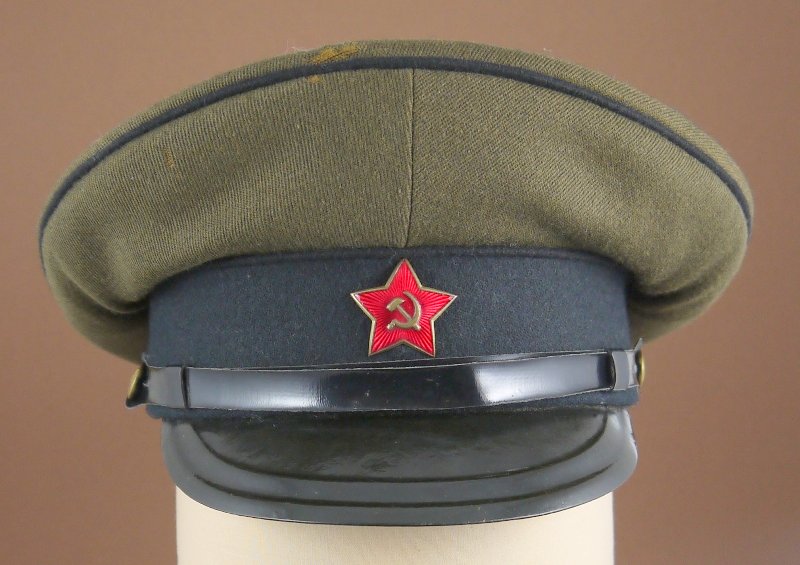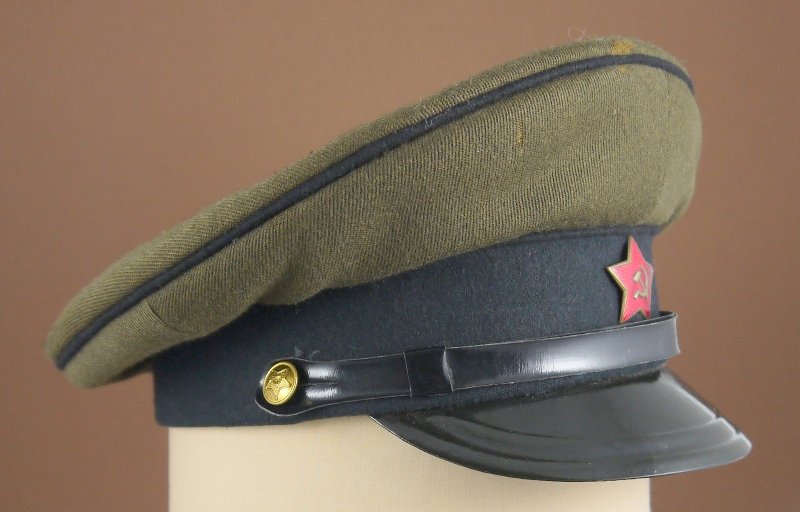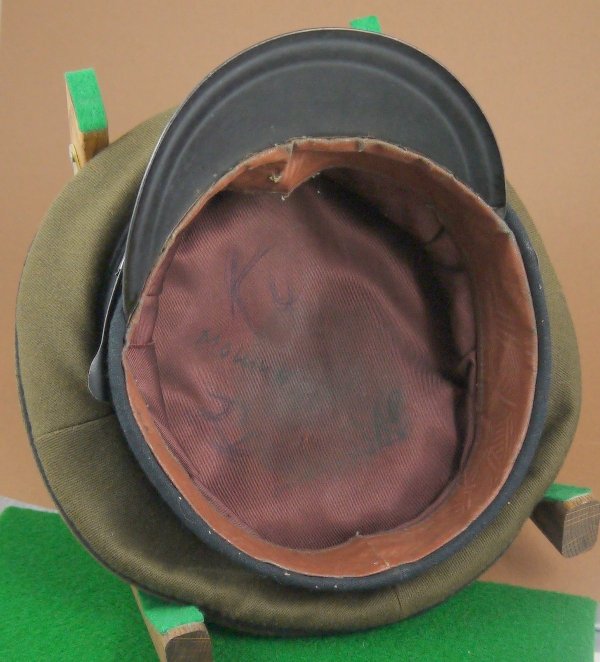 Chemical
Conscript Private/Sergeant Parade-Walking Out
1955-1968
The black band and piping color combination on this cap identify it as belonging to the Chemical troops. The time frame is more difficult to assess, especially since it is clearly "foreign" made. As I discussed on my 1955-1957 page, Soviet troops often paid local tailors to sew uniform items when stationed in the Groups of Forces in occupied Europe. Ideally, these items would be assembled from Soviet-produced fabrics and accessories, but that was not always the case. Although the visor, chinstrap and buttons of this cap are Soviet - the crown, sweatband and the lining are sewn from local materials. Even the style of the crown is unusual for this time period - being saddle-shaped in the "German" manner vice the round pattern used on Soviet Army caps prior to 1969. Being forced to guess - I suspect some small town German tailor made it for a soldier desiring a more "elegant" cap. Scarce

| | |
| --- | --- |
| The keen studies among my readers may note that I have not yet shown any caps of medical or veterinary conscripts - services that were allocated green bands and red piping (as shown here on a doctor's cap). This is because such conscripts were not trained medical professionals and served merely as first-line medics and assistants to trained officers. Consequently, medical/veterinary conscripts wore the same caps as their supported unit (medics assigned to a tank unit, for example, would wear caps with black bands and red piping). | |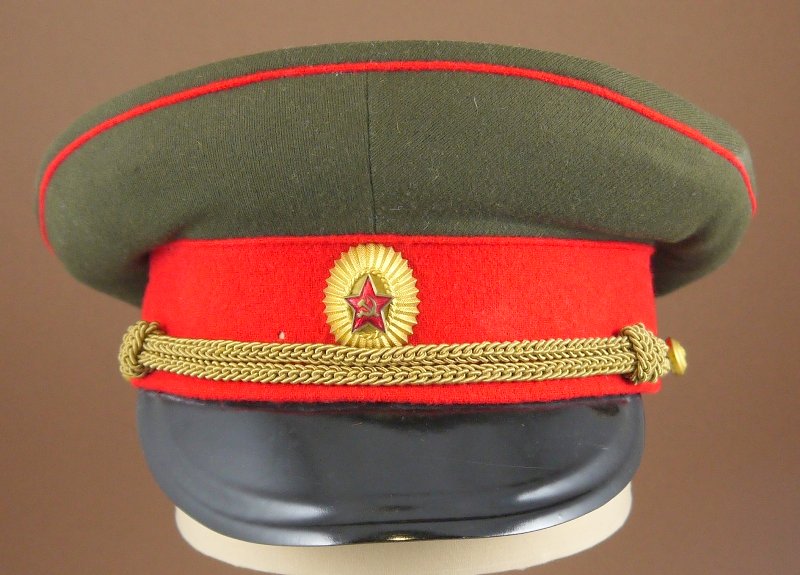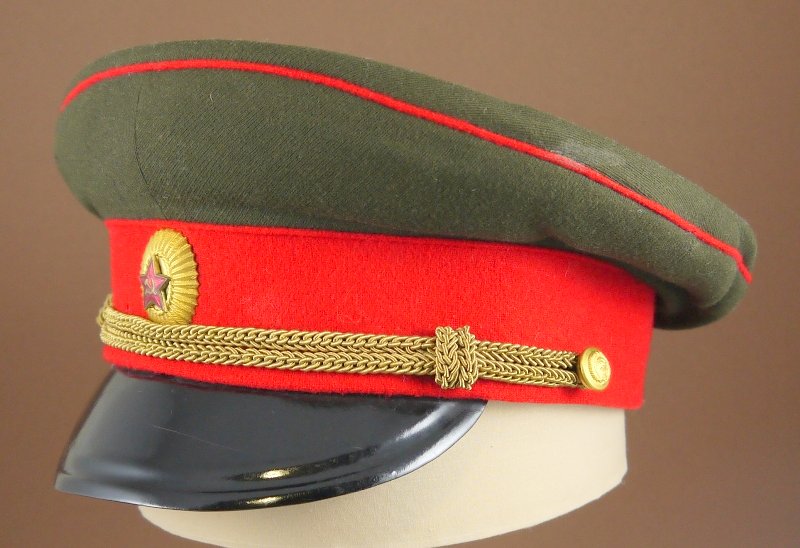 Rifles/Justice
General Service
1955-1968
A Rifles (infantry) or Justice general would have worn this cap with the khaki everyday service uniform. The red wool band and piping were unique to Rifle and Justice generals during this period, since lesser officers and soldiers of these branches wore crimson. The dark khaki top was assembled from diagonal blended wool fabric and the interior illustrates the normal upgraded general-officer elements - silk lining with kid leather sweatband with ribbon lacing.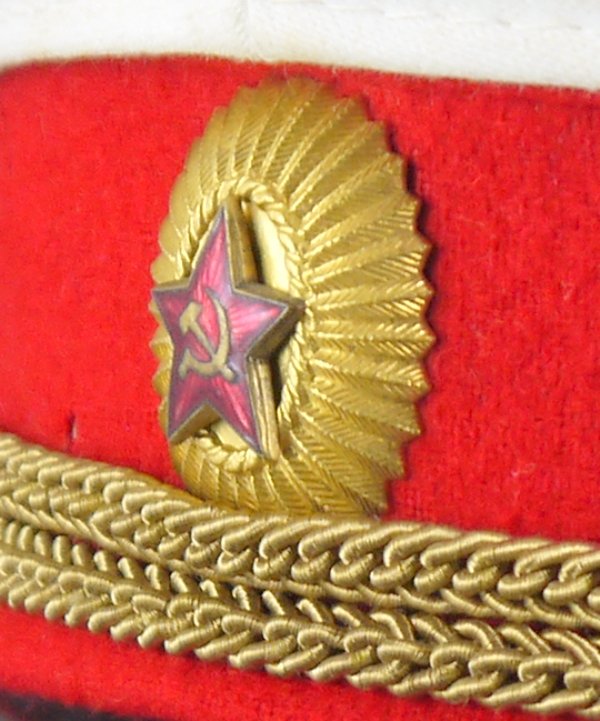 Externally, the general's cap mounts an early all-gilt tombac two-piece M55 generals' cockade and gold filigree cords held in place by two gilt general-officer buttons displaying the Great Seal of the USSR.
Like other officer service caps - caps of Soviet Army generals remained unchanged during the 1955-1968 period except for some changes in the fabric and metals used and - for those with REAL good eyesight - in the number of republic banners shown on the side buttons (16 republics from 1946 to 1956 and 15 thereafter). Consequently, it is often rather difficult to precisely date general caps of the time, especially since the producers of general officer caps usually did not stamp the year of manufacture on caps made in the 1950s and early 1960s. However, study of those same manufacturers' markings can narrow dates down a bit. Based on my surveys, the one shown here indicates manufacture in the early 1950s. Scarce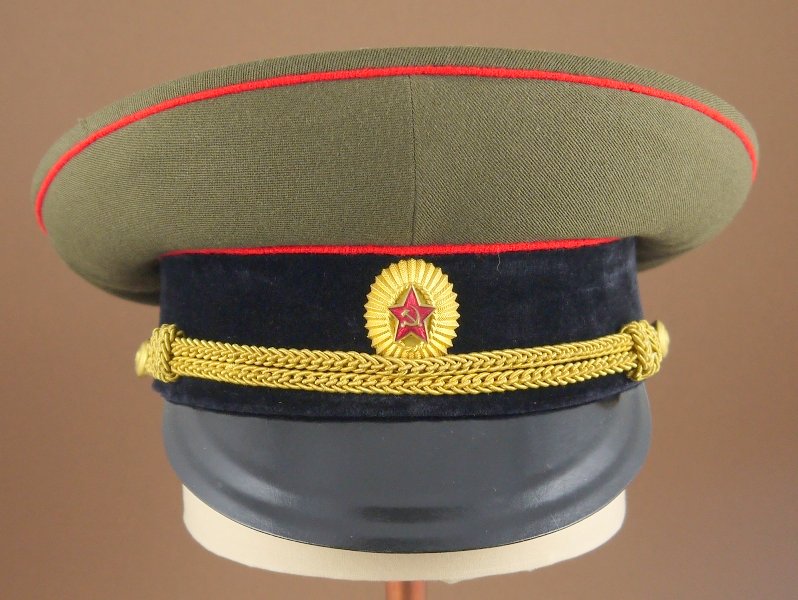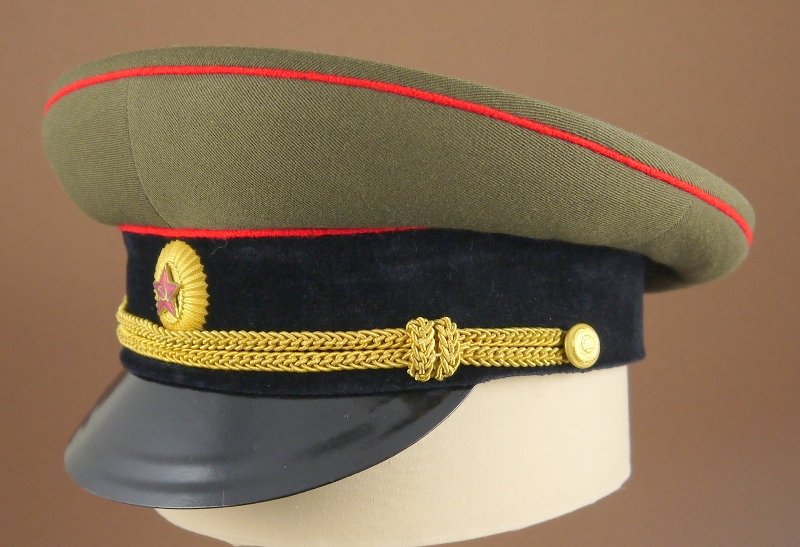 Tank/Artillery
General Service
1955-1968
This is the Tank/Artillery Troops' counterpart to the above cap - worn for everyday (or service) duty. The only difference is in the black velvet band with red piping that marks those two combat arms. The crown is a dark khaki wool blend, the visor is fiberboard, and the all-gilt M55 cockade is an early brass and enamel two-piece. High quality two-piece brass buttons similar to those of the other general-officer caps displayed on this page hold the gold filigree cords in place. Although not shown, a version with green band and red piping existed for Medical/Veterinary generals. Scarce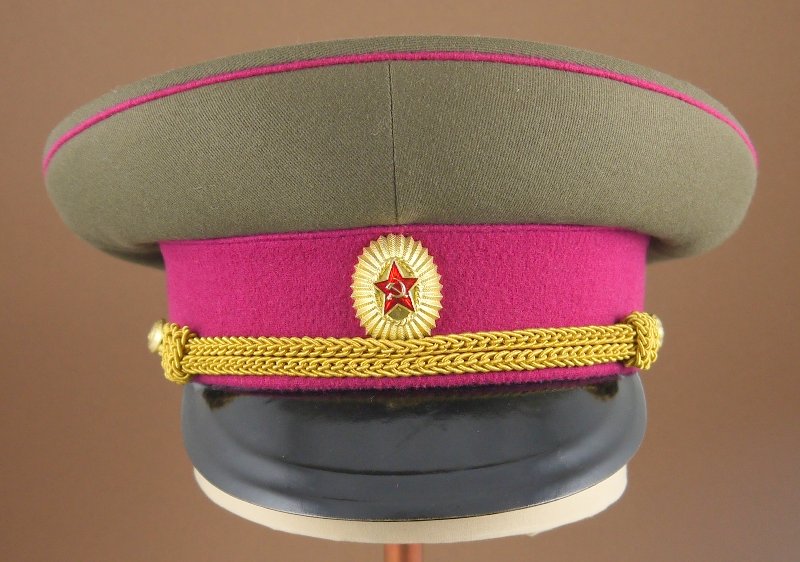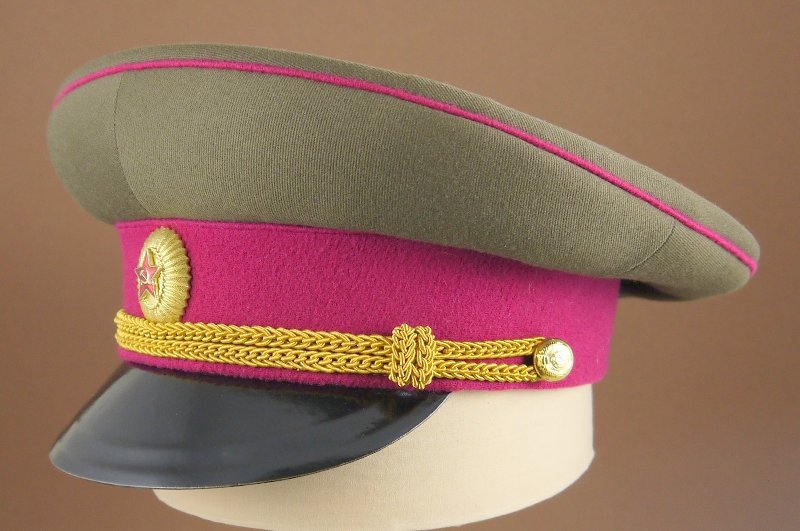 Special Troops/Intendance
General Service
1955-1968
The crimson band and piping on this cap indicate its owner was a general of Special Troops or Intendance (NOT Rifle Troops - as discussed above). Special Troops were those services that provided material support to the combat arms; including Railroad, Engineer, Signal, Topographic, Air Defense Searchlight, Construction, Pipeline, Motor Transport and Chemical. While officers and soldiers of these services wore different color combinations on their caps, all their generals wore the same crimson banded/piped caps. While the combination of cap elements shown here dated back to 1955 - I place this cap no earlier than 1958 due to its later one-piece plastic buttons and its aluminum two-piece cockade. Scarce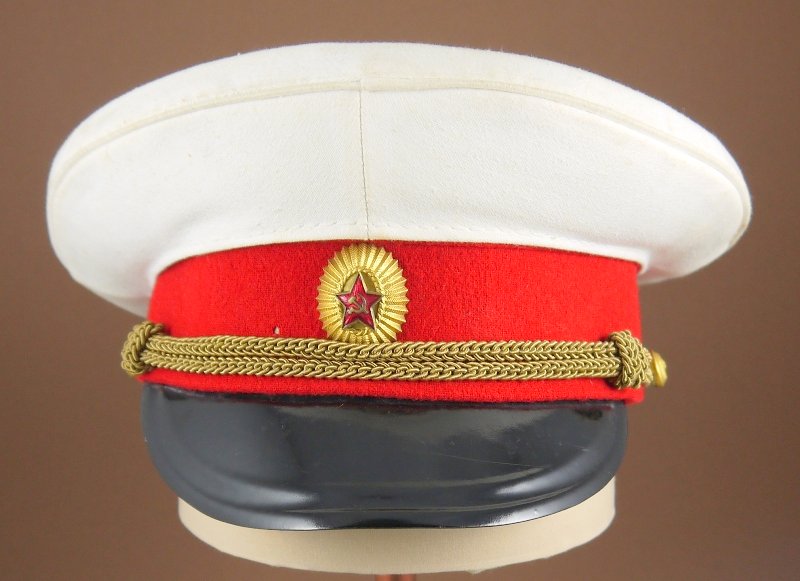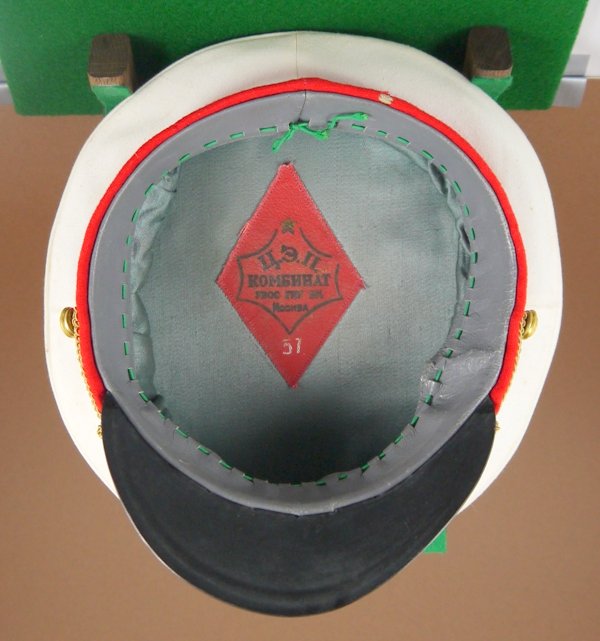 Rifles/Justice
General Summer Service
1955-1957
The combination of the white cover and the M55 gilt cockade shown here was only used from 1955 until 1958, when white summer tunics were phased out. As discussed above, the red wool band was unique to Rifle and Justice generals during this period. Please contrast the use of the white cover over the top of a khaki service cap in this case to that of the white Special Troops' cap shown earlier on this page. While using a cover was certainly cheaper than purchasing two caps (one summer and one for the rest of the year), covering the khaki cap in a second layer would result in a much warmer head in hot weather! Scarce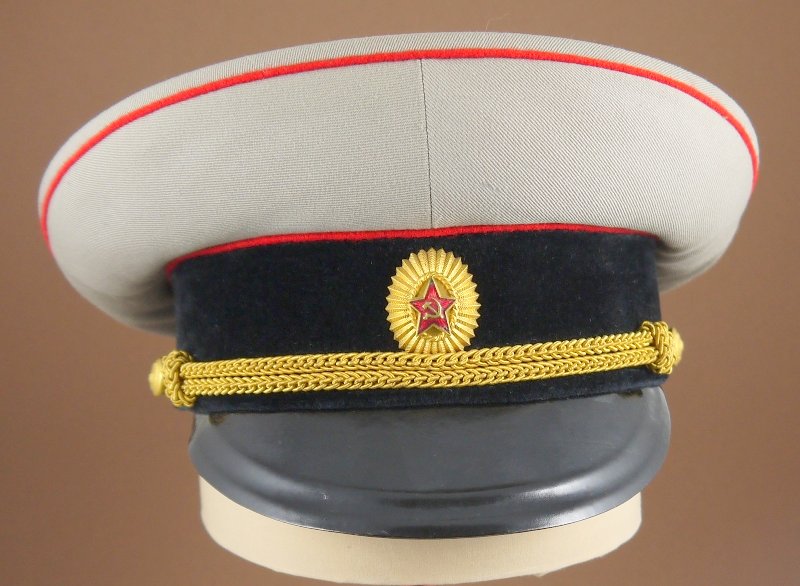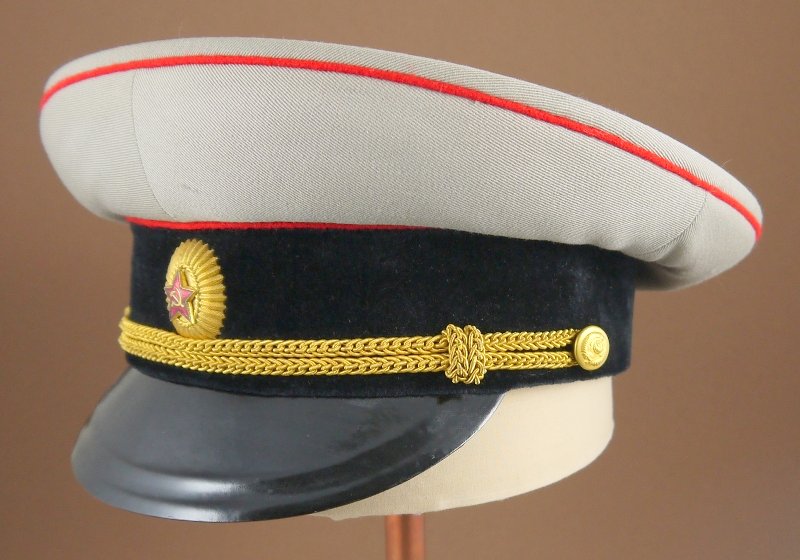 Tank/Artillery
General Summer Service (Gray)
1955-1968
This cap served as part of the general's light gray alternative summer service uniform introduced in 1954. While generals could wear this for normal summer duty, it was most often worn while attending civilian functions and parties as a "walking out dress." The black velvet band and red piping clearly identify this as a tank or artillery general's cap. Although often used as an informal dress cap, it lacks the band and visor embroidery of the wave-green parade cap and has gold filigree cords vice an embroidered leather strap. It does have the general-officer grade interior components but like the khaki service caps above, has a simple black lacquered fiberboard visor. The cockade is the early two-piece brass and enamel model while the 16-republic buttons date from 1956 or earlier. For a very short period of time in 1954, this style cap could have been worn with the round model-1940 cockade. Scarce

Like the basic M55 officer cockade, the general's cockade evolved over the 1955-1991 period - growing more simple in design and (as intended) cheaper to produce. Shown here are three variants: on the left of each photograph is one of the first cockades made - like all the others it is completely gilt but it is made in two pieces with the red star pinned through the oval backing with prominent pins which are bent over to hold them in place (one pin is broken on this example). The middle cockade is also two-piece but the red star is riveted to the oval - you can just see the slightly raised attachment points on the back. And finally on the right is one of the last versions, which is cast in one piece with the red star painted on after manufacture.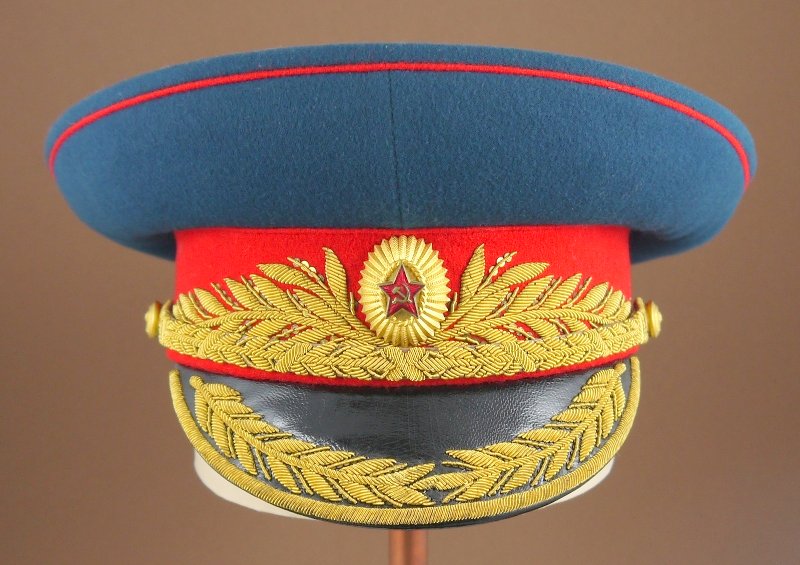 Rifles
General Parade-Walking Out
1955-1968
While band embroidery was authorized on generals' parade caps in 1945, 1955 regulations expanded that onto visors and chinstraps. Like on the band, the pattern of this new embroidery was in the shape of stylized laurel leaves (vice the oak leaves of Marshals of the Soviet Union). During the 1950s, this embroidery was especially nicely executed and opulent - plated with actual gold or silver. The strap and visor of these caps were now made of leather to provide grip for the embroidery, and the visor is covered in black wool underneath. The cap is finished off with a two-piece gilt and enamel cockade and gilt generals' buttons. The interior is finished with a standard general-officer quality silk lining and leather sweatband with silk cord ribbon. Scarce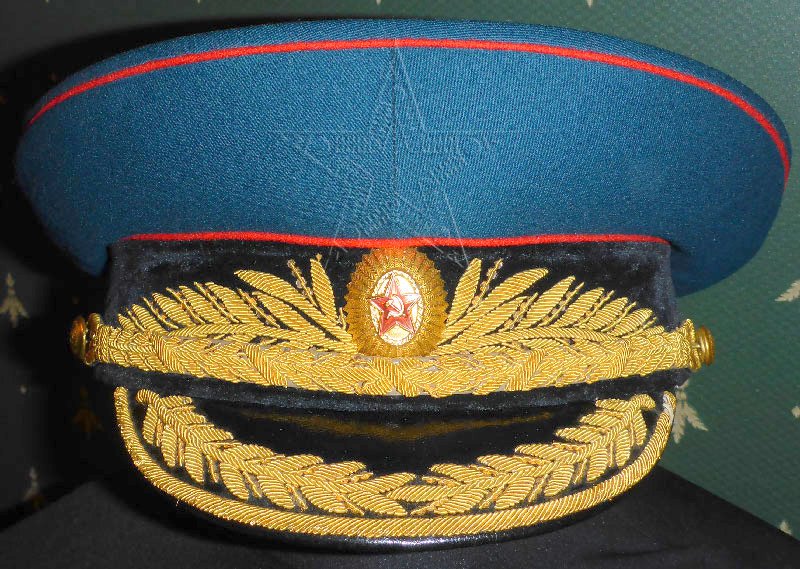 Tank/Artillery
General Parade-Walking Out
1955-1968
This 1965-dated cap from antiqrussia.com was worn by Tank and Artillery generals during this period. Identical in all other aspects to the cap just discussed, it has a black velvet band with red piping. All embroidery is in gilt wire. Scarce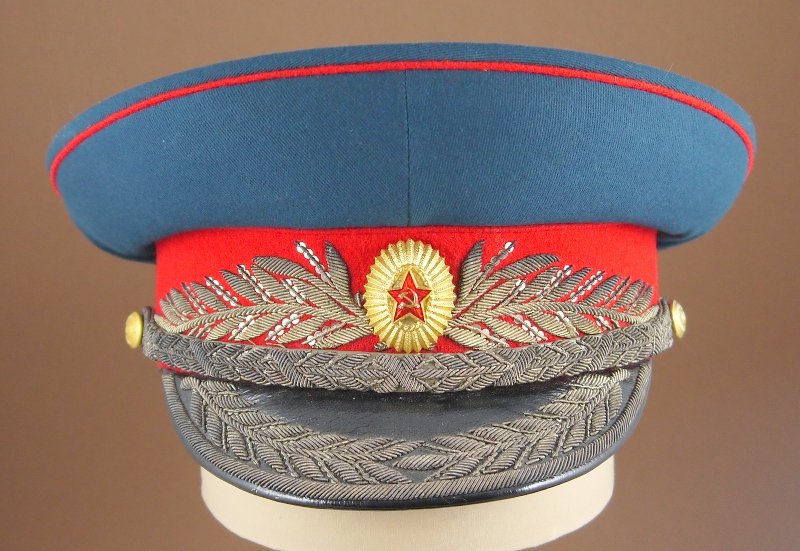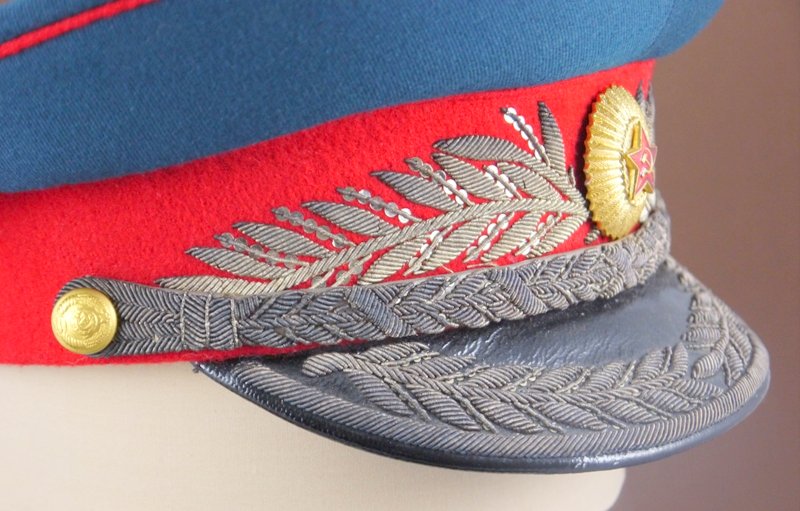 Justice
General Parade-Walking Out
1955-1968
The unique combination of red band/piping color and silver embroidery identifies the owner of this cap as a general of the Justice Service. Motorized Rifle generals worn the same cap but with gilt embroidery. The round wave-green top is from blended wool fabric and the cockade and buttons are of post-58 manufacture. The heavy oxidation of the silver embroidery is good evidence that actual silver was used in the wire - a practice largely abandoned by the 1960s. Notice also that the cockade and buttons are gilt - not silver. While naval officers and admirals matched their cockade and button color to their embroidery, Army generals always wore gilt buttons and cockades regardless of the embroidery color.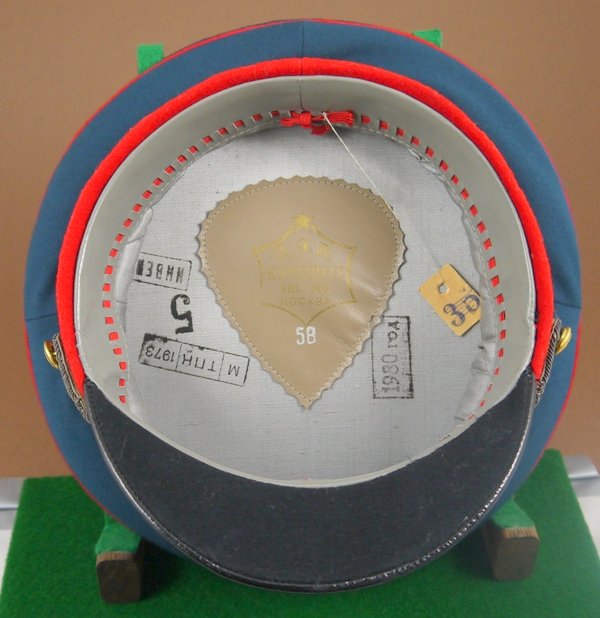 Even beyond its rare Justice origin, this cap has an interesting history - as revealed by its interior markings. These markings include inventory stamps showing the cap was acquired by 1973 by the "Moscow Theatrical Costume Rental" for use in plays and movies. While not common, most larger uniform collections include one or two of such caps since, one presumes, these caps were periodically purged from the theater collection and thus made their way into collectors' hands. Rare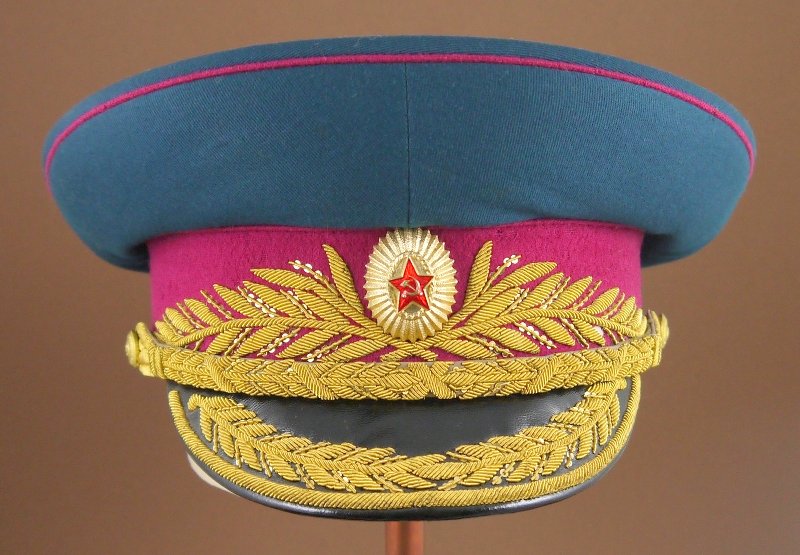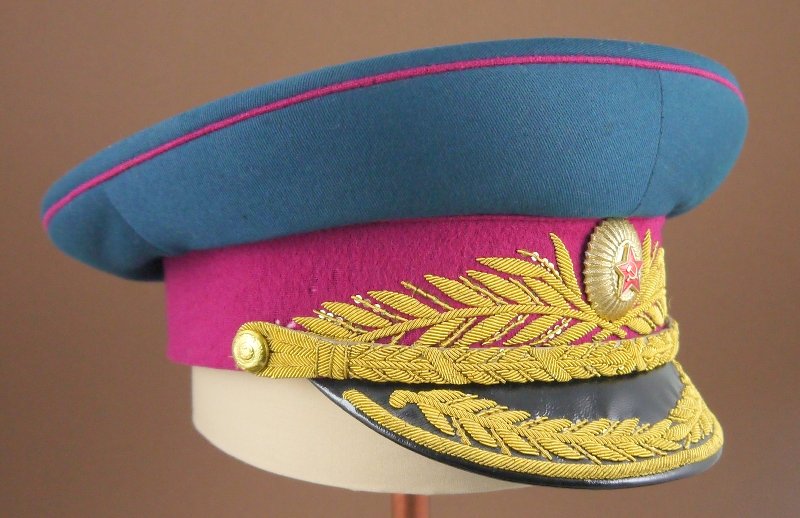 Special Troops/Intendance
General Parade-Walking Out
1955-1968
Of the same style and date range of the previous two caps, the magenta band and piping of this cap identifies the owner as either an Intendance or (more likely) a Special Troops' general. The rest of the cap is similar to the others, with a high-grade interior consisting of a silk lining and a kid leather sweatband with a silk ribbon tie. The fine embroidered leather visor and chinstrap are also standard for this grade. Scarce
| | |
| --- | --- |
| A fifth Army General color variation existed during this period - for the Medical and Veterinary Services. Parade caps for these senior officers had green bands and red piping; while all embroidery was in silver - like that of Justice Generals. These caps are very rare. Shown here is one from a Russian uniform forum. | |