For Sale - Militaria
Updated 22 September 2016
As mentioned on my home page, I have decided to sell a variety of "non-cap" items from my collection, which I offer below. All items are guaranteed authentic, made before 1991 (unless otherwise stated). I have kept the asking prices very low in order to clear my storage room! In most cases I have not listed postage cost. Please contact me at: randallstewart@comcast.net if you are interested in any item/group of items; and I will determine what the postage will be. If that total cost is still within your price range, we can conclude our deal. I accept checks or money orders in US dollars or PAYPAL or Google Wallet.
KLMK Two-piece Uniform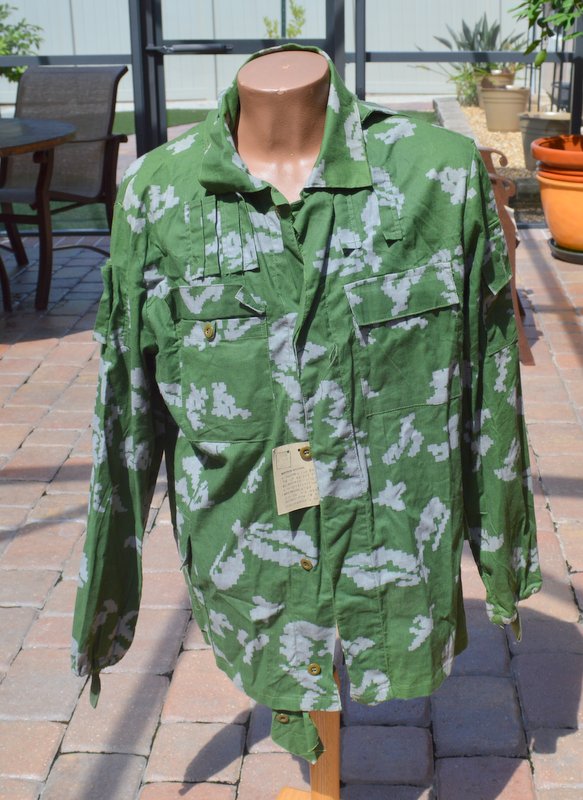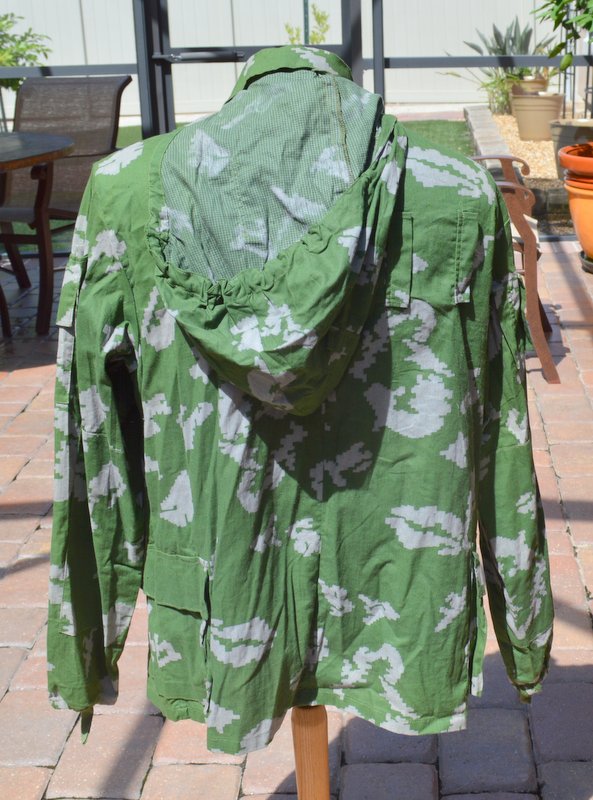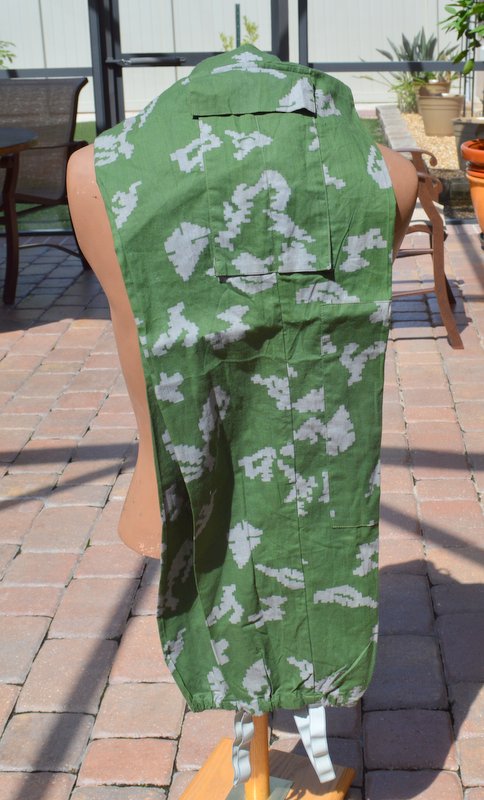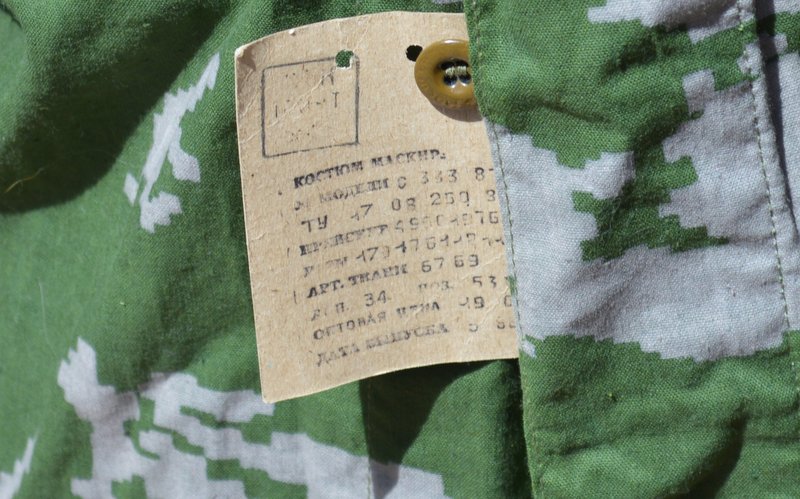 Excellent, unissued condition

Rare lightweight cotton two piece uniform with buttoned-in hood. Nicely cut, reflecting a more tailored appearance than its corresponding coverall (see next item). Top has original cardboard maker's label and both top and pants are stamped with matching number "5723." Comes with matching facemask. Pants have elastic to hold in place in boots. Can't make out size - but top fits nicely as US size 40. Pants' waist size between size 38 and 40 (I've loosely sewn them to fit size 36 but that thread can simply be removed to restore original size, without damage).
Price: $55
Three-finger Field Mittens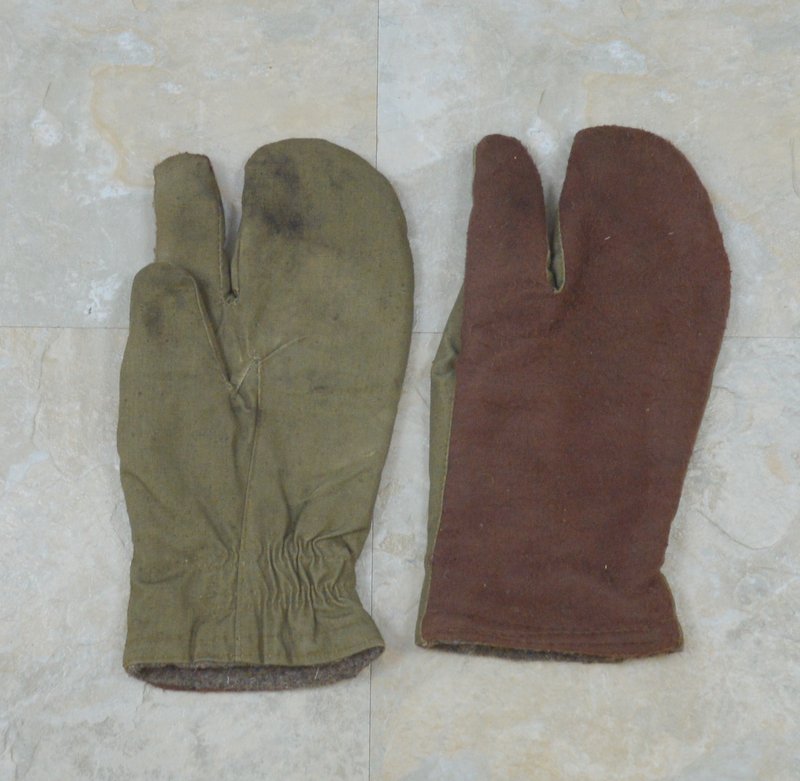 Used but unworn condition with some carbon marks on palm

Standard Army-issue cold-weather three-fingered mittens. Heavy khaki canvas palms with soft brown felt backs (for wiping runny noses!) and rough felt lining. No markings but size equates to US size large.

Price: $10
Army Officer's Map Case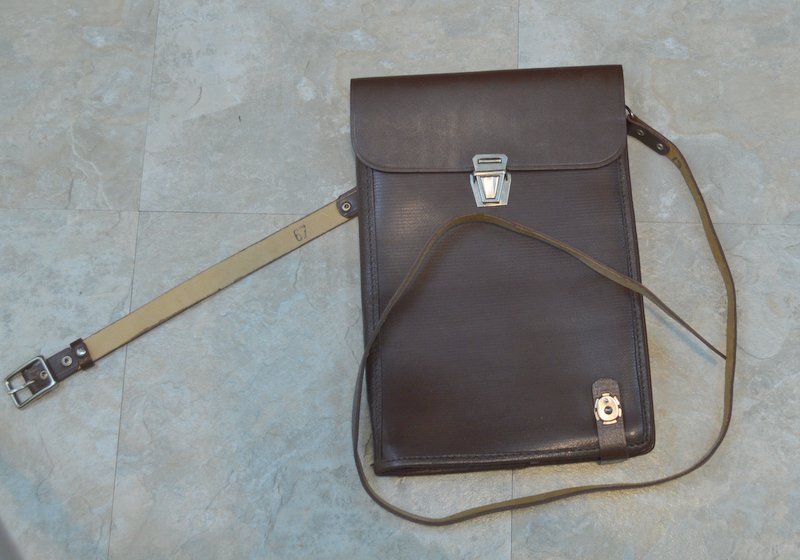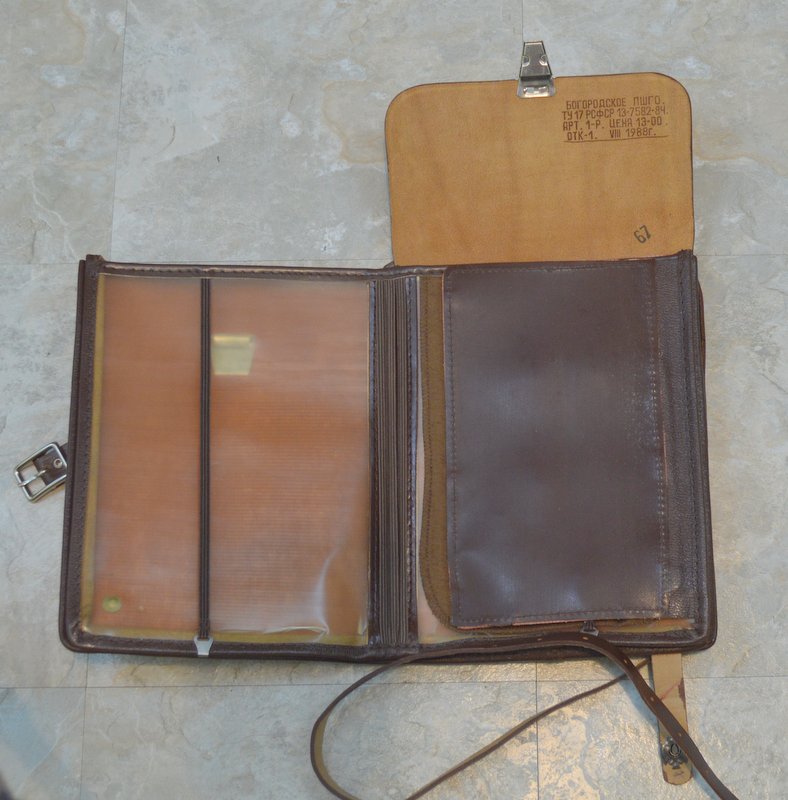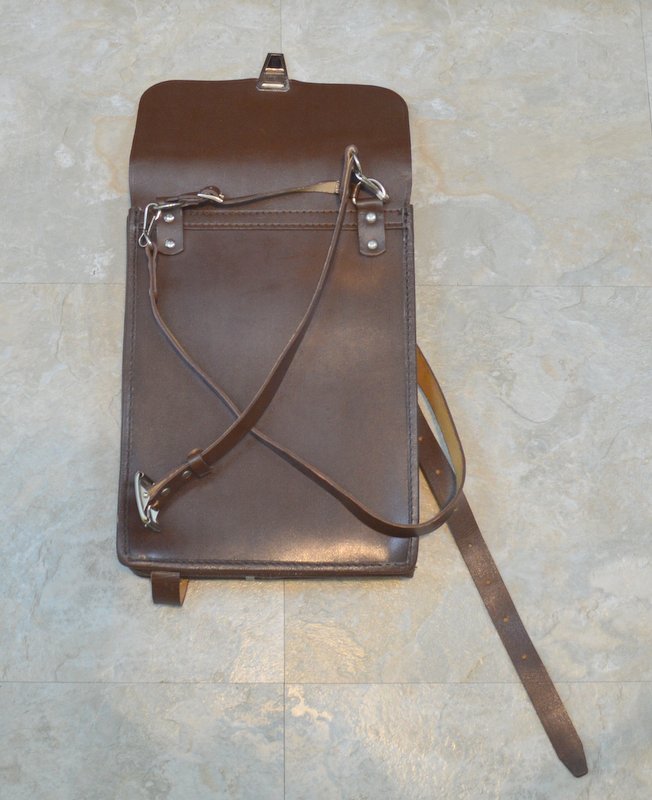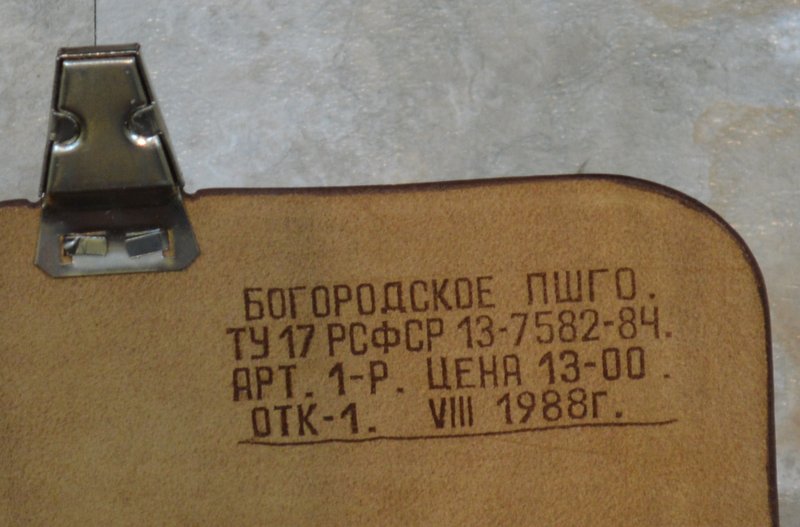 Excellent, unissued condition

Brown leather Army officer's map case with strap. Complete and undamaged, including clear plastic inside map protectors and all elastic holders. Well-marked; 1988 manufacture.

Price: $20
Pistol Lanyard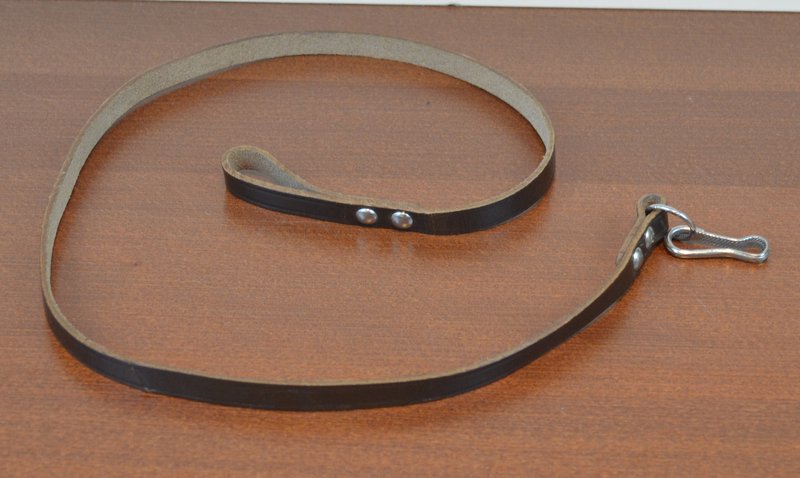 Excellent, unissued condition

Brown leather pistol lanyard. Strap is 31" long - not including metal clasp. No markings

Price: $7
AK-47/AKM Magazine Pouch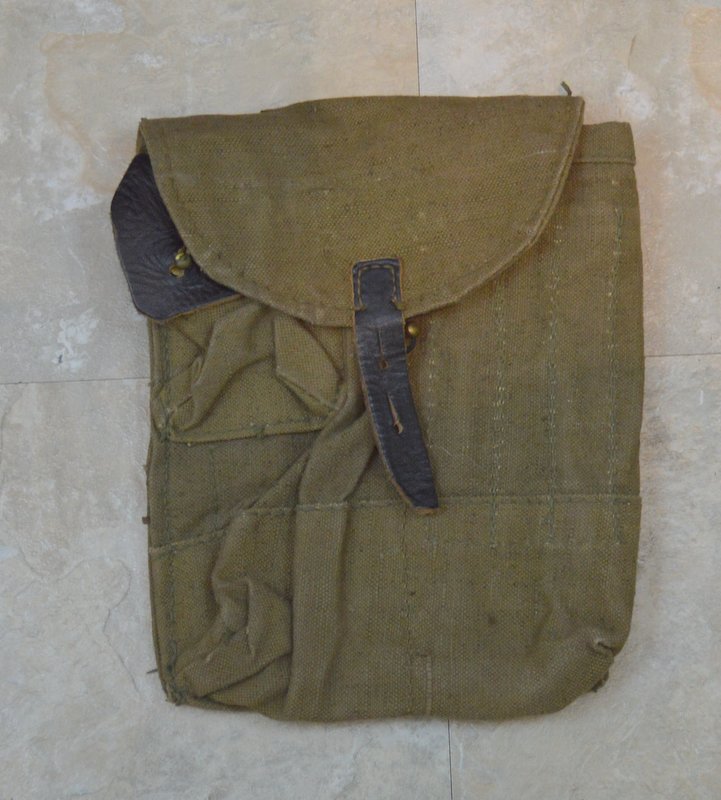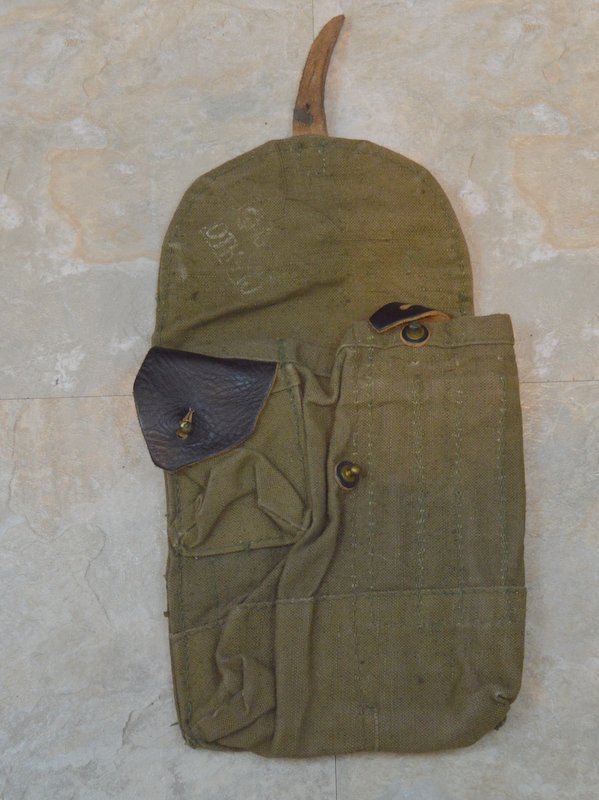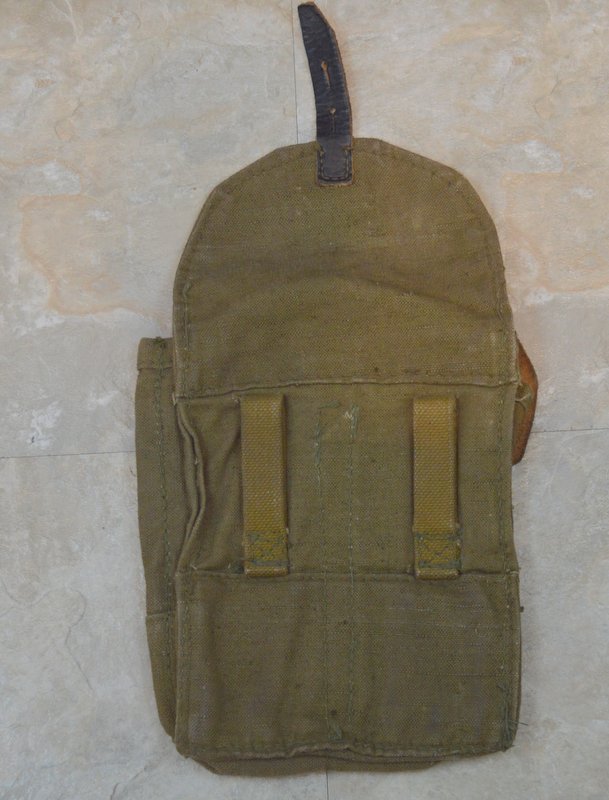 Excellent, unissued condition

Soviet Army AK-47/AKM magazine pouch made of khaki canvas and black leather. Some markings (including Soviet "OTK" (quality control) stamp). Complete with no damage.

Price: $10
Grenade Pouch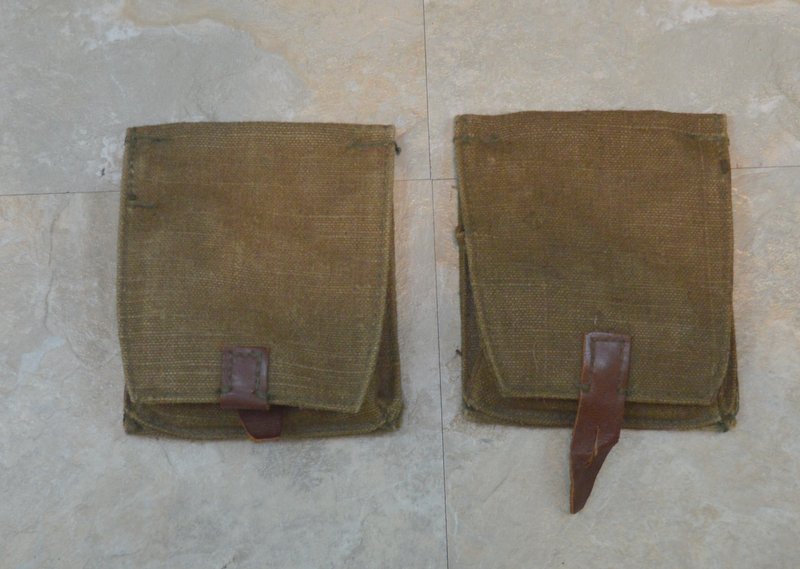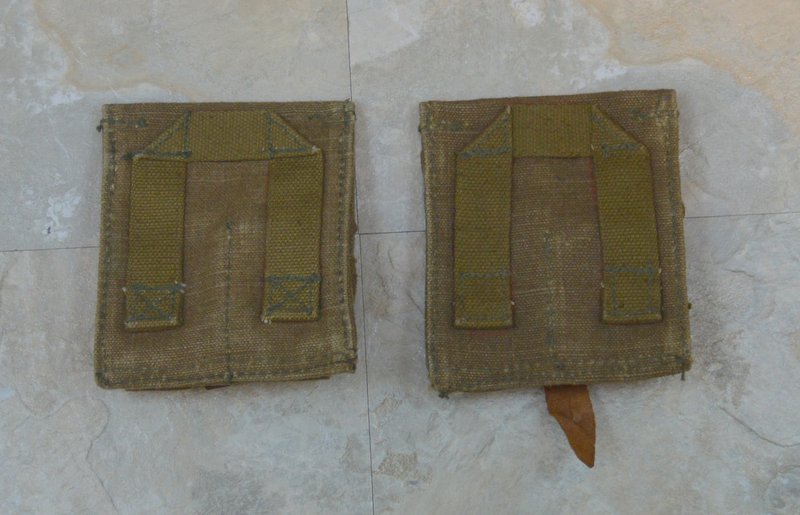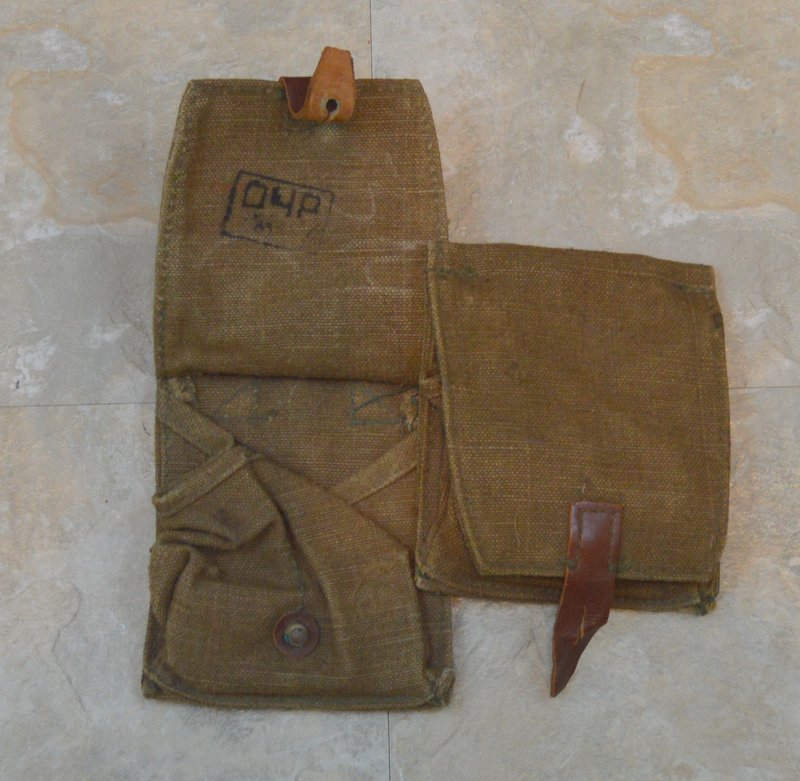 Excellent, unissued condition

Soviet Army hand grenade pouch; made of khaki canvas with brown leather strap. Each pouch holds two anti-personnel grenades.

Price: $10 each (two available)
Bayonet Lanyard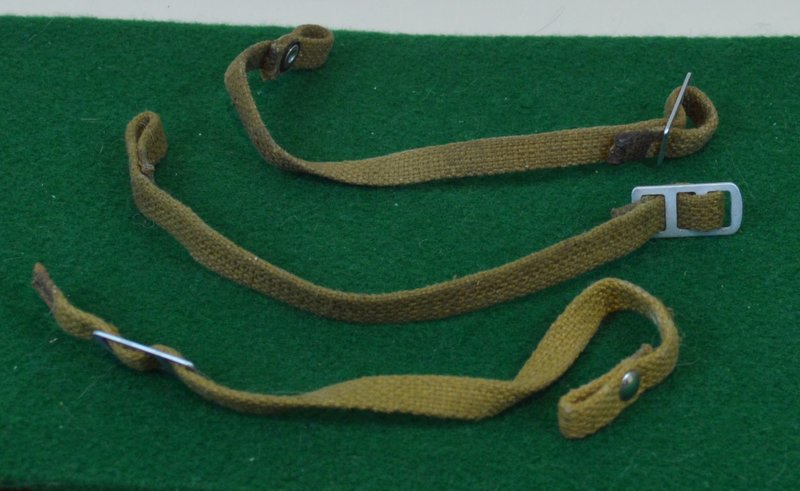 Good, undamaged condition

Bayonet lanyard made from khaki canvas webbing. Worn attached to the hilts of AKM bayonets.

Price: $5 each (3 available)
Soldier's Canteen and Cover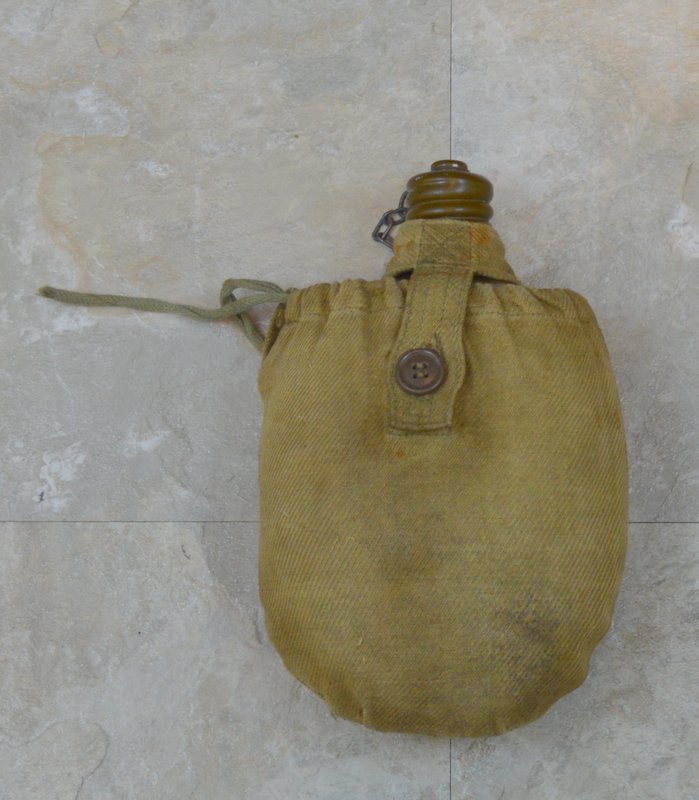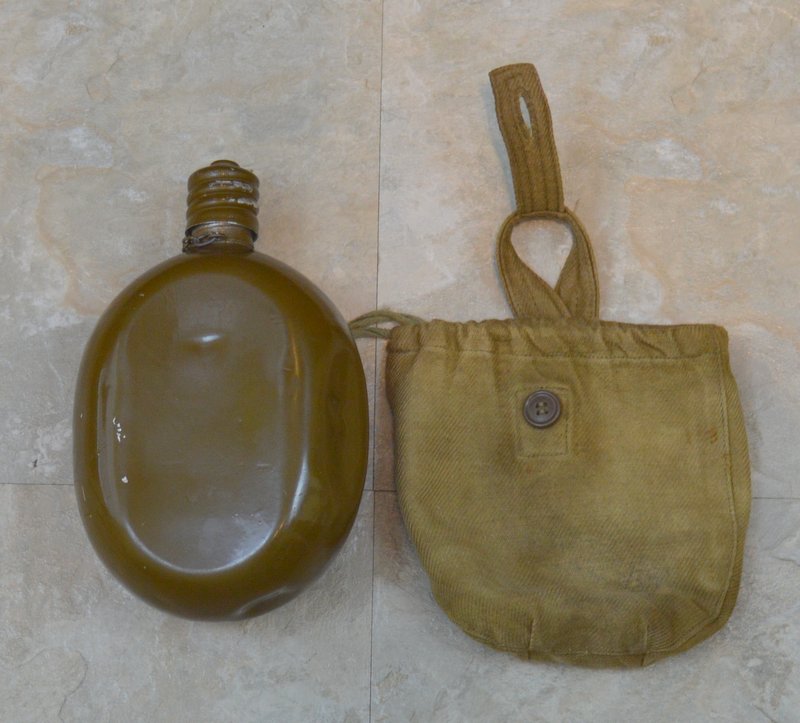 Fair, used condition

Khaki-painted aluminum Army canteen; some dents but unused with intact rubber seal in cap. Cover used and somewhat dirty, but otherwise no damage. No markings.

Price: $5
Desk Ornament for Marshal of Russia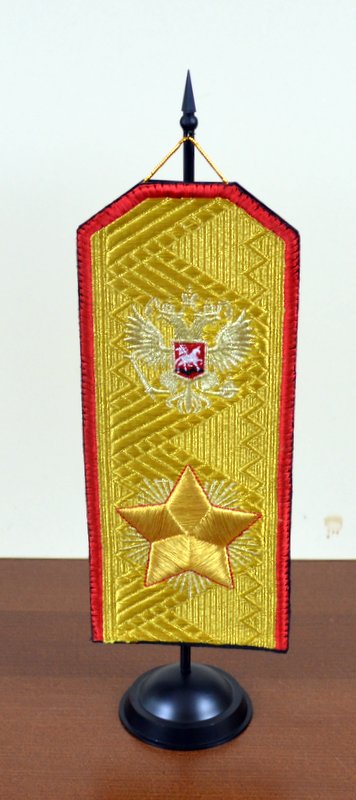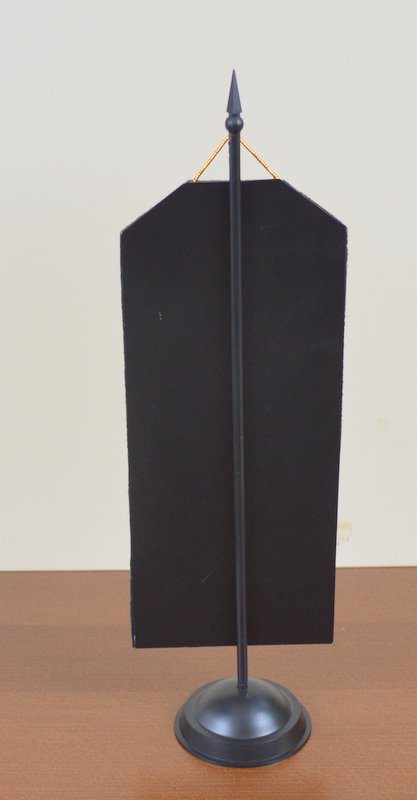 A beautiful and quite unique desk ornament in the shape of an enlarged Marshal of Russia parade shoulderboard (Pogoni) done in gilt and red thread. Two versions - one with plain cloth backing and one with a heavy black plastic backing (please state your preference when ordering). Ornament hangs from a black plastic "flagpole" which is plugged into a circular plastic base. I bought these at a military clothing sales store in Moscow in 1998. "Shoulderboard" measures 9" long by almost 4" wide; mounted pole is 12 1/2" tall to tip of spear.

Price: $25 each (two available)
"Cockades" - illustrated booklet on Soviet-era Hat Cockades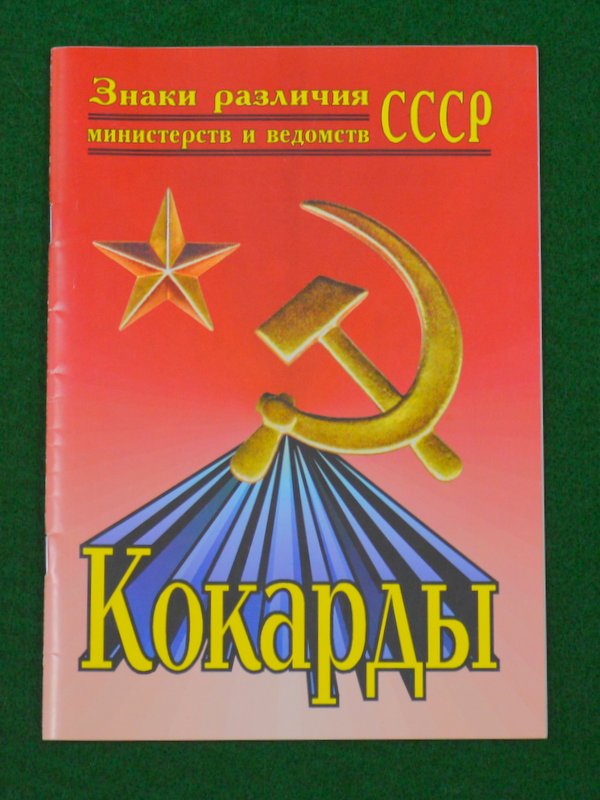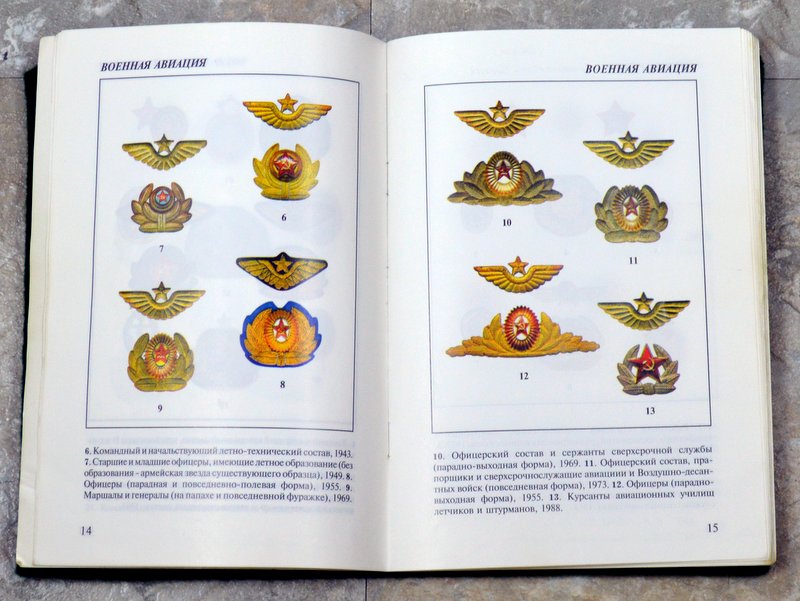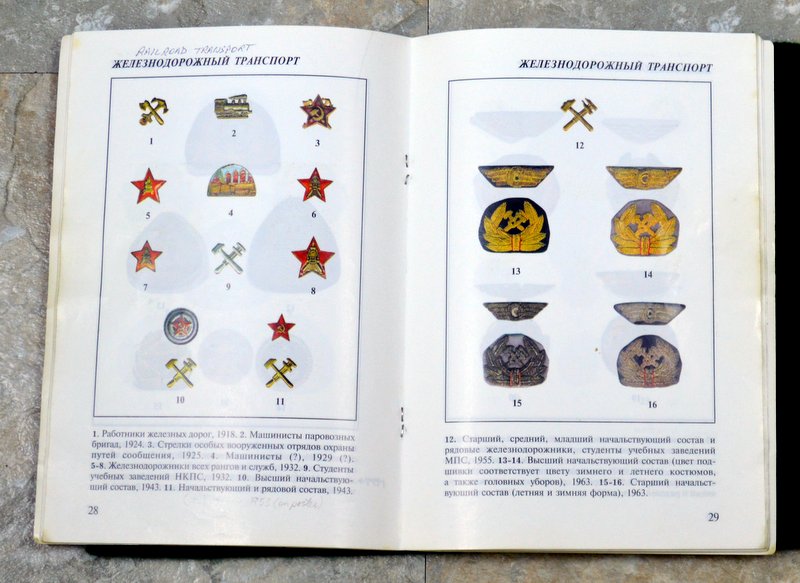 New

50-page Russian-language color illustrated booklet identifying hundreds of Soviet-era hat cockades, both military and civilian. Published in 1998, this is by far the most authoritative reference on such cockades.

Price: $15
Order of the Red Banner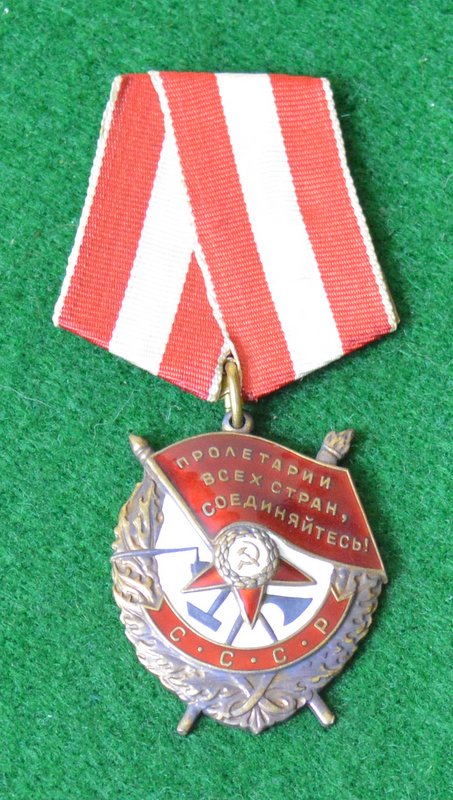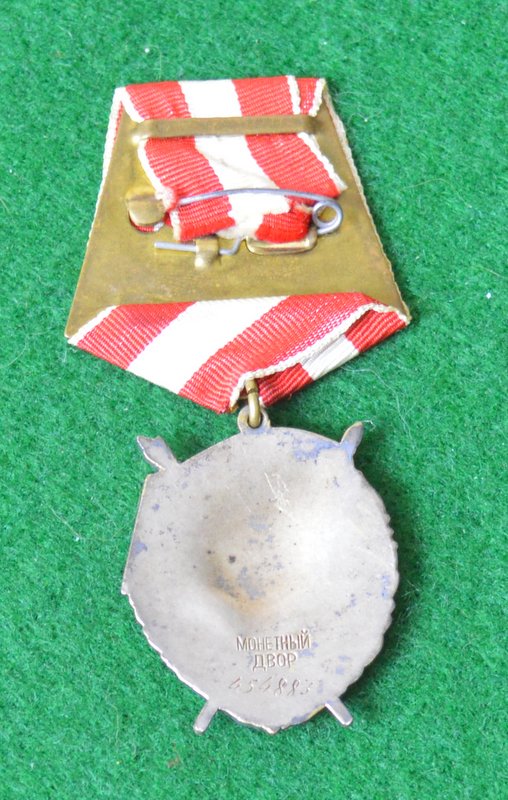 Original and guaranteed authentic Order of the Red Banner; type 4 (according to "The Comprehensive Guide to Soviet Orders and Medals" by McDaniel and Schmitt); serial numbered #454883, which dates it to the early 1950s. Beautiful condition with original brass ribbon backing and ribbon.

Price: $240