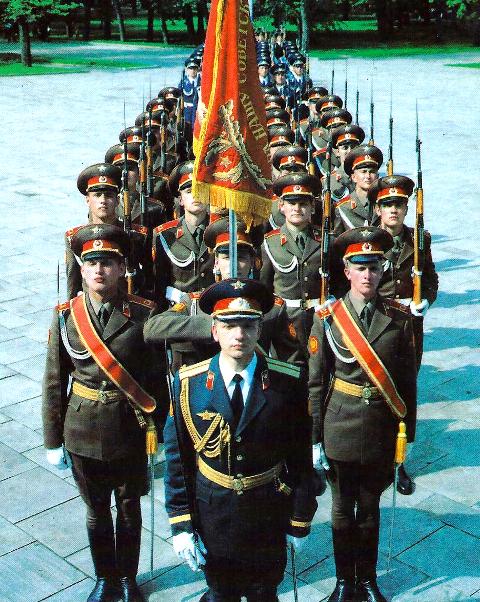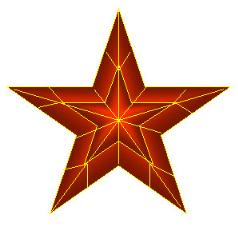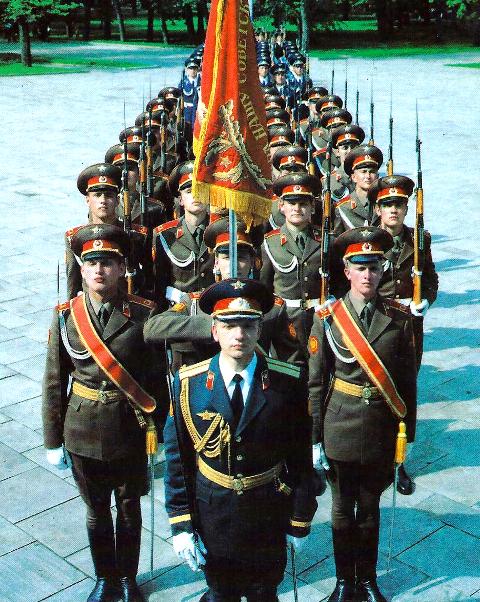 A Collector's Guide
to Soviet Military and Civilian Uniform Visor Caps
of the Cold War Period: 1946-1991
WELCOME to the largest collection of Soviet uniform caps on the World Wide Web!
I have started a new update of my site (see below for details), even as I work on a new book:
"Uniform Caps of the Soviet Military: Ground, Air and Naval Forces; 1945-1991."
This will be a hard-copy book with hundreds of photographs and drawings of the caps associated with the Soviet Army and Navy. Some material will be similar to that on my website, but much will be new (as will all the pictures). For those of you paying attention, I've decided to hold off on my earlier plans for a book on "Soviet Transportation and Mining Ministries; 1945-1991," since the military-focused one will probably attract a broader audience. I, do however, still plan on writing the Transportation/Mining book, since so little information is available in English on the uniforms of those ministries.
To help repeat visitors to my site, new additions/major revisions will be listed below in blue, linking you to the relevent page. Once on the page, new material will be in blue text. You will also find that I've lightened up many of my photos for better color resolution. For first-time visitors, please start with the "INTRODUCTION" section further down this page.
It is with pleasure that I announce my book on Soviet Uniform Visor Cap Markings is now available for order.

This one-of-a-kind 93-page paperback book documents the wide variety of manufacturers' labels and other interior markings found on military and civilian uniform visor caps of the Cold War period (1945-1991) and is a "must-have" reference for the Soviet visor cap and uniform collector.
Please go to my Book Sales page for additional information on the book and how to purchase copies.
Introduction to the Site
On this site you can sample the martial glory of the Soviet uniform visor cap (pronounced "Furazhka" in Russian) from the beginning of the Cold War Era to the dissolution of the USSR in 1991. Although little recognized in the West, Soviet military and militarized uniforms during this period were extremely varied and colorful. Although many countries had rather ornate military uniforms prior to WWII, most lost little time after the War in abandoning their "old-fashioned" uniform styles in the interest of economy, camouflage, or anti-militarism. The USSR, however, resisted this simplification of its uniforms, in spite of the heavy drain the large number of uniform variations and style changes imposed on the Soviet clothing industry. The reason was simple. The 1943 uniform regulations, which restored a distinctly "Tsarist" look to the Red Army, were extremely popular and successful in terms of restoring morale to the armed forces. Soldiers took pride in their appearance and gloried in the trappings of past accomplishments. Nevertheless, uniform development was not stagnant, and refinements continued after WWII. New uniform regulations built on those of 1943, combining heavy elements of Imperial Russian uniform tradition with symbols of the Red Army. The resulting array of uniforms enabled even the lowest conscript to impress his girl friend on de-mob day with his sartorial heroism, while, at the other end, a Marshal could outshine a peacock in his spectacular parade uniform.
For those of you relatively new to the Soviet uniform collecting scene, I would recommend you peruse a little background information I've put together on the development of uniforms over this period. This will make my individual cap descriptions more meaningful. Select "Uniform Periods" from the action buttons at the top of the red bar to the left for this information or go directly to the "Cap Museum" category you wish to view.
You will also find sections to the left on "Visor Caps Dissected" which will identify the parts of a cap to which I make reference, tips on properly displaying your caps and a page on "Fakes and Replicas" for those of you who tend to be too trusting of your fellow man.
Availability
At the end of each cap description, I have provided my assessment as to the general availability of similar caps. This represents how often caps show up at shows or are offered for sale on-line or in advertisements. It does not directly relate to value! Some rare items garner low prices due to low demand (for now!).
Common: readily available at most large militaria shows or easily found for sale on the Internet or in "surplus" stores.

Available: harder to find but usually available if you know where to look and are patient.

Scarce: occasionally seen or offered, but quite difficult to find.

Rare: seldom seen even in collections or museums in the Former USSR.

Very Rare: typically only seen in specialist museums; not one-of-a-kind, but virtually so.
The Task
The task of documenting even one element of this Soviet uniform tradition (visor caps, for those of you who got lost in my ramblings) is somewhat daunting. The many variations reflecting changing uniform styles, different branches and arms of service, seasonal changes, differences in rank, and special unit distinctions; not to mention the array of non-military uniforms instituted for everyone from police to diplomats; total well into the hundreds. However, I have and continue to collect a good representative sampling of these caps (312 at last count!), which, I hope, will do the entire range justice.
Dedication
This site is dedicated to the soldiers and officers of the former Soviet armed forces. Although the ideology of its leaders was hopelessly flawed, the Soviet military was, by and large, an honorable extension of a proud people (or melting pot of peoples). In my numerous discussions with Soviet officers, I found them without exception to be morally the equivalent of Western officers and to be individuals I would be proud to have as friends, had our situations allowed it. "He has no greater love than he who would lay down his life for another" embodies the ideals of the soldier. Members of the Soviet Army and Navy held to this no less than soldiers in the West.
Help Me, Help You
Anyone detecting errors or in possession of additional information on any of these caps or in my descriptions is asked to
e-mail me
so that I may correct/enhance those areas.
Disclaimer
My site deliberately focuses on caps in my collection. However, there are still a number of cap types out there I do not personally own - which I would happily add to my site with your permission. These will of course be credited to the owner if desired. On a few occasions I've also included pictures posted elsewhere on the web (especially from Russian collector websites); should you own and object to the use of those photos, please let me know and I will remove them from my site.
And of course - if you have any authentic Soviet caps you want to sell - E-MAIL ME! - at randallstewart@comcast.net and we can dicker over the dirty details of money or trade. Or if you should you have any questions about Soviet caps/uniforms or any aspect of the hobby, I am always happy to help.
If you have written me at this address and did not get a response, please resend to my wife at:wandalstewart@me.com. Apparently some overseas' email servers don't "like" my comcast.net server!
Well, let's see if the results match the promises, shall we? Please make your selections from the links on the red bar to the left.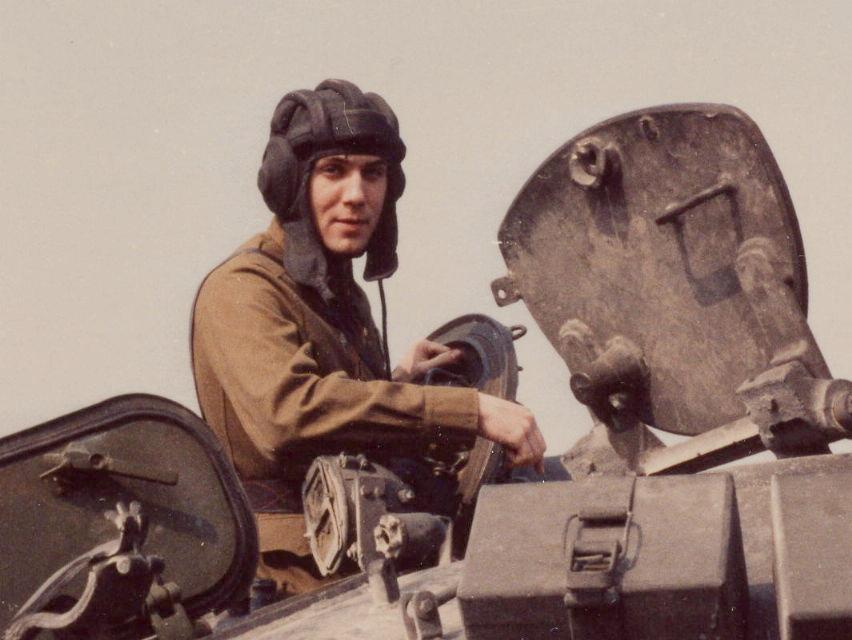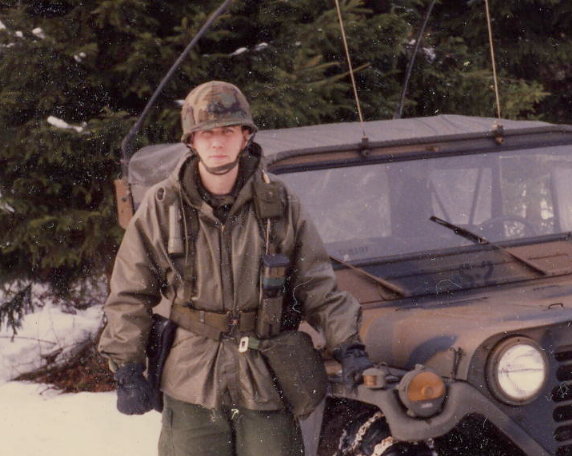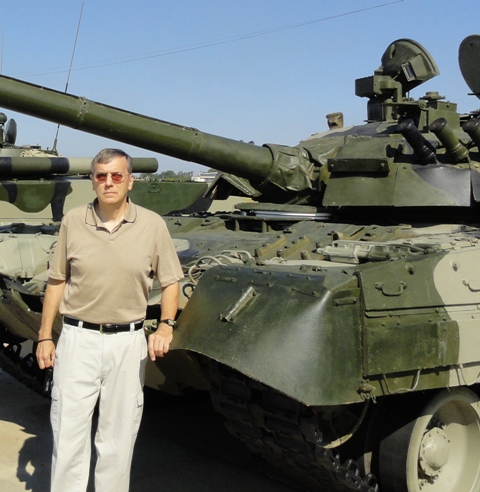 From left to right: me as a U.S. Army Threat Forces' trainer in the hatch of a T-62, in my real guise as a Military Intelligence officer in Germany 1985, and more recently at an Arms Show in Moscow.