Caps of the Soviet Army
Introduction
Due to the large number of caps in this category, I have subdivided the Army cap section into the four uniform periods described on my Uniform Periods page to the left. All caps on this page were worn during this period. However, certain uniform elements (including caps) often extended into succeeding uniform regulations. In most cases, I have placed these caps according to the uniform period in which they were first introduced. A thumbnail image accompanies each cap description. Clicking on that thumbnail will bring up a larger, higher resolution image.
1958-1968: Return to Tradition
Officers were most affected by new uniform regulations published in 1958. Most notably, officers lost their double breasted gray dress uniforms while tank officers lost their specialized everyday uniforms. The new M58 dress and service uniform tunics were modern, open-collar designs, but returned to the traditional khaki. Another significant uniform event starting in 1958 was the reintroduction of khaki field caps for officers and generals - last authorized in the later 1940s. Soldiers' uniforms continued to mirror those seen since 1945 except for the introduction of more modern fabrics and aluminum uniform emblems. 1958 regulations did authorize sergeants who remained on active duty following honorable completion of their conscript service to wear modified officer uniforms. This was designed to increase the prestige of these extended-service soldiers in order to make their retention more likely and consequently improve small unit leadership within the Soviet Army and Navy.
Generals' uniforms also remained largely unchanged over this period. White tunics and caps were abolished but earlier wave green parade, khaki service and field, and gray walking out uniforms remained with only minor updates. Please go to my Army 1955-1957 page to see these general caps.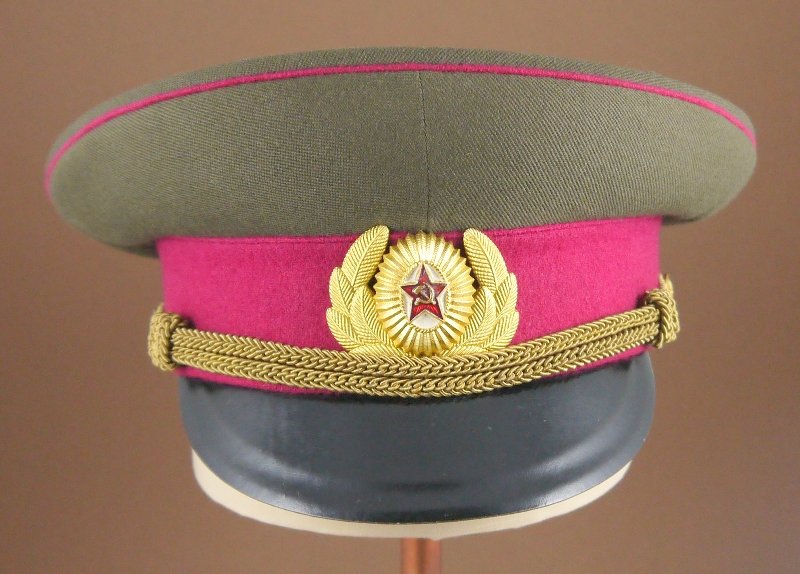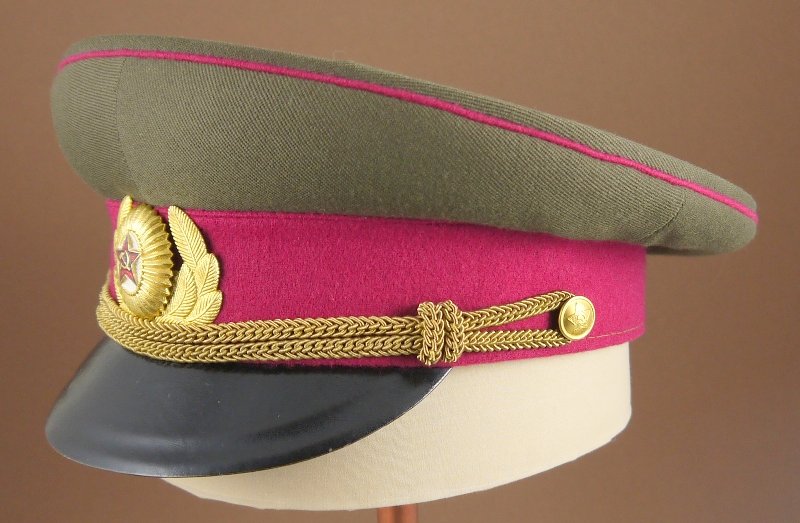 Motorized Rifle/Justice/Intendance
Officer Parade-Walking Out
1958-1968
Following the perceived failures of both the M55 gray dress uniform and its proposed M57 replacement, the Soviet Army fielded a new dress uniform in 1958. This new single breasted uniform returned to traditional Soviet khaki but was modernized with an open collar and tie. Parade/walking out caps also returned to khaki but were now equipped with the same gold filigree cords worn on the M55 dress uniform and a new emblem combining the existing M55 officers' cockade with a separate - reduced size - metal wreath. The crimson band and piping on this 1965-dated cap identifies the owner as an officer of the newly designated Motorized Rifle troops (reflecting the continuing mechanization of the Rifle troops) or of the Justice or Intendance service. The fiberboard visor was now unadorned, having lost the leaves worn on the M55 dress cap. Scarce

The construction of the M58 parade emblem can be seen in the two photographs below. The oval cockade element of this emblem could be found in either heavy tombac or light aluminum, while the wreath was stamped from aluminum or brass. Army officers replaced this emblem with a new, larger dress cockade in 1969; but the Air Force retained a one-piece aluminum version of the M58 for wear on their officer service caps until the end of the Soviet period.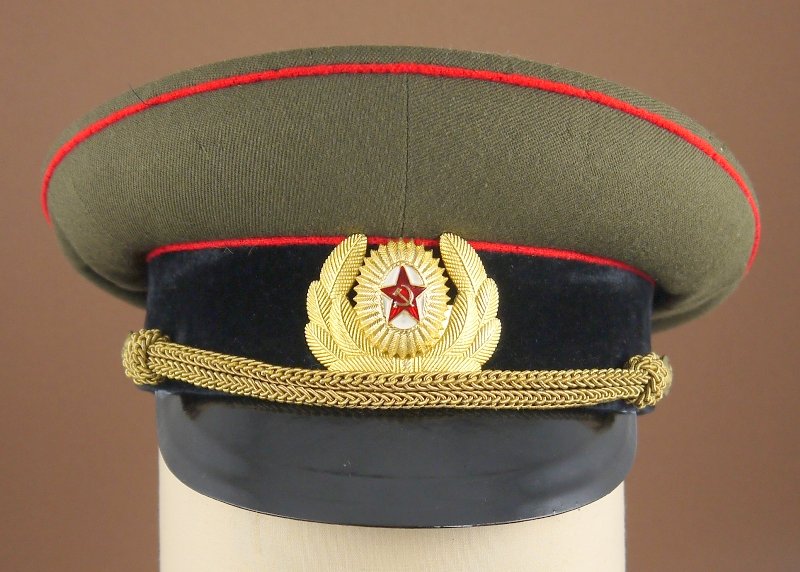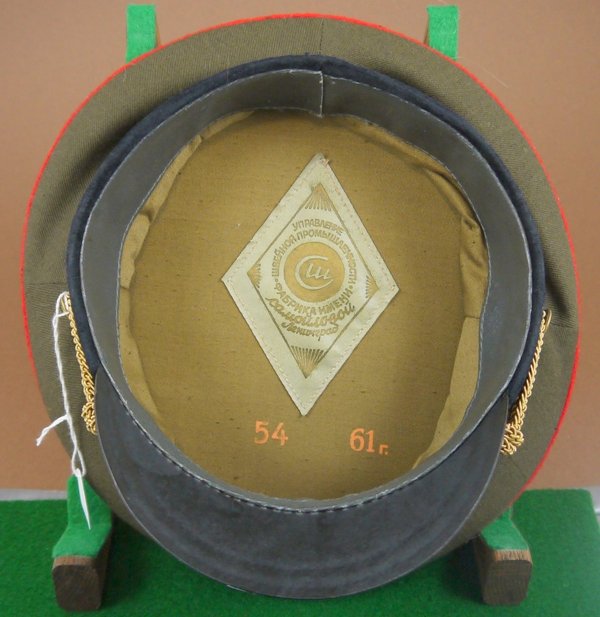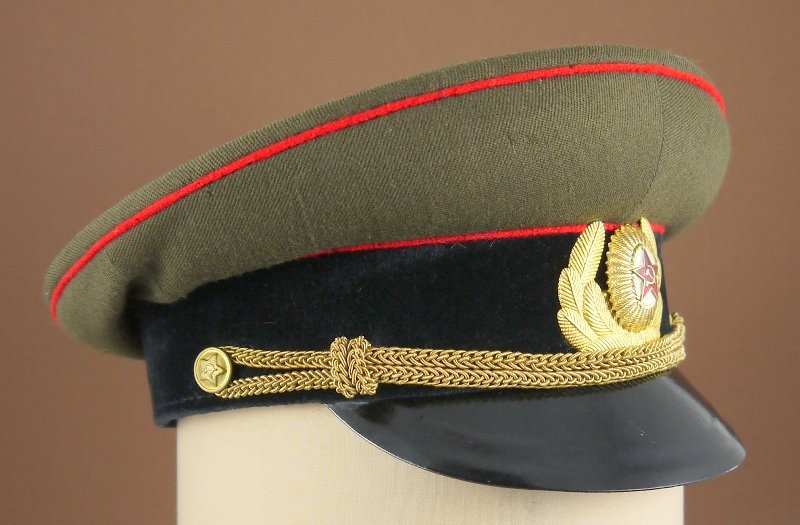 Tank/Artillery/Motor Transport
Officer Parade-Walking Out
1958-1968
This is a tank/artillery/motor (automotive) transport officer's counterpart to the above cap - as identified by its black velvet band and red piping. This particular cap was manufactured at the Samoilova garment factory in Leningrad in 1961 and shows typical interior elements of an officer's cap. The maker's label is diamond shaped - which is found on 90 percent of caps made in the 60s or later (stamped markings were standard in the 40s and 50s). Contrast this with the teardrop or horseshoe shaped makers' labels typically seen on caps made for generals. The interior lining is sateen which was "usually" found on officer caps, vice the plain cotton used on "most" soldier caps. As you can see from my use of quotes - this difference was not absolute. The sweat band is made of gray imitation leather (the standard for Soviet-era visor caps); which coincidentally provides one of the best means of identifying authentic caps. For some reason - gray is seldom used by modern former-Soviet factories - with shiny brown or black sweatbands indicating post 1991 production. The two orange stamps indicate size and year of manufacture. The two-piece aluminum cockade, gold cords, black painted fiberboard visor and two-piece brass and steel buttons (plastic buttons appeared in the 1970s) complete the cap components. Scarce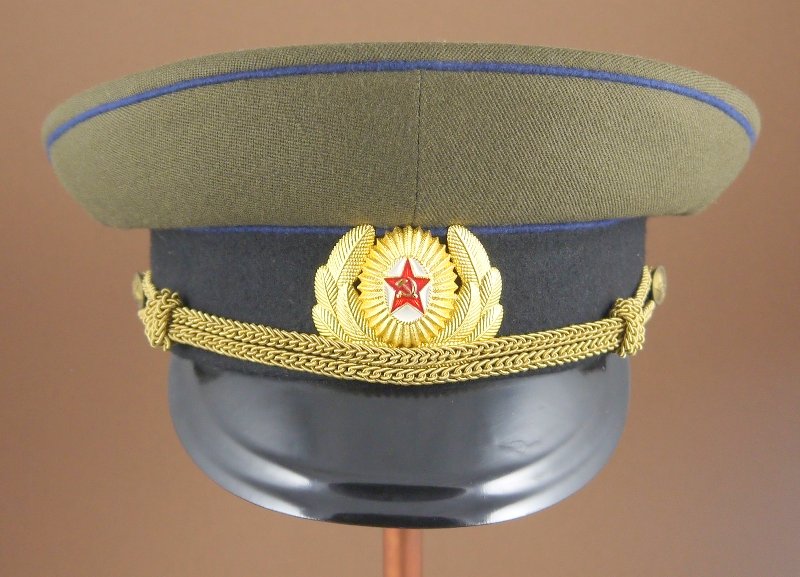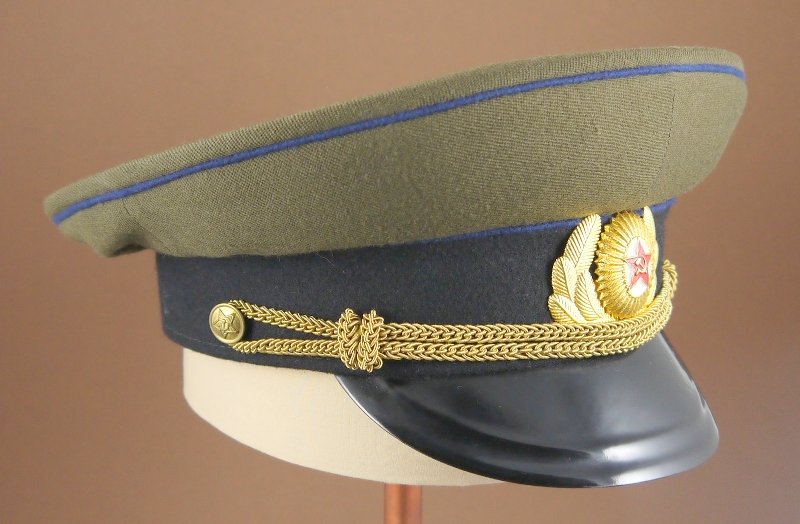 Special Troops
Officer Parade-Walking Out
1958-1968
Special Troops' officers of the following services could have worn this cap for parade and other dress occasions: engineers, signals and radio-technical troops, air defense searchlight, construction, pipeline and topographic troops. While the structural elements of the cap remained the same regardless of service - round khaki crown, two-piece cockade and emblem, gold cords and semi-circular fiberboard visor - the combination of black wool band and dark blue piping was limited to officers of the Special Troops. Officers of Chemical Troops would have worn a very similar cap, but with black piping instead of dark blue (the low contrast between the two is often hard to distinguish except in bright light!). Scarce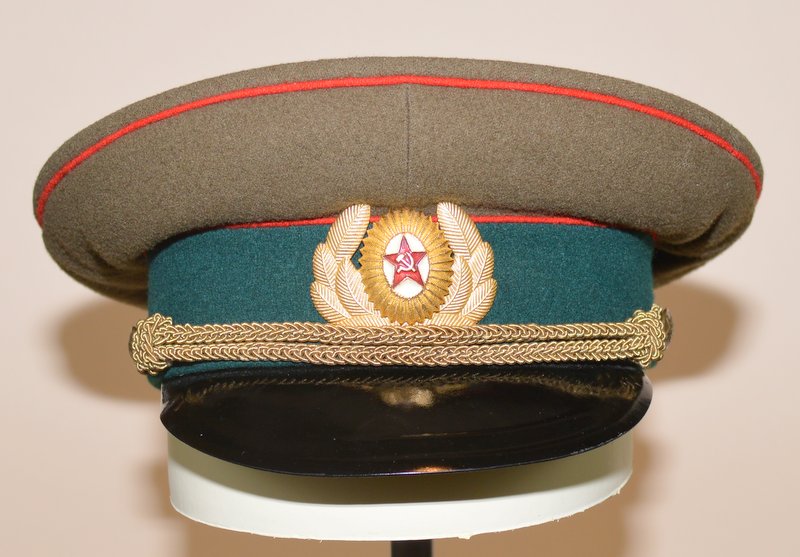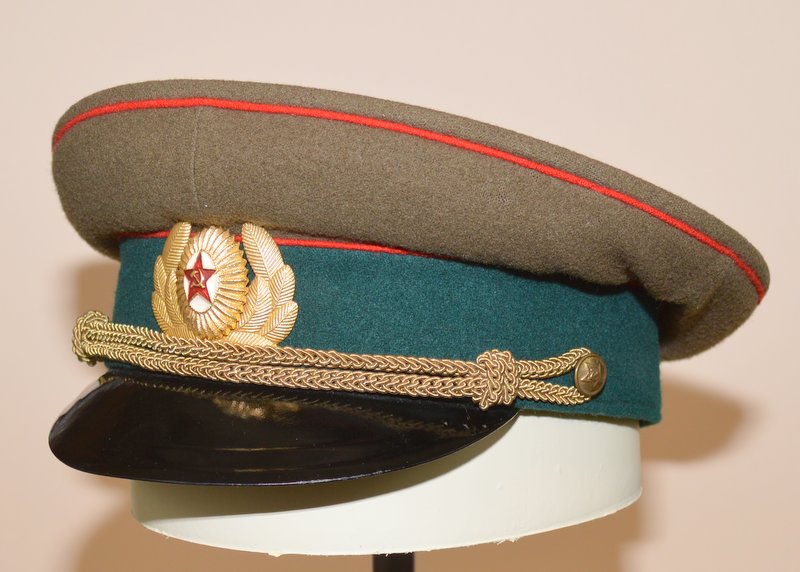 Medical/Veterinary
Officer Parade-Walking Out
1958-1968
Medical and veterinary officers wore the M58 cap shown here, with its dark green wool band and red piping. Once again, it has the two-piece M58 cockade and gilt filigree cords authorized for parade and walking-out. A M58 cap for another service - Railroad Troops - can be seen on my VOSO page. Scarce

The visored field cap was one of the most popular Soviet uniform items during WWII, serving as ready identification of a Red Army officer. Following the war, colored-band service caps replaced them for field wear. But the field cap staged a comeback in 1958. Worn by officers of all branches and services outside the Navy, the cap was by regulation completely manufactured in "protective" (as it translates in Russian) color: khaki or green - crown, band, piping, chinstrap, visor, cockade and buttons. This cap is one of the very first such caps - dated 1958. As such, it has a common early variation in that the fiberboard visor is actually the same black painted visor used for service and parade caps. This diversion from regulation probably represents delay in the availability of the new green visors. The chinstrap is very dark khaki - not black as you will also sometimes find on these early caps. The crown style mirrors that of other caps made prior to 1969 - still almost perfectly round in shape with a heavily padded and rounded front. Field cap cockades came in aluminum, painted steel or plastic - although colored aluminum (as on this cap) is by far the most common version. I have seen two-piece green cockades but one-piece castings were standard.
The picture of the inside of the cap allows you to further compare and contrast this officer's cap with the general's version discussed below. The maker's label is made with seldom-used imitation red leather but is otherwise completely representative of an early officer's field cap. Available

At a glance, this cap is indistinguishable from the officer's field cap shown above. Only by looking closely at the buttons or interior elements can you confirm it is, in fact, made for a general. As with the officer's cap - all Army and Air Force generals would have worn this exact same all-khaki (green) cap. This cap is also a very early model (although, as for most generals' caps of the period, it is not dated), with a black vice green painted fiberboard visor. The chinstrap is dark green oilcloth and the cockade is also one-piece tinted aluminum. A close look at the side, however, shows green painted generals' buttons - stamped with the Great Seal of the USSR.
Turning to the inside, you see the same generals' interior elements as you would find on their service or even parade caps - although manufacturers "seem" to select more subdued colors for the lining for field caps. The sweatband is made of light gray real leather with an interwoven silk ribbon. The tear-drop shaped maker's label shows it was assembled at the most prolific maker of general caps: the "Central Experimental Manufacturing Plant, Clothing Supply Management, Ministry of Defense, Moscow." Scarce

Since there were no changes made to soldier/conscripts caps in 1958, please see my Army 1955-1957 page for illustrations of conscript caps of the entire 1955-1968 period.